Do you often feel the need to keep an eye on your loved one? It is true that the thought of spying on someone through their camera has crossed your mind in the past otherwise you wouldn't be here reading this article, right? Did you know how to spy on someone through their phone camera for free? If you want to learn more about how to do this then read on.
Can You Spy on Someone Through Their Phone?
For this question, the answer is Yes. There are two main methods on how to spy on someone through their phone camera that anyone can use. You can either use a professional phone camera spy such as KidsGuard Pro or an IP camera such as the IP Webcam.
Related Question: How to Spy on Someone Through Their Webcam?
For some illegal purposes, hackers may get paid to use the webcam to spy on someone. But actually, in recent years, everyone from the security services to schools has been found to have spied on people using webcams.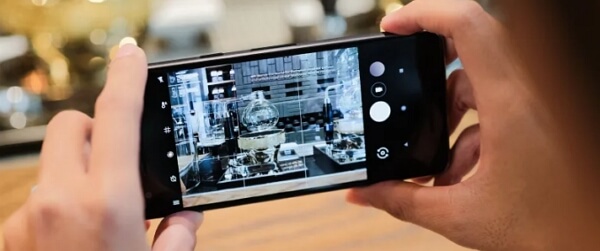 Using either of the two methods, you can remotely access and turn on cell phone camera of your target individual and use it to silently take photos, follow their movements and monitor their communications. In this way, you can keep an eye on an individual without anyone noticing what you are doing.
Comparison Table: IP Camera vs. Spy App
| Features | IP camera | Spy app |
| --- | --- | --- |
| Stealth mode | | |
| Social media tracker | | |
| Call logs | | |
| Location tracker | | |
| Remote monitoring | | |
| Operating system | Both iOS and Android | Both iOS and Android |
| Monitor without detection | | |
| Security | Video is encrypted for secure transmission | Secure transmission of photos, screenshots, and data from the phone being monitored |
| Suitable users | Perfect for homeowners to monitor stationary objects such as a home | Perfect for parents to monitor their children as it can monitor more aspects of the individual |
| Operation difficulty | Complicated | Easy |
Spy on Someone through Their Phone Camera Using KidsGuard Pro
If you want to keep an eye on someone by using a spy app then the best application available in the market for you is the KidsGuard Pro. This spycam app for Android is now one of the best cell phone monitoring apps in the world. With this spy app, you could make the target phone's camera a spy camera that connects to your phone.
Also you could use this app to easily see everything on someone else's phone including your children or any other dependent adult at all times without having to be with them physically. You could easily spy on someone at home or at work, wherever as long as the person is taking his cell phone with himself.
As a parent, this application makes spying through phone camera on your children so that you know that they are up to, who they are communicating with and how they use the internet even when you live miles away all on your Smartphone.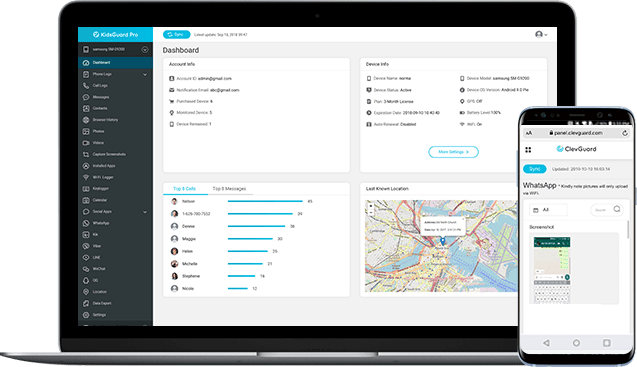 Steps to Set Up KidsGuard Pro and Spy on the Camera
Using spy camera app to keep an eye on your loved one is not a very complex process. All you have to do is follow these easy steps, then, boom! You are spying on someone without anyone knowing.
Step 1: Get a KidsGuard Pro Account
To use this app simply start by visiting the KidsGuard Pro website and choosing a plan based on your needs. Then you can get a KidsGuard Pro account from your email.
Step 2: Install the KidsGuard Pro App
To track someone you need to have this app on their phones. To do so just ask to be lent the phone then download and install the app from www.clevguard.net. Make sure to provide necessary permissions by following the onscreen instruction.

Step 3: Start Monitoring and Taking Photos
Once you have installed this spy camera app on the target phone, you can now know what the individual is up to at any moment of the day. All you have to do is log into your account and click on "Take Photos", then you can use cellphone as a webcam and secretly shoot a picture using the target phone's camera. This means that all of these are done remotely, and you are allowed to spy on cell phone without access to phone. Because this hidden camera connects to your mobile phone, you are free to take photos whenever you want.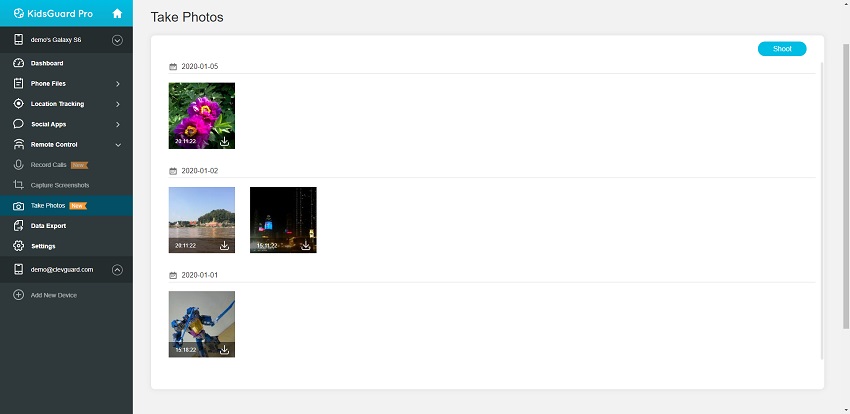 Key Features of Accessing Someone's Phone Camera:
Remotely Take a Photo:
This app works online. You can hack someone's phone camera and remotely trigger the camera and take photos. This makes it easy to keep an eye on someone without being there physically. You just need to sign in to the online dashboard to take the photos.
The Process is Done Silently:
There is no shutter sound or flashlight if you take a secret photo. This is important if you want to target know knowing about your operations.
The Camera App Works in Stealth Mode:
The app works in the background without letting the person being monitored know that you are monitoring them. Besides, you can take a picture without truly launching the camera app.
Capture Screenshots As Well:
Other than taking photos, this spy app allows you to capture screenshots and check the screen activities of the individual you are monitoring. This lets you know what activities they are engaged in such as if they are texting, playing video games, or even listening to music.
Real-Time Data Syncing:
You can get all spying data in real-time. This ensures that you know what the individual you are monitoring is up at every moment that you want to by using the real-time data syncing feature.
Many Other Amazing Features:
A lot of people would wonder how to spy on a cell phone when they suspect that their spouse is cheating. Well, KidsGuard Pro could help you solve this problem. It is the best app to see everything on someone else's phone. With this app, you don't just monitor what the individuals are doing with their phones like check out what they are doing on social media and their browser history, but you can learn a lot more thanks to the awesome spy features that the app has.
For example, you can track their movement in real-time all through the day by using location tracking feature. And you are free to check the locaction history and find out where the person had been to. If you want to spy on your spouse's phone without them knowing, this spy app is your best choice!
How to Spy Through Phone Camera Using IP Webcam
Another great way to spy on someone through their phone camera is to use the IP webcam. This application turns a smartphone into a spy camera that connects to phone thus helping you know what someone is up to even when you are not together.
With this tool, you can access the camera on a web browser or VLC player and stream videos from the phone you are tracking on a WiFi network. You can take snap shorts record videos of the target individual using their phone without them detecting anything.
Furthermore, you can store all your recordings on the cloud without leaving a trace of your spying activities.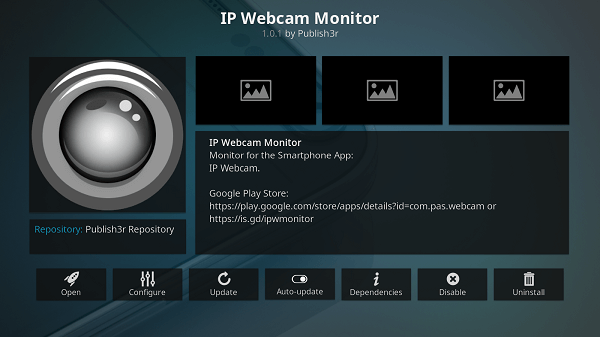 Key Features
The IP camera comes with many great features that make keeping an eye on someone quite easy. Some of the most important features include:
Ability to Upload Videos to The Cloud:
The IP camera makes it easy for you to access the spying videos by making them available on online platforms such as Dropbox and SFTP. These platforms are secure which makes your spying both easy and secure at the same time.
Different Video Recording Formats:
Such as MPEG4, MOV, WebM, and MKV among others. This makes it easy for you to access and watch your spying videos on the device you have.
Supports the Detection of Motion with a Sound Trigger:
Instead of just recording everything, you can set your phone in such a way that it can detect and record motion only. This makes it easy to save on storage space as you conduct your spying.
Cloud Push Notifications:
This enables you to get real-time notifications on your spying activity. For example, if you want to record motions the cloud push notifications will let you know in real-time when there has been a motion recording.
Steps to Spy on Someone through Their Webcam
Setting up and using the IP Webcam is quite easy. The important steps you need to take to set up an IP webcam for keeping an eye on someone are:
Step 1: Download and Install the App
First, you need to have the phone you want to use to spy on someone. Now connect that phone to the internet and then download the IP Webcam. Wait until the app is fully downloaded and then install it on the device.
Step 2: Modify the Settings
Once the app is installed open it and go to settings. Here modify the settings by selecting the format you want to record the videos, the size of the images, and the quality of the recordings. You must get this right depending on the device you want to use to access the recording.
Step 3: Start Recording
Now open the app and then click "Start Server" for the app to start recording using the phone's camera. Once recording starts check at the bottom of the screen and record the port number and the IP address displayed. This is very important.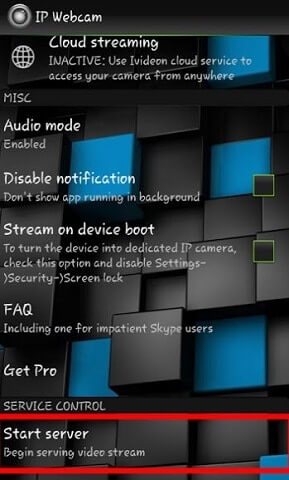 Step 4: Now Hide the App
Now you need to hide the app. This is important if you don't want someone to know that you are spying on them. To hide the app move to "Actions" and choose "Run in Background". This will hide the app and the camera interface. With this done you can hand over the phone to the owner.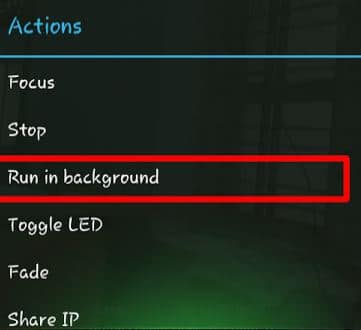 Step 5: Install the App on a Second Device
Now on the device, you want to use to access the recording download and install the tinyCam Monitor on your Android device. This could be a computer or another Smartphone.
Step 6: Select Your Camera
Once you have installed the app, launch it then click "Add Camera". On the "required Settings" page click "Camera Vendor" and choose "IP Webcam" as your camera.
Step 7: Configure Camera
Now navigate the app interface to configure the camera. Here enter the Port number and IP address you recorded down from the other device.
Step 8: Start Streaming
Now head to the main screen of the app and then hit the "Live View" button. From here you will be able to view video streaming from the other device. Now you can monitor the individual from this device at any time you want.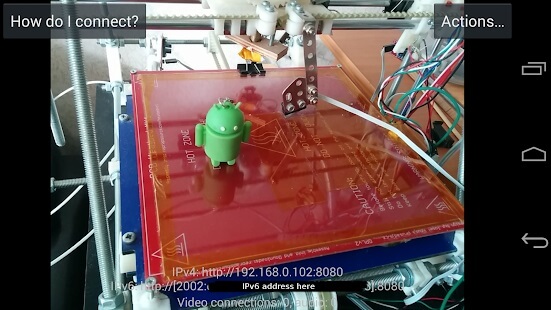 Why Do You Need Watch Other's Mobile Camera?
Cell phones have become essential item for people nowadays. Children have to keep one for their online study. Employees shall take use of it anytime as their productivity-improved tool. You need a cell phone for your social relationship. In a word, no one can live without cell phone today. So, phone monitoring is necessary.
For Parents looking through kid's phone camera:
It is important to get peace in mind for knowiwng your children are secure. Your kids might be out for the evening or on a field trip; they might have been supposed to be home an hour ago, but you cannot seem to get them to return your calls. And all these situations will not be your trouble again once you can achieve their phone camera to know where they are with cam spyer like KidsGuard Pro.
For Employers accessing through employees' phone camera:
Working from home is a common working style especially in this world suffering from a pandemic. Are you worried about employees productive efficiency? Worry about releasing confidential documents of your company? It will not be a problem with a remote spy cam which helps you monitor employees to protect your business and everything you bulit on.
For Individuals spying on their phone camera:
You may be anxious without keeping your phones on hand and knowing where they are at all times. You want to find your lost phone but have no idea what to do. A remote cam accesser is your best friend. You just only open the lost phone camera and find where the phone is. Easy, right?
Spy Cam App Makes See Through Someone's Camera Possible
Spying on someone is not as hard as you think. From the discussion above it is clear that you know how to spy on someone through their phone camera without them noticing. To remotely spy on someone discreetly using their phone camera, it is recommended that you use the KidsGuard Pro spy camera app. This application comes with many features that make easily monitor all aspects of your loved one's life without them noticing.