Turning on someone's cell phone camera remotely to spy on the target person may not be decent. However, it becomes necessary depending on the situation you are in. This could be due to monitoring your kids and partner as well as searching for a lost cell phone.
Turning on a cell phone camera remotely may sound very difficult. On the contrary, it is quite easy when you use a remote camera spy app. There are too many such apps available, and some of them are not trustworthy. Our team has handpicked 3 best apps for you, and we will illustrate how to access other phone camera remotely.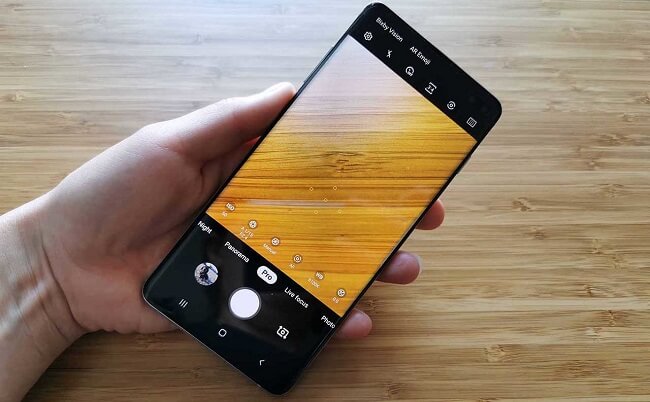 2. 3 Best Android Remote Camera Spy Apps
1. Do You Need to Turn on A Cell Phone Camera Remotely?
There are many scenarios when turning on the target phone's camera remotely is necessary.
When Your Phone Lost
When you cannot find your phone, you can turn on its camera remotely and spot the exact location where it is lying. If it has been stolen, you can see through the camera who has stolen it and take steps accordingly.
When You Need to Ensure The Safety of Your Child
If your kid is out and you cannot connect through call or message, you can turn on your kid's phone camera remotely and check his/her location. This is an essential step that parents have to take to ensure the safety of their kids all the time.
When You Suspect That Your Partner Is Cheating
There could be times when you may suspect that your partner is cheating on you. To be sure, you need to turn on his/her cell phone camera remotely when you are away. You will clearly see with whom your person is spending time and draw your conclusion.
2. 3 Best Android Remote Camera Spy Apps
We have handpicked the top 3 best remote camera spy apps for Android users.
No.1 KidsGuard Pro for Android
KidsGuard Pro is the best Android camera monitor app available. You can track almost every activity of the target person on his/her phone remotely. The most important point is that you can spy on the target person with an almost negligible chance of getting detected. There is no need for rooting the target device, and you can set it up instantly and get started in a few minutes.
How Does It Work?
First, you will need to create an account on KidsGuard Pro's official website. Then you have to purchase a plan, and once done, you will get an app download link. Install KidsGuard Pro for Android on the target's phone. Now, you can view all the activities of the target device from the web Dashboard of KidsGuard Pro. Go to Dashboard Remote Control Take Photos to turn on the target device's camera and take instant photos.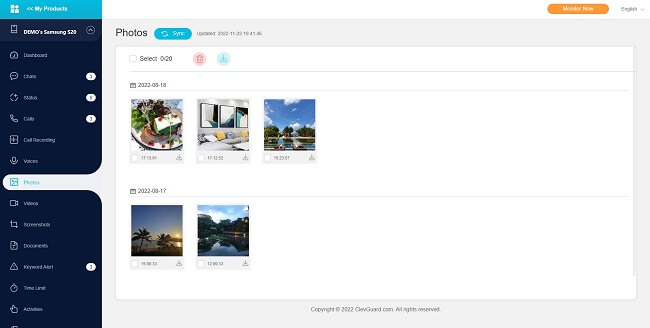 Features:
Basic Features–
Check out message and call logs.
Track GPS locations in real-time.
View location history and set up Geo-fencing.
Check photos, videos, thumbnails, and browser history.
Record keystrokes with its inbuilt keylogger.
Monitor calendar, reminders, and notes.
Advanced–
Turn on the target device's camera remotely.
Record phone calls, both incoming and outgoing.
Capture screenshots of the target device in real-time.
Monitor activities on social media apps efficiently.
Export and save phone activities and data for future.
Pros

The app stays hidden in the target phone.
Real-time remote controlling for better spying.
It is easy to install and use by normal users.
Lets you save data by exporting them for future usage.
Support team is always available to solve queries.
Cons

There is no feature to control web activities like blocking websites.
No.2 FlexiSPY
FlexiSPY is a popular spy app to remote access android phone camera. Apart from turning on cell phone camera remotely and capturing live photos, you can do live video and call recording, track GPS location, and listen to live call conversation. The app is also useful for iPhones as you can intercept Facetime conversations easily.
How Does It Work?
You have to purchase a FlexiSPY license and install it on the target phone. Once done, it will start capturing phone activities. You can log into your FlexiSPY account and go to Dashboard for remote spying and monitoring all captured data. For turning the cell phone camera on, you have to go to Dashboard Data RemCam for taking instant photos and Dashboard Data RemVideo for capturing instant video.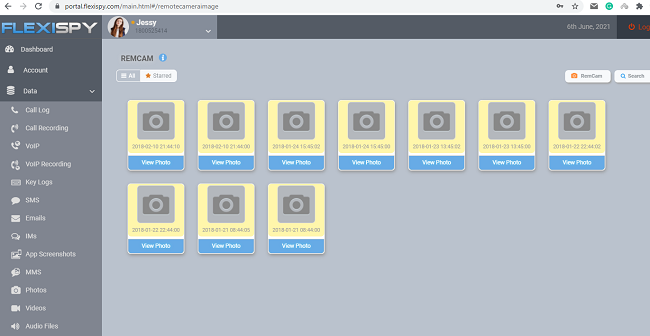 Features:
Basic Features–
App stays hidden in the target phone.
Monitor call logs and contacts.
Monitor SMS, MMS, and installed apps.
Track location and set geo-fencing.
Check browser history, bookmarks.
Check photos and videos captured.
Log keystrokes through a keylogger.
Advanced Features–
Capture photos and videos live.
Record calls and intercept live calls.
Record audio and video calls made through different apps.
Record messages sent and received through various apps.
Check out emails and get SIM-changing notifications.
Take app screenshots and send spoof SMS.
Pros

FlexiSPY allows spying on Android smartphone, iPhones, as well as desktop computers.
It has basic as well as advanced features of remote spying and monitoring.
It can stay hidden in the target phone for no suspicion.
Users can check a demo to understand its effectiveness and applications.
The support team is available 24/7 to help out the customers.
Cons

To avail all its features, you need to jailbreak or root the target device.
No feature for blocking websites and apps.
No.3 TheWiSpy
WiSpy is a leading Android camera spy app in the world. It offers a wide range of features for monitoring and spying efficiently. You can turn on the phone camera remotely and take pictures and videos. Besides, you can do call recording, monitor call logs, read through messages and conversations, and track GPS location in real-time. The app is easy to use and works in stealth mode.
How Does It Work?
WiSpy is easy to use and install, and anyone without any technical knowledge can use it. You have to purchase TheWiSpy License from the official website. Thereafter, you need to install WiSpy app on the target phone. Then you can use their web interface from anywhere you monitor all the activities on the target phone conveniently. In the Dashboard, you will find the option Take Picture to turn on the camera on the target phone and take instant photos.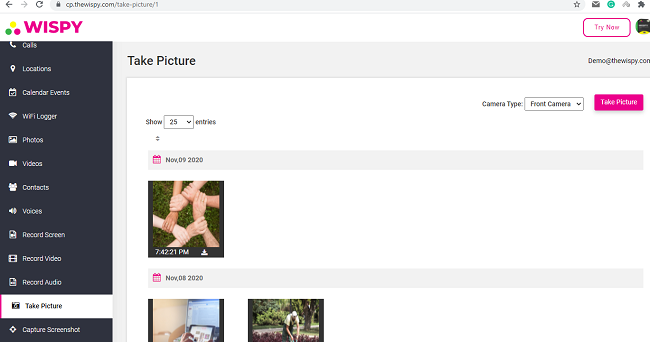 Features–
Basic Features-
Track call logs with details.
Check out the contact list.
Monitor text messages and voicemails.
Track GPS location in real-time.
Check saved photos and videos.
Advanced–
Capture live photos and videos.
Listen to surrounding conversations.
Received updates on digital activities.
Control the target device remotely.
Block websites and apps.
Keylogger for recording keystrokes.
Pros

Basic and advanced features for monitoring and spying available.
User-friendly interface and easy to operate.
Affordable pricing and feature-rich plans.
Does not need rooting the target device.
Support team is always available for help.
Cons

iOS monitoring version of the app is not available.
Does not offer multiple device monitoring feature.
3. How Can I Turn on Cell Phone Camera Remotely?
First, you have to successfully install KidsGuard Pro for Android on the target device. Take the following steps for installation.
Step1: Click on Sign Up button to register an account with your valid email address.
Step 2: Once account registration is over, you have to select a plan as per your budget and parameters for monitoring. The higher the duration, the lower will be the average price.
Step 3: Once you purchase a premium plan, you will get access to "My Products and Order Management" page. You can click on the Setup Guide option for better guidance.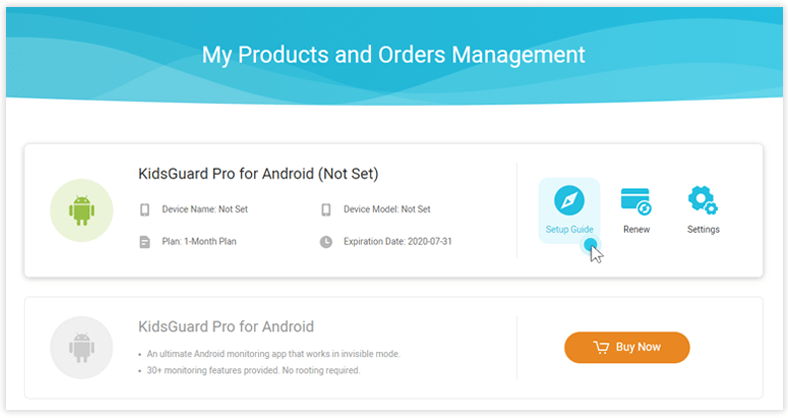 Step 4: Get physical access to the target device and go to the download website. Once it opens, Slide right to download the apk file. Install it after downloading is over.
Step 5: Open the app after installation and sign into your KidsGuard account. In the next screen, tweak the settings as per your requirements.

Step 6: Leave the target device and come back on your phone or computer. Sign into your KidsGuard account and starting Monitoring.
Step 7: In the Dashboard, you will see the target device name. Click on it and you will see the activities getting broadcast on your Dashboard.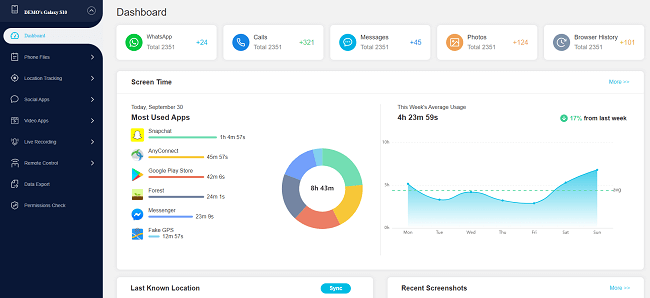 Step 8: You can choose from various monitoring parameters available on the Dashboard.
For turning on the target device's camera and take live photos, you can go to Dashboard Remote Control Take Photos.
4. Why Should You Choose KidsGuard Pro as Camera Monitoring App?
Out of these top three camera spy apps, we recommend KidsGuard Pro as the best app to access Android camera remotely. Here are the reasons for selecting KidsGuard Pro for Android.
Check Every Phone Activity
You can monitor more than 30 parameters of the target phone's activities with KidsGuard Pro. These parameters include call logs, messages, contact list, photos, videos, GPS real-time location, location history, Wi-Fi location history, setting Geofence, keylogger, calendar, reminders, notes, and much more.
Track Social Media Apps

There are only a few legitimate apps available in the world that can track the social media activities of the target person. KidsGuard Pro can track activities of the target person on all leading social media platforms starting from WhatsApp, Facebook, Instagram to SnapChat, WeChat, and Telegram. It also tracks Tinder, Line, Kik, Viber, and much more.

The most important factor of spying on someone is to be undetectable. KidsGuard Pro can stay completely hidden in the target device, and it is not possible for a normal smartphone user to detect its presence easily. It stays hidden from the home screen as well as the app drawer.

No Root or Jailbreak Needed

The best part of KidsGuard Pro is that there is no need for jailbreaking or rooting the target device. Rooting an Android phone refers to the process of breaking through the restrictions imposed by the operating system. It can be dangerous for the device's security, and it can damage the device as well. While other of the other remote camera monitoring app needs rooting of the target device, KidsGuard Pro clearly has no such requirement, and hence, it scores over them easily.

KidsGuard Pro is designed for anyone without any technical knowledge to use the app instantly. You will not need any external help to set it up properly. In fact, it takes merely 5 minutes to get started. The Dashboard is intuitive in design, and you can get everything in one place in an organized manner.

Conclusion

Accessing someone's phone camera remotely is a necessity in certain scenarios. You need to choose an app that is trustworthy, legitimate, and versatile. Considering various parameters, we are unanimously recommending you KidsGuard Pro for Android as the best cell phone camera monitoring app for parental control and remote monitoring.