There is nothing in the world that is 100% safe, especially on the internet, specifically for teens and children. You read news daily about cyberbullying, pedophile predators and fraudulent activities on the web. As a parent there is nothing more important than the safety for their children.
But how do we make sure, that our children are safe using the internet? It can be hard to keep a close eye on a child's online activities especially for teens who are going through a rebellious phase. They might not understand the reason behind it but you do. So, what can you do?
Fortunately for parents, there are several trusted teen phone monitoring apps that can be used to track child's activities and that's exactly what we are going to discuss. Here are a few applications that have been known to provide the best teen monitoring services.
10 Best Teen Phone Monitoring Apps
KidsGuard Pro – Best Teen Monitoring App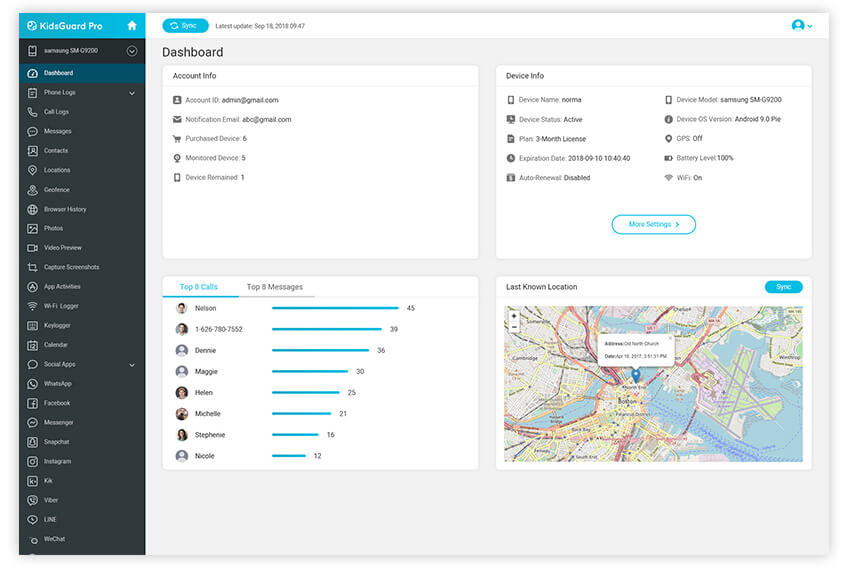 KidsGuard Pro is one of the best teen mobile monitoring apps out there. It has a ton of features that make it the top choice for a parent. By installing the app on the teen's device, you can keep an eye on plenty of things. The best thing about this app is that it will enter incognito mode after you complete setup wizard. Here's a list of reasons why you should get KidsGuard Pro.
Features
It provides real-time location tracking. You can also check the location history to know where your child has been.

It lets you check all the app activities, like how much time has been spent on specific apps each day.

It lets you monitor teen's messages, call log, contacts, gallery, browser history, social media apps like WhatsApp, Viber, Line WeChat and more.

You can remotely control your child's phone, like taking real-time screenshots and knowing what he/she is doing right now.

It can record all the keystrokes on the teen's phone.

It is very easy to install and operate.
Compatibility
Both Android and iPhone are supported.
Average rating: 4.5

MMGuardian Parental App
MMGuardian is a tool used by a lot of parents with an Android device. It's proven to be a great app for the parents who want remote access to their kid's phone. The app can provide you a detailed report of what your child/teen is doing online, how much time they spend on social media, and gaming etc. You can set some key-words on the target device so you get updated whenever your kids type them. You can also set time limit, allow or block any site of your concern while using this teen phone monitoring app.
Features
Get comprehensive reports of the target device

Set screen time limits on your kids phone

Block any app including WhatsApp, Snapchat, and Instagram etc.

Monitor all the SMS that are sent and received

Block contacts to avoid any unwanted calls or text

Get smart alerts on app installment, call block, location update

Filter websites for your kids, block pornographic sites by using Web-Filter
Compatibility
Available for both iOS and Android devices
Average rating: 4.4

Spyzie
Spyzie is another very efficient and trustworthy child monitoring app. Every parent has the right to know what their kids are up to on the social media sites. This application will give you access to multiple social media accounts such as Facebook, Instagram, WhatsApp. This app also used in small business but it is mainly used by parents to watch over their growing kids.
Features
Block any suspicious app

Restrict phone usage by limiting time

Set Geo-fencing and get notified if target device cross limits

Get full access to social media accounts on WhatsApp, Line, WeChat, Facebook, Instagram, Kik

View emails/messages/photos/videos including the deleted ones

Keylogger captures key strokes of the target device

Know App usage/duration/activities
CompatibilityM
It is compatible with both iOS and Android devices.
Average rating: 4.2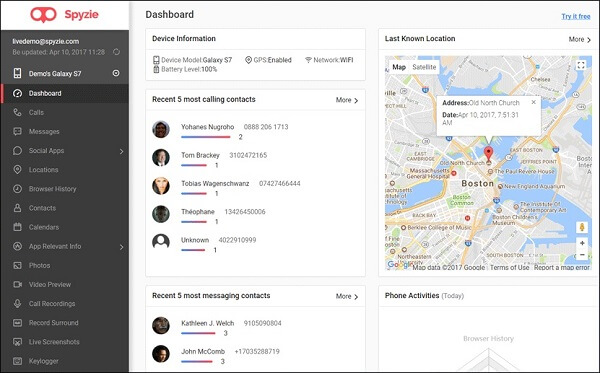 Kaspersky SafeKids
Kaspersky is a renowned name in the word of network security and Antivirus. They are in this field for 20 years now and have recently launched Kaspersky Safekids to keep your kids protected in the digital world. SafeKids is very easy to install and has a user friendly interface. It's a very simple tool for monitoring your kid's Facebook activities, blocking adult websites and limiting their phone usage.
Features
Let you limit screen time on your kids phone

Monitor all incoming and outgoing calls/texts on your kids phone

Detailed reports on their public Facebook activities including posts and newly added friends

Block adult web sites, and web content

Get real-time notification on your kid's online actions

Lets you define a boundary for your kids and notifies you if they exceed
Compatibility
Available for iOS, Android devices and Windows
Average rating: 3.9

Zift Parental Control
Zift Parental Control is one of the top rated phone monitoring apps for 2020. It has acquired Net Nanny (another parental control application) some years ago and built the app with improved features like strong web filtering and blocking etc. It has a superior interface and offers excellent usability and features. It has the capability to block unwanted applications, track real time activity, and set time limits etc.
Features:
Manage real time activity

Web filtering and alerts and blocking of inappropriate content such as porn, suicide and drugs etc.

Comes with app management and screen time limit.

Capable of doing remote activities such as disabling Internet on the target device.
The only downside of this app is the fact that it doesn't support call or text monitoring as of now.
Compatibility:
Both iOS and Android devices
Average Rating: 3.9

LogsKit
LogsKit is a monitoring app that can extract logs from your cell phone. It also comes with mobile tracking features as well. It is an app that almost ticks all the right boxes when it comes to an ideal parental monitoring app. The app works in stealth mode in the background and uses logs over Wi-Fi or data through the target device. So, it is completely undetectable and can be of great help in teen monitoring especially if you want to monitor all the online activities without them knowing.
You can view all types of text messages and photos. You can also view any type of call details like date of the call, missed calls, duration etc.

It comes with location history and GPS tracking.

It can listen and record calls anytime.

Manage and filter browsing activities.
Compatibility
It is compatible with only Android devices. Supports the latest Android and lower versions!
Average Rating: 3.8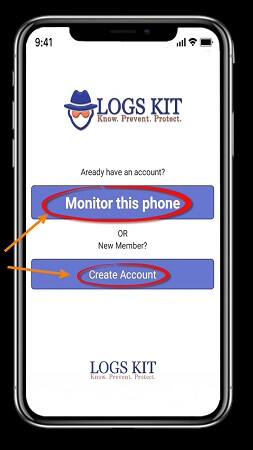 KidBridge
Teensafe which has been a very successful parental controlling app has recently moved to KidBridge. KidBridge is a brilliant app to watch over your kid's and teenagers to understand them better and provide them a better future. It allows you to take control over popular apps such as WhatsApp, Kik and others. You get all their text details, saved contacts and also come with location tracking enabled. One feature that we really liked is it can recover deleted texts also.
Features:
Tract all sent/received messages on the target device including the deleted ones.

View saved contacts, call logs with time and date

View web history

Location tracking and location history.

Get full access to WhatsApp /Kik chats, photos, videos

Connect multiple devices to track
Compatibility:
It is available for Apple devices so you can monitor teenager iPhone only.
Average rating: 3.8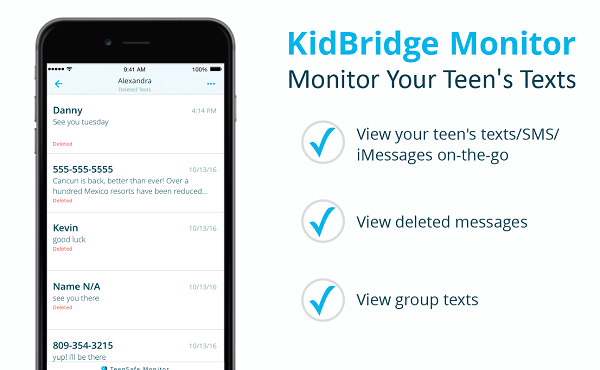 ESET Parental Control for Android
ESET is a quite popular name in the industry of network security. Currently around 110 M parents are using this app worldwide. By using this family-friendly app you can monitor your child's device, block or uninstall any inappropriate app, set limit for their time spend with mobile. ESET Parental Control uses age-based filters which blocks the target device's engine to access any 18+ content. You can easily get it from Google Play Store for free.
Features
Let's you monitor web activities 24/7

You can block certain apps on the target device.

Limit time for games and other apps

Prevent your kid from watching any adult content by wed guard and safe search

Define web boundaries for your kids using Geo-fencing

Set a budget limit for fun and games in the target phone

Locate the target device in real-time.
Compatibility
It is only compatible with Android, Windows, and Mac
Average rating: 3.6

SecureTeen Parental Control
Developed by Infoweise Pty Ltd, SecureTeen is one of the most popular child monitoring apps. It's a great teen monitoring app for parents who are constantly worried that their kids are being exposed to adult content. It's a very useful tool as it lets you monitor and filter your kids web activities, it checks the apps they download, view text/call they send or receive. It has a very simple UI which makes it seamless to use.
Features
Set time limits on kid's screening

Keep an eye on your child's online activities 24/7

Block any inappropriate site available on the internet

Lock and block any inappropriate app from your kid's device

Monitor all sent and received SMS/calls and chats messenger
Compatibility
Available for both iOS and Android devices
Average rating: 3.5

Norton Family Parental Control
Norton has designed a Parental Control application that is designed to protect children and teens. By using this app you can track all sites that your child visits and block them if required. You get to know their interests and what your kids are viewing online including Facebook and Youtube videos. Additionally it sends you alerts whenever you kid tries to open a restricted site so that you can have a conversation with them and correct their behavior.
Features
Let's you block certain harmful websites from the target device

Monitor apps that your kids are using mostly and block any inappropriate app when needed

Set time limits or schedule time on daily/weekly internet usage

Get notified when your kids connects online via email

See the videos you kids are watching on their PC and iOS

Monitor on their text messages and block any objectionable contact

Get full details of your kids online activities
Compatibility
It is compatible with both iOS and Android devices.
Average rating: 3.0

Conclusion
Keeping an eye on your teens is very important in this high-tech age. There are various apps listed above that can help you do that, but our #1 recommendation is KidsGuard Pro as the best teen monitoring app.
It is a complete package, a simple application that lets you keep an eye on everything; location, usage, social media, messages, app activities --you name it. Try it for yourself by signing up for the 3 day trial.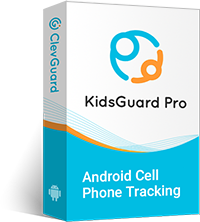 An Array of Amazing Features
Track the real time location and view location history

Check all incoming and outgoing calls & SMS

Monitor app activities and know which app is frequently used.

Remotely access the files on kid's phone, like contacts, notes, photos, keylogger, etc.