Question: How to take a screenshot on snap without them knowing?
When you screenshot on Snapchat message or story from a Snapchat friend, they'll receive a "Screenshot" notification along with the time it was captured - stating as if you're invading their privacy. So wouldn't it be nice to screenshot on Snapchat without them knowing?
It's possible and here are a few original or technical ways to do it inconspicuously. Check our step-by-step guides below on how to screenshot on Snapchat without them knowing.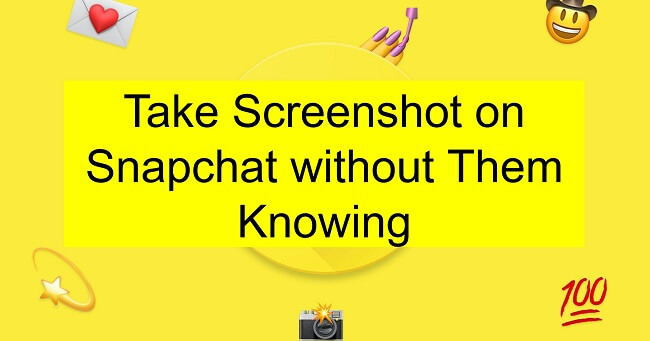 8 Ways to Screenshot Snapchat without Knowing
Way 1: Use Another Device
Success rate: 95%
Operation simplicity:
Require: Need to have another device.
Real-time screenshot: No
Let's begin with the simplest way. Just pick up another smartphone, or your tablet to take a photo or record the screen. The procedure is very friendly for someone without any tech knowledge and free to use.
Kindly note that you have to figure out which kind of snap you have received: is it a picture or a video? Make sure to start recording before you open the snap so you won't miss any details. You can even use the Snapchat app's "Replay" function to get the whole snap of the screen. But the other person will know you have replayed it.
One more thing is that you have to hold another device steadily when capturing or recording the screen. The quality is not great enough though.
Limitations: You may not always have a secondary device available to take photos or record the screen of the Snapchat application. The resolution of the image is not good enough.
Way 2: Use KidsGuard Pro Snapchat Screenshoter
Success rate: 95%
Operation simplicity:
Real-time screenshot: Yes
Require: A KidsGuard Pro account and install the app on the target device just once.
What if I tell you there is a way to monitor every detail of the other person's Snapchat without them knowing, simply put, log into someone's Snapchat. You will get to know what he/she shares or receives and who he/she is chatting.
Fortunately, this is realizable if you choose a legitimate 3-rd party app. There is no such a better app out there at the moment than KidsGuard Pro Snapchat monitoring app. Once this program is set up on the target phone, it can access instant messages on Snapchat and take screenshots remotely. Moreover, it runs sneakily in the background without any notification to the target user. You can simply check everything you want from an online panel anywhere.
KidsGuard Pro offers incredible monitoring features
You can take screenshots of Snapchat remotely which means you can check what they are up to on Snapchat.
The snapped screenshots can be viewed in real-time from the app's web portal using any device of your choice.
Snapchat deletes messages after a day. But this app automatically records messages without them knowing including messages incoming, outgoing and even deleted, along with contact names and timestamps.
KidsGuard Pro is built for stealth. This app runs discreetly, so you won't get caught spying on someone's Snapchat and get into trouble.
You can get more than just Snapchat. This app is able to record calls, track location, monitor browser history, take photos, spy on other popular social media apps and more.
The app is appreciated by millions of users over 190 countries around the world and is vetted by cybersecurity researchers.
Except for monitoring Snapchat, KidsGuard Pro is also equipped with a multitude of cutting-edge features. Just go to their free demo and learn more.
You may also interested in: How to Open a Snapchat Without It Saying Opened?
How to Screenshot Someone's Snapchat Account via KidsGuard Pro
Although with these powerful features, the setup procedure is extremely easy, which takes only 3 minutes to complete and you can start monitoring someone's Snapchat. Here's how to get started:
Step 1: Create your KidsGuard Pro account by using a valid email ID first and choose a license to access premium features. Then download the app with the browser of the target phone.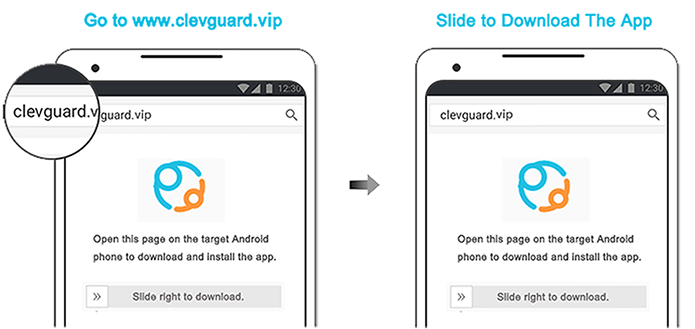 Step 2: Tap the downloaded APK files to initialize installation. Log in your account and follow the easy on-screen instructions to make the necessary changes in the configuration of the target cell phone.

Step 3: After you set up the app correctly, the app icon should disappear from the target device to prevent being caught. Now you can visit KidsGuard Pro official websites and log into its online dashboard. Select the "Remote Control" option on the left, then choose "Capture screenshot" to take a screenshot on the target phone.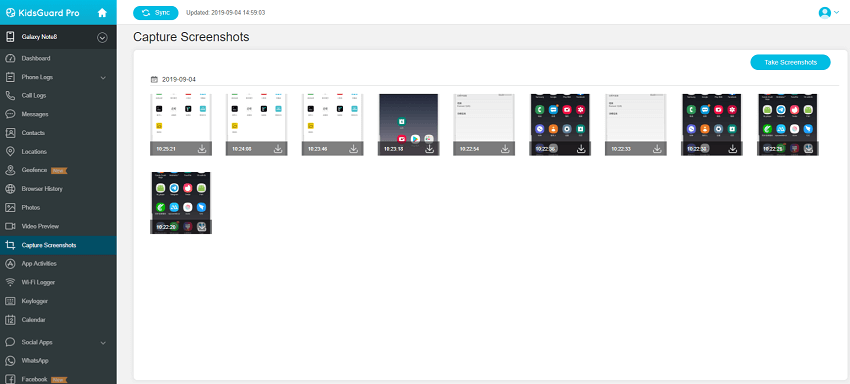 So, this procedure does not require something so preliminary. It is an advanced app that remotely monitors the target device and takes Snapchat screenshots if required.
Way 3: Use Screen Mirroring
Success rate: 90%
Operation simplicity:
Require: Need to access a TV or laptop.
Real-time screenshot: No
Similar to the Screen Recording method, Screen Mirroring is another built-in application for mirroring your device to a TV or laptop so that you can capture Snapchat screenshots without the poster being made aware.
You can connect your device to both your TV and laptop by an HDMI cable or by enabling the "Screen Mirroring" feature. In doing so, it's possible to mirror the active screen on your device onto an external platform.
Step 1: Open the snap you want to save or record.
Step 2: Swipe down from the top of the screen and tap "Screen Mirroring" button to connect with a TV or laptop.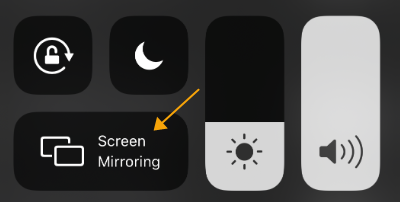 Step 3: You're presented with the playing snap on the TV or laptop.
Limitations: Finally, you have to record the snap on the mirrored TV or laptop with another device.
Way 4: Use Google Assistant
Success rate: 73%
Operation simplicity:
Require: Have an Android phone.
Real-time screenshot: Yes
If you are an Android user, then capturing screenshots from Snapchat is easy with Google Assistant. The good news is that other people will never get to know. Follow the simple steps mentioned below to know-how.
Step 1: Launch Snapchat and open the snap you want to take a screenshot of.
Step 2: Long-press the home button or say "OK, Google" to trigger Google Assistant.
Step 3: You can ask Google Assistant to take a screenshot either by typing it or using voice command.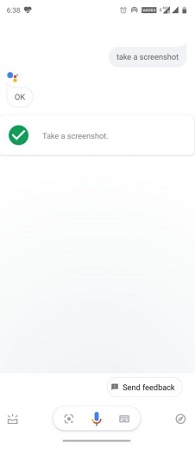 Limitations: You will have to share this screenshot to the email or other services and you need to retrieve it from there. Otherwise, you will lose it.
Way 5: Use QuickTime
Success rate: 65%
Operation simplicity:
Require: This app only works on Macbook.
Real-time screenshot: No
If you search Snapchat screenshot apps, there are a lot of services available, but none are licensed by Snapchat. The QuickTime on Mac can also be used for the said purpose. As mentioned above, it only works if you own an iPhone and a Macbook. But it is quite useful.
Here's how to screenshot on Snapchat without them knowing on iPhone using this capable application:
Step 1: First, connect the iPhone to the Mac using the lightning cable.
Step 2: Then, launch the QuickTime Player app.
Step 3: Navigate to "File" and choose "New Movie Recording".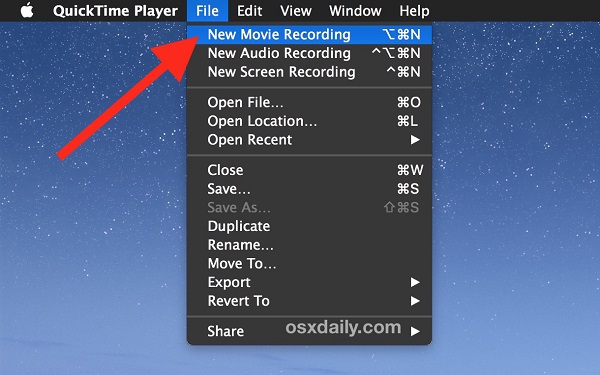 Step 4: It will take a few moments to load. After the loading, hover the mouse over the recording button.
Step 5: Click on the small arrow. Doing this opens a lot of options for recording.
Step 6: Then, choose your iPhone as "Movie Recording Input".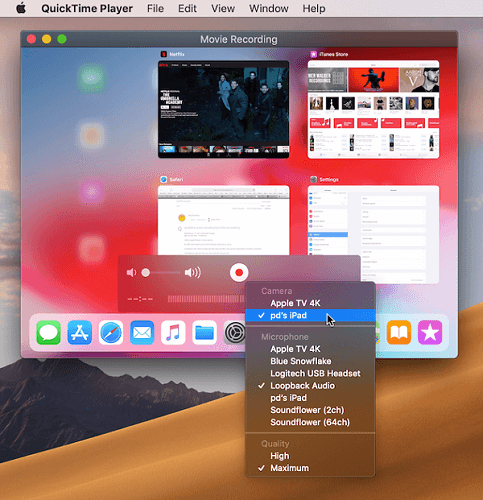 Step 7: After connecting the iPhone to the Mac, the Mac screen should be mirroring the mobile screen. Then, just click on the "Record" button and navigate to Snapchat app to initiate the recording.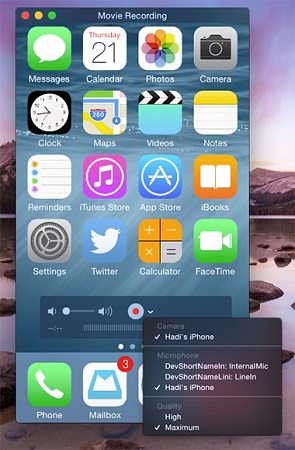 Limitations: The QuickTime method is effective but it is only available for Mac. You have to do it in your home, and you have to be well-prepared for it.
Way 6: Screenshot Snapchat in the Background
Success rate: 55%
Operation simplicity:
Require: Clear other recent apps in the background and disable apps locked in Snapchat.
Real-time screenshot: Yes
The next method to take a Snapchat screenshots without them knowing is by keeping Snapchat in the background while being taken screenshot. Follow the steps involved below and know how to screenshot on Snapchat without them knowing:
Step 1: Lanuch Snapchat and clear all the other recent apps on your phone in the background.
Step 2: Open the image or chat you want to save without them knowing and swipe up from the bottom of the screen to bring up the Recent App interface. Make sure Snapchat is completely displayed in the frame.
Step 3: You can now take a screenshot and other people won't be notified.
Step 4: You can also crop the screenshots in your Camera Roll to remove unnecessary parts.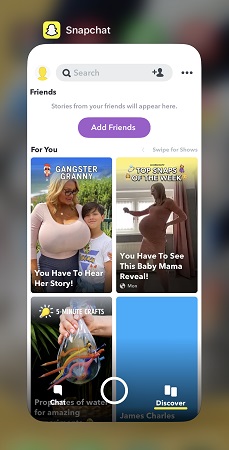 Limitations: It may fail to screenshot encrypted chat and images due to updates on Snapchat. In this situation, you should downgrade Snapchat version to get this worked.
Way 7: Use Screen Recording
Success rate: 40%
Operation simplicity:
Require: Your Snapchat should be below version 10.17.5.
Real-time screenshot: Yes
Have you come to know that there is a built-in screen record application on iPhone and Android devices? This is another foolproof way to save a snap on your phone. You can utilize screen recording feature without any tech knowledge or additional tools.
Let's take a look at how to save your snaps inside Snapchat through a screen recorder.
Step 1: Go to Settings > Control Center > Customize Controls > add the "Screen Recording" functionality to appear in Control Center.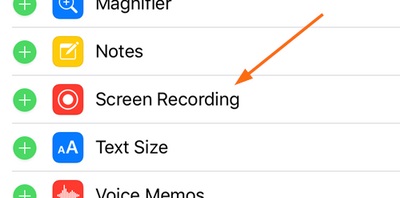 Step 2: Then you can open Snapchat app, but do not open the specific chat or image.
Step 3: Swipe down the control center from the top of the screen, and tap the icon with two concentric circles to start recording.
Step 4: If you have finished the recording, simply tap the same icon again, then you can check the video in Camera Roll.
Limitations: If you have updated to Snapchat version 10.17.5 and above, the app can detect screen recording and notify the other side every time you initiate a recording through the use of this built-in recorder.
Way 8: Under Airplane Mode
Success rate: 30%
Operation simplicity:
Require: Have to toggle the Airplane mode every time.
Real-time screenshot: Yes
The next simple solution to screenshot Snapchat without them knowing is to delay the notification under airplane mode. That is because your actions won't be detected by any app if you turn off WiFi, mobile data and bluetooth.
To be fair, it may fail sometimes if you are not able to take steps correctly. It's better to test this on your own Snapchat first and make sure it's working before you try it with someone else's Snap. So do other methods.
Step 1: First, you have to launch the Snapchat app. But don't tap on the "New Snap" you want to see. You need to wait as the unopened snaps are loading and make sure that they are completely loaded.
Step 2: You can swipe down from the top of the phone and you will get the control center, tap on the "Airplane" icon. Or go to Settings and turn on the Airplane Mode there but do not close the app. Make sure that there is no network connection on your phone.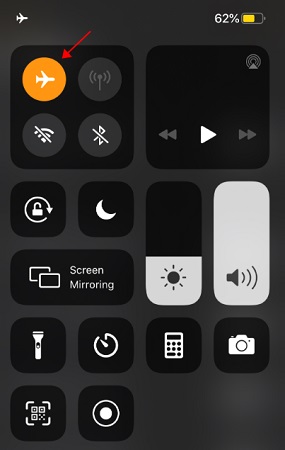 Step 3: After that just go back and take a Snapchat screenshot.
Step 4: This is the most important part if you don't want to be caught screenshotting. Navigate to the Settings in Snapchat and choose Clear Cache > Clear All. Snapchat will restart though.
Step 5: You should clear the Snapchat app from recent apps and wait for at least 30 seconds. Now, turn off Airplane mode and check your screenshot in your camera roll. In this way, the other person will not even find out you have opened the snap. Of course, you can take a Snapchat screen without them knowing..
Limitations: You can only take one screenshot each time. If you want to save more images, you have to toggle the Airplane mode and clear cache again and again, which is very cumbersome.
Often Asked Questions about Snapchat Screenshot
Q1. Can you screen record on Snapchat without them knowing?
In Snapchat version 10.17.5 or previous, just pull down your Control Center and make use of the Screen Recording feature. When you want to stop screen recording, just tap the red taskbar. But in the later version, you can only mirror the screen of your device onto an external platform and screen record on snap with another device.
Q2. How to save snaps without them knowing?
You can save snaps without them knowing with KidsGuard Pro app. Because it is equipped with a keylogger feature that can record every keystroke on the phone including sent, unsent, and deleted snaps. Shared media files are available, too.
Q3. Does screen recording notify Snapchat?
Snapchat will notify users if the program detects a screen record or capture. The notification will be placed in the chat or a screenshot icon shows in the viewer's section of a user's story.
Q4. How do you know if someone screenshots your Snapchat?
If someone screenshot your Snapchat, you will receive an alert saying "XXX took a screenshot!" in the chat.
Q5. How to stop screenshot notifications on Snapchat?
There is no official way to stop screenshot notificationa on Snapchat. You can refer to our 8 popular methods mentioned above, but frankly, they are not always successful and have their drawbacks as well.
Conclusion
Well, the above are the main ways on how to screenshot Snapchat without them knowing, you can choose one of them as needed. We have looked all over and found those original ways to take the screenshots. These are great but each has its drawbacks as well. It is suggested that test each method on your device first.
If you have another device, screenshotting Snapchat can be super easy without triggering a notification. If not, the safest, most risk-free way to take Snapchat screenshots is to use a 3rd-party app like KidsGuard Pro, which has to be installed on the phone first. Then you can remotely activate the "Capture Screenshots" feature through an online panel to take a screenshot secretly when the target is using Snapchat.
It does an excellent job of taking a screenshot of any Snapchat page without notifying the users. Go for it!