Question: How to see what my child is doing on phone?
In today's world, parents have to give a smartphone to their kids due to online classes, online group study, education video tutorials, and even for regular and emergency communication. However, a smartphone can be a harmful gadget for a kid if there is no parental control.
Parents should monitor kids' phones regularly to ensure that they are not misusing their phones and getting into any online danger. But is it even possible to check everything your kid does on his phone? In this article, we will illustrate all the legitimate ways on how to monitor your child's phone and see everything without them knowing free.
How Can I See Everything on My Child's Phone Without Them Knowing?
The most legitimate way to monitor kid's phone remotely and without them knowing is by using professional parental control app. You install a parental control app on your kid's phone and parents can check everything that their kid does on his phone remotely from parent's device. This is the best option for both Android and iOS users.
However, if your kid uses an iPhone, you can check his iPhone activities from iCloud account. Besides, you can forward the calls and text messages to your number that your kid is supposed to receive. Here are all the methods on how to monitor kid's phone.
1. Use Professional Parental Control App [Android&iOS Supported]
We first recommend the parental control app, KidsGuard Pro, as it is the most comprehensive parental control app , which supports both Android devices and iOS devices. The app is feature-rich and stays in stealth mode on your kid's phone. That is how parents can monitor secretly if the app stays hidden on kid's phone.
KidsGuard Pro parental control app can be used for various situations. All the recorded data are safe and secure, and parents can monitor everything remotely from Dashboard online.
KidsGuard Pro allows you to know if your child's online environment is good by checking all data and your kids' phone app activities.
You can know if your child is bullied by tracking his phone location remotely. You can also set up Geofence.
KidsGuard Pro is also the way that you can see what your kid is doing on their phone by seeing everything on child's phone without them knowing.
The app runs in the background and your children won't find out that you are seeing everything on their phone, so as to avoid conflicts.
Key Features of KidsGuard Pro Parental Control App to Monitor Kids Phone
Here are the features that let you remotely monitor everything on your kid's phone without them knowing.
Monitor Social Media App: The biggest online danger for kids is social media platforms. Therefore, KidsGuard Pro lets parents monitor all the social media conversations that their kids have on various social media apps. KidsGuard Pro can record conversations from WhatsApp, Facebook, Instagram, Snapchat, and various such apps and show them to parents through Dashboard.
Track Location: One of the biggest concerns of parents, when their kids go outside alone or with others, is if their kids are safe. That is why KidsGuard Pro allows parents to track their kid's location in real-time on the map from Dashboard. In fact, parents can also check their kid's location history records to find out their whereabouts in the recent past.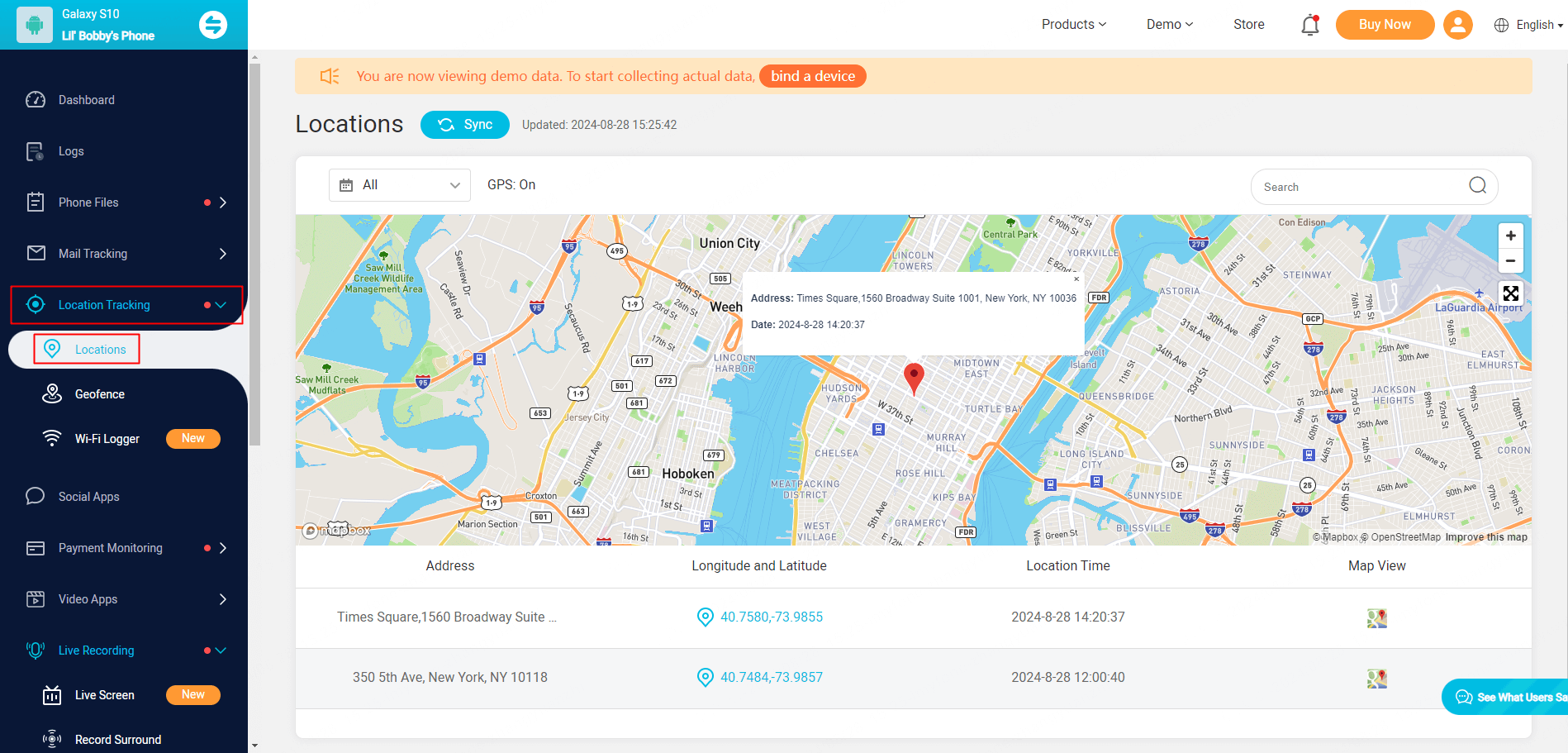 Set Geofence: Since it is not always possible for parents to monitor their kid's location live, KidsGuard Pro has introduced the Geofence feature. Parents can set a virtual fence containing the safe areas. Once their kid crosses that Geofence, KidsGuard Pro sends instant alerts to parents so that they can monitor their kid's movement in real-time and take proper actions instantly.
Read Text Messages: Parents can check all the text messages on their kid's phones through KidsGuard Pro Dashboard. This includes all the messages sent and received as well as the ones that are deleted. The messages are displayed with contact name and number along with time stamp in proper conversation format.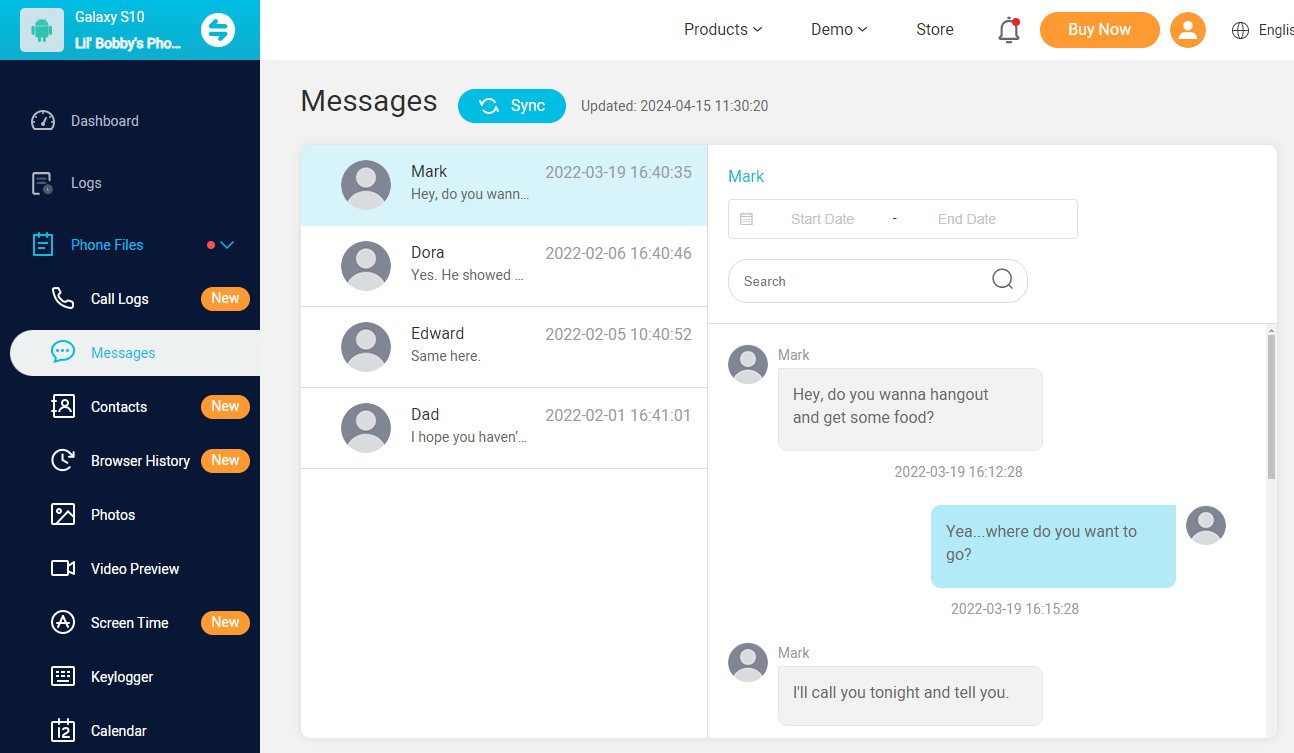 Check Call History and Contacts: Parents can also monitor all the incoming and outgoing calls on their kid's phone from KidsGuard Pro Dashboard. The call logs contain the contact name and number, call type, call duration along timestamps. Therefore, parents can understand whom their kid is contacting through calls and if anyone is disturbing them.
Record Call Conversation: To make your suspicion clear and confront your kid, KidsGuard Pro lets you record every call conversation live of your kid. You can listen to those conversations and understand the topic of discussion. If you detect bullying, abuse, blackmail, and someone trapping your kid through calls, you can take action immediately.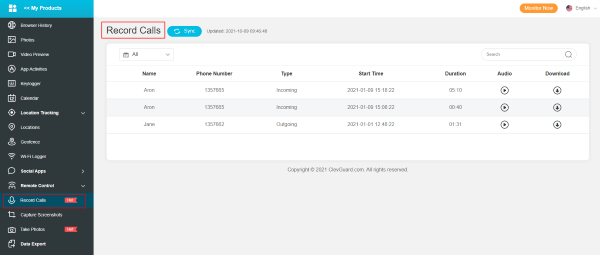 View Browser History: To ensure that your kid is not misusing the internet, you should check your kid's browser history from time to time. You can monitor the websites he is visiting and the searches he is making. This will help you understand if he is getting exposed to inappropriate online content.
Capture Screenshot and Record Phone Screen: Remote control is one of the unique features of KidsGuard Pro. You can capture screenshots and record your kid's phone screen in real-time from your Dashboard. This means you can instantly check what your kid is doing on his phone, and you can detect anything before he deletes them.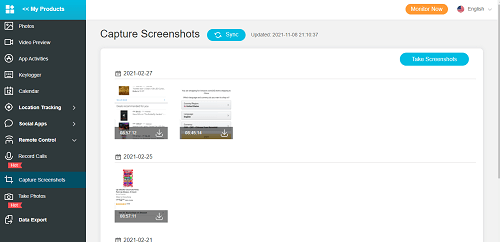 Listen to Phone Surroundings: KidsGuard Pro supports listening to phone surroundings, with this feature, you can know the surrounding environment of your kids and know whether he is safe or not.
Set Sensitive Words: You can set sensitive words for your kid's phone. If your kid's device inputs or received these words, it will keep the record on the dashboard, also, you will receive real-time alerts via E-mail.
Take Photos Secretly: you can take photos from your Dashboard through your kid's phone camera to check the surrounding. This is useful when your kid crosses Geofence and you want to see who he is with to ensure if he is safe or needs immediate help.
What's more, not only can you monitor your child's phone from my phone but also export the data for future references. KidsGuard Pro promises 100% safe and undetectable, no data leakage and protecting each user's privacy.
How to Use KidsGuard Pro to See Everything on Kid's Android Phone within 3 Steps:
Here are all the steps on how to monitor your child's phone using KidsGuard Pro for Android.
Step 1. Register An Account
Create an account for KidsGuard Pro with your email address and choose a suitable plan by clicking the button below.
Step 2. Deploy KidsGuard Pro
Download and install KidsGuard Pro Assistant app from www.clevguard.net on your kid's Android smartphone. Follow the instruction to set up.

Step 3. Start Seeing Everything on Child's Phone
You can monitor your kid's phone activities on your Dashboard from any device and anywhere. You have to visit the KidsGuard Pro web portal or download KidsGuard Pro App in Google Play on your own device by signing into your account.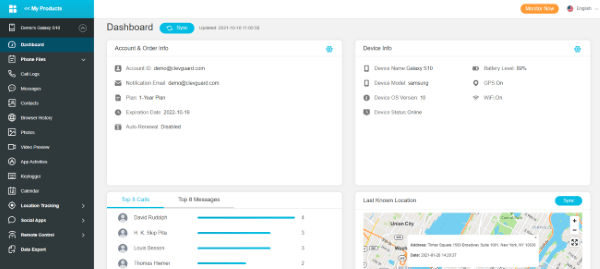 How to Monitor Kids' iPhone with KidsGuard Pro:
Step 1. Download KidsGuard Pro
After creating an account and getting a plan, download and install KidsGuard Pro for iOS from www.useapp.net on your computer.

Step 2. Mirror Childs' Phone and Start Monitoring
Connect your kids' iOS devices to the computer and mirror your childs' phone data. After that, you can spy on your child's phone without them knowing. Similarly you can go to the web dashboard or get the app from App Store on your own device to check them.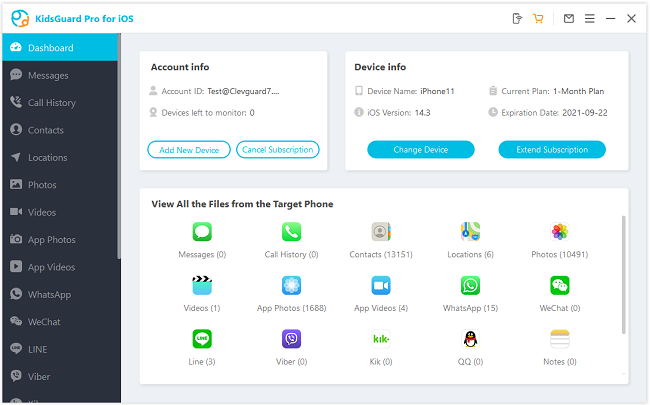 2. Mirror Your Kid's Phone to Yours via iCloud [iOS Only]
"Can i mirror my child's phone to mine"? You can sync your kid's iPhone data with his iCloud account. You can log in to that iCloud account credentials and check all phone activities that are synced.
However, you have to first enable the sync feature from your kid's iPhone. Here are the steps you need to follow on how to monitor my kid's phone through the iCloud account.
Step 1: Go to Settings > iCloud and enable all the options you need to monitor.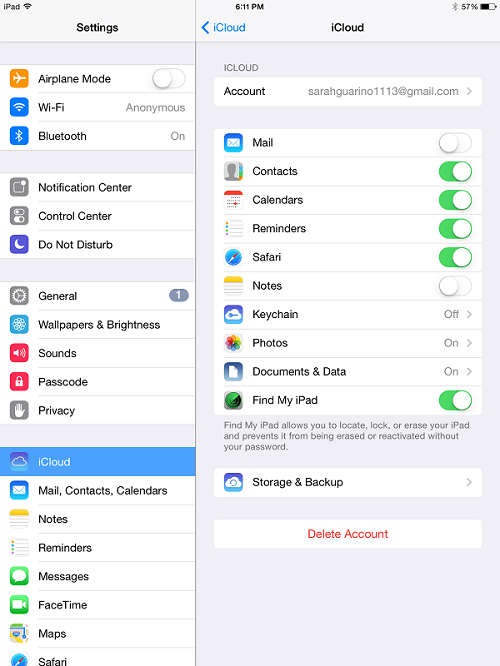 Step 2: On your device(parent), visit www.icloud.com. Enter your child's Apple ID and password.
Step 3: From the Dashboard, select your kid's device and select which data you want to check out.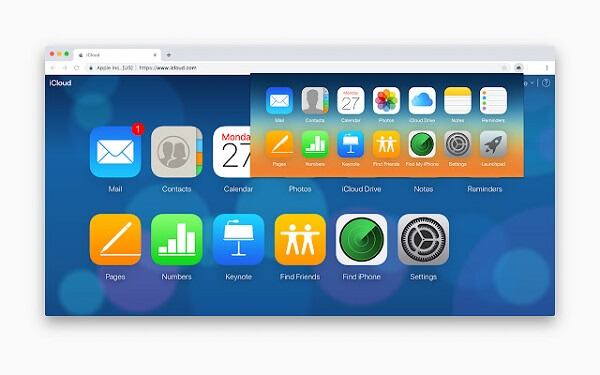 3. Sync Child's Text Messages to Your Own Phone [iOS Only]
If your kid has an iPhone, you can forward the text messages to your phone so that you can monitor them directly. Here are the steps to follow on how to monitor kids' iPhone text messages.
Step 1: Open Settings app and tap on Messages option.
Step 2: Go to Send & Receive option and tap on Use Your Apple ID for iMessage option.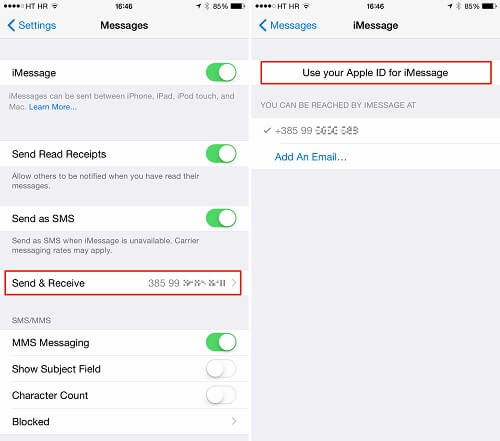 Step 3: From the pop-up box, tap on Use Other Apple ID and sign in with your child's Apple ID.
Step 4: Then again go to Settings > Messages and you need to enable Text Message Forwarding option.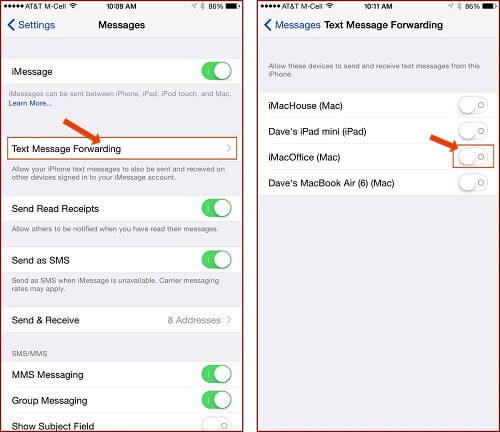 Step 5: Select the device where you want the messages to go and enter the sent verification code to confirm the device.
You May Wonder: Why Should Parents Know Child's Phone Activities?
There are many who think that parents should respect their child's privacy, but kids need their parental monitoring and guidance for the following reasons.
Prevention
Parents should prevent their kids from misusing their smartphones. Parents can only know that their kids are misusing when they start monitoring their phone activities.
For example, kids could be searching for mature videos, sending inappropriate messages and photos. Parents can detect them and take steps to prevent any such happenings in the future.
Protection
Kids are highly active on social media and instant messaging apps. However, such platforms are dangerous as there are child predators, bullies, and abusers. Kids are unlikely to detect what is good and bad, and that is where parents can intervene to confront the child predator who is disturbing and blackmailing their kid. Similarly, if someone is calling and threatening him, parents can take steps immediately.
Help and Guidance
Only through proper parental monitoring and control kids can learn and improve. When they know that their parents are monitoring, they will prevent themselves from doing anything wrong and misusing the device.
Conclusion
We have answered your question, "How can I see everything on my child's phone?" If your kid has an iPhone, there are some in-built ways through which you can monitor your kid's iPhone activities in a limited capacity. For complete monitoring, we recommend KidsGuard Pro parental control app. It is a complete parental control app for monitoring everything remotely and mirror your child's Android phones and iOS devices to yours.