Have you seen your wife acting strangely, rudely and using the phone more than usual? You may feel even more worried if she takes her photos regularly and is curious about creating unique and beautiful Snapchat videos.
Taking care of your wife and keeping her on the right track is your responsibility. So it is your right to know to whom she is messaging on Snapchat so regularly. Do not worry, we are here to clear your confusion regarding "how to spy on wife on Snapchat and also help you see your wife's Snapchat messages.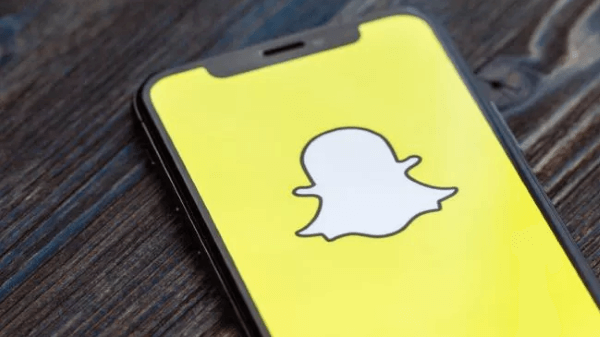 Can You Spy on Your Wife's Snapchat?
Yes, you can spy on your wife on Snapchat. Snapchat is one of the biggest social media platforms and security features are also quite strong. The only one solution that will help you to access the data within Snapchat is to use third-party Snapchat spying applications.
By choosing the right application, you can easily spy on your wife's Snapchat and see messaging history, detailed information, to whom she is sending messages, photos, and videos so frequently. A good Snapchat spy application always comes up with various additional features that give you all the information you have ever wanted to know about your wife's phone.
How to Spy on Your Wife on Snapchat Without Her Knowing?
After detailed research, we have come up with the best Snapchat monitoring applications could help you on how to see your wife's Snapchat messages without her knowing. KidsGuard Pro is our top recommendation.
KidsGuard Pro Snapchat Monitoring App (Recommended)
KidsGuard Pro is an exclusive cell phone tracker that works on Android&iOS. It allows you to snoop on your wife's Snapchat. It allows you complete control over your wife's Snapchat actions, including messages, photographs, videos, and frequent contacts.
There are practically no limits to what you can do with KidsGuard Pro from examining all Snapchat media, chats, images, voice notes, to even videos that have been wiped, archived or deleted.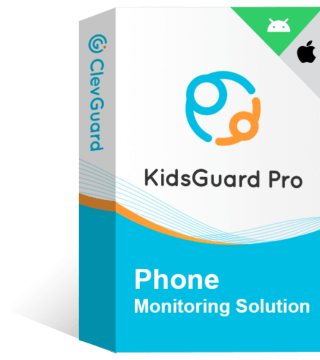 KidsGuard Pro: Best App to Spy on Snapchat
100% safe: Spy on your wife on Snapchat without jailbreaking or rooting her device.
100% undetectable: The app spies on your wife's Snapchat secretly as the app icon will automatically disappear from the interface.
Comprehensive Snapchat spy: It helps spying on your partner's Snapchat including conversation history to find out if your spouse is cheating on you.
Other social apps monitoring: Apart from spy on your wife's Snapchat, it can also monitor other apps like WhatsApp, Facebook, Instagram, Discord, etc.
Location tracking: Track your wife's Snapchat location in real-time.
Let's look at how to spy on your wife's Snapchat with KidsGuard Pro for Android.
How to Spy on Your Partner's Snapchat with KidsGuard Pro?
Step 1: Create a KidsGuard Pro account
Sign up to create a KidsGuard Pro account with your valid email address. Then click the below button to purchase a plan.
Step 2: Get the KidsGuard Pro assistant and install it
Download KidsGuard Pro Assistant from www.clevguard.net on your wife's Android smartphone, and follow the on-screen instructions to complete some critical configurations.

Step 3: Verify your settings and start monitoring your account.
After installing and setting the program on the target phone, go into your KidsGuard Pro account on the website dashboard or KidsGuard Pro App on your own cell phone. You can download KidsGuard Pro App from Google Play or App Store. Then you'll see the device and its data. Go to Social Apps > Snapchat to see the phone's Snapchat activities and statistics.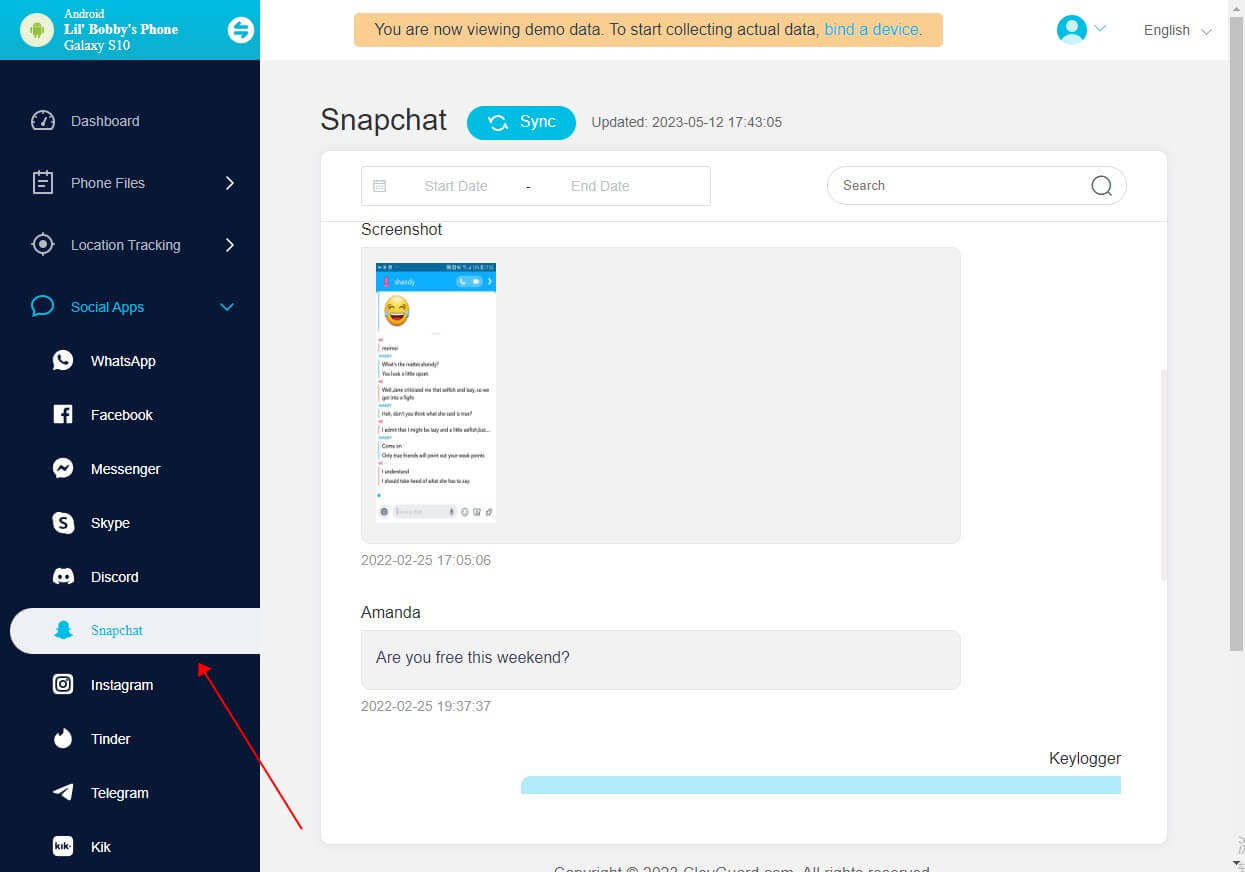 What Else Can KidsGuard Pro Do?
Capture Screenshots: To keep the record of certain activities, you can also take real time screenshots. In this way, you can stop your wife from deceiving you more and more.
Take Secret Photos: As KidsGuard Pro also gives you access to the camera, you can also take secret photos and capture the images of the other person to whom your wife may be meeting.
Record Phone Calls: If your wife secretly calls someone and immediately puts down the phone when you come into the room, you need to see who she is calling. Moreover, you will also be able to access the microphone and record phone calls when you have KidsGuard Pro for Android.
2 ways to Find Out if Your Wife is Using Snapchat Cheating on You
Once you have accessed your wife's Snapchat using KidsGuard Pro, you can remotely see the information below to find out if your wife is cheating on you.
1. See Her Snap Map
When you look at the snap map, you can immediately check the location of your wife. Remember that the location of the Snapchat user immediately gets updated whenever he or she logs in to the Snapchat and starts using it. Even if your wife has set the location to "Only Me", you will still be able to check out where she is actually present.
2. See Her Snap Friends
Although you can easily check the Snapchat friends of your wife, you can also understand a lot by looking at the Snapchat friend emojis. Here is a picture of what the emojis means. Take a look!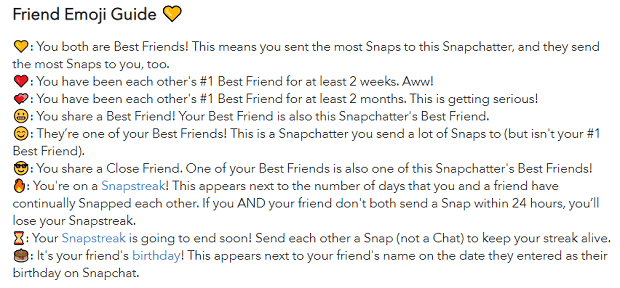 Other Apps that Help Spy on Your Wife's Snapchat
We also introduce some other apps that give you an insight over your wife's Snapchat activities. However, KidsGuard Pro is our first recommendation as the applications below may be not useful and have some limitations.
1. mSPY
Features
Provides access to sent and received messages on Snapchat;
Makes it possible to record and track the incoming and outgoing calls;
24/7 multi-language customer support;
Remote installation without letting your wife know;
Provides location information.
Limitations
Highly expensive;
Need to jailbreak targeted devices.
Only lets you monitor one device;
App is deletable if detected.
2. spyera
Features
Compatible with iOS and Android;
Gives complete control over your wife's Snapchat activities;
Allows you to stay updated of your wife's phone activities even if she is offline;
Provides access to Snapchat media files;
Shows even the deleted messages;
Comes with stealth mode.
Limitations
Requires jailbreaking or rooting of the target device;
Quite expensive with only one payment method support.
3. PhoneSpector
Features
Monitors all kinds of Snapchat activities;
A great Snapchat tracking software;
Provides detailed information about location including GPS tracking and Snapchat map tracking;
Comes with screenshot capabilities;
Compatible with iOS and Android devices.
Limitations
Slows down the monitored phone;
The support isn't available 24 by 7.
4. Highster Mobile
Features
100% undetectable;
Affordable for its price;
Quick installation;
Easy to use monitoring program;
Provides access to deleted data.
Limitations
May cause issues on the targeted device;
Poor customer support.
5. Auto Forward
Features
Provides secret and remote phone tracking;
Extremely trustworthy and reliable;
No jailbreaking or rooting of the device required;
Shows deleted Snapchat data.
Limitations
Cannot track offline activities;
Needs an internet access all the time;
Allows single device monitoring.
FAQs About Snapchat Monitoring
1. Can you see someone's snapchat conversation history?
By using third party Snapchat monitoring applications like KidsGuard Pro, you can easily get someone's Snapchat conversation history including the deleted data.
2.Can I monitor Snapchat on my iPhone?
By using compatible applications, you can easily monitor Snapchat on your iPhone or any other iOS device.
3. Can you spy on Snapchat for free?
No. Many applications that can monitor Snapchat aren't free.
Conclusion
From the above discussion, you can easily understand how to check wife's Snapchat. Now you also know how to see who someone is snapping. Remember that KidsGuard Pro is the most authentic, reliable and perfect platform where you will never encounter any performance issues, safety problems and secrecy bugs. It is undoubtedly the best Snapchat spy app if you want to spy on your wife's Snapchat.