At weddings, spouses agree to be faithful to one other and deliver on their promises. Although many husbands tend to disregard these promises over time, this might lead to relationship anxieties. A series of questions may be in your thoughts about your husband's suspicious activities and behavior.
How can I find out where my husband's phone is? How can I keep tracking cheating husband's device without him know? How to track my husbands Android phone for free? However, new, cutting-edge technology has also come up with solutions. All of these questions will be answered in this blog article.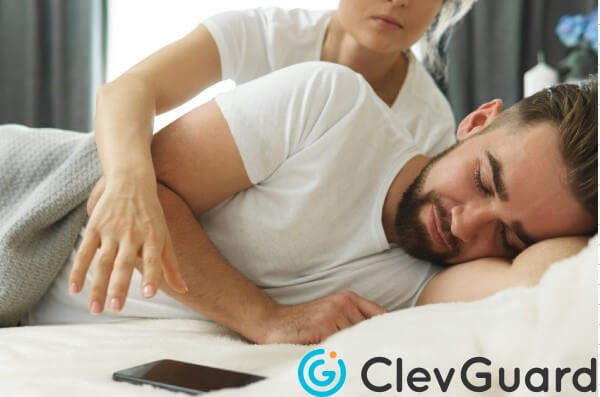 Table of Contents
Signs that Your Husband is Cheating on You
The mere suspicion that a spouse is having an extramarital affair is enough to send a woman into a panic. There could be so much on the line — from a loved one's well-being and financial stability to one's social standing, hopes, and future goals. When the implications are strong, the sentiments always seem to run high.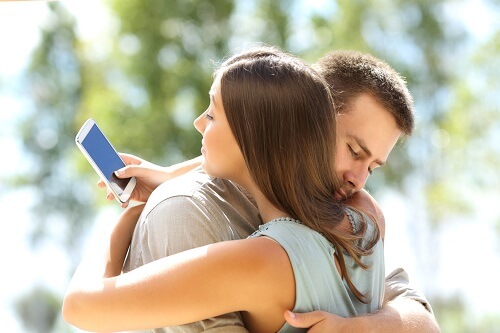 Below are some of the red flags about a cheating husband.
1. Frequently receiving calls from a certain person, you see a visible change in his expressions. Sometimes, he ignores the call or finds a separate room to attend the call.
2. It is reasonable to assume that he is doing anything improper if he actively prevents you from viewing a part of his private information. If he is not transparent about things, this could be a red flag for you.
3. He has gotten erratic and unpredictable around you. He is good and dandy one minute, then shut out or perhaps disturbed at the next moment.
4. Another great technique to determine if your husband is cheating is to confront him directly. After being caught off guard, he may perform an inferior performance that gives away his identity, especially if he stumbles when confronted with his suspicious conduct.
How to Track My Husband's Android Phone for Free [Without Permission]
For many women, knowing their husband's location is enough. It is rather simple to accomplish this. One can always know where your partner is by using a third-party app. However, monitoring your husband's geolocation alone is not always sufficient. Consider following his texts, images, and browsing history if you want to go a step further.
It all comes down to what you are seeking. The best way to find out his location, calls, messages, browsing history, and much more you need to give a try to KidsGuard Pro, which can be available for both Android and iPhone device.
1. KidsGuard Pro
If you want to know more about your husband's social media activities, location, browsing history, photos, videos, etc., KidsGuard Pro is the way to go. It is a high-quality app that enables you to keep a trace of your husband without them knowing. It lets you know all the online activities of your husband remotely.
Following are some of the most appealing features of KidsGuard Pro.
Monitor Popular Social Apps
KidsGuard Pro is powerful software. With its help, you can easily track the social media activities of your husband. You can remotely see the calls, messages, photos, videos, and location. Besides, it covers all major social media networks like Facebook, Messenger, WhatsApp, Snapchat, Telegram, Instagram, and so on.
Track GPS Location
KidsGuard Pro also allows you to determine the precise position of the targeted device. You will be able to see the real-time location of your husband. As a result, you will be able to know the activities of your husband.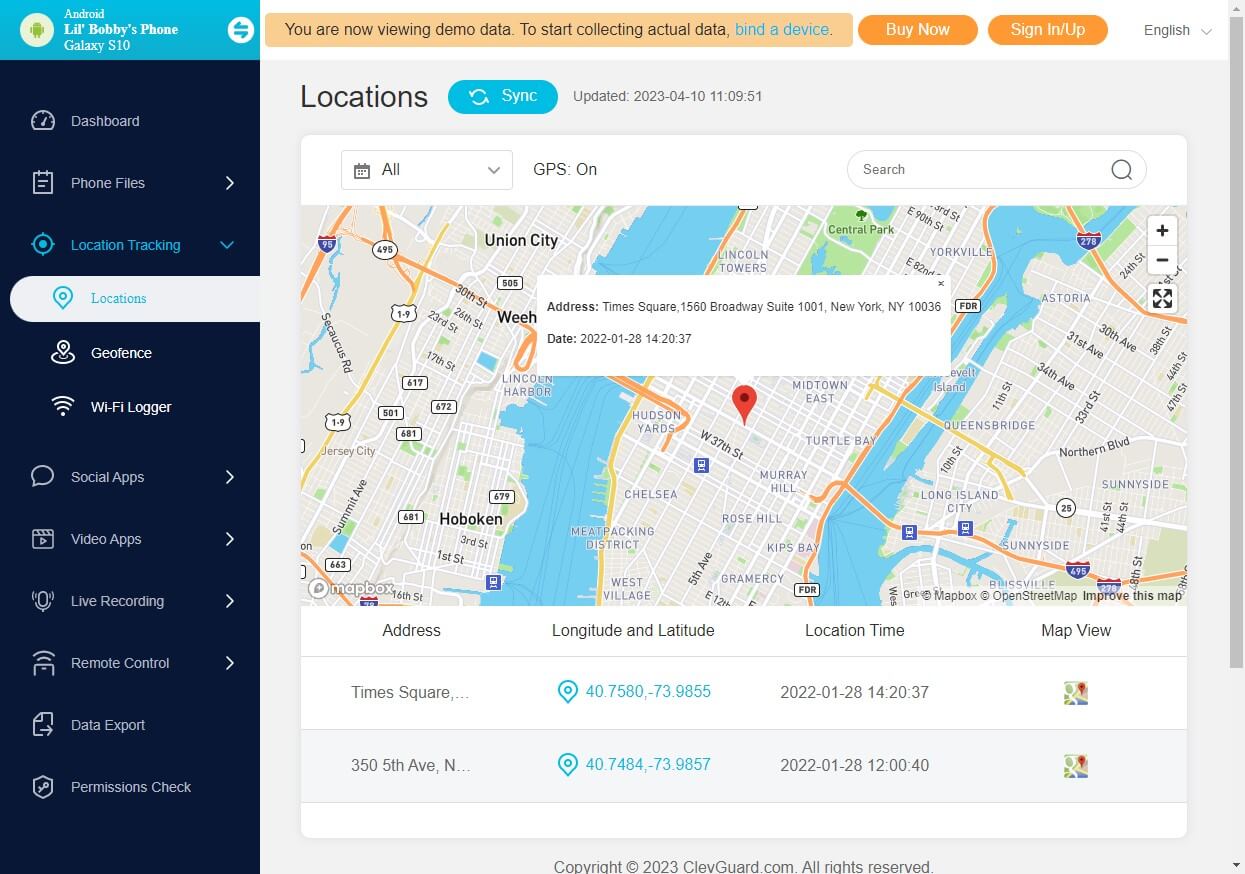 Record Phone Screen
Another key feature that KidsGuard Pro offers is that you record the screen of the targeted device. With the help of this feature, you will be in a better position to watch and record the screen usage of your husband remotely. For example, you can record your husband's WhatsApp remotely.
Access Phone Calls & Text Messages
KidsGuard Pro enables you to track calls and messages of your husband. To top it all off, you can track calls and texts on all the most popular social media networks. Consequently, you will be able to keep tabs on the intended phone's calls and texts, which will help you make better judgments.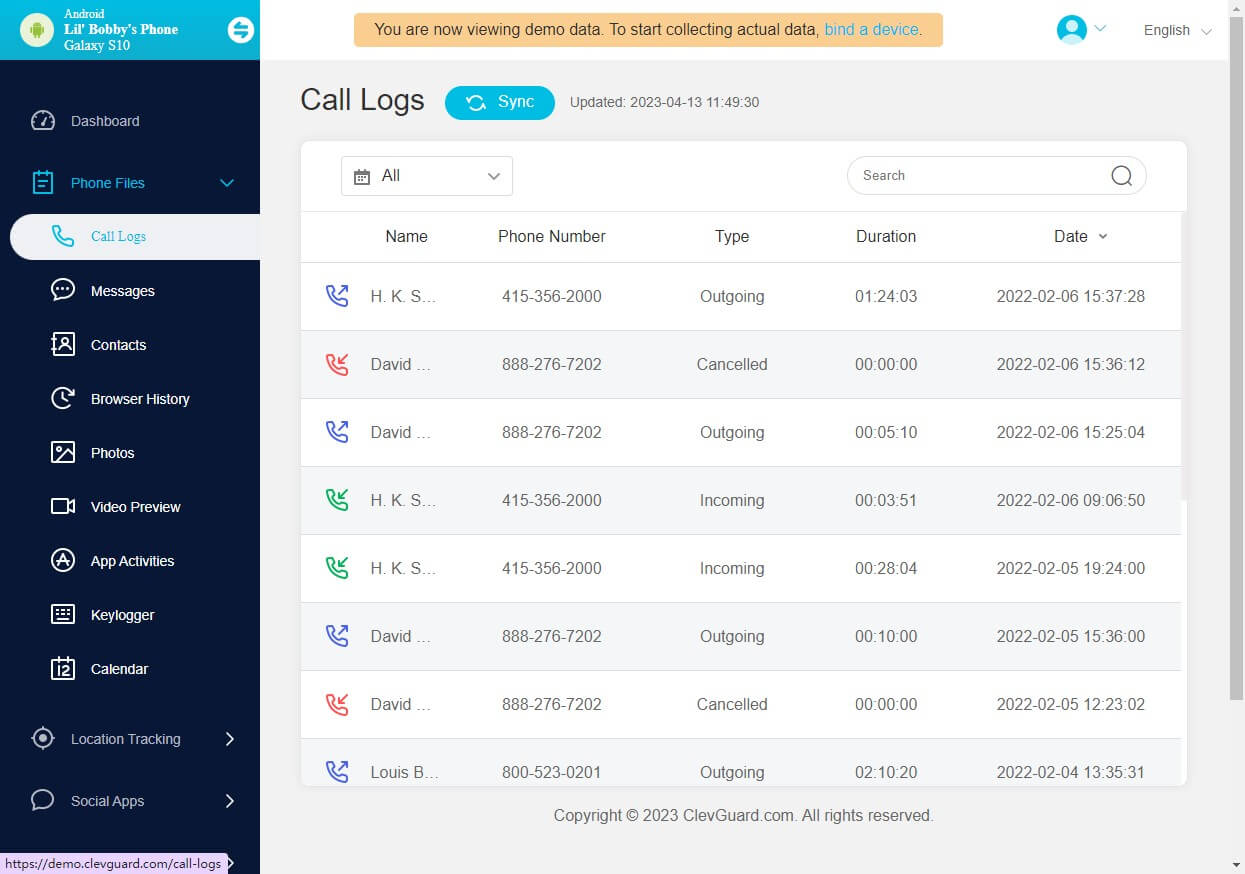 Take Secret Photos
You can also take secret photos by secretly turning on the camera of the targeted device. It gives you hardcore evidence of your husband's activities and location. You will be better aware and will have a piece of solid evidence in the shape of photos from the targeted device.
Record Phone Calls
You can keep tabs on your husband's phone calls once you log in and activate the KidsGuard Pro. Monitoring calls is a great feature because it is available on all of the most popular social media platforms. As a result, you can keep tracking the phone's calls by recording your husband's phone calls on Android device, which will help you make sound decisions.
Check Browser History
You can keep track of the browsing history of the targeted phone with the help of KidsGuard Pro. It shows the search history; you can copy or click the link to see what they are watching or reading.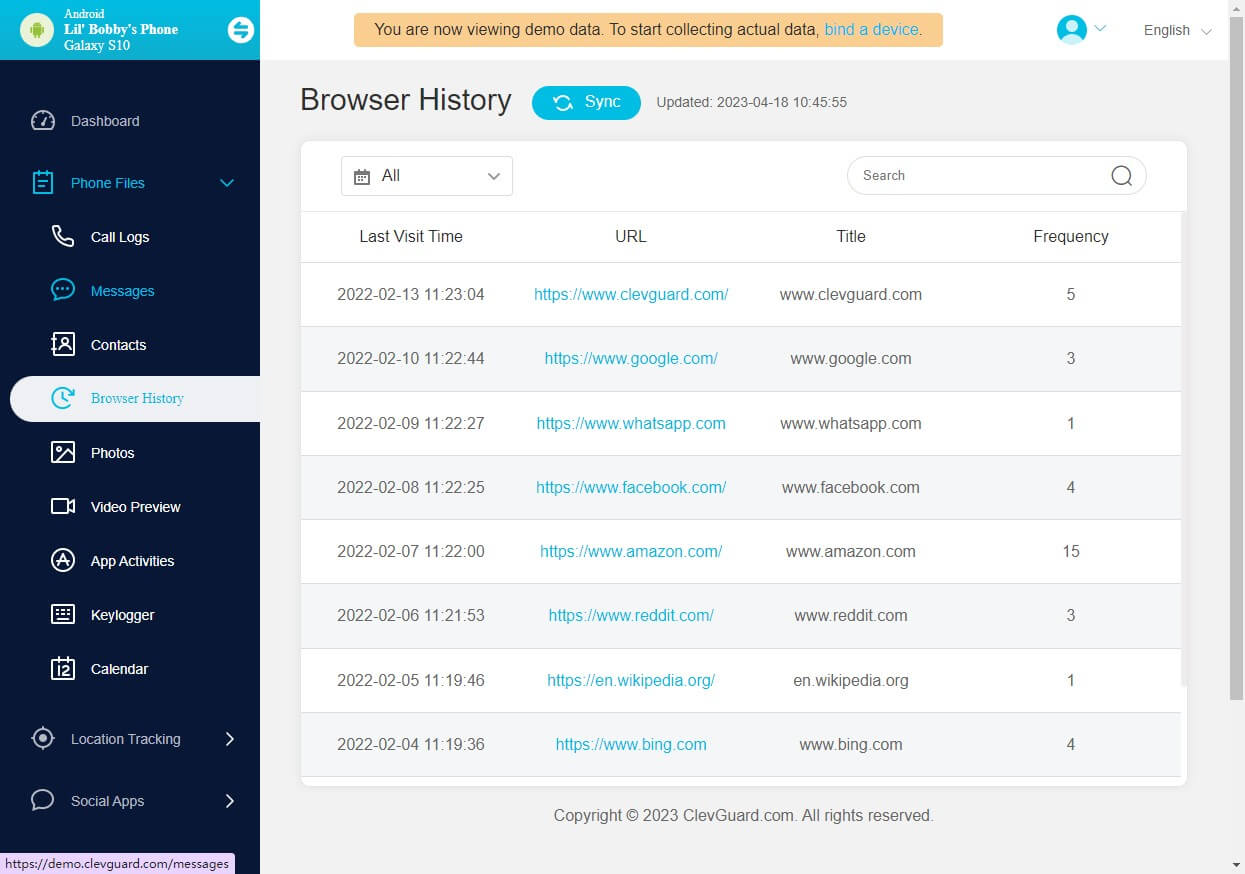 See Photos & Videos
You can see photos and videos on the targeted phone with the help of KidsGuard Pro. Once you access their photos and videos, you will be in a commanding position to know the real-time information.
Step-by-Step Guide: How to Track My Husband's Android Phone for Free?
KidsGuard Pro is a top-notch app that is extremely user-friendly. You can track your husband's Android phone by installing KidsGuard Pro free app to track husband phone.
Step 1: Create your account for KidsGuard Pro.
Step 2: You need to purchase a plan at first. Then you should check your order.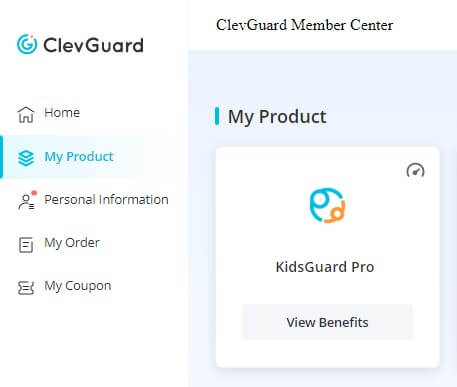 Step 3: Then download KidsGuard Pro Assistant from www.clevguard.net on your husband's Android device and complete some necessary configurations.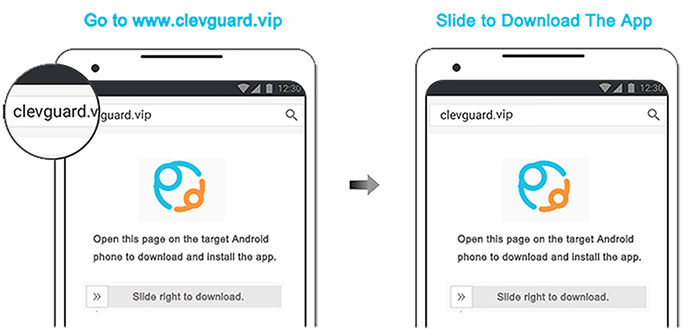 Step 4: After the app has been installed, go to the app's web control panel or download KidsGuard Pro App on your own phones in Google Play or App Store. You can now access the dashboard to monitor you husband's Android device.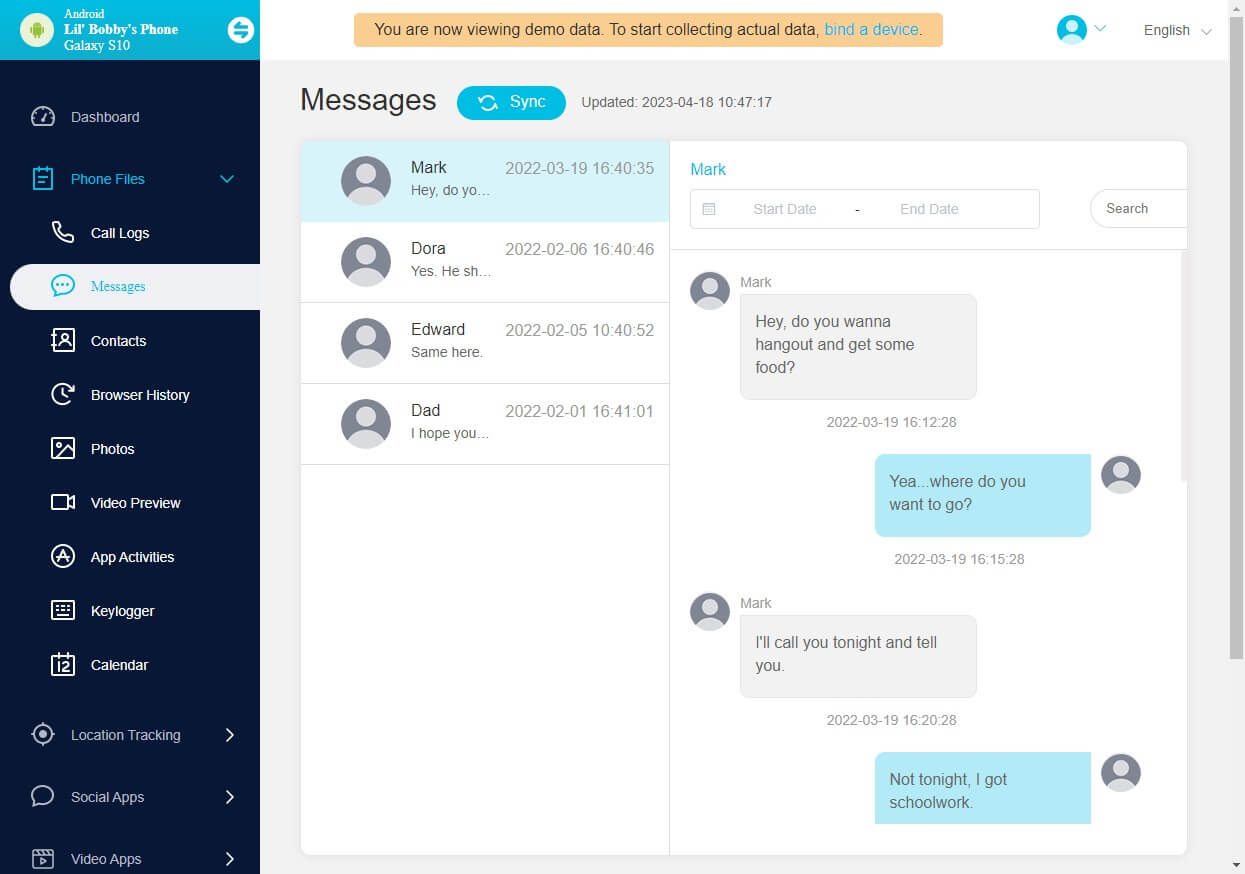 Why Choose the Husband Tracker -- KidsGuard Pro?
Pros

It syncs all your husband's phone data in real-time.
It is an ideal app to track husbands phone with a variety of advanced monitoring features.
You can use it to remotely track your husband without knowing.
The installation is under 5 minutes.
No need to root.
Cons

You need access to the targeted device to install the app for the first time.
Other 5 Ways to Check Your Husband's Phone
1. Minspy
One of the best text message spying apps, Minspy has millions of users throughout the globe in more than 190 countries. It contains more than 30 amazing tracking features. All functionalities will be available to you as soon as you subscribe to your desired plan. Because of its stealthiness and high level of security, a woman can read her husband's text messages using this software.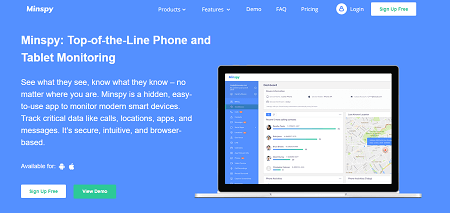 Features
Minispy offers extremely accurate location tracking with the Geofencing feature to be notified when the targeted device enters and leaves that area.

You can also read messages that are exchanged, and with the help of a keylogger, you can even recover the deleted messages

It has got high-level security and works in a stealth mood to avoid detection

It takes your privacy seriously, and everything is end-to-end encrypted
Pros

Undetectable.
Cost-effective.
Many useful features.
Cons

Subscription is limited to one device.
2. Spyier
Multiple software claims to be the best at monitoring a device and individual. However, with some striking features, Spyier is considered one of the most dependable surveillance software. Millions of people throughout the world have used it.
Spying on your husband's social media activities can operate in stealth mode. As a result, your husband will not know what you are up to. Activating the 'hide application' option on Android smartphones turns on stealth mode. In iOS, it is done automatically.
Features
Spyier is undetectable as it works in stealth mode.

In Android, you have to select the 'hide application' option to make the app invisible on the targeted device.

It is automatically hidden in iOS, and you manually need to hide the app icon.

Spyier is compatible with all browsers, including Chrome, Firefox, Opera, and Microsoft Edge.

Spyier enables you to have real-time access to the targeted and monitor any activity you want.
Pros

More than 30 features.
Undetectable.
Highly reliable.
Cons

To make the app invisible on Android, you have to select the 'Hide Application' option manually.
3. eyeZy
If you need to keep tabs on your husband's phone use, eyeZy is a great choice. Using this app, you can see any of the photos, videos, or applications on the target phone. With eyeZy, it has never been easier to target a cheating spouse. To assist their users, they are dedicated to assisting them not only in determining whether or not their spouse is cheating on them via social media but also in monitoring their children's internet activities so that they can rest easy knowing that they are safe.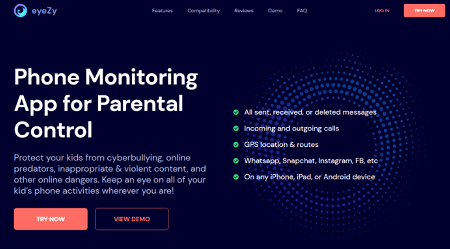 Features
It offers amazing social media monitoring, including all major platforms.

You can monitor and even restrict your husband from visiting certain websites you don't want him to visit.

eyeZy gives you extraordinary control to stop your husband from an event you don't like.

It is compatible with both iOS and Android devices offering high-quality services.

eyeZy combines WiFi networks with GPS tracking to give you the exact location of the targeted device with a pinpoint accuracy.
Pros

Real-time Location monitoring.
Advance WiFi network analytics.
You can see which website they bookmarked.
Affordable.
Cons

It could be a little pricey if you are on a tight budget.
4. Hoverwatch
Using Hoverwatch, you can keep tabs on your spouse's communications, including text messages, phone conversations, and anything else. Your spouse will not even know it is there because it is undetectable, and you may even install it from your internet account. An individual package costs $24.95 monthly, which is one of the cheapest options. This spy software is available in both Windows and Mac versions and comes with a free trial, so you can see whether it suits your needs.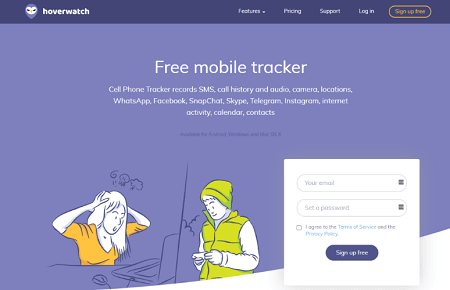 Features
This application works discreetly, and the icon is invisible on the targeted phone.

You can download this program from your account online and start monitoring remotely.

Hoverwatch enables you to turn on the front camera of the targeted device and take secret photos.

It keeps track of all browsing history and compiles a report of all browsers.

It is easy for Hoverwatch to determine the time and date of a SIM card change thanks to its built-in sensors.
Pros

Works discreetly.
Offers a free a trial.
Offers location tracking feature.
Affordable.
Cons

Some of the features are available only in the rooted mood.
5. Cocospy
Cocospy is a low-cost tool that may help you track conversations, geolocation, social media, and calls, making it a good choice for monitoring an unfaithful spouse. It is one of the most excellent spy apps if you need to keep an eye on your spouse, but it can also help you keep an eye on your children while they are online and ensure that your staff is doing what they say they are doing while they are at work.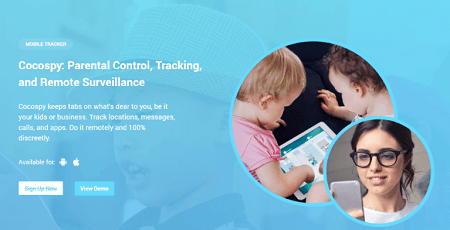 Features
It allows you to monitor your spouse from your phone as well as on tablets.

It enables you to use a keylogger to track all keystrokes on Android.

It gives you amazing control and the ability to read not only private but group chats as well.

You can access all the media files, including photos, videos, and audio, and download them for your record.

Cocospy enables you to track the calendar, view all the installed apps, and monitor the change of the SIM card in the targeted device.
Pros

Location tracking.
Geofencing.
Access to photos and videos.
Cons

Some features are available for Android only.
How to Track My Husband's Location for Free
If you want to track your husband's Android phone location for free, there is no better way but to use Google Find My Device. With the help of this feature, you can easily find out the location of your husband. But your husband may get a notification. And the location is approximate and might not be accurate.
Go to android.com/find and sign in to a Google Account.
Remember to turn on Location on your husband's device.
Have Find My Device turned on.
Click the target phone at the top of the screen.
The target phone gets a notification.
On the map, you'll get info about where the phone is.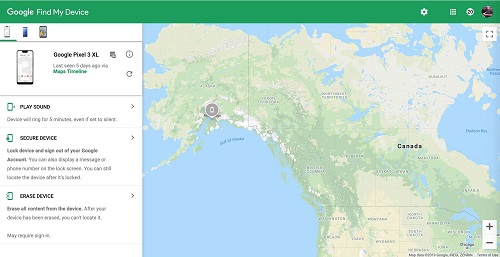 5 Effective Ways to Catch Your Cheating Spouse
Sometimes relationships may be difficult. When things change in your life, it may bring both delight and worry. Even though we all want our relationships to be flawless, some of us are forced to endure the misery of deception. A common deal-breaker for most individuals is deception. However, several people have no idea that they have been betrayed. Below are the top 5 tips on how to catch a liar spouse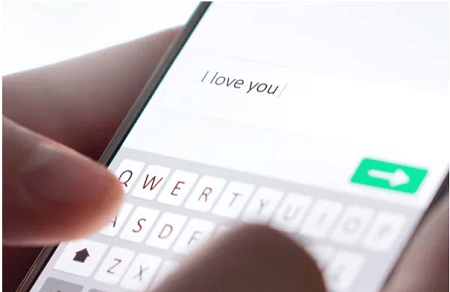 Keep an Eye on His Phone
To catch a liar, all you need to do is keep an eye on their phone. Do a comprehensive phone search to see if this is possible. In order to figure out who has been in touch with your spouse the most, you can monitor their phone calls, texts, and emails.
Have a Look at His Social Media
Keep an eye on your partner's online activity by following their social media accounts. Take a picture or approach your partner if you detect something suspicious. Regressive stalking is the only way of catching a deceiver on social networking sites.
Try a Tracking App
One of the greatest ways to detect a deceiver is to sneakily install a husband phone tracker on their devices without them knowing. Mail, messaging platform login times, messaging applications, online session times, etc., may all be tracked by a smartphone tracking app. You can use it to find out if your husband is cheating on you or not based on the amount of data it can harvest.
Find Out His GPS Location
You may keep tabs on your spouse's whereabouts with the GPS device. In a matter of minutes, you can discover whether or not they frequently visit any dubious location.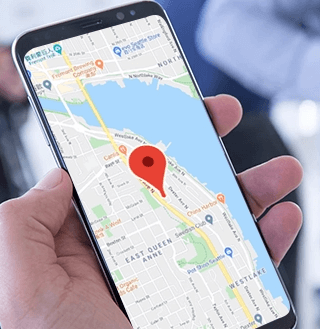 Have a Look at his Friend Circle
Keep a watch on your spouse's friendship group if you suspect infidelity. Who has recently joined their social network? Who are the most frequently in touch with? Who are the "special" people in their lives? Who is your partner's social circle getting the most attention from your partner? Are they being teased in an indirect way? Do not overthink things, but speak to your spouse about something that does not feel right.
Conclusion
There are many spying tools out there in the online market to monitor your husband's device without him knowing. They all are good software offering various features of tracking and monitoring. However, KidsGuard Pro is the best of the lot to track your husband Android phone for free. It gives much more features than its competitors. Thus, if you are doubtful about your husband's activities, do give a try to KidsGuard Pro.