Before We Start
According to a study, almost 40% of affairs start online. About 57 percent of the participants admitted to have gotten emotionally invested in someone over WhatsApp. Differences between WhatsApp infidelity and other forms of infidelity is that WhatsApp cheaters can easily start an affair and go on for years being undetected with the internet.
So, What is WhatsApp Used for Cheating?
A cheating partner can use WhatsApp to keep constant communication with the person they're involved with. Being a personal messaging app that requires direct phone numbers for interaction to take place, it's more likely for an unfaithful partner to use WhatsApp.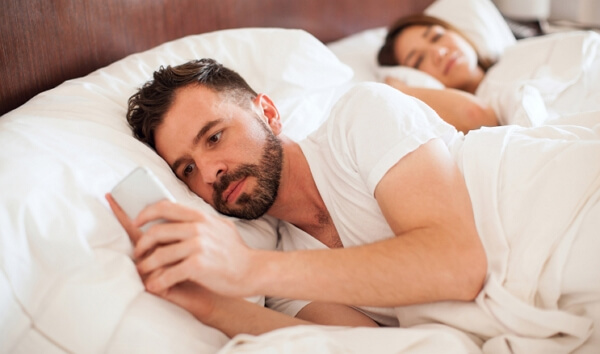 Do you wonder how to catch a cheating husband on WhatsApp? If yes, you have come to the right place. Here, we discuss the technical and traditional ways in which you can bust WhatsApp cheating at ease.
Video Guide to Monitor Cheating Husband's WhatsApp Without Him Knowing
Part 1: Technical Way to Catch A Cheating Husband on WhatsApp - 100% Effective
How to find out if your boyfriend is cheating on WhatsApp? Except you can easily access their phone and launch their WhatsApp app every time, you have to use a WhatsApp monitor app. With it, you're able to catch any WhatsApp cheater without being caught in the act. KidsGuard for WhatsApp is the anwser of "how to catch a cheater without their phone." It is such a precisely developed remote monitoring app that can let you view WhatsApp cheater's chats, status, calls and other media files to gather the evidence.
Built with powerful features, this WhatsApp cheating app has an excellent reputation in the market. The best part is you will never compromise on your identity as it stay incognito on the target device. Also, the WhatsApp data is uploaded in real-time so you can always know what is going on.
1. What Can KidsGuard for WhatsApp Do in Catching WhatsApp Cheater
KidsGuard for WhatsApp is a great app help you find out if your husband is cheat on phone. You can get the following benefits when you pick this app to catch your cheating husband.
Read WhatsApp messages: You can check all the chat history even deleted. Every message is accompanied by a contact name and time, so you can read cheating spouse text messages free.

View WhatsApp cheating status: You can view all status your husband and his friends have shared. If they've sent out any private status, you can also view them.

Listen to WhatsApp calls: You can check WhatsApp call history and listen to WhatsApp call conversation. Read caller names, check data & time, view duration, and other details.

Access WhatsApp media files: It allows you to check shared or received photos, videos, documents, gifs and voices.

Capture WhatsApp live screen: Want to check what is he doing on WhatsApp right now or check he is chatting with whom? It will take screenshots automatically and upload to your online account.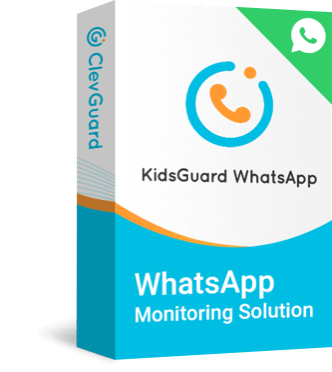 KidsGuard for WhatsApp
The Ultimate WhatsApp Monitoring App for You.
2. How to Check My Husband WhatsApp via KidsGuard for WhatsApp
Check up the steps below to know how to catch a cheater on WhatsApp using KidsGuard for WhatsApp. Once you can have access to your husband's phonoe, you are good to go.
Time needed: 3 minutes
Compatibility: The target device should be an Android running Android 4 - Android 11.
Step 1: Create an account and make an secure payment to get a license of KidsGuard for WhatsApp.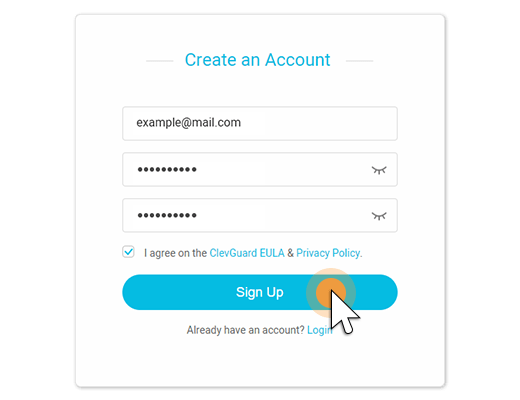 Step 2: Download the app from www.installapk.net on your husband's phone and make the necessary changes in the settings of the phone. This step doesn't require professional knowledge as the app displays all the requirmemts on its interface clearly.

Step 3: Go back to KidsGuard for WhatsApp website, connect your hudsband's device and enter the dashoboard. Then click the feature tab on the left menu to monitor the WhatsApp files.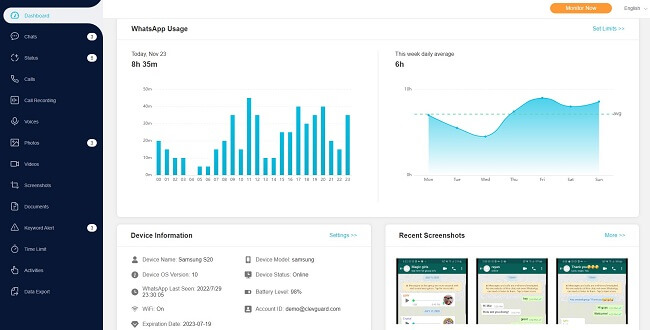 This is how simple it is to track the WhatsApp activities of your husband through KidsGuard for WhatsApp. Want to see how this app works before you buy it? Check out the free live demo here! It can help you in making a better judgement about whether your husband is cheating on you or not.
Bouns: Video Guide on How to Take Screenshots of View Once Messages on WhatsApp
3. Why KidsGuard for WhatsApp Is the Perfect WhatsApp Cheater Catcher
It is a 100% hidden WhatsApp monitor solution. That means you don't have to worry about being found out by your partner.

It is completely web-based. There is no need to access his phone everytime once installed. You can check the data remotely on your own device.

It is super-easy to set up. As you can see, you can set up this app with 3 simple steps. It is one of the only applications in the market that run without root.

It offers an array of excellent WhatsApp monitoring features. You'll be able to monitor your partner's chats, calls, status, photos, and a whole lot more like real!
Part 2: Traditional Trick to Find out WhatsApp Cheating - WhatsApp Web
WhatsApp also has a feature called WhatsApp Web through which you can access a WhatsApp account using a web browser. You can use this to check the WhatsApp messages of your husband in the following way.
On your computer, launch any web browser and key in www.web.whatsapp.com in the address bar.

Unlock your husband's device, open WhatsApp and select WhatsApp Web from settings.

Scan the QR code given on your computer screen for logging into the account.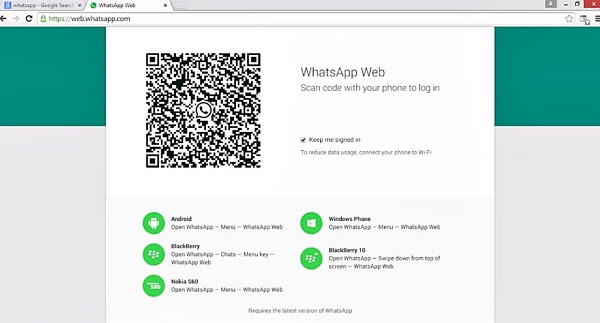 This is a good way to check your husband's WhatsApp messages for free, but it doesn't mean it is 100% effective. Without the following coditions it is barely impossible to use this method.
Limitations of This Method
You will need the phone unlock code.

You will need to access your husband's phone each time for several minutes.

As soon as WhatsApp Web becomes active a notification will be sent to your husband's phone.

There are many WhatsApp cheating tricks. You can't view the deleted data and disappearing status by this way.

You can listen to WhatsApp calls he has made and previous WhatsApp cheating status.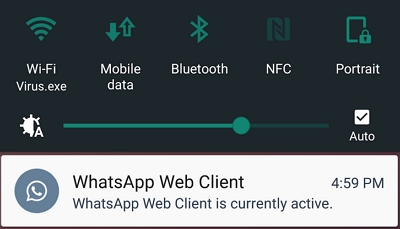 Part 3: How to Know if Someone is Cheating on WhatsApp
You may think about or look for the signs that your husband might be showing which may be much different than usual or you want to know how your girlfriend cheats on WhatsApp. There can be many signs and actions shown by your husband which imply that he may be cheating on you. Some of the suspicious behaviors are listed below.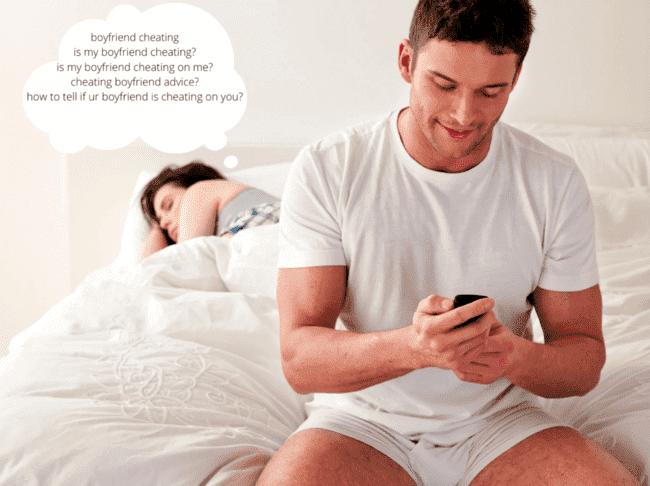 1. Your husband would have suddenly changed the password without letting you know to prevent you from unlocking their phone to check the messages on WhatsApp.
2. When you open your husband's WhatsApp, if you frequently notice him clearing the chat history, even this may imply that he may be cheating on you.
3. Not spending quality time with and being busy on their phone at all times can be a major let down for you. If you notice your husband being busy chatting on their phones, even that can be suspicious for you.
4. If you discover a secret WhatsApp account of your husband which he has not told you about, even that implies that he is hiding something from you. If he did not have anything to hide then you would have known about this secret WhatsApp account from him.
5. If your husband suddenly starts taking care of how he looks and changes his dressing sense, you can become suspicious that he may be up to something. A sudden change in lifestyle can be a major indicator of a change in his life which maybe because he has someone else in his life.
It is important to sit down and have a talk with your husband and tell him what is bothering you. The communication between partners in a marriage should always be open. The moment you start hiding your feelings and thoughts, that is when the problem arises.
If you have a suspicions and your partner won't tell you everything. Then the only way which is the most effective and which must be tried out first is to get an advanced, reliable and discreet tool like KidsGuard for WhatsApp. You can also know what apps are cheaters using.
Conclusion
Are you wondering is WhatsApp used for cheating and how to catch a cheating wife or husband on WhatsApp? As you can see from the above discussions, although there are several ways to check your husband's WhatsApp messages, they all have some or the other drawbacks. If you really want to find out the truth if your husband is cheating or not, using KidsGuard for WhatsApp is the best option as it can generate the most accurate results. To better solve the crisis of confidence, we encourage couples to have a heart-to-heart talk before using this app.