WhatsApp has become a popular platform for people to conveniently exchange messages, photos, and multimedia today. But when a lot of people share information easily, curiosity increases. It's no wonder that you may start thinking about how to read someone's WhatsApp messages without their phone in 2020.
A short answer is that you can spy on WhatsApp without target device, but some requirments need to be met. In this article we will explore the possibility of reading WhatsApp without the need for a target phone, and also provide the most effective and easiest solution for those who are not tech-savvy. If you want to get a quick view of this solution, directly go to the text introduction and guide.
1. Is It Possible to Spy on WhatsApp Messages without Target Phone?
Well, as one of the most frequently used messaging app worldwide, WhatsApp values privacy a lot and keeps updating to prevent data leak. So it is impossible to spy on WhatsApp messages without a target phone completely. If any advertisements claim to do that with their tools, they are trying to steal your money and you will just waste your time.
However, gone are the days when we have to hold the target phone all the time and quickly browse the contents before being caught. Some advanced spy apps are developed to track every detail on target phone remotely in a discreet mode on the condition that you should set it up for once.
We have tested a lot of those spy apps on the market and picked the most reliable one among them - KidsGuard. It can well compatible with Android and iOS. Next, you will be able to know more about what can this tool do for you and why people choose it.
2. How to Read Someone's WhatsApp Messages without Target Phone
As we've answered above, being an independent instant messaging app, it is not easy to spy on someone's WhatsApp messages without target phone. Thankfully, with KidsGuard for WhatsApp tracker, everything is possible. This app comes from a trusted company that has millions of users all around the world.Besides, it adopts the latest technology and allows you to read WhatsApp messages on target iPhone and Android with 100% secrecy.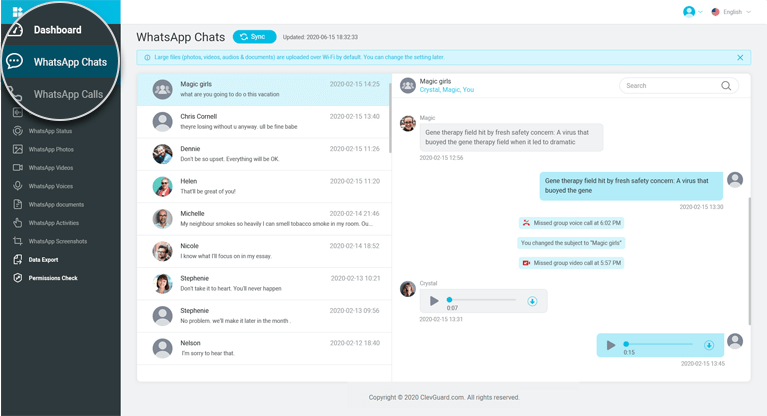 What Can KidsGuard Do in WhatsApp Spying
Some of the key features you will get if you choose to use KidsGuard for WhatsApp spying are listed below:
Read WhatsApp messages: It can track each sent and received WhatsApp messages on target phone, along with sender names and timestamps.

Access media files: You can see WhatsApp photos, videos and much more. Also, you are able to download them for later viewing.

Track WhatsApp deleted data: If the target deletes some important chats or files, they can be retrieved by KidsGuard.

Capture real-time screen: You can see live WhatsApp screen and stay informed by each detail on Android.

Cover more social media apps: It is likely that the target uses more messaging apps on the phone. Except for WhatsApp spying, you're free to spy on Facebook, Instagram, Snapchat, etc.
Simply click the button and check KidsGuard live demo for free.
2.1 Spy on Someone's WhatsApp Messages without Knowing for Android Devices
If your target has an Android, the situation may be different. You have to access the target phone at the first beginning, but after the installation, you don't need to touch it again to read WhatsApp messages, this is because all the information can be uploaded to an online panel where you can check with any browser. This is a simple setup guide about how to use WhatsApp tracker - KidsGuard for WhatsApp.
Step 1.

Register an Account

Similarly, you need to register on KidsGuard official website using your email and get a license in order to use WhatsApp monitoring feature. Then, buy a plan for full features enjoying. After that, you will be navigated to the My Products page, here you can get a Setup Guide.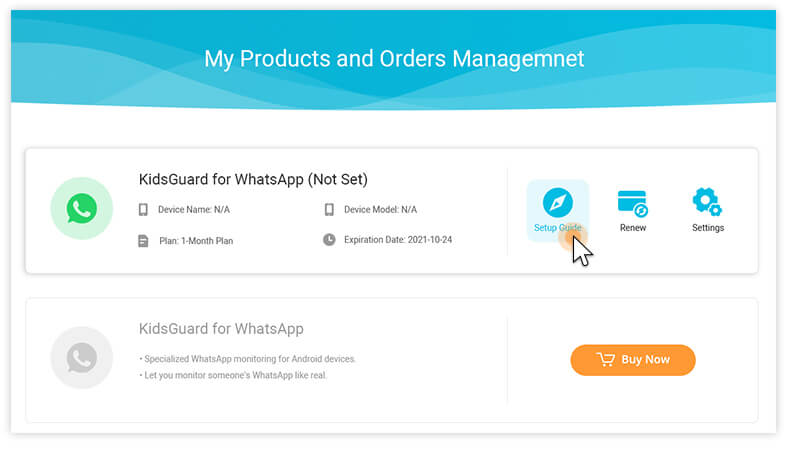 Step 2.

Install KidsGuard App on Target Phone

Go hold of the target device and unlock it. Then download the app. Follow the instruction pops up on the screen and complete the configuration.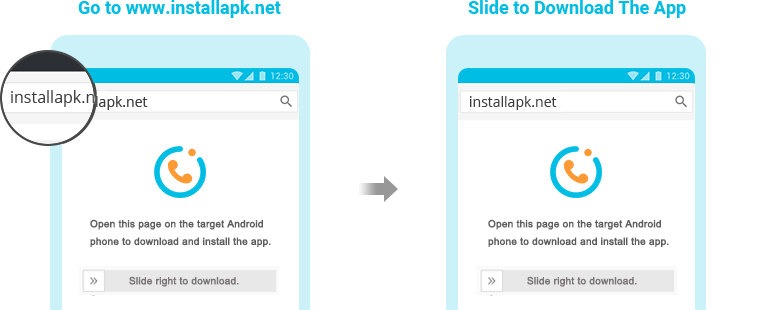 Step 3.

Start Spying on WhatsApp Messages with KidsGuard

You can visit the KidsGuard online portal using any browser. Here, all the WhatsApp message are collected as well as other data of target device.
Read WhatsApp chat history: Track all the WhatsApp conversations and private messages.

WhatsApp calls tracking: To monitor all the WhatsApp call history and recording the call audios.

To view WhatsApp saved media files, choose "Photos" or "Videos" and "Voices".

To monitor WhatsApp screen interactions, choose "WhatsApp Screenshots" . This should be done when the target user is chatting on WhatsApp.

Also check all the WhatsApp doecuments and files.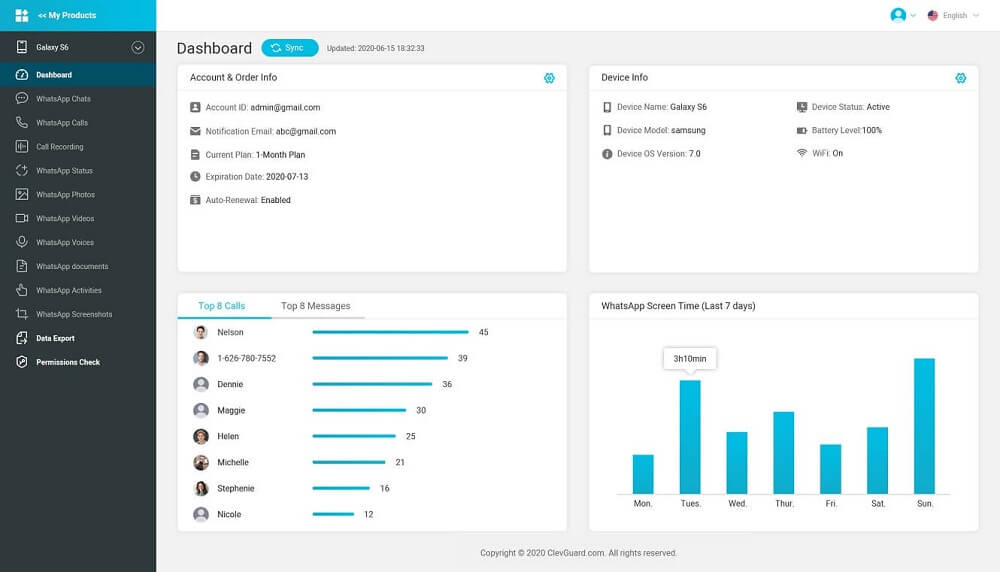 In order for you to truly experience the spy features, KidsGuard Pro provides a free demo. You can get to know how this app works and does it really suit your need before you buy.
2.2 How to Spy on Someone's WhatsApp Messages on iPhone
KidsGuard adopts two different ways to spy on WhatsApp messages. To begin with, choose the operation system of the target phone you want to track. Then follow the steps outlined below to see how to spy on WhatsApp.
If the person you want to spy on uses an iPhone and has a habit of backing up his/her iPhone in iTunes, it is very easy to do this, simply because KidsGuard can scan and extract iTunes backup files automatically. KidsGuard Pro for iOS is a iPhone WhatsApp spy app without target device. Just install this spy app on target computer and the rest will be taken care of by it.
Step 1.

Register an Account

You have to create an account on KidsGuard Pro with a valid email. Then you need to purchase a premium plan in order to use all advanced monitoring features.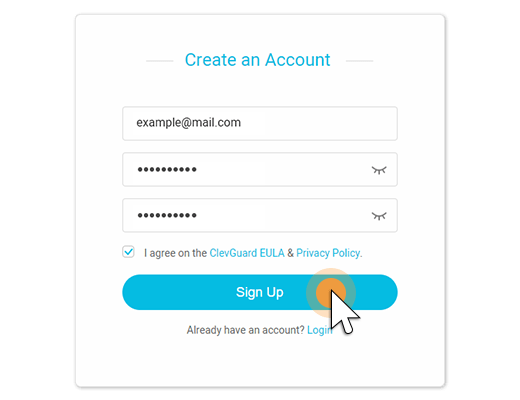 Step 2.

Install KidsGuard Pro App on Target Computer

You have to access target computer and install the app onto it. Then it will scan and display the existing backups of target device.

Step 3.

Start Spying on WhatsApp Messages with KidsGuard Pro

Launch the app on the computer where it is installed. Click "WhatsApp" in the left panel, you can read WhatsApp messages, photos, videos, voice messages, etc and download the data you want to view later.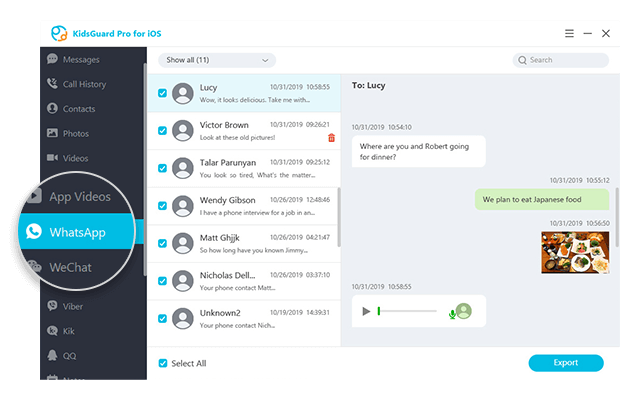 To get a clearer picture of What KidsGuard Pro for iOS can monitor, you can check our online demo for more information.
What Makes KidsGuard Pro the Best Choice to Spy on WhatsApp
KidsGuard Pro is a powerfully spy app which beats most competitors in the market. Here is the reasons:
Intuitive UI and easy to use. You can spy on someone's phone by a few clicks like a pro.

This app goes incognito and stays hidden. So the target will never know they are being spied on.

You do not need to root or jailbreak the target device like other spy apps required.

The budget is very friendly. You cannot find an app with powerful features but at a competitive price like it on the market.

30-Day money back guarantee. It offers 24/7 email support and live chat for those who need help. You can issue a refund if not satisfied.

Broad user base. From worried parents to a suspected husband/wife, everybody uses its service. Well-known tech sites also vote for KidsGuard Pro.

If you search "how to hack someone's WhatsApp without the target phone" in Google, many of you may have visited some websites that claim to be able to remotely hack WhatsApp. Without exaggeration, none of these can really work and they all require to have access to target phone. We will show you what they are and all you need to do is don't be misled into those methods.
3. Using Mac Spoofing Methods to Read Someone's WhatsApp Messages
This method claims that if you clone someone's WhatsApp account by getting the same MAC (Media Access Control) of the victim's phone then you can receive all messages on it. Here are the steps:
Uninstall WhatsApp app out of your own phone.

Access target phone and get the Mac address. On an Android, you should go to Settings> About Phone> Status> Wi-Fi MAC Address. On an iPhone, you should go to Settings> General> About> Wi-Fi Address.

Change the Mac address of your own phone to the address of the target device with MAC Spoofing apps such as Wifispoof for iPhone and BusyBox for Android.

Reinstall WhatsApp on your phone, but enter the phone number of target device.

Then a verification code will be sent to target phone. Enter the code and delete it.

Log in the target WhatsApp account. You can reset your Mac address to the original one now.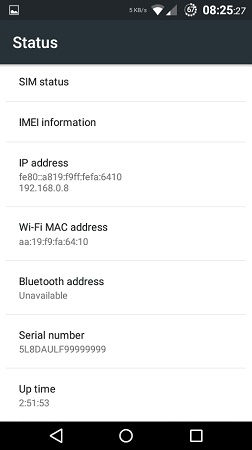 Limitations:
You have to access target device for at least 15 minutes. The whole process is complex and time consuming, which requires a lot of time and patience on your hands. WhatsApp has fixed this bug and it is not working anymore.
4. Via WhatsApp Web to Read Someone's WhatsApp Messages
WhatsApp Web enables users to access their WhatsApp on PC or Mac without direct connection. It is comparatively easy but you will be disapported to hack WhatsApp messages without a target phone. The steps are as below:
Access target phone, open WhatsApp app and tap on Menu (Android) or Settings (iPhone).

Choose WhatsApp Web/Desktop.

Visit this site (web.whatsapp.com) with Chrome Browser on your device.

You will be presented with a QR code. Point your target phone to this screen and scan the code.

Start reading someone's WhatsApp messages without target phone.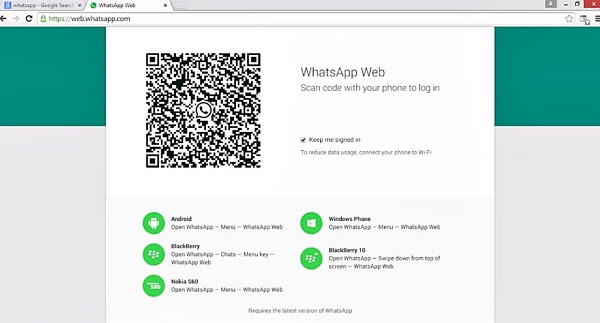 Limitations:
Accessing target device is a must. Besides, there will be a constant notification on the target's phone whenever the WhatsApp web is activated, so they will find out you're spying on their accounts.
As you can see, none of these popular tools is capable of hacking into any WhatsApp account so don't fall victims on how to read someone's WhatsApp messages without their phone for free. If you can get the target phone once for 5 minutes (for Android) or target computer and install the app on it (for iPhone), then here is the only effective solution - using KidsGuard Pro WhatsApp spy app. This is a very powerful phone monitoring app that makes all important information at your fingertips like WhatsApp conversations, call history, search history, photos, etc. It is safe and completely hidden without someone knowledge. For more detail, you are free to try its demo here!
At last, we'd like to add some related questions that you might want to know:
5. Can WhatsApp texts be traced?
Yes. WhatsApp texts can be traced by some WhatsApp text trackers, also known as WhatsApp monitoring apps. Besides, police or government is able to track WhatsApp texts for some legal purposes, such as investigating criminals or finding evidences.
6. How to Trace Someone's WhatsApp Chat?
They are basically 2 ways to trace someone's WhatsApp chat. The first way is to get access to their phone and check WhatsApp messages directly. The other way is by using a WhatsApp monitoring tool/app, which can trace WhatsApp chat remotely and without them knowing.
7. How to Read WhatsApp Deleted Messages without App?
Uninstall WhatsApp and install it again from Google Play Store.

Agree to Terms and Conditions and enter your mobile number.

You will be presented with an option to restore chats from a backup, and your deleted WhatsApp messages can be recovered.
8. How to Check WhatsApp Messages without the Other Person Knowing?
Disable read receipts & last seen

Read from the notification bar

Use Android WhatsApp widget

With help of iPhone 3D touch

View WhatsApp messages secretly online
For detailed information, you can read this article to check WhatsApp messages without the other person knowing.