Question:
There are times when I accidentally read the message before having time to reply. Can I read a WhatsApp message without the sender knowing?
Of course Yes! You can see a lot of options online, but some fail to work and lead to frustration. Here is an ultimate guide of the feasible ways to help you!
5 Proven Tips to Read WhatsApp Messages Without the Sender Knowing
First, you should know how someone find you have read his/her messages: WhatsApp has a feature that lets the sender know if the receiver has seen the message or not. The 2 grey ticks of a particular message turn blue indicates that the receiver has read the message.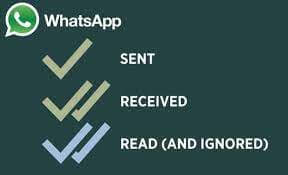 However, you can read WhatsApp without the sender knowing with the following tips:
Tip 1: Disable Read Receipts & Last Seen
Does it work: Yes, and you can view the complete WhatsApp chats.
Let's begin with the official way on how to read WhatsApp messages without the sender knowing - disable Read Receipts and Last Seen. With it, you will hide online status and read WhatsApp without your friend's knowing:
Step 1. Open WhatsApp app on your phone.
Step 2. For Android, tap on the three dots in the upper right menu, you will find Settings there. For iPhone, you can see Settings directly at the lower right bar.
Step 3. Go to Account > Privacy, then untick Read Receipts and remember to choose Nobody when setting Last Seen.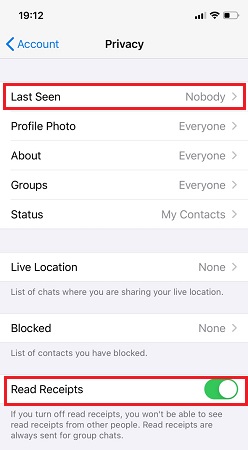 Limitations:
As a return, you won't be able to know whether your contacts have read your WhatsApp messages or not. And you have no idea of their last online time as well.
Tip 2: Read from the Notification Bar
Does it work: Yes, but you can only view part of the WhatsApp message. No access to photos, videos, gifs, and documents.
It is a fact that we can be notified of any update in any app through Notification without opening the app. The blue ticks show only when you open the WhatsApp app to read messages. So you can take advantage of this facility to read WhatsApp messages without opening the chat.
However, make sure that you are careful enough when reading messages on the notification bar until you are actually ready to reply to them.
You Can Read WhatsApp Messages without Opening the Chat
Step 1. Launch WhatsApp app.
Step 2. Turn to Settings.
Step 3. Scroll down to find Notifications, activate Show Notifications and Show Preview.
Step 4. Leave the app now. You can access the WhatsApp messages by swiping down the notification center.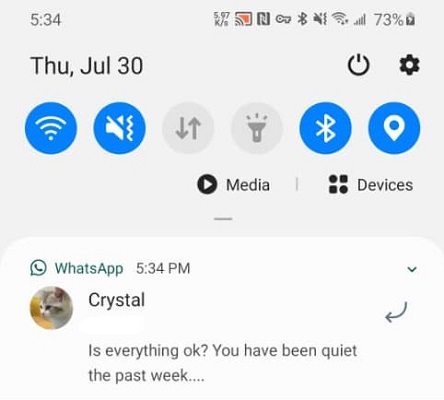 Limitations: If the number of messages is too long, you won't see the complete content from the notification bar. Also, photos videos, and other media files can't be accessible here.
Tip 3: Not Viewing WhatsApp Messages through WhatsApp
Does it work: Sounds wired? But it does work. You will have access to all the WhatsApp messages, voices, status, photos, videos, calls, and app activities.
Sometimes you may have your own reasons for reading someone's WhatsApp message without them knowing, be it your partner or child. In such cases, you can refer to an online App that will work for you - KidsGuard for WhatsApp tracker.
You will keep tapping on every sent, received, and read deleted messages on WhatsApp
You will bucketload to choose from including monitoring calls and capturing live screenshots through its online control panel.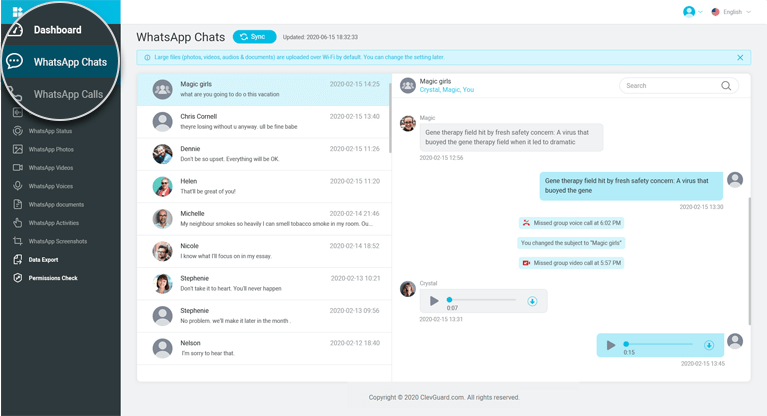 How to View WhatsApp Messages Without WhatsApp?
It is also easy to install without professional technical knowledge, and in the unlikely event you face any issues, you can always get in touch with their 24/7/365 customer support. Using KidsGuard for WhatsApp tracking is as easy as a piece of cake and here are only 3 steps to guide you on the right path.
Is it incognito: 100% invisible
Step 1. Choose WhatsApp Monitoring Plan
You can click the "Track Now" button below to establish your own plan in WhatsApp monitoring with KidsGuard for WhatsApp.
Step 2. Install KidsGuard for WhatsApp App on a Phone
Go hold of the device where you want to view WhatsApp messages, then download the app from www.installapk.net. Follow the instruction that pops up on the screen and complete the configuration.

Step 3. Start Reading WhatsApp Messages
You can access KidsGuard for WhatsApp's online dashboard with any browser of your Android phone, iPhone, or computer. Here, all the WhatsApp messages are collected as well as the deleted WhatsApp messages.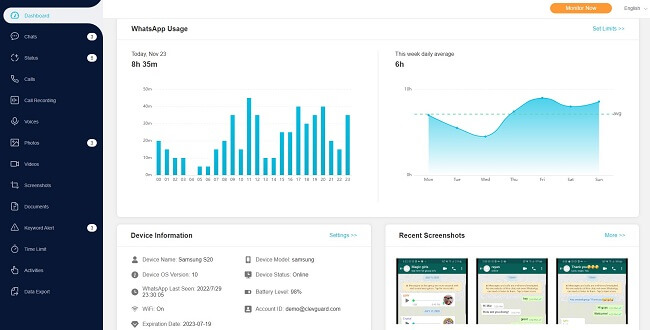 In order for you to truly experience the exceptional features, KidsGuard for WhatsApp provides a free demo. You can get to know how this app looks like and does it really suit your need before your try.
Tip 4: Use Android WhatsApp Widget to Read Messages Secretly
Does it work: Yes. But you can only read WhatsApp Messages only, no photo and video preview.
You may be aware that Android provides a widget for WhatsApp. Since reading via widget doesn't open the app actually you can keep the blue ticks from showing up. You can add this widget whenever you want on your home screen and peek into the WhatsApp messages.
How to Read WhatsApp Messages without Sender Knowing on Android
Step 1. Long press on the home screen of your Android phone.
Step 2. You can find Widgets in the lower taskbar. Tap on it.
Step 3. Swipe to find the WhatsApp chat widget and add it to any empty space on the home screen.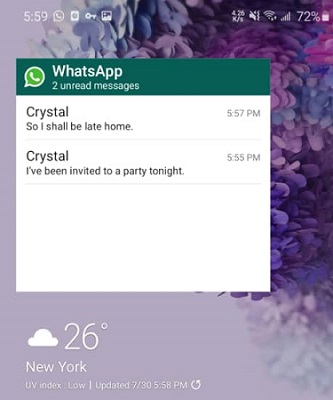 Pros

Easy to start
Totally free
Cons

It is available for Android only.
Can't see the photo and video files
With characters limit
Tip 5: Preview the WhatsApp Message with the Help of the iPhone 3D Touch
Does it work: Yes. You're able to preview some WhatsApp messages or photos on a screen.
So if you wonder how to read WhatsApp messages without sender knowing on iPhone, we are going to introduce the 3D Touch feature that lets you preview the WhatsApp message. Just make sure that your iPhone model should be iPhone 6s and later.
How to Read WhatsApp Messages without Sender Knowing on iPhone
Step 1. Open WhatsApp chats but don't enter the exact conversation of someone.
Step 2. Tap and hold the chat that you want to check unread messages for a while.
Step 3. A peel window will pop up where you can have a glance at the conversation without opening it.
It is noted that you should tap outside the window to close it, otherwise you will open the conversation which triggers read receipt status.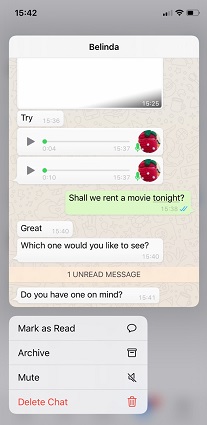 Limitations:
This method is the preview of a screen, so you can't view all the unread messages if there is more data to display than screen space. Android phone is not supported either.
Ineffective Ways Claim to Read WhatsApp Messages without Knowing
Except for the proven ways above, there are some ineffective ways to search results. Here we will tell you what are they and why they are invalid. You can quickly scan these ways for your convenience to read:
Fake 1: Read WhatsApp Message under Airplane Mode
Does it work: No, it just delays the read receipts.
If you google how to read WhatsApp messages without the sender knowing on Android/iPhone, you must have seen the method of viewing messages on airplane mode. Does it really work?
The answer may disappoint you and you can't have WhatsApp message read but no blue tick with this method.
It only delays a signal to the other phone that the message has been read, once airplane mode is disabled and connectivity is restored. The only thing you'll get is a few hours of thinking time how to reply to it before you have connected to the internet and the other person will know you've read their message immediately.
Step 1. As soon as you receive a WhatsApp message, swipe down your settings page and turn on Airplane/Flight Mode.
Step 2. Read all WhatsApp messages without the sender knowing.
Step 3. Once you read, turn off airplane mode. Then WhatsApp will send the read receipts automatically.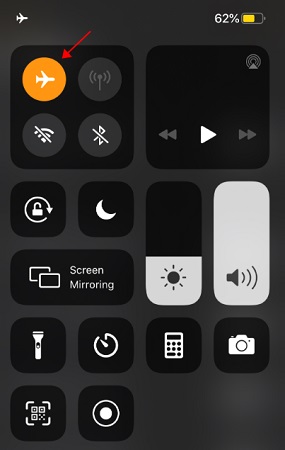 Fake 2: Mark WhatsApp Messages as Unread
Does it work: No. You can't mark received WhatsApp messages as unread.
WhatsApp users can now mark messages as 'unread' even if they've been opened. The purpose of this feature is to remind yourself to go back to a message if you don't have time to deal with it immediately.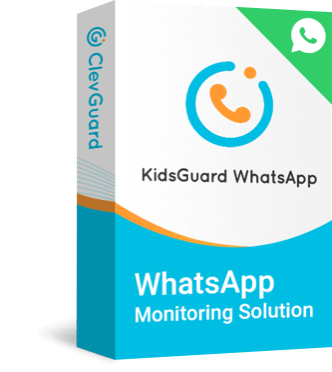 KidsGuard for WhatsApp
The Best WhatsApp Viewer App. No Root Needs.
Unfortunately, this still doesn't work for the recipient. You won't be able to open the message, mark it as unread, and trick your friends into thinking it was never opened.
Step 1. Tap and hold any conversation on your WhatsApp.
Step 2. Toggle the three dots in the upper right corner.
Step 3. Choose the "Mark as unread" option.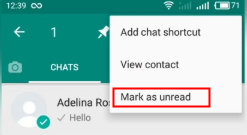 Fake 3: Delete WhatsApp Message After Reading
Does it work: No, because they know you have read the messages before deleting it.
WhatsApp rolls out the delete feature for all Android, iOS and Windows phones users. It is important to know how it actually works.
If you have sent a WhatsApp message by mistake to someone within 7 minutes, you can delete it for your side and the receiver side.
If you want to deleted a message from the receiver, you can only delete it for your side, meaning that the receiver still attain the message.
As you can see above, if you want to fool someone into thinking that you have not seen their message by deleting it, it is impossible because they know they sent you the message in the first place.
Step 1. Tap, hold and select the message for a few seconds.
Step 2. Click on the delete bin icon which is situated at the bottom of the screen.
Step 3. You can choose "Delete for Me".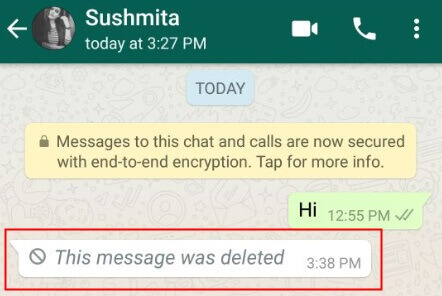 Conclusion
Well, the above are all the workable and impossible ways on how to read WhatsApp messages without opening or notifying the sender. Which method do you like the most, or have any other tricks? Share with us in the comment section below.
Additionally, if you want to monitor someone's WhatsApp without them knowing, KidsGuard for WhatsApp will never let you down and offers the best results you would need. Why not have a try today?