Question: Can WhatsApp account be hacked?
That's an answer everyone wants to know. Yes, it's possible to hack WhatsApp account using phone number.
No matter how many extra security measures it has adopted. Some methods are as simple as logging in to your own WhatsApp account without someone's phone.
One of the easiest way to hack whatsapp online is by using 3-party WhatsApp number hacker apps. Here are 3 different methods, let's see!
Method 1: Hack WhatsApp Account with Hidden App
Operation difficulty: Easy.
Risk of detection: 0%.
To each and everybody searching for WhatsApp number hacker app, look no further than the best WhatsApp monitoring app - KidsGuard for WhatsApp because you are guaranteed the best results and privacy.
Once you install KidsGuard for WhatsApp monitoring tool on target device, you will be in a position to read other's whatsapp messages, record voice or video calls regardless of their location through an online panel. You can hack someones whatsapp without verification code.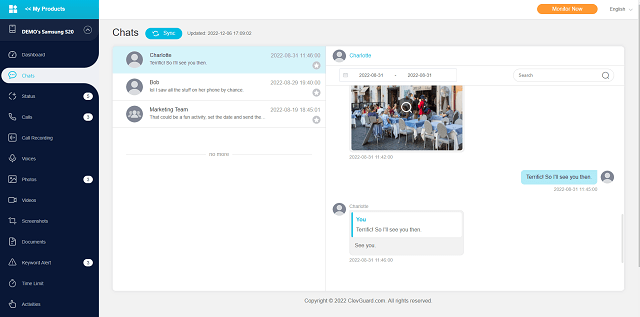 How to Hack WhatsApp Number
Step 1. Create an account
Sign up for an account on the KidsGuard for WhatsApp website. All you need to do is setup an account with a valid email and buy the membership plan that you prefer.
Step 2. Install the app on target phone
You need access to the target phone for a few minutes. Download the app on the target phone by visiting www.installapk.net. Open the app and you will be prompted to approve some permissions to hack WhatsApp numbers on the target device.

Step 3. Hack WhatsApp with phone number online
Go back to KidsGuard for WhatsApp's official website. After logging in to your account, you can enter the online control panel. There on the left side is the selection panel. Click on the option and the whole WhatsApp account data will be within your reach now.
WhatsApp chats: you can hack all sent, received, and deleted WhatsApp messages.

WhatsApp calls and recordings: you can monitor a complete list of calls going through on target device and listen in call audios.

WhatsApp media files: you can view photos, videos, voices and documents sent through chats.

WhatsApp screen interactions: the app captures screenshot on WhatsApp. This feature will work automatically when the target user is using WhatsApp.

WhatsApp activity: you can check screen time, frequency, app version and other details.
You can know more about this WhatsApp number hacker app from its free WhatsApp hack demo.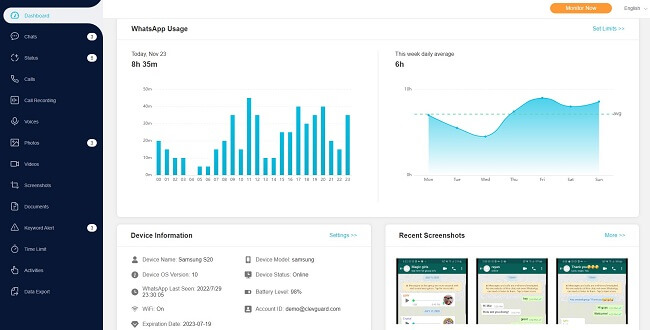 Also Read: Top 6 Apps to Hack WhatsApp Remotely without Being Detected
Method 2: Hack WhatsApp Number by Getting Verification Code
Operation difficulty: Easy.
Risk of detection: 75%.
As we know, the only information needed to log in Whatsapp account is a valid WhatsApp number, and a verification code that you will receive at this number by SMS used to verify the authenticity of the person wishing to connect.
So if you manage to get the verification code sent to the linked number, you will be able to hack WhatsApp account easily.
Situation 1. If you want to hack WhatsApp number of your spouse or kids, things get easier. When they fall asleep, you can take their phone and receive the verification code without them knowing.
Situation 2. If you can't access the victim's phone, there's still small chance to send a phishing SMS that goes roughly as follows:
NOTE:
Hello, your phone number once belonged to me. When I tried to log into an old WhatsApp account, it's telling that it will send a verification code in an SMS to this number.
I'd like to know if it would be OK with you if I request the code and if you can just send it back to me? If not, that's totally fine.
The request is written in polite language, and looks seemingly convincing. Good-natured people are likely to agree and send you the verification code without much thinking.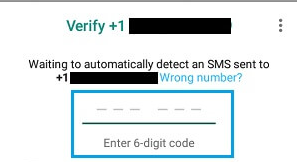 Simple enough right? But this is only half the battle of hacking WhatsApp by phone number. Once you are logged in, you will be able to view everything that has been saved in the App. But you can't see the deleted files, the videos or the audio conversations.
Now you are completely in the dark. So, you need to get a WhatsApp number hacker app that lets you constantly hack WhatsApp numbers without the target knowing or blocking you out of the system.
Method 3: Hack WhatsApp Number with POCWAPP
Operation difficulty: Medium.
Risk of detection: 40%.
Another WhatsApp vulnerability is POCWAPP. It is a very long acronym for PullOutCorrWhatsApp. This is a Chinese developed hacking program that allows anyone to remotely and anonymously WhatsApp hack with mobile number.
Let's clear the air. They only way you are getting this is if you buy it off the DarkNet.
How to hack WhatsApp by phone number?
Step 1. Download POCWAPP correctly. It uploads the data to its temporal server and decrypts the entire chats history, not the content of voice call.
Step 2. Enter target's mobile number. POCWAPP gathers WhatsApp users' data by phone number and looks up their ID number on the server, bypassing devices and cloud storage.
However, most of the backdoors are probably already closed by WhatsApp developers. There is a good chance it isn't even working anymore, if you can even find a working copy.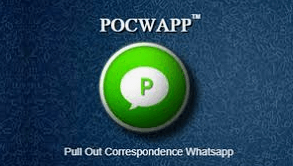 Conclusion
Now you have many options you can hack WhatsApp by phone number. Hacking WhatsApp gives you a glimpse of the life your child or your spouse is living.
If you want to keep tab on someone's WhatsApp chats, calls and multimedia files without putting yourself at risk of getting exposed, pick a WhatsApp number hack tool like KidsGuard for WhatsApp that evenly covers you.
You don't have to pay that much, and it is easy to use for anyone even without any tech knowledge.