WhatsApp is a prevalent messaging application on the internet. But WhatsApp can't be used on two phones and if you wonder how to clone WhatsApp, be it your own account or someone else's, there are so many different solutions, so it can be vital to know which one fit your need.
Therefore, this article have concluded 4 ways of WhatsApp cloning for you to look at WhatsApp without being online. You can browse through this post and select the best out of the best.
How to Clone WhatsApp on Android?

How to Clone WhatsApp on iPhone?
Can WhatsApp be Cloned to Another Phone?
Absolutely yes! You can clone your own or someone else's WhatsApp easily with the help of backup or 3rd WhatsApp clone app even in stealth mode.
There are 4 different methods discussed below to clone WhatApp account ranging from easy to complex. You can choose anyone according to your expertise and requirements. Now let's have a look together!
Way 1: Use WhatsApp Clone App - Any WhatsApp Account Applied
Simplicity:
Time: 3-5 minutes.
What Are WhatsApp Clone Apps?
A WhatsApp Clone app is an application that is designed to clone whatever the target WhatsApp activity is happening on the device to another phone or online account, including chats, calls, status, exchanged multimedia files, etc.
So if you want to clone apps on Android, for example, WhatsApp, the best app for Android in the market is KidsGuard for WhatsApp. This app is about cloning WhatsApp on another phone, which provides every bit of WhatsApp data and gave user a deeper insight into the target phone from chats retrieving to calls recording to status viewing to screenshot taking, and lots more.
Without wasting any time, you can check it out below to see how KidsGuard for WhatsApp looks like. The best thing is you can get real-time updates of the WhatsApp data from the target phone once it's installed.
How to Use WhatsApp Monitor App to Clone Someone's WhatsApp
Step 1: Create a KidsGuard for WhatsApp Account
Firstly, create a KidsGuard for WhatsApp account by clicking the Try It Now option below. Then, enter your valid email address and set the password.
Step 2: Get the download link and complete user guide
Find your corresponding order and click Setup Guide. Both video guide and text guide are presented in details.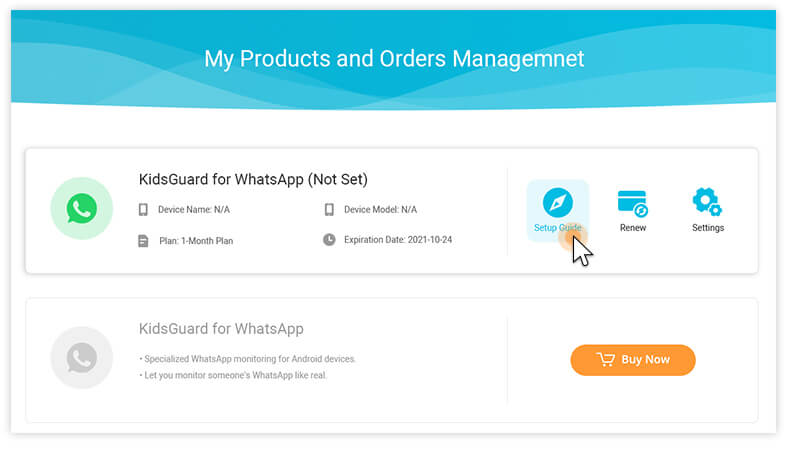 Step 3: Install KidsGuard for WhatsApp app on target phone
After the successful download, open the APK file and login in with your account and allow it to access some permissions on the target phone according to the onscreen instructions.

At last, click on Start Monitoring button, the app icon will disappear on home screen and start cloning WhatsApp account on the target phone to KidsGuard for WhatsApp online control panel.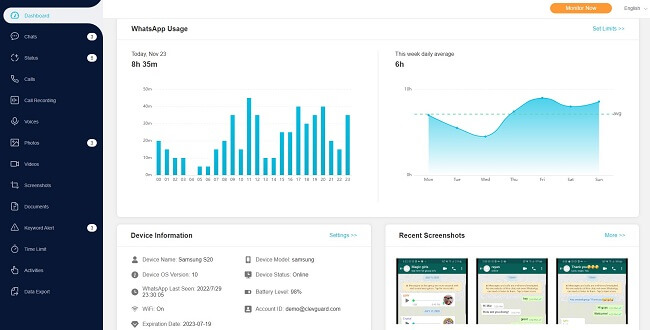 Step 4: Now can clone WhatsApp files without other knowing
Once the installation process is complete, leave the target phone alone and turn back to KidsGuard for WhatsApp website on your own device. Then, you will get complete access to clone WhatsApp files of the target phone to your phone.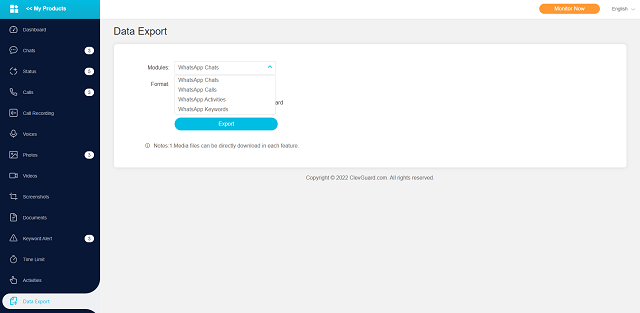 For example, you could check and export all the WhatsApp meassages, calls photos, videos and status on dashboard. You even are allowed to record WhatsApp calls whether it's voice or video. Isn't that amazing? For parents who want to monitor their child's WhatsApp activity, this app can also set WhatsApp screen time and keyword alerts to better keep an eye on them.
Also Know: How to Read My Girlfriend's WhatsApp Messages Without Her Knowing
Why Choose WhatsApp Clone App:
KidsGuard for WhatsApp is the best WhatsApp clone app for Android without a doubt. It has a lot of shining points that wins not only millions of users over the globe. These include:
Quick and no easy (need to root) installation within 5 minutes.

Runs in stealth mode so the other person never finds out that their WhatsApp has been cloned.

Constantly clone WhatsApp files of target phone in real-time without touching it.

Initiative user interface lets you monitor 10+ WhatsApp cloned files like a WhatsApp hacker.

Check and export all the WhatsApp data remotely on your own phone or computer.
Way 2: Use WhatsApp Backup
Simplicity:
Time: 10 minutes or more depending on how much data you have to backup and restore during the process.
Here is how to clone WhatsApp without knowing using the backup. This method is an effective and free way to access the WhatsApp messages and media stored in the backup. But real-time monitoring is not possible. You also need physical access to the target's device to be able to use this method.
How to Clone WhatsApp to Another Phone with Backup
Step 1. Launch WhatsApp on target phone. Navigate to Menu button > Settings > Chats > Chat backup and make sure it's on.
Step 2. Download WhatsApp on another phone and after entering the target WhatsApp number you will be prompted enter the verification code sent to the target phone.
Step 3. Then you will have to choose whether restore the WhatsApp backup from Google Drive or iCloud.
Step 4. After the restoration process is complete, tap Next and the chats on target WhatsApp account will be displayed on your phone. After restoring the chats, WhatsApp will begin restoring media files.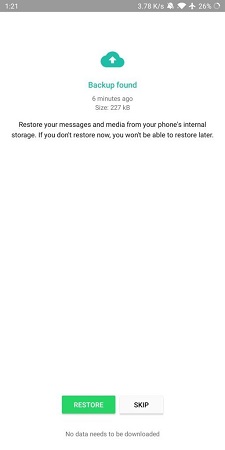 Way 3: Use Phone Clone App - Only for Huawei
Simplicity:
Time: 15 minutes or more depending on the data size of WhatsApp.
Phone Clone app is a built-in app developed by Huawei. It can clone WhatsApp app and other information from an Android phone or Apple iPhone to a new Huawei smartphone.
How to Clone WhatsApp with Phone Clone App
Step 1. Launch Phone Clone app on the Huawei phone you want to receive WhatsApp data, and choose THIS IS THE NEW PHONE > Android or iPhone. The QR code for connecting to the cloned phone is displayed.
Step 2. Launch Phone Clone app on the cloned phone, and choose THIS IS THE OLD PHONE. The cloned phone will invoke the camera function to scan the QR code on the Huawei phone to establish the connection between the two phones.
Step 3. After the connection is established, select WhatsApp > TRANSFER and wait for the cloned phone to send data to the Huawei phone.
Step 4. Do not perform any operations on both phones. Otherwise, the connection will be disconnected and WhatsApp cloning will be interrupted. Wait until DONE button is displayed on the new phone.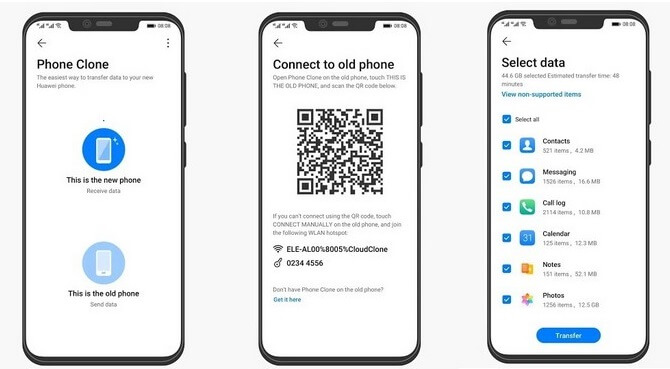 Way 4: Using WhatsApp Clone App for iPhone
The greatest solution to the question of how to clone WhatsApp on an iPhone is KidsGuard Pro for iOS. For a free demonstration of its outstanding features, visit this page.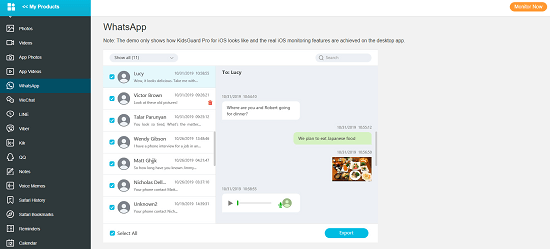 Way 5: Cloning WhatsApp by MAC Spoofing
Simplicity:
Time: 30 minutes or more.
Another solution to the question how to clone someone's WhatsApp is by MAC spoofing. It is a free method, and no costs are involved, but it is a little hard and needs technical skills as the 12-digit identification number Media Access Control(MAC) is used. Here is a guide to use MAC spoofing to clone WhatsApp accounts.
How to Clone WhatsApp with MAC Spoofing
Step 1. Uninstall WhatsApp app from your device.
Step 2. Access the target phone physically for some time.
Step 3. Find out the MAC number of the target phone. It is found in different tabs for different platforms.
For Android: Setting > About phone > wifi MAC address;
For iPhone: Setting > General > About > MAC Address;
For Windows Phone: Setting > About > Extra Info > MAC address;
For Blackberry: Option > Go to Device > Device and Status Info > WLAN MAC.
Step 4. Note down the target's MAC and also write your device's MAC too.
Step 5. Spoof your phone with the target's MAC. Write down the target's MAC in your device's MAC detail.
Step 6. Install a spoofing app on your device. Your options are; a. iOS device: Mac Daddy X, Wifi Spoof; b. Android device BusyBox, Terminal Emulator.
Step 7. Reinstall WhatsApp, and now you are using the target's WhatsApp instead of yours. Here, you need physical access to the target's phone again to grab the confirmation code sent as a text message to authorize the WhatsApp account.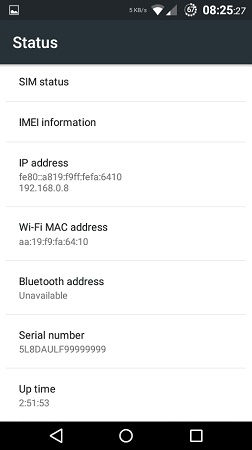 Conclusion
You may be looking for solutions to clone WhatsApp accounts of others on your phone for several reasons and may require different information levels from the clone. Depending on your requirements, choose one of the methods mentioned above.
But anyway, staying on track, if you want to clone someone's WhatsApp without knowing, opt for KidsGuard for WhatsApp. It doesn't need any technical skills and you can get updated WhatsApp files in real-time. Also, their customer support is great. So if you get stuck at any point, they will always help you out.