As a user, you may have found yourself curious about how to monitor WhatsApp activity. Whether you are a concerned parent, a diligent employer, or an individual concerned about their partner's digital activities, knowing how to effectively monitor WhatsApp activity can be vital.
In this article, we aim to demystify the full-guide explanation about how to monitor WhatsApp activity, and the reasons why should monitor someone's WhatsApp activities . Now you can learn top 4 methods on how to monitor online activity of WhatsApp on both iOS & Android devices.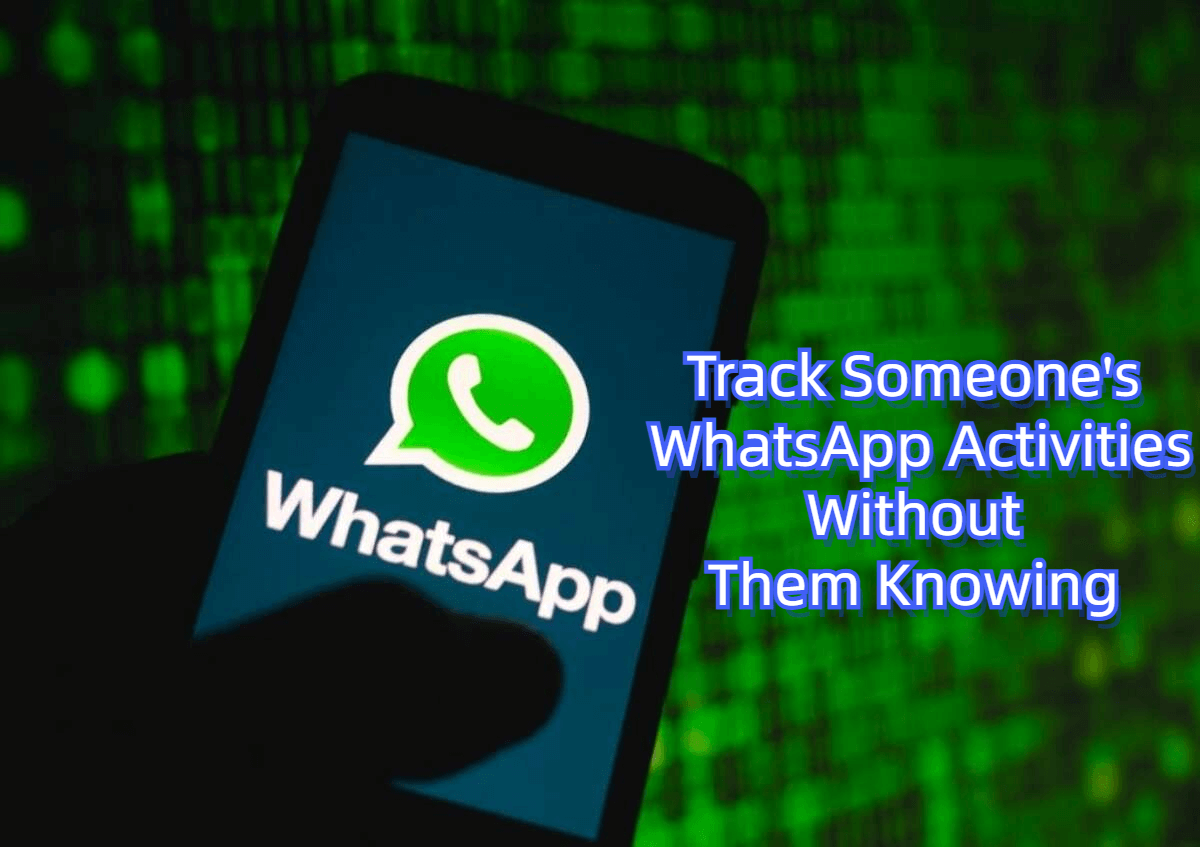 Can I Track Someone's Activities on WhatsApp?
The answer is yes. Tracking someone's WhatsApp activities is possible through the use of third-party tools like WhatsApp activity tracker. Third-party tools have made it possible to monitor WhatsApp activity effectively. These tools come in various forms and offer different features, making it easier to find one that fits your specific needs.
Why Monitor WhatsApp Activity?
The need to monitor WhatsApp activity may stem from different reasons depending on the individual.
For parents, the primary reason may be to ensure the safety of their children. With the increasing cases of online bullying and predatory behavior, monitoring your child's online activity can help you intervene before any harm is done.
For employers, the motivation may be to maintain productivity within the workplace. With employees spending a significant amount of time on their phones, monitoring their WhatsApp activity can help employers understand how work time is being utilized.
For Partners, WhatsApp activities can easily help them to know if their partner is cheating on WhatsApp, so that you cab jude if you have a faithful relationship.
In relationships, trust is fundamental. However, in cases where trust has been compromised, one partner may feel the need to monitor the other's WhatsApp activity.
How to Monitor Online Activity of WhatsApp?
As the reasons for monitoring someone's WhatsApp activities, it's essential to know a great method on how to monitor someone's activity in a proper way. The following will teach you top 4 useful methods to monitor someone's activities without them knowing.
1. Monitor WhatsApp Messages Free Using WhatsApp Web Service
WhatsApp Web is a free service that allows you to mirror your mobile device's WhatsApp on your computer. By scanning a QR code, you can view all messages and media on your computer.
However, this method requires physical access to the device and the person's knowledge and consent. Since if you log in someone's WhatsApp account on WhatsApp Web, the target person will recieve a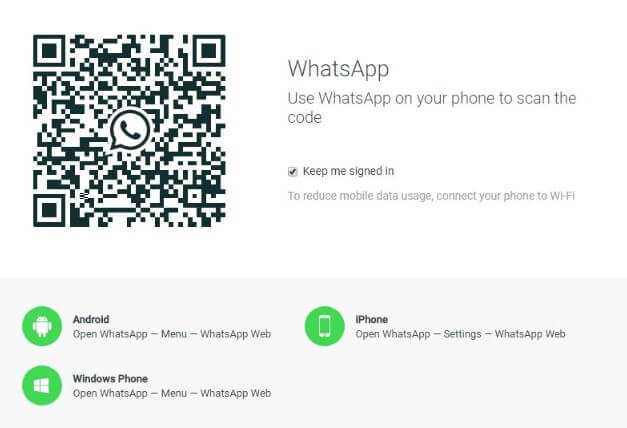 2. Monitor WhatsApp Activities on iPhone/iPad via iCloud Backup
Another method to monitor WhatsApp activity is by using iTunes or iCloud backup for iPhone/iPad users. This involves backing up WhatsApp data from the device to iTunes or iCloud, and then using a third-party tool to view the backup files. This method requires the iCloud credentials and does not need physical access to the device.
Step 1. Open WhatsApp on the iPhone/iPad.
Step 2. Go to Settings > Chats > Chat Backup.
Step 3. Select 'Back Up Now' to manually create a backup immediately or set up 'Auto Backup' for automatic routine backups.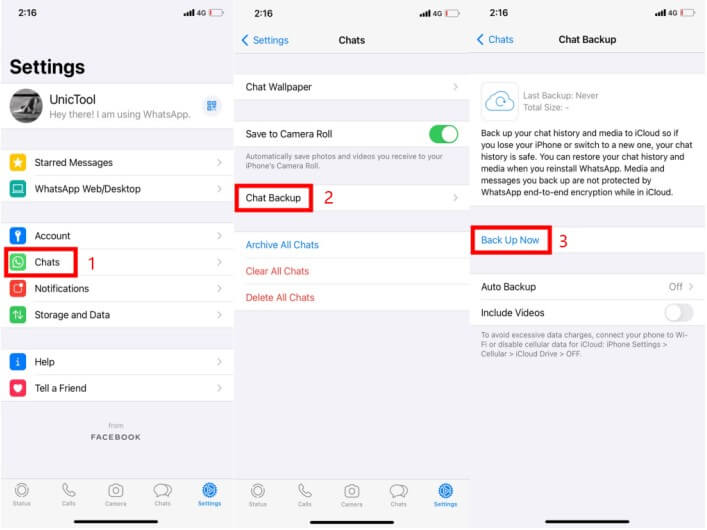 Step 4. Finally, restore the WhatsApp backup to your device, then you check check the WhatsApp activities on the target WhatsApp account.
3. Monitor WhatsApp Activities on Android via Google Drive Backup
For Android users, Google Drive backup can be used to monitor WhatsApp activities. Similar to the iTunes/iCloud method, this requires the backup of WhatsApp data to Google Drive, and a third-party tool to view the backup files. This method requires the Google account credentials associated with the device.
Step 1. Ensure WhatsApp Backup to Google Drive:
Make sure the WhatsApp account in question is set up to back up data to Google Drive. You can check this by going to WhatsApp > Settings > Chats > Chat backup. If it's not set up, you can implement it by choosing 'Back up to Google Drive' and selecting a backup frequency.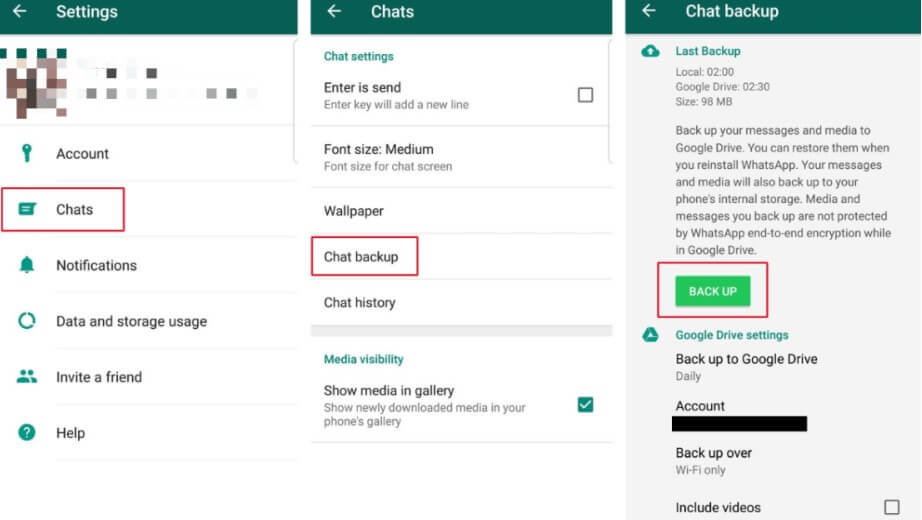 Step 2. Access the Google Drive Backup:
Next, you'll need access to the same Google Drive account. Go to Google Drive (drive.google.com), sign in with the same Google account linked to the WhatsApp backup, and look for 'WhatsApp' in the main drive menu.
Step 3. Viewing the Backup:
Here's where it gets tricky. The WhatsApp backup stored on Google Drive cannot be read directly because it's encrypted for security reasons. You'll see a database file that isn't immediately accessible or readable.
Step 4. Restoring the Backup:
To view the contents, you'll need to restore this backup to a WhatsApp account. Ideally, this should be done on a new device or after clearing WhatsApp data on the existing device.
During setup, you will be prompted to restore chats from a backup once you enter the same phone number and Google account. Please note that this method will only allow you to view and monitor new messages that have been backed up and restored and not real-time conversations.
4. Monitor WhatsApp Activities on iOS & Android via WhatsApp Activities Monitoring App
Perhaps the most effective way to monitor WhatsApp activities is by using a WhatsApp activity monitoring app.KidsGuard for WhatsApp is the perfect one. It's designed to monitor all WhatsApp activitys, including chats, calls, and media files. And also it can work on both iOS and Android devices and offer real-time monitoring.
However, KidsGuard for WhatsApp often requires installation on the target device and may come with a cost.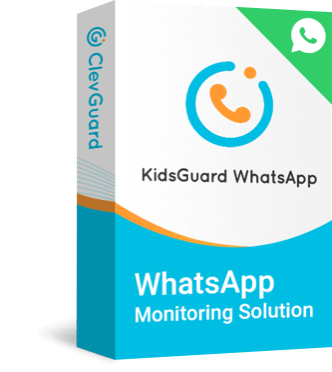 KidsGuard for WhatsApp-- The Best Way to Check Someone's WhatsApp Activity.
Monitor someone's WhatsApp activity in real-time.
Track messages, calls, photos, and videos, as well as online status on someone's WhatsApp account.
Allows parents to monitor their children's online activity on their WhatsApp accounts for parental control.
Allows boss to track his employee to make sure that they work hard.
Track someone's current location without them knowing via his target WhatsApp account.
It's a hidden WhatsApp monitoring tool, the target person won't know the monitoring.
Easy to use, no root.
How to Monitor Someone's WhatsApp Activity Without Them Knowing:
Step 1. Go toKidsGuard for WhatsApp website, select a subscription of the tool. And create an account with your email accout.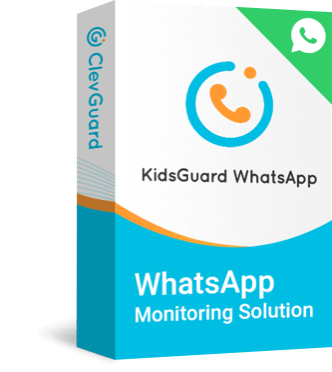 KidsGuard for WhatsApp
The Best Real-time WhatsApp Activity Tracker.
Step 2. Install KidsGuard for WhatsApp from www.installapk.net on the target Android phone device you want. Follow the instructions to finish the setup, and log in this app with your account.

Step 3. Then this tool will be hidden an app of WiFi on the device screen, so that the target person won't know he is hacked.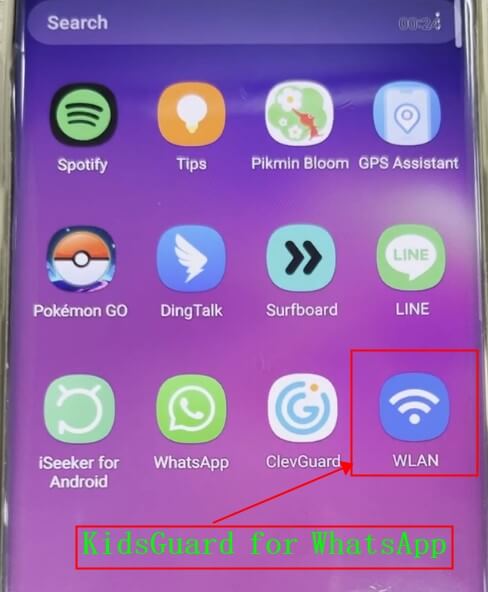 Step 4. Go back to the dashboard on the KidsGuard for WhatsApp website on your computer, bind the target device you want to monitor. Then you can click Status to see someone's WhatsApp activity.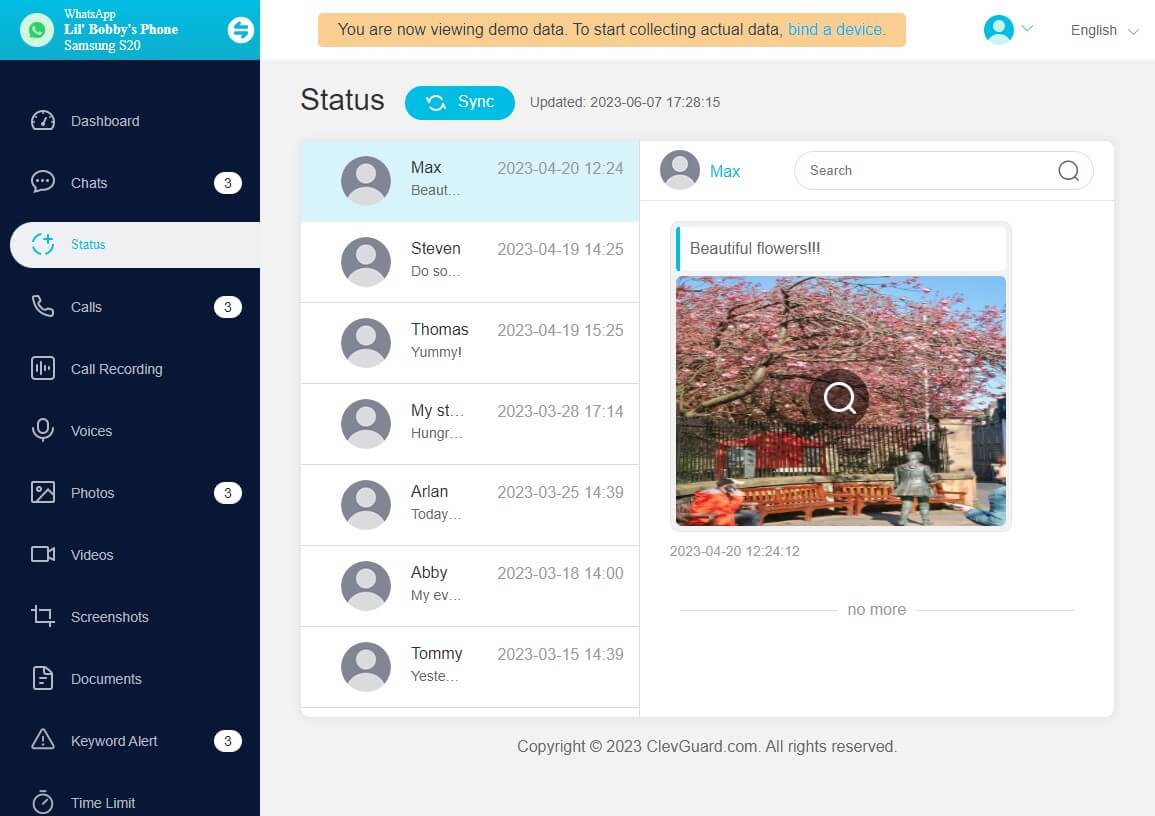 Conclusion
Monitoring WhatsApp activity is a complex process that requires careful consideration and responsible use. While it is possible to monitor these activities, it is important to remember that this should be done ethically and legally. Whether you are a parent, an employer, or an individual in a relationship, the methods discussed in this article can help you effectively monitor WhatsApp activity.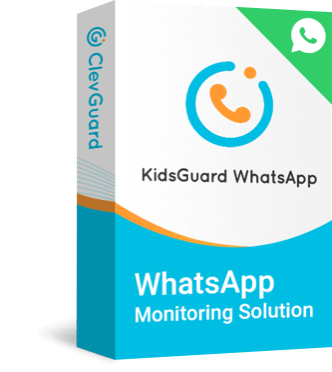 The Best Real-time WhatsApp Activities Monitoring Tool