"My boyfriend is always busy talking to someone on WhatsApp. Can I know who is he talking to on WhatsApp in any way? Please help!"
We get queries like this all the time, from people who are suspicious of cheating partner on WhatsApp. The only way to put such a suspicion to rest and give yourself the peace of mind is for you to read their WhatsApp messages and know exactly who your partner is talking to on WhatsApp. Now the question is, how to know who is chatting with whom on WhatsApp? This is why an effective WhatsApp tracking app comes in handy in order to know that WhatsApp is not being used for infidelities and check others' WhatsApp chat history online 24×7.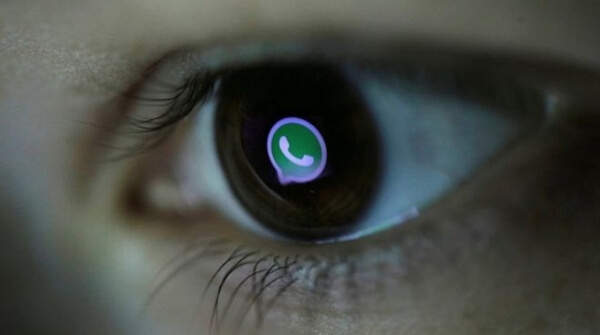 Why People Want to Check WhatsApp Activity?
WhatsApp is a very popular messaging app and many people use it in their daily conversations. Sending and receiving text messages and calls are free on WhatsApp which makes connecting with people easier. People check someone else's WhatsApp activity for different reasons, but in some specific cases, it is very necessary and important to check someone else's WhatsApp account. Let's see them.
For Couples:
Partner's honest is a key link in one relationship. Sometimes people want to monitor their girlfriend/boyfriend to check their activity on WhatsApp. They want to view their WhatsApp calling history that who is chatting with their girlfriend/boyfriend. They want to know if their life partner is honest with them if they are behaving suspiciously. So, in that case, they need to check their activity.
For Kids:
Parents of young children are worried about their children being exposed to bad things like racism, violence, etc. They also want to know who they are hanging with. Most children hide their online status and even read receipts, which makes them more suspicious. WhatsApp is a very useful app but it can also be quite dangerous. People may send inappropriate content to your child or scam them.
For Employees:
Businesses need to peek into their employees' cell phones during working hours to keep company confidential information is leaked to outside and check whether employees focus on their work. If you are an employer, you want to monitor your employees while you are away from the office or know if remote employees are working.
Is it Possible to Know Who is Chatting With Whom on WhatsApp?
Yes, it is indeed possible. This can be done with the help of third party spy apps like KidsGuard for WhatsApp. This is an excellent app which can be very beneficial for the Android users who wish to hack into someone's phone to check their WhatsApp activities. You would need to access the target device one time to install this app on it after which the app goes incognito on the target device. After this, you no longer need to touch the target cell phone again. You can monitor a bucketload of WhatsApp activities like chats, voice notes, calls, status, photos, videos and more using any other device remotely through the app's online dashboard.
How to Check Who Is Chatting with Whom on WhatsApp
For those individuals who are not tech-savvy, KidsGuard for WhatsApp is a perfect choice for you due to its easy operation and intuitive user interface.
Time needed: The whole process takes only 3-5 minutes.
Secrecy: 100% hidden
Effectiveness:
Step 1: Using a valid email address, create an account on KidsGuard for WhatsApp and purchase a valid license. Then on the target device you want to track, download the app by going to www.installapk.net.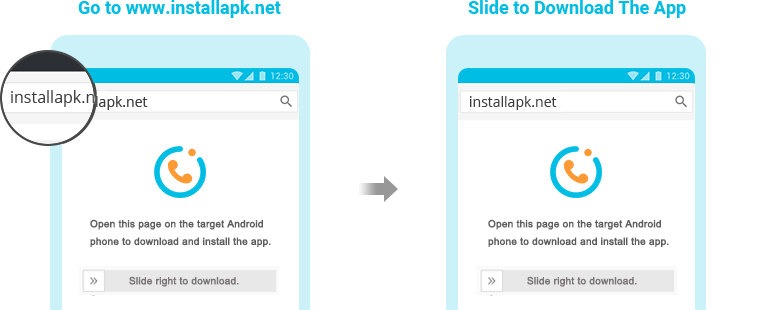 Step 2: Follow the on-screen wizar to install the app on the target phone. You will be prompted to make the necessary changes in the configurational settings of the app.

Step 3: From your own device, log in to KidsGuard for WhatsApp online dashboard where you can find out who someone is talking to on the phone.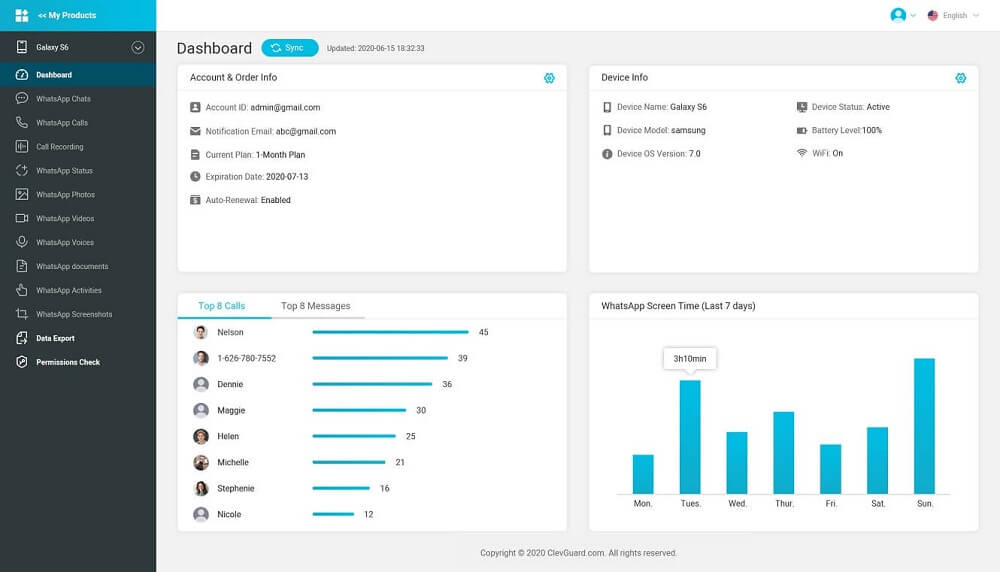 Step 4: Navigate to the 'WhatsApp Chat' tab on your dashboard. Here, you will remotely and discreetly access all WhatsApp conversations on the target device.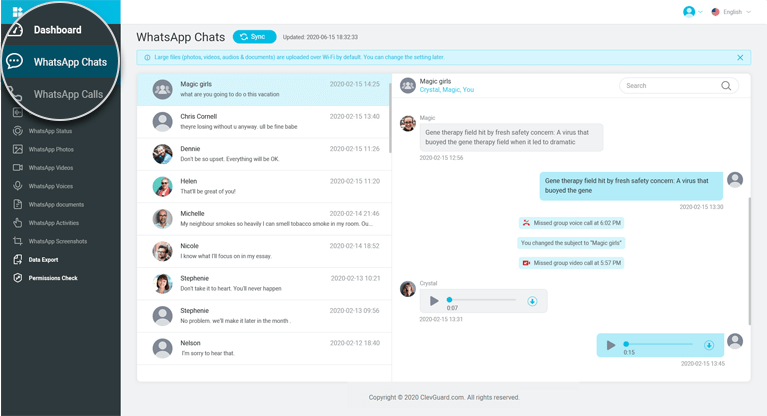 Step 5
: Click the below option 'Call Recording'. Then you can listen and download the detail calling WhatsApp record about the target's.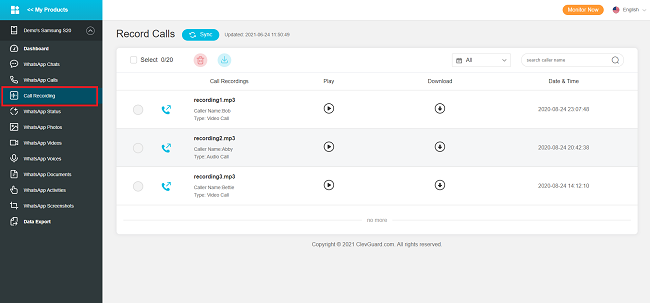 This is how to know if two persons are chatting on WhatsApp using this app. It can work no matter the target phone is rooted or non-rooted. You can also check out its free demo for more details.
How KidsGuard for WhatsApp Works to Check Who is He Talking to on WhatsApp
KidsGuard for WhatsApp has a lot of features to make sure each and every bit of your partner's WhatsApp activity is visible on your screen. Some of these features include:
Check all WhatsApp chat messages including outgoing, incoming and deleted ones.

Get access to a list of contact numbers details to know if someone is talking to someone else on WhatsApp.

Record incoming and outgoing WhatsApp call conversations and call logs along with contact names, timestamps, and duration.

Read photos, videos, voice notes and documents sent through chats.

Stay updated with every private and public WhatsApp status your partner and his friends share.

Automativally take screenshot when someone is online on WhatsApp.
What Makes KidsGuard for WhatsApp #1 in WhatsApp Monitoring
Using KidsGuard for WhatsApp allows you to enjoy the most satisfied results with least money. Below are some benefits if you choose it to know with who someone is chatting on WhatsApp.
Completely invisible: It works in stealth mode on the target device without any icon and notification, which ensures your surveillance is discreet at all times.

Web-based solution: You only have to login into an online dashboard with any browser to check who is chatting with whom on WhatsApp.

Real-time syncing: The WhatsApp data uploading is in real-time with a good internet so that you can check them at your convenient time.

Simple operation: Unlike other spy apps, you don't need to root the Android phone to make it work.

100% safe and legit: KidsGuard for WhatsApp is trusted and chosen by thoudsands of users. It has also been recommended by some famous tech sites like Tech Times, NewsBeezer and so on.

Other Options to See Who Is Chatting with Whom on WhatsApp
KidsGuard for WhatsApp is the best way in which you can hack into someone else's WhatsApp and check their chat activity. But are there any other ways to know how to see who someone is talking to on WhatsApp? The answer is definetly a big yes. There are 2 possible ways discussed below.
1. Use WhatsApp Web
WhatsApp Web is a convenient feature o WhatsApp that allows users to chat from their browser. If you know the target user's account and password, you can make good use of it to see with whom someone is talking on WhatsApp. Follow the steps below.
Step 1: From your computer's web browser, go to www.web.whatsapp.com.
Step 2: Open WhatsApp on the target device and from "Settings" menu, go to "WhatsApp Web".
Step 3: Now, scan the QR code being displayed on the computer screen to establish the connection.
Step 4: This way you can successfully log into other's WhatsApp account and check everything on it. It doesn't have to be the computer, the WhatsApp Web can also be used on your smart phones.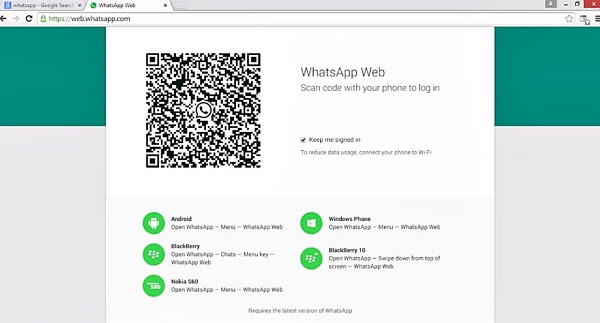 Pros

WhatsApp Web is legit and comes without cost.

You will have access to the WhatsApp chats and check everything on it.
Cons

For this method to work, you would need to access the target phone physically for several minutes.

Once you activate WhatsApp Web, a notification showing this would pop up on the target device and the user would get to know about this and may turn it off.

This method can't track deleted WhatsApp data.

There will be an alert on the target phone notification bar once the WhatsApp web is activated.
2. Secretly Check the Cell Phone - Very Risky
Another way to see who someone is talking to on WhatsApp would be to secretly check the target device when they are away. This method is only suitable for someone very close to you. For example, when you partner is sleeping or taking a shower, you can grab his/her phone and check the WhatsApp app. After checking, restore the device as it should be. If no other method works for you and you want to use this method to check who is chatting with whom on WhatsApp, you can follow the steps given below. But we would like to recommend you ask for permission of your partner or your children, otherwise it may cause crisis of confidence.
Step 1: Find a way to secretly access the target Android device, and launch WhatsApp on it.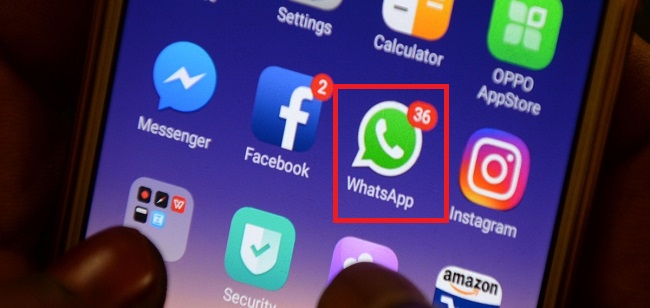 Step 2: Go to "Settings" by tapping on the three dots at the top-right corner of the phone screen.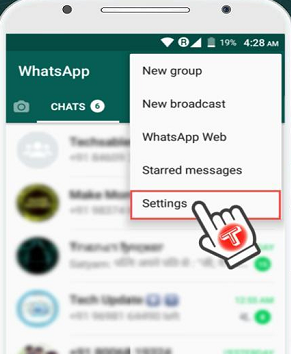 Step 3: From the "Settings" menu, tap on "Data and Storage usage" to see all the statistics related to data and storage of WhatsApp.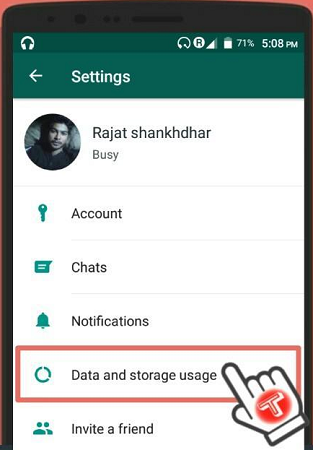 Step 4: Tap on "Storage Usage" to view the statistics.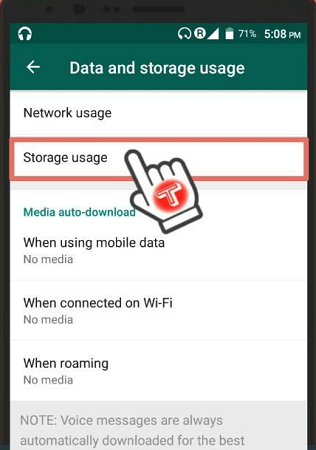 Step 5: Here, you will see a list containing all the contacts as per the data used by the target device user. You can click on any particular contact to check the details.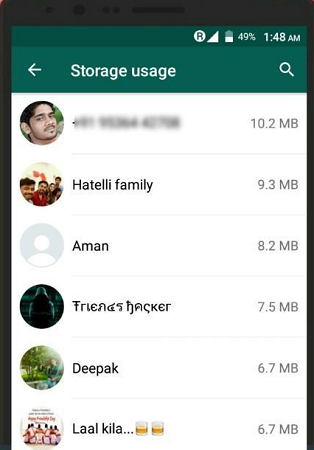 Step 6: If the target device user is chatting with someone currently, you can easily get all the details. However, if the target user has deleted the chats, you cannot view the details but you can check the contacts with whom the target device user has chatted recently.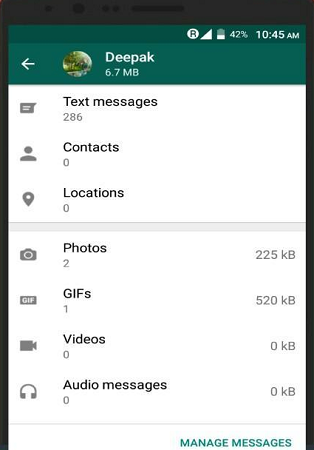 Step 7: To check the contact with whom the target user has recently chatted, you need to go back to "Storage Usage" again, check for the contacts with 0 KB. These would be the contacts with whom the target user has chatted but deleted the chat recently.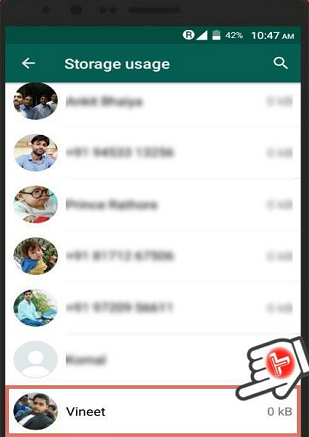 Pros

You don't need to use any other apps or pay for any service.
Cons

You need to have access to the target device and know the passcode.

This method is very risky and may cause crisis of confidence.

This method can't retrieve deteled WhatsApp activities.
NOTE:
This method would only work if you can manage to get physical access to the target Android device. There is always a high risk of getting caught if you try to check who is chatting with whom using this method.
What You Might Also Concern About WhatsApp
1. Does online on WhatsApp mean they are talking to someone?
The online status on WhatsApp means they're using WhatsApp, but it doesn't mean they're talking to someone. The possibilities may include, they're on WhatsApp audio/video call, checking WhatsApp status, lefting the WhatsApp app open, etc.
2. What is the best app to see who someone is talking to on WhatsApp?
KidsGuard for WhatsApp is the best monitor app to check who is chatting with whom on WhatsApp. It lets you have full access to someone's WhatsApp chats, calls, multimedia and more without them knowing.
3. How to Know if Someone is Spying on You on WhatsApp?
If you want to know whether there is someone who is spying on your cell phone and checking you on WhatsApp, you can ask for third-party tools for help, like ClevGuard, to check if there is someone is checking your cell phone.
Some Extra Tricks about WhatsApp
1. How to See if Someone is Online on WhatsApp
WhatsApp lets anyone know if contacts are online and last seen. It's easy to tell who read your messages on WhatsApp or how to find out if anyone is online on WhatsApp with our simple guide.
First of all, open WhatsApp and go to the chat section. Open the conversation to which you want to see the person is online or offline.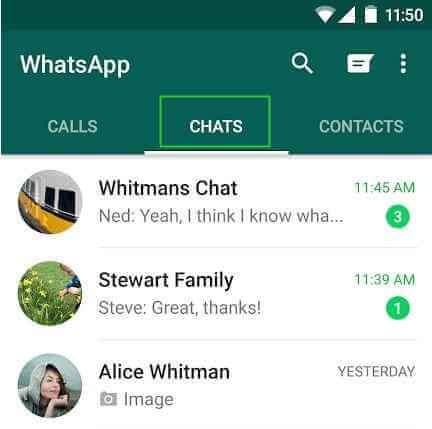 Now, you can see if anyone is online. If that person is online, you can search "online" under the contact's name. Otherwise, you can find the last viewing time that the contact was online.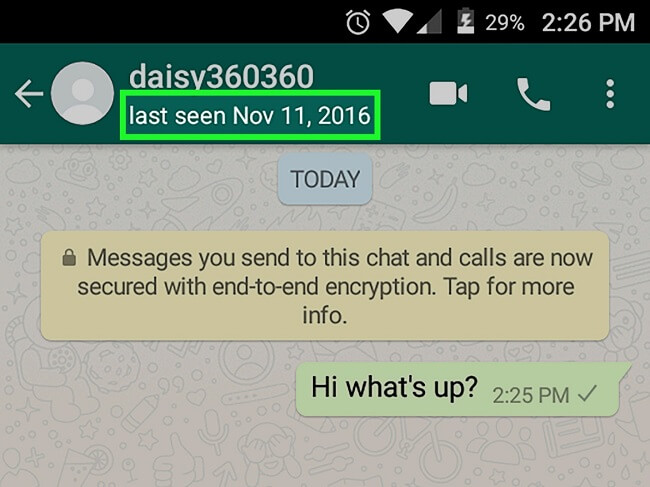 2. How to See Exact Time Who Read Your WhatsApp Messages
If the contact person from the opposite direction turns on the receipts read on the "Settings" section of WhatsApp, the following method will be useful.
If the message you sent contains two double blue ticks, your message is read, but to determine the exact time, long press on the message you want to check. From the top bar, click on the three-dot icon, which will show the Copy and Information options. Click on the "Information" option.
The message information is displayed on the page read, and the time of delivery is displayed on the screen.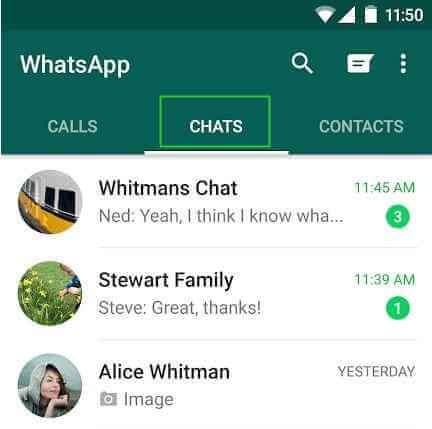 If it's a group message, and you want to see the exact time who reads your WhatsApp message, long press on the content, and click on the "Information" option.
On the Message Information page, you can see a list of contacts who have read your message in the "Read by" section.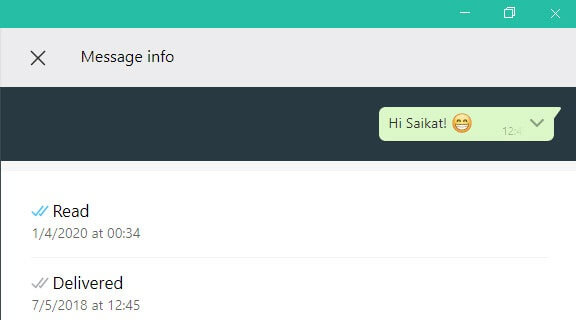 3. How Can We Read WhatsApp Messages Without Coming Online or Having the Last Seen Hidden
If you want to read a WhatsApp message without coming online or having the last seen hidden then follow the following steps.
First, open WhatsApp then clicks on the 3 dot icon in the upper right corner of your screen. After this, you will see the drop-down menu and then click on the setting.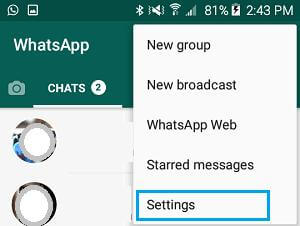 After this click on the account and then privacy. On the Privacy screen, scroll down and uncheck the Read Receipts option.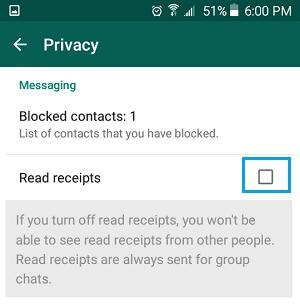 Read Receipts After disabling, open the WhatsApp message you want to read. Because the receipts you read in WhatsApp are already inactive, the sender will not be able to see if you have read the message.
Conclusion
Wondering how to know if someone is chatting on WhatsApp? As you can see from the above sections, the only feasible way to efficiently hack into someone's phone to check the WhatsApp messages is by using a third-party app like KidsGuard for WhatsApp. This incredible app is trustworthy and offers an easy way to keep a check on your partner's WhatsApp activity and is highly recommended.