Have you ever wondered if it's possible to send a fake location in iMessage? It seems like a great idea, but we did not want to waste my time figuring out its technical details.
Sending fake location on iMessage has been quite a topic of debate for the past few weeks. Whether or not it works, many people want to see this feature come out. Here's the guide about how to send a fake location on iMessag. Keep reading.
Part 1: How to Send Your Real Location on iMessage?
The texting program iMessage is pre-installed on iOS devices. It's a terrific software for more than just messaging your buddies; you can also exchange files, including contacts, documents, movies, and GPS information. It should be noted that having an iPhone or any iOS device is a must for sharing your location over iMessage with a buddy.
Here are some different methods to share location on iMessage.
But first, make sure you allowed the "Location Service" in Setting.
Method 1: Click the profile and use "Send My Location"
Step 1.Choose from the "Contacts" or the "Messages" app.
Step 2.Locate the person to whom you wish to share your location information.
Step 3.At the top of the screen, tap on their name.
Step 4.Select "Send My Current Location" from the menu.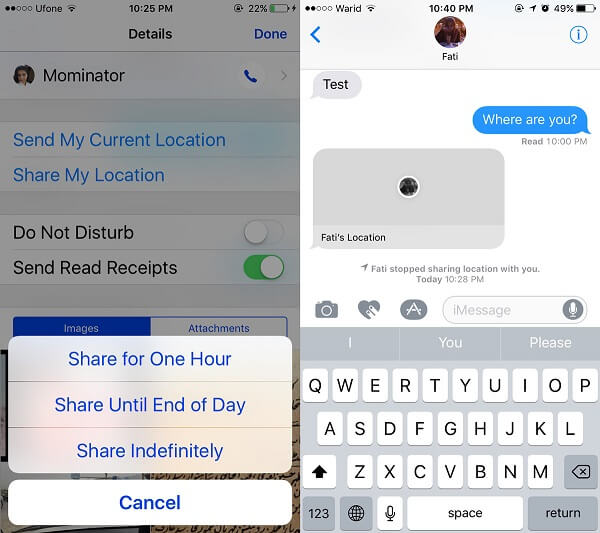 Your location will be sent instantly by your iPhone. Tap on the chat's minimized map for additional details regarding the location data. The precise coordinates of your location will be visible.
Method 2: Open the conversion box and tap "I am at"
There is another quicker way to transmit your location via iMessage. Here's how it's done: Go to the person with whom you wish to share your location.
Step 1.Enter "I'm at." Waiting for the position to appear.
Step 2.In the recommendations box, your current location will be displayed.
Step 3.Choose the destination and send it.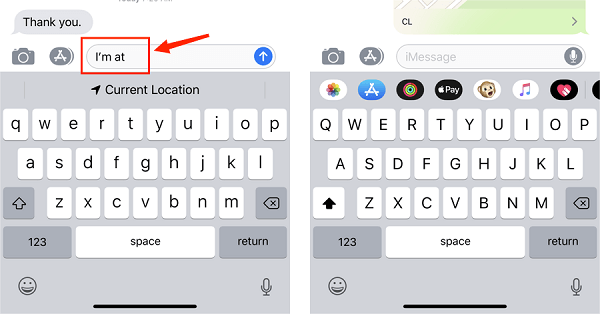 You may also use the Maps app to send your current position. Keep reading.
Method 3: Find your current Location on Google Map and "Share My Location"
Follow the steps mentioned below:
Step 1.Launch Google Maps on your smartphone. On the top-left of the screen, press the menu button. Select "Location Sharing."
Step 2.Choose the length of time you wish to share.
Step 3.Choose who you wish to share your information with.
Step 4.Confirm that you want to share your location, then send it.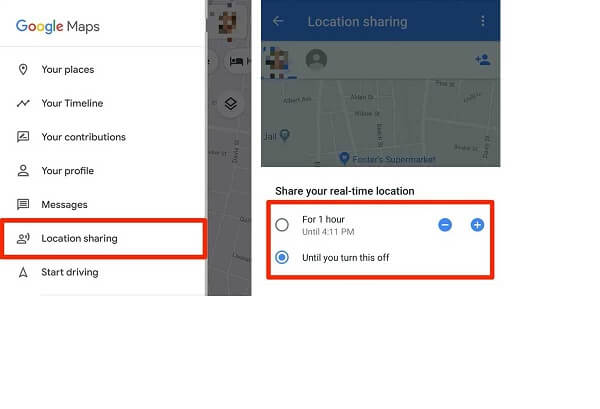 Part 2: Why So Many People Would Like to Fake Location on iMessages?
A. So many people like to fake their location on iMessages because they want to make it look like they are somewhere they are not.
B. People who want to feel better about where they are, even if it's not true or even if it's not their actual location (i.e., pretending you're at home when you're actually at school).
C. Another reason why people would like to fake their location on iMessages because they want people to think that they are somewhere other than where they live. They do this to make it easier for them to meet new people and make friends online, especially when using dating apps like Tinder.
Part 3: Can You Send a Fake Location on iMessage without Being Detected?
If you want to know how to send a fake location on iMessage without being detected, using a location spoofer is one of the best choices. There are many popular location changes in marketing such as iTools, ClevGo, or something computer programs like Xcode. In this article, we pick ClevGo to make an example of spoofing location on iMessage without being detected.
ClevGo is a location spoofer for both Android and iOS and it is 100 % legit and trustworthy. When it comes to GPS spoofing, this incredible location tool assists in offering the most pleasing outcomes to its clients. Within a minute, one may effortlessly fake their real GPS position. The user may easily select a fictitious place of their choice.
1.1.Here are the features of this app.
Works with almost all location-based Apps:iMessage, Instagram, Facebook, WhatsApp and so on.
Location changing: One-Click to change your real location to anywhere in globally.
GPS movement simulation: Simulate the real movement such as route and speed.
Four modes to choose from:Teleport Mode, Two-Spot Mode, Multi-Spot Mode and Joystick Mode.
History Record: Save your customized route to "Favorites" to use in the future.
1.2. The step guide for changing location on mobile phone
Step 1.Install the ClevGo App on your PC.
Download for WindowsDownload for Mac
Step 2.Click "Get started" and connect your device to the PC. The next time, the PC and mobile device can be immediately connected. (It can be connected directly within the same WiFi after the first USB connection.)
Step 3.After connection, you can see the map of where you are right now. Next, choose a mode that you prefer, such as two-spot mode, teleport mode, or multi-spot mode, to fake your iPhone's GPS position. For instance, pick "Teleport Mode" from the third icon, then drag the map to the area you wish to go to or type in the address or coordinates.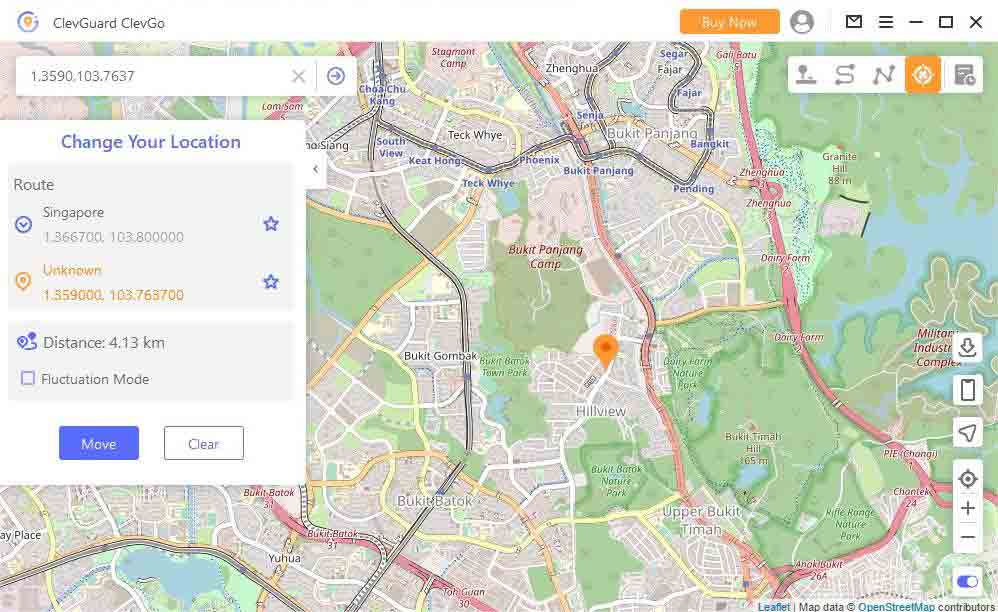 Step 4.Once the endpoint has been established, changing your location is as easy as clicking "Move" on the left sidebar.
Step 5.Open iMessage and start to share location as normal.
Tip:
Restart Your Phone if want to get the real location back.
Part 4: Hottest Questions about iMessage Location
Question 1: How to stop sharing location without notifying iMessage?
Start iMessage.
Pick a chat with one of your contacts.
After selecting Contact, tap the Info icon.
Pick Stop Sharing Your Location.
Question 2: Why does it say location is not available on iMessage?
Sometimes it happens because location services are turned off. Tap the 'Location Services' option in the privacy settings. Then, make sure the 'Location Services' option is turned on. Also, go down to the list of applications and ensure that 'Find My' and 'Messages' have permission to access your location.
Question 3: How to see someone's location on iMessage?
Select a chat in the iMessage app on your iOS device.
In the upper-right corner of the discussion, click the Details icon.
When someone reveals their location, a map shows; you may need to scroll to view it.
Question 4: Can someone tell if I check their location on iPhone iMessage?
They are not notified, and no history of such instances is made accessible to them. Only when you request to see the location is delivered from the friend's phone. The location is not sent at regular intervals.
Question 5: Can you freeze location on iMessage?
Although no built-in iOS software can freeze your iPhone's location, you can change specific settings to prevent your iPhone from revealing its current location.
Wrap Up
So there you have it. Whether you're doing it for fun, or whatever your reason is, this handy little tricky software ClevGo can certainly come in handy. Make sure you follow all the steps carefully to share your fake location on iMessage.