Are you looking for an easy way to change location on Tinder? It is the most asked question of 2023. As you know, Tinder is people's favorite dating place, and people try to change the Tinder app location to meet new people every day. But changing location on Tinder is not as easy as it seems. Don't panic, today I will teach you how to spoof location on iPhone and Android for Tinder.
How to Change Your Location on Tinder?
Part 1 Something You Should Know about Tinder
1.What is Tinder?
Tinder is a trending dating application with 100 million plus downloads. The Tinder app is gaining popularity day by day. It has 75 million active users. This online hookup application is available on both Android and iOS devices. It is the most common and easy-to-use application for both men and women, and according to a survey, about 24 percent of active users are women and 86 percent of users are men.
2. How Does Tinder Location Work?
The Tinder application is easy to use, and it works smoothly. This dating application's working pattern is so easy; you just have to create a profile and add a bio, basic information, and a profile picture. After creating an account, you can search for your match here. When you start searching, you will see profiles with a profile picture and a short bio. If you think that profile is good, swipe right and if you think you do not like the profile picture and bio, you can swipe left and can see more options. If the person swipes right for you too, you will become a match and start chatting.
Part 2 How to Change Location on Tinder?
Method 1. Change Tinder Location by Tinder Passport
One of the option to change Tinder location is Tinder passport. This option is available by Tinder application to add fake location.
1.What is Tinder Passport on Tinder
The Tinder passport is a premium feature available on the Tinder app, which lets its users change the location of Tinder. After getting this feature, the user can search for their matches from any specific city by adding a location.
2. Steps to change location with Tinder passport
To change the Tinder location, follow these steps.
Step 1: Open the Tinder app and tap on the profile icon, tap on the "Discovery Settings."
Step 2: Find "Swiping in" on the bar, tap the fake lcoation on the selection screen, then, click on add new location option and select a new location from the Map, or you directly search location on Map.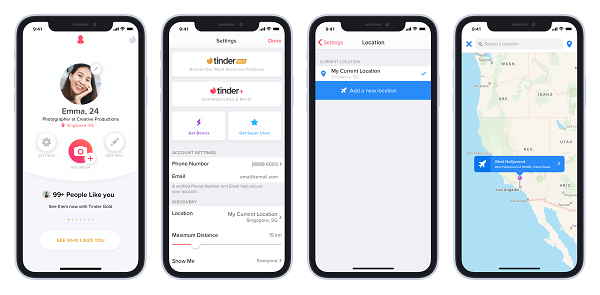 Pros

Easily let you change location.
You can add customized location.
More matches from different areas in one click.
Cons

The passport feature is detectable. Your match can easily know that you are using the passport feature.
This feature is premium and its cost is 14.99 dollars.
Method 2: Fake GPS on Tinder with ClevGo Location Spoofer
If you want to see more and more profiles on Tinder to find the perfect match, you should use ClevGo location spoofer.
The ClevGo is the latest location changing tool that helps you to mock the location of your Tinder application and all other GPS-based applications such as Instagram, WhatsApp or AR games. With this location spoofer tool, you can set any location from all over the world. The best part of this application is that it comes with numerous features that let you change location without being caught by anyone. It has more than one mode which helps you in different tasks.
1.What ClevGo can do?
One click to fake your location to anywhere in the world you want.
Works to all the location-based App.
Support to simulate GPS Movement with your customized speed and route.
Available to both Android and iOS without Root or Jailbreak.
2.The tutorials to change your location on Tinder
For iOS Users:
Step 1: Download ClevGo and install it on your computer. Click "Get Started."
Download for WindowsDownload for Mac
Step 2: Use the USB cable to connect your phone to your PC.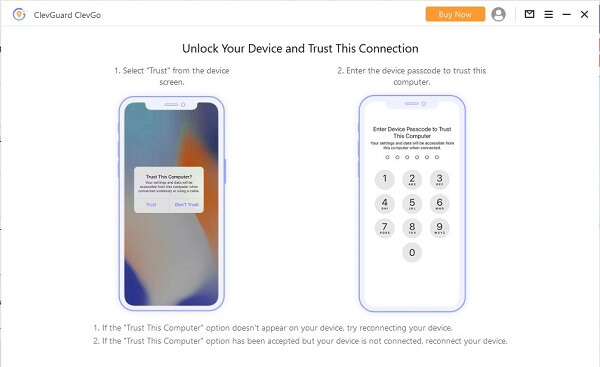 Step 3: After connecting, you will get a map of your current location. Then, choose your favorite mode such as "Teleport Mode" in the top right corner. Now, you can enter the destination and click "Move" to start to change your location on Tinder.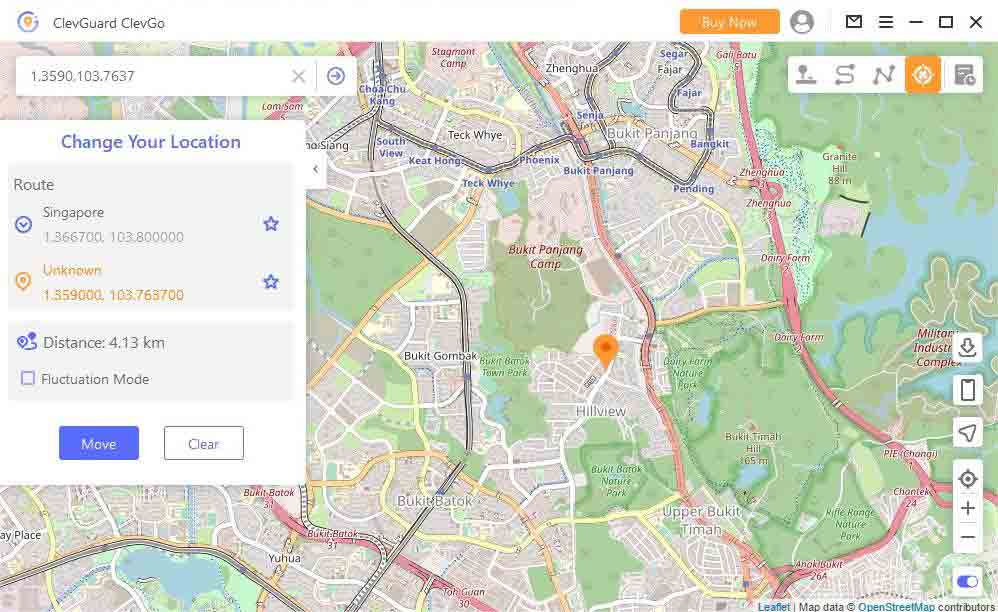 For Android Users:
Step 1: Download the App on your device and connect.
Step 2: After connecting, select USB connection and allow your USB Debugging.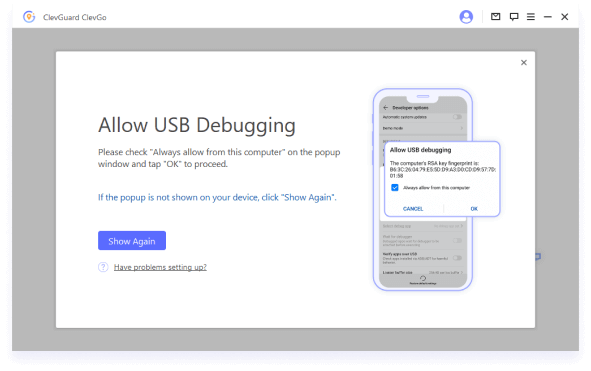 Step 3: Now, you will see two mode on the screen, Gaming Mode and Social Mode. Choose Social Mode and install ClevG Assistant.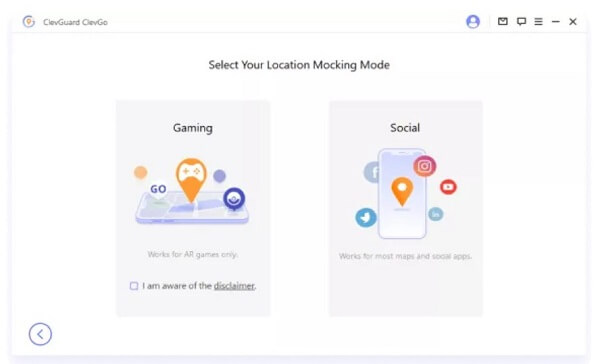 Step 4: Then, you can check the current location and set your fake GPS Tinder.
Once the location changed, people can only see your tinder fake location. Now, go to Tinder and find more matches!
Pros

Non-detectable.
Multiple modes help to set customized location.
Support all Android (Up to Android 13) and iOS devices (Up to iOS 16).
Support up to 10 devices at the same time with one account.
Very high accuracy in the virtual location.
Cons

The free trial is only for 14 days, and after that, you have to buy a subscription.
Need to connect with USB cable for the first time use.
Method 3. Spoof Location on Tinder by Using "Fake GPS Run"
For spoofing the Tinder location, Fake GPS Run application is another choice. The Fake GPS Run application is a location changing app that is available on the google play store. This application fools the GPS-based applications and games that you are travelling and fakes your location on Android. This application only changes your current location to a directed location in two clicks. With these applications, you can choose any location for your Tinder account and find your match quickly from all over the world.
1.The steps to Spoof location with Fake GPS Run
This Fake GPS Run spoofing application is easily for Tinder change location. Here are some easy steps to use this application.
Step 1: First, visit the Google Play store on your Android device and download Fake GPS Run on your Android device.
Step 2: Now enable developer mode so go to settings, tap on about phone option, click on the build number.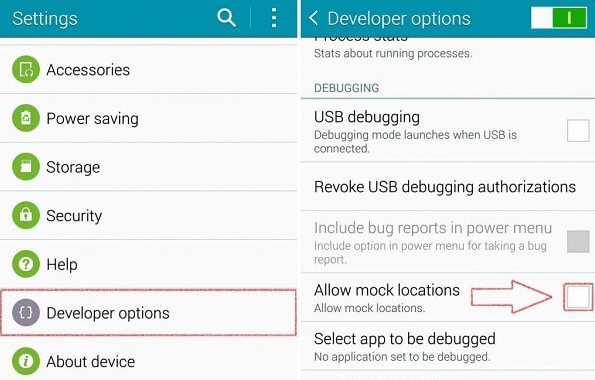 Step 3: Once developer mode is on, go to settings, next go to developer option, click on allow mock location and grant final permission.
Step 4: Now all your GPS-based applications will show this location. Run the App and begin to fake your location on Tinder.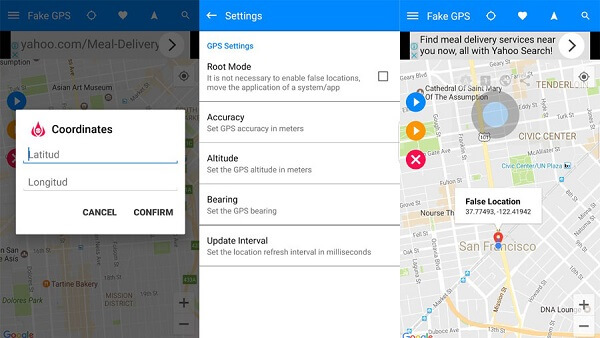 Pros

Available to fake location on Android with coordinates.
Support to set Accuracy in meters.
Can set GPS bearing.
Cons

It is easily detectable application.
Unstable in sometime.
Root is required.
Method 4. Mock Location on Tinder with VPN
Mocking Tinder location is possible with the VPN because these VPNs allow the users to change location easily.
There are plethoras of VPNs that work for changing the location of any GPS-based application, especially Tinder. But not all VPNs are perfect because they only show you limited locations, and servers are limited. You should choose a VPN that works smoothly, connects your device quickly, has more than 2 hundred servers.
Related Read: How to change location without VPN
There are only limited VPNs that work smoothly for the Tinder location change. here is a list of some trusted VPNs
NordVPN
NordVPN is a globally famous VPN that is mostly used for the tinder application. It has 5500 global servers and fastly connects your device and changes the location of your desire. This VPN works on various devices at the same time. use it for changing Tinder locations.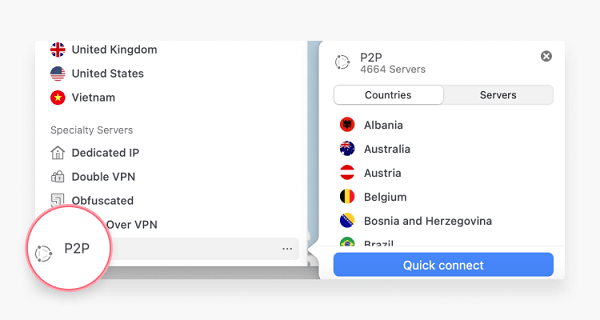 Surf Shark
The surf shark is an easy to use VPN that works perfectly for changing locations on Tinder. That has 3200 different servers that connect your device to various locations.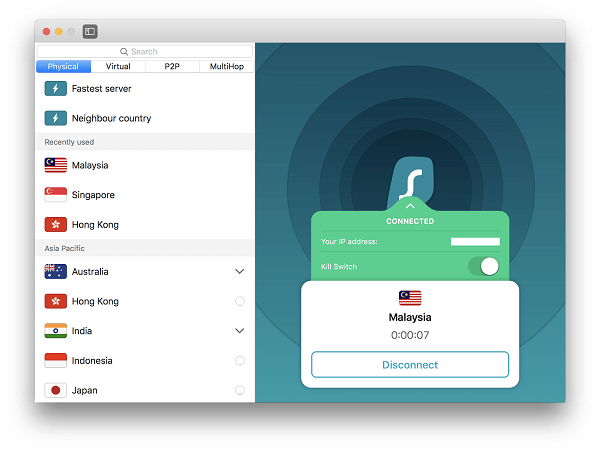 Pros

Can quickly to get rid of Geo-Blocks.
Prevent ISPs from Monitoring.
Easy to use.
Cons

Mostly VPNs are slow speed , which causes trouble in chatting on Tinder.
When it turns off, your location will be changed atomically.
Not available to change location flexibly as the limited Servers.
Part 3 Hot Questions about Tinder Location
1.Does Tinder show your exact location?
Yes, Tinder tracks your exact location, like where you are from using the Tinder account, and it shows the exact location of your matches. It collects all location information with GPS service. It automatically extracts your current location during profile creation and saves it as your current place. When you move somewhere else, Tinder will update your location again.
2.Does Tinder track your location when not active?
No, Tinder does not track your location when you are not active. , and only tracks your location when you open the tinder application and use it. Additionally, if your Tinder application is running in the background and you are using another App, the Tinder app will track your location.
3.Does Tinder Location Update Automatically?
Yes, the Tinder application updates your location automatically, but it automatically updates your location when you turn on internet data and the Tinder application. Because it tracks location via GPS, it will not update your location automatically when your device is turned off, or you are not active on Tinder.
4.How to tell if the person you're seeing is still using Tinder?
It is easy to find whether the person you are seeing or dating is still using Tinder or not. You just have to copy his phone number and paste it on the tinder login, then tap the forgotten password, it will show your profile to confirm whether it is you or not. If it shows you an active account, that means he is still using Tinder.
5. What happens if you change your location on Tinder?
If you change your current location on Tinder with a Tinder passport or with any application, your profile will only be visible to people in that area. But the profile you liked 24 hours ago, they can see your Tinder profile for 24 hours only.
Final thoughts
Tinder is the perfect Application for those looking for a real relationship because they can find the best matches here. But the minus point of Tinder is that it only shows you matches nearby you. But there is the possibility to change the Tinder location with a Tinder passport and an app like ClevGo. People who don't want to spend money on a Tinder passport can use ClevGo software to fake GPS location and change the Tinder location.