We frequently rely on our phones' GPS capabilities to provide precise weather forecasts, directions to the closest coffee shop, or the distance we've travelled. However, there are occasions when it is advantageous to modify our GPS position on applications like Snapchat, Facebook Messenger, Google Maps, and WhatsApp. We'll go over how to change location on Android in this article.
Change Your Location on Android Without
Part 1 The Best Way to Fake Location on Android by ClevGo Location Changer
There are a lot of Android location spoofers that can help you to fake locations on your smartphone. But there is one app that has become very popular recently and we are talking about ClevGo. If you have been wondering how to use ClevGo without root then I will give you a brief overview of what ClevGo is, how it works and how to use it. You will also find out how you can create and launch a fake location using ClevGo.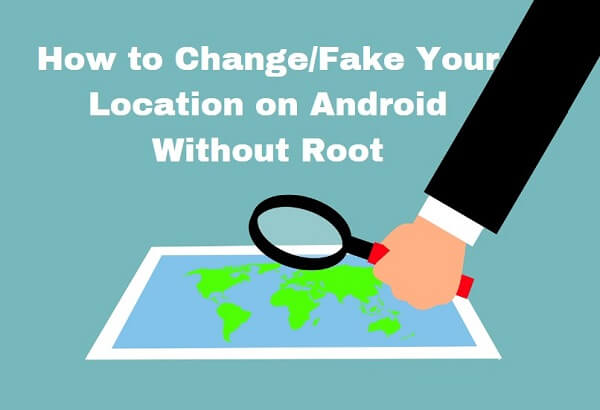 1. 1 What Can ClevGo Do to Fake GPS?
ClevGo is a location changer that can be used to fake locations on your Android device ( iOS device is also supported). You can use this app to hide or show your current location, which is great for when you want to surprise someone or prank them. You can also use it to find friends nearby or hide from them by hiding your location. It sounds interesting that fake GPS locations appear as if you are at any place in the world, right? Well, follow the simple steps and see how these can be done by spoofing GPS coordinates with the help of ClevGo.
1.2 Steps to Change Location on Android
Step 1: Install ClevGo on your PC after downloading it. After that, click "Get Started" to start using it.
Download for WindowsDownload for Mac
Step 2: Utilize a USB cord to connect your Android handset to the computer. The message "Choose Your Device" will then show up. Verify your gadget.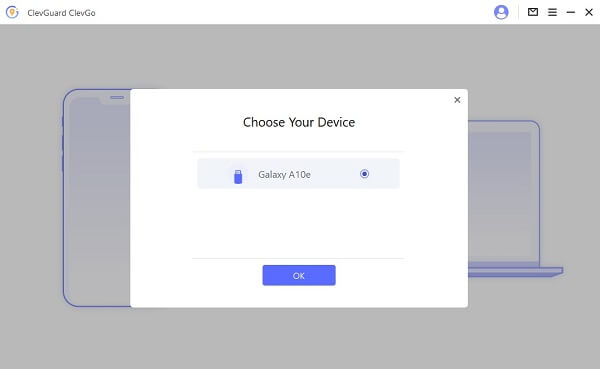 Step 3: Enable USB debugging on your smartphone, and click "Allow." (Click "Show Again" if the notification is not appearing on your device.)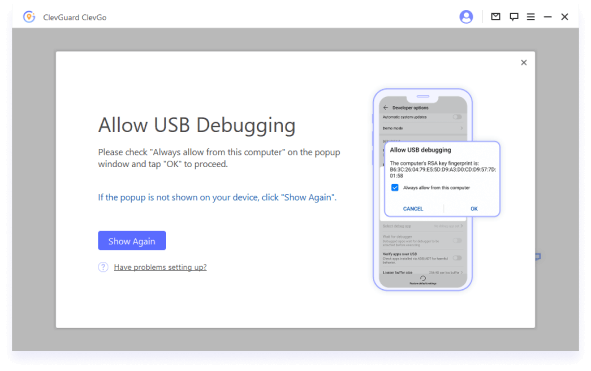 Step 4: Once all the settings are complete, you can select the gaming mode or social mode that best meets your requirements. Then following the instructions.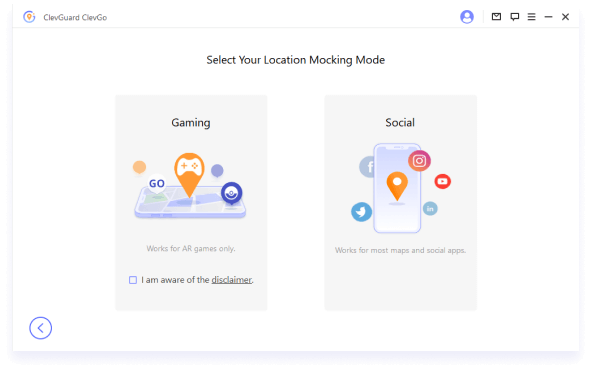 Gaming Mode Tip: Only AR Games can be played in gaming mode.
1. The program will load the map as soon as you choose the Gaming mode.
2. You ought to get a "You're All Set!" prompt after the loading is finished. If necessary, use your phone to log into your game account.
Social Mode Tips: Most social programs and maps, including Facebook, WhatsApp, Google Maps, and others, function in social mode.
1. Wait a moment while the "ClevGo Assistant" program is installed on your mobile devices. Locate "Select mock location app" in "Developer settings" after the installation is complete and choose "ClevGo Assistant."
2. Then, your location can be altered, and GPS movement can be simulated.
3. Click the symbol to the left of your device name, then confirm the change to move between the two modes.
4. to approve the modification, click "Yes."
After that, you can change your location to anywhere you want.
The 2 Alternative Ways to Spoof Locations for Free
2.1 Set the code to mock location
If you want to spoof location for free, then the coding method can be your best option. To set it up, there are many solutions you can choose from. Here we provide one of the codes for your reference. If you are not interested code related, we recommend using a GPS spoofer.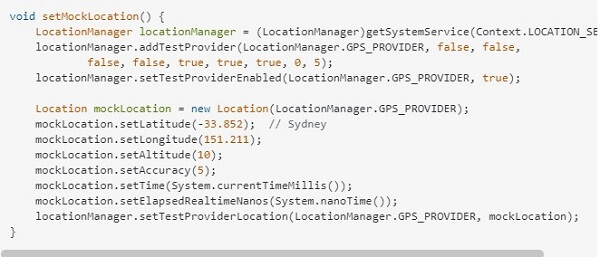 2.2 Change location by Free VPN for Android
You will need a working internet connection at all times while using this method because it requires continuous access to the internet so that it can serve as a server for the fake location service (it will not work if there is no connection).  If you want to spoof your location for Go, this won't work, as most VPNs only support changing location instead of simulating the GPS movement. In this case, your fake location would be detected and put your account at risk of being banned. However, it will function perfectly if your main goal is to mislead services in a different geographic area with a false location.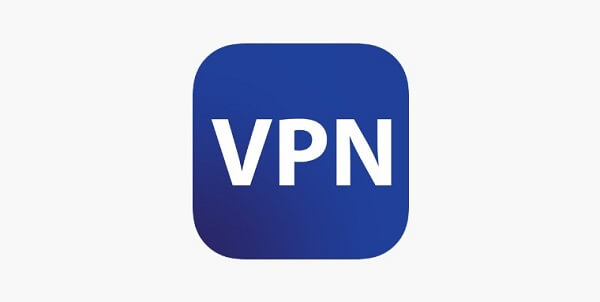 2.3 Change Location by Android Emulator
Android Emulator enables you to simulate your Android device. This way is based on that you have the related Android Programs. Before starting, you should run your Apps on the Android Emulator. You can learn it from the Android developer community.
Step 1: Open Android Emulator and choose "More iCon".
Step 2: Choose Single Point or Route.
Step 3: Search for your favourite point on the map. After that, you have changed to a new location, which would report to your Android Apps as if you are in a new place.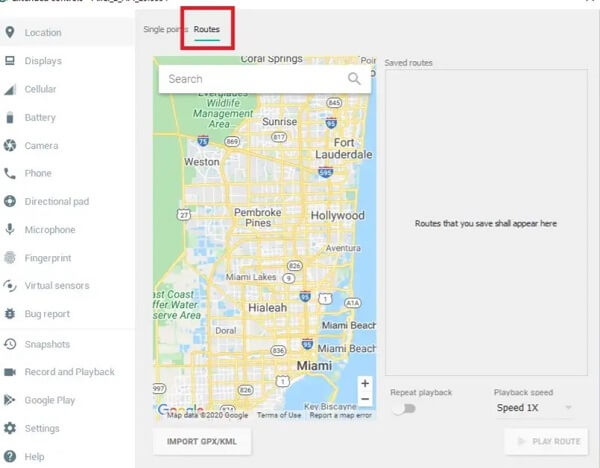 Part 3 Why Would You Fake Your Location?
Well, we have introduced different ways how to change your location on Android. Let me back to the start. Why would you fake your Location? We conducted a questionnaire survey of different users. Here you can find the answers.
1. Privacy
Let's face it: in this day and age, we are all trying to be more private. We use VPNs, encrypt our computers, we hide our location on social media. But what happens when you want to hide your location for more than a few minutes? Well, maybe you don't want your boss to know where you're going or what you're doing. Maybe you're just not comfortable with everyone knowing where you live. Or maybe you're just trying to watch a movie at home without being disturbed by people who know where your house is located.
2. Watch TV or Movies
Do you have a Netflix subscription? Do you like to watch movies while relaxing at home? If so, then hiding your location is critical if you want to watch shows online without being disturbed by other people who might know where your house is located. If someone calls on the phone and asks where you are located because they want a ride somewhere, there's no way for them to tell if it's true or not because if they ask too many questions then they'll get suspicious about why someone would be calling from such an odd-looking area code (and this happens all too often).
3. Playing AR Games
If you're playing Pokémon Go, you need to be aware of where you are and where you're going to catch them all. For example, if you're trying to catch a Squirtle, but it's close enough that your phone can't determine where it is, then the game will just show the nearest Squirtle. When playing Pokémon Go, having your phone facing in a different direction than the way it usually faces can make all the difference between catching a Pokémon and skirting around in circles for hours on end without any success whatsoever.
4. Boost Your Business
It's probably because you want to boost your business and make more money—and the only way to do that is by making people think you're in a different place than you are. If you're trying to sell products or services and don't want customers to think they're getting better deals from a different location, then simulating being somewhere else can help. But it can also result in problems for both sides: if customers think they're getting a good deal when they really aren't, then they won't buy from your business; if the fake GPS location android results in lost sales from real customers who think they're in a new city when they're not, then this could hurt your overall business.
5. Getting excellent deals
There might be a website or app with a unique deal just for US users. If you live in Italy and want to take advantage of these bargains, you may track your Android GPS to make it seem like you are in the US as well. You will be qualified for the discounts if you do this!
Part 4 Frequent FAQs about Change Location on Android
1. How can I get the real location back?
The GPS is back in operation after clearing the Play Store and Play Services, going to TWRP, and clearing the Dalvik Cache. Switch on fused services. any GPS status app can be downloaded. Launch the GPS Status app after a reboot, wait for a signal, and then check Google Maps to confirm your location. But if you are using ClevGo to change the location, just a simple restart can get back your location back.
2. How to change my location on my iPhone?
Well, changing location on iPhone would be more difficulty than on Android. To make it easier, we still recommend ClevGo as its supports changing location on Android/iPhone/iPad.
3. How to Delete and Manage Google Location History?
Google Maps Timeline allows you to control and remove your location history data. You have the option of completely or partially deleting your history. It's important to note that once information about Location History has been removed from Timeline, it cannot be retrieved.
4. How to Change Location on Facebook Marketplace?
Step 1: Log into your Facebook account using the browser of your choosing and access Facebook.
Step 2: Select the "Marketplace" icon that will be present. The present location will now be shown on the screen. To make your marketplace appear to be somewhere else, you must tap on your present location.
5. Is it illegal to change my GPS location?
As long as the owner of the GPS-enabled gadget approves, GPS spoofing is entirely lawful. However, it is prohibited to spoof a device and change its position without the owner's permission.
Final Thoughts
There are many alternatives available if you want to modify your GPS position but one of the simplest ways is to use ClevGo this kind of Android mock location app. You can download software that enables you to change your location on Android in a few easy steps, whether you want to maintain your privacy, surprise a loved one, catch all the Pokémon, or do any of the aforementioned things.