Sometimes, people want to appear anonymous for their locations due to various reasons. Some, just want to appear as if they are in a different city or place at some point. Others do it just to get better matches on a dating app or play Pokémon Go in a place where there are more Pokémon. How is that even possible? This article takes you through a few GPS spoof apps that can help you change your current location to anywhere you want.
The Best GPS Spoof Apps
In this article, we will present the results of our tests on the best GPS Spoof Apps to change location to anywhere you want
How Do You Trick Apps into Different Locations?
The Best 6 Fake GPS App?
Discussion on the legality of Spoofing Apps
Part 1 How Do You Trick Apps into Different Locations?
There are several ways you can trick spoof GPS apps into thinking you're in a different location. One way is to use a VPN service that offers a different IP address for each location you want to appear to be in. But most of them only support changing the country instead of a specific location. Another way is to use a fake GPS App that allows you to manually enter the coordinates for the location you want to appear to be in. Either way, the most important consideration to make is understanding how to correctly use the spoofing app and the best GPS spoofing app that will give you the desired anonymity.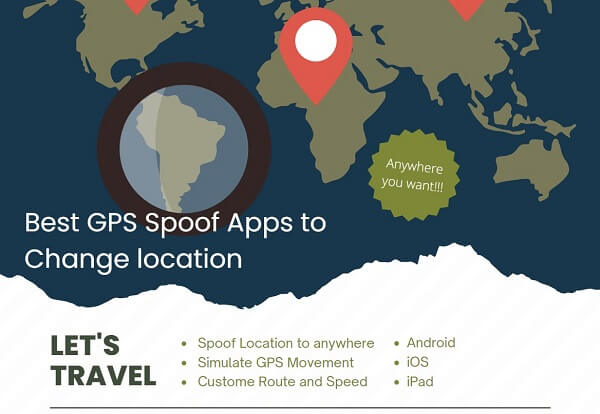 Part 2 What Is the Best Fake GPS App?
We have tested most Spoof GPS Apps in marketing. The following list gives a detailed description of some of the best GPS apps that you can use to spoof your GPS location on your phone. The pros, cons, and how to set up the spoof apps have also been given in detail. Here you can learn how this software exactly works.
1. ClevGo location changer (iOS16 and Android 13 supported)
ClevGo is a location changer app that is available for both iOS and Android devices. The app allows users to change their location so that they can access geo-restricted content or services. The app is easy to use and has several features that make it a great choice for those looking to change their location.
One of the key features of ClevGo is that it can even simulate the GPS movement and it allows you to customise your favourite route and speed, which makes it appear as if you are accessing the internet from another country or region. This means that you can access content or services that are normally restricted to your current location. For example, you could use ClevGo to access US-only services.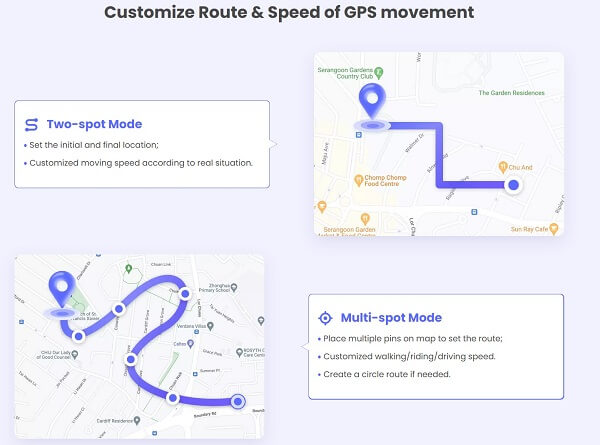 Also, ClevGo is very easy to use. Simply download the app, select your desired location, and start to change to another location. That's all there is to it! You can now enjoy unrestricted access to the internet without having to worry about geo-restrictions. Here also provide the steps.
STEPS OF USE:
Download and install the ClevGo from ClevGo website.
Open the app and connect your device to your PC.
Select the country or city by address or coordinates you want to appear in.
Enjoy!
Pros

Multi modes to choose
Support to customize the route and speed
Not required to Jailbreak or Rooting
Support multiple device in one account
Work on every location-based apps
Cons

Some premium features are locked behind a paywall
Based on PC, Mobile App still on working
2. iTools Virtual Location
Probably some people who use iOS are aware of iTools. iTools is an iOS management tool based on PC which can be used instead of iTunes. iTools Virtual Location, one of the features of iTools, is supported to fake GPS location on iPhone. iTools Virtual Location also has been one of the location-based tools on the market even though some users reported that it failed to load Map. But it would be also a great option for faking your location by selecting the favourite address, provided you have the needs for other functions of this software, such as data transfer, otherwise, it will be uneconomical, as its pricing is a little high. Here you can also find the steps.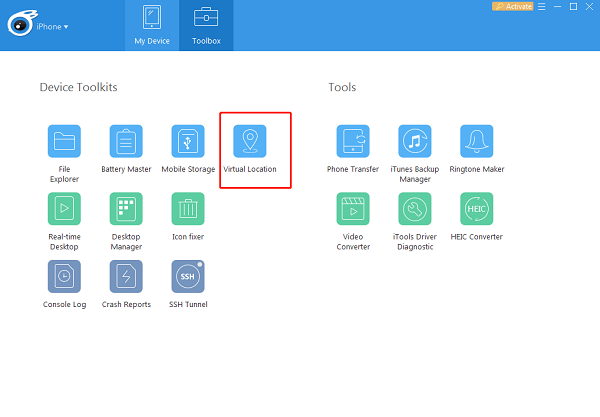 STEPS OF USE:
Purchase the premium pan and Download the iTools.
Connect your iPhone to your computer.
Choose"Virtual location" in "Toolbox" (in the top menu bar).
Waiting for the map to load, then entering the coordinates.
Once done, click "move here".
NOTE:
The most important consideration for the iTools user is to understand the steps clearly because any failure to load a map due to improper installation.
Pros

Allows changing location by entering coordinates
Has features other than fake location
Support multiple devices
Cons

Many users have reported that the app drains battery life quickly
Slow to load and sometimes fail to load a map
Only compatible with iOS device
A little uneconomical ($69.95)
3. Fake GPS Location
Fake GPS location is a type of fake GPS app which allows users to change their current location to any other desired location. This can be done by either selecting a location on a map or by entering the latitude and longitude coordinates of the desired location. This function is implemented through the Teleport mode. There are both pros and cons to using such an app.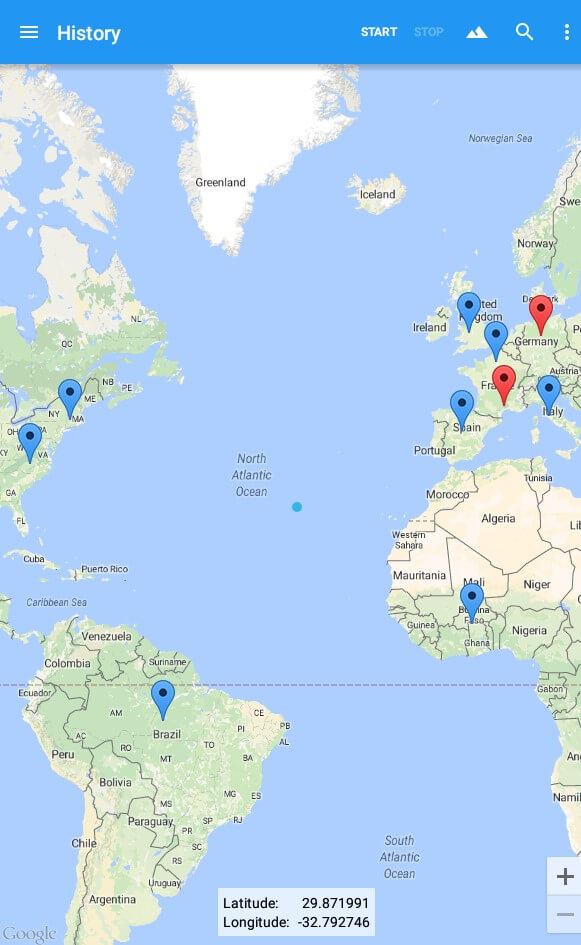 Pros

Teleport your location to any other place
Based on Mobile App and eases to use
Has tasker support
Cons

Little slow and unstable
No updates resulting in some bugs
May lose your spot when zooming out and may take you somewhere strange
4. VPN Location Changer: MultiVPN
If you're looking for a VPN location changer that can spoof your GPS location to anywhere in the world, then MultiVPN is one the best option for you. With MultiVPN, you can connect to any of their VPN servers and change your current location to any of those countries with just a few clicks. But it only allows you changing to a country provided by their own and sometimes it is a little unstable. For this kind of app, the steps are very simple, just choose a provided country and click "Connect". So we won't say much more steps here but focus on its Pros and Cons.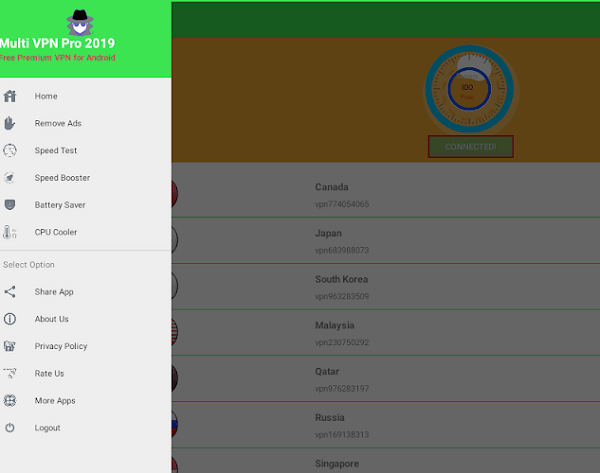 Pros

Support over 50 countries in a premium plan
Based on Mobile App and can use without a computer
Easy to use without any effort
Cons

Should purchase the plan after 3 trial days
Has annoying In-app advertisement
Sometimes location changes fail due to instability
5. GPS Emulator
This app is another great option for GPS spoofing. It offers a wide range of features and options, making it a great choice for those who want more control over their current location. This app is one of our great picks for GPS spoofing apps because in the premium plan it offers the most features and customization options out of all of the ones we have explored. But the biggest problem with this software is its frequent instability.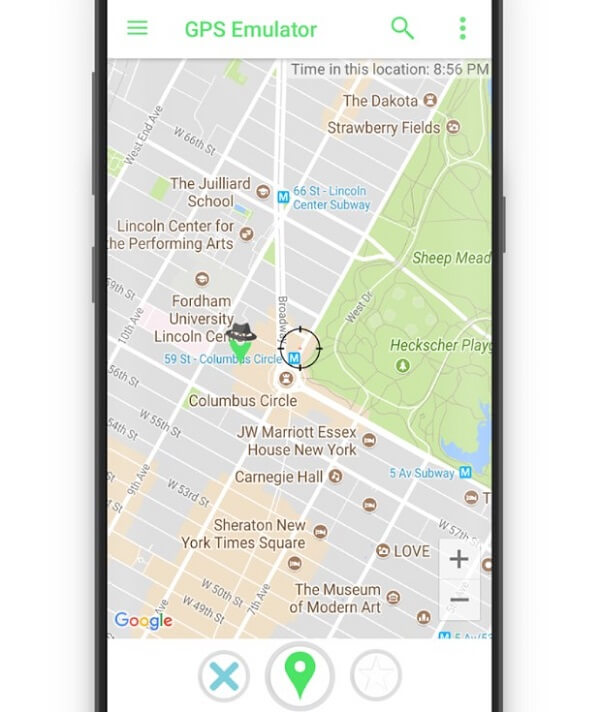 Pros

Support sharing the fake location with others
Based on a mobile App and easy to use
Cheap and economical
Cons

Often sets on "idle" every few seconds and affects phone activity
Google Maps wouldn't work properly after back to the actual location
6. Fake GPS 360
One of our other favorite GPS spoof apps is Fake GPS 360. This app lets you choose any location in the world and then sets your GPS coordinates to that location. You can even use Fake GPS 360 to create custom routes and track your movement on a map. The best part about this app is that it's free to use and doesn't require root access on your Android device.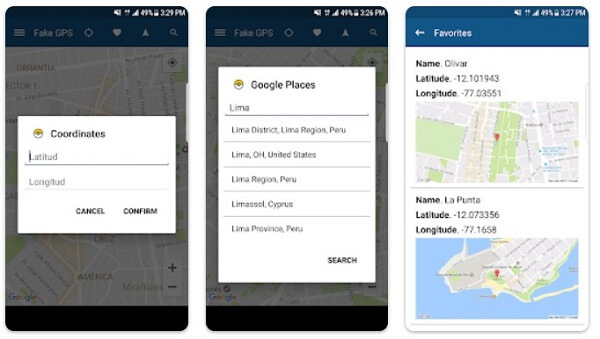 Pros

Fake the location by coordinates
Partial regional support street view
Based on mobile App and easy to use
Support to geotag the photo
Cons

Often load advertisement
Only available for Android and incompatible with many devices such as One Plus
After reading: Is Location Spoofing Illegal?
You have learned how to spoof GPS location on iPhone or Android now. But some people may worry about if it is legal to spoof location. Well, it totally depends on your purpose. There are several ways to get in trouble for doing this, including breaking the law in the country where you're currently located. So please make sure not used in violations.
Conclusion
If you're looking for a GPS app for android or just a GPS spoof app to change your current location to anywhere you want, then this article is for you. We've compiled a list of the best GPS spoof apps that are currently available. ClevGo would be the best choice to change your current location but also allows you to simulate movement along a custom path. Whether you want to change your location for privacy reasons or simply want to have some fun with friends and family, these apps will let you do just that. So, what are you waiting for? Get to ClevGo now and give them a try today!