Are you looking for ways to track iPhone location by phone number? Then you are at the right place. If you are a parent, it's extremely crucial to keep an eye on child's phone to know all of his or her activities. Maybe you saw an unknown number calling on their iPhones, or you might have lost or misplaced your iPhone and wanted to track it down. Don't worry because, in this article, you will find out the most effective ways to track iPhone location.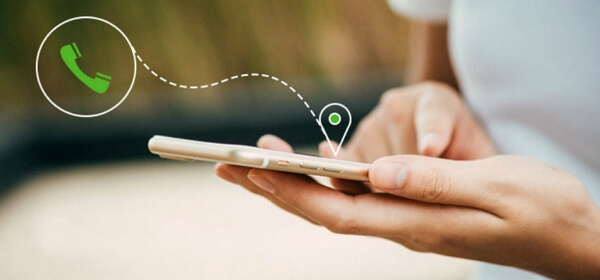 Is It Possible To Track An iPhone By Phone Number?
Are you wondering is it possible to track location by phone number? Well, tracking an iPhone by phone number is one of the most convenient methods of discovering the location. It's possible, but it does not mean you can track the location entirely without letting them know.
It's a convenient way, but it is vulnerable. It usually works by using the SS7 Interconnect system between transistor and receiver, which increases the chance of alerting the third party. So it is easy but not reliable.
To know how to track an iPhone location by phone number secretly, you have to go for tracking software which will not only get you the location but will help you to
Monitor Social Apps
Tracking Calls
Viewing Browsing History
Reading Messages
You can do that all without alerting the user, which makes it a ideal tracking software for parents.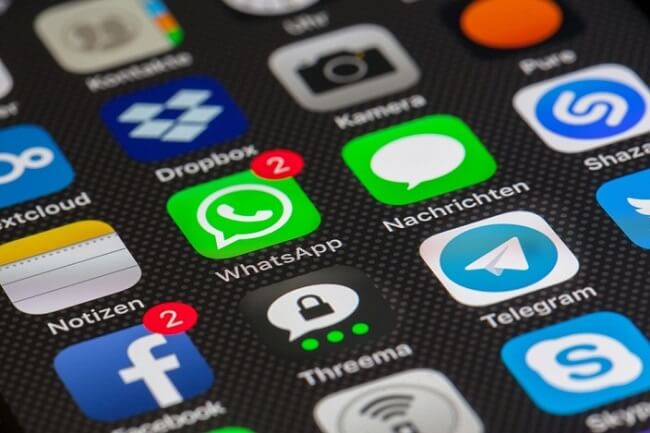 Why I May Need To Track An iPhone By Phone Number?
There are numerous occasions where you may urge to track an iPhone by phone number. Some of the most common examples are misplacing and stealing. To avoid your personal information from getting into the wrong hands, it is crucial to track your iPhone. By tracking, you could protect your data from predators, and you could notify the holder.
Similarly, it is essential to keep your kids safe, if you are a parent. According to research, 85% of the younger generation in the US prefers iPhones and spends around 12 hours weekly.
These statistics create an alarming situation for all the parents to watch out for their kids. Various predators and hackers present on the internet can engage your kid in sharing content and personal information. Being a parent, you cannot prevent your child from using cell phones, but you can adopt a smart way to look after them properly. Hence, these are the aspects where you might feel the need to track the iPhone.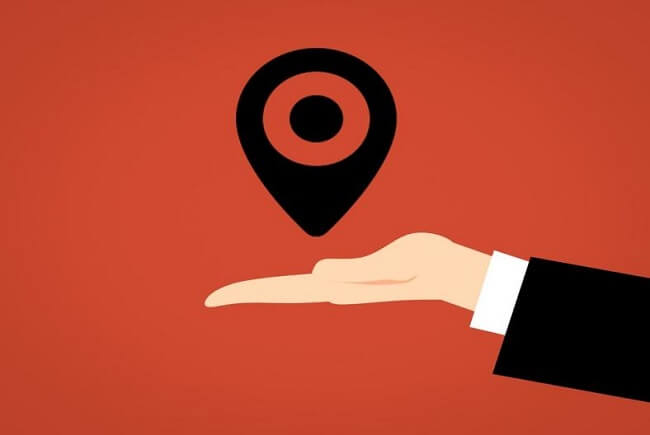 How To Track iPhone Location By Phone Number?
If you accidentally misplaced your iPhone or it was stolen, you can track it by phone number. As said above, you can track the cellphone by phone number, but if you want advanced features, then you must go for tracking software. Check out the two methods to track the iPhone by phone number.
Method 1: Using iCloud To Track iPhone By Phone Number
If you are in a hurry and wanted to locate the iPhone quickly, iCloud is the best way. iCloud is designed by Apple and is a faster and quicker way to track iPhone location by phone number free.
Check out the following steps to use it.
Step 1. Log In To iCloud:
You have to log in the iCloud by entering your kid's Apple ID and password. Once you entered the correct information, you will get login access.
Step 2. Find My iPhone:
Once you get access to ID, click on "Find My iPhone." On clicking, you'll see a massive map with a highlighted location.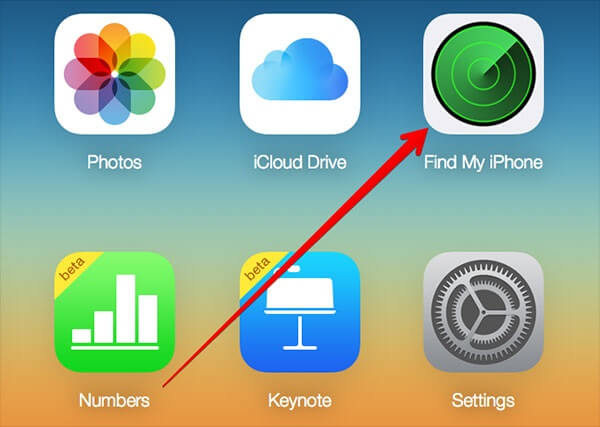 Step 3. Click On "I" Button:
The "I" button appearing on the side of the location will give you the exact position of the cellphone holder. It will help you to navigate the track.

Step 4. Click Play Sound:
If you think the cellphone is anywhere around the home, you can click on "Play Sound" to make sure. Also, you can send a digit code to erase your data.
Step 5. Click Play Sound:
Once you dealt with all the essentials, go back to the home screen by tapping the "iCloud Logo".
Step 6. Close Session:
Quit the session by clicking on the logout.
Recommend:
Method 2: Use Reverse Phone Number Lookup Services
One of the feasible ways to track an iPhone via its phone number is by performing reverse phone lookup. All you need to do is finding a reliable service online and entering the iPhone number, then waiting for the result. The phone number lookup service will run a process to match the input number with their database. The database is derived from publicly available information, social media and user-contributed address books, etc.
If there's a match, you will be able to see general location info of the said iPhone number. Some services even allow you to view the name of the number owner or lookup using the email address. Using such services is completely free, but there are also limits on the number of queries.
Top 5 services to track iPhone by phone number online
These are the mostly used reverse phone lookup services. If you are interested, just give it try.
Spy Dialar: https://www.spydialer.com

NumLookup: https://www.numlookup.com

ZLOOKUP: https://www.zlookup.com

Whitepages: https://www.whitepages.com

Reverse Phone Lookup: https://www.reversephonelookup.com/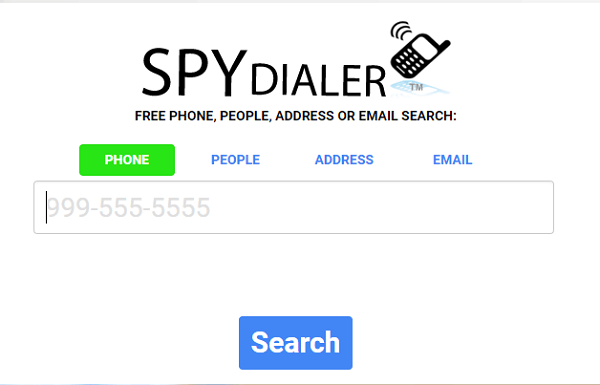 Recommend:
Method 3: Contact The Cellular Network Provider to Track iPhone by Number
Contacting the network provider and asking them to track the iPhone location for you is the most dependable way, and it is absolutely legal. Major network provider company like Verizon and At &T offer paid service to track iPhone by number. For example, you can download the Verizon Smart Family app and set up the phone number that is connected to your account. This method e will provide the location history of the target device and also the call logs or texts.
How Does Network Provider Work to Track iPhone Location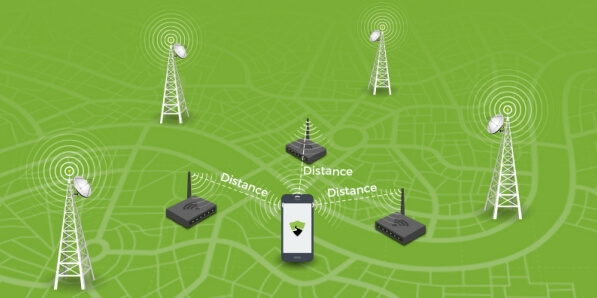 Recommend:
Method 4: Track iPhone Location without Phone Number using KidsGuard Pro for iCloud - Best Choice
Let aside the limitations to locate iPhone by number, we'd like to introduce you a brilliant way to track iPhone location. The method doesn't involve the use of phone number, you don't need to install any apps on the target iPhone, either. It is capable of tracking iPhone remotely online via the iCloud credential.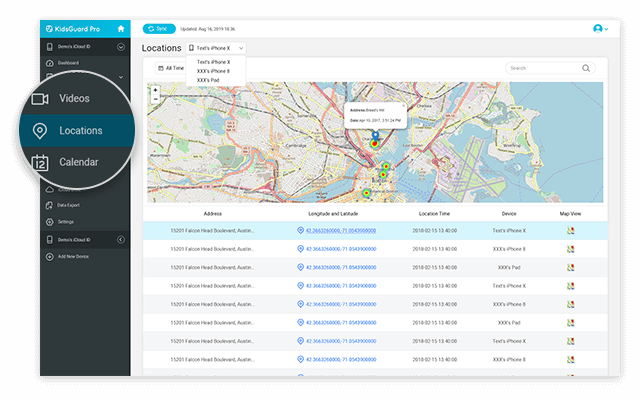 What Can KidsGuard Pro for iCloud do, and Why to Choose It
Due to the advanced security, iPhone tracking is difficult, but KidsGuard Pro for iCloud uses its advanced tracking technology to generat the most accurate result. It is a professional, leading, and very secure app designed to monitor and track iPhone devices. It has numerous advanced functions, not only it is capable of tracking an iPhone location effectively, but it also allows you check the data on it, such as contacts, photos, notes, etc. We have listed some convicing reasons that you should not miss KidsGuard Pro.
Ease of use: You don't have to be tech-savvy in order to operate this application. No app installation at all.

Intuitive interface: That will make your tracking experience very satisfying.

Real-time tracking: Location information will be provided promptly. Info is also very accurate.

Work remotely: You will be able to track an iPhone location remotely via the internet without the knowledge of the user.

Rich features: You can also track and access photos, videos, notes, calendars, reminders, contacts, iCloud drive and etc of someone's iPhone.

Wide compatibility: iOS 9- iOS 14. All iPhone modesl including the latest iPhone 12.

View Deleted files: You can view photos, videos and notes deleted within 30 days
How to Use KidsGuard Pro for iCloud to Find iPhone Location
As we have discussed earlier, KidsGuard Pro for iCloud has made tracking and monitoring of the target iPhone effortless. You will only have to go through a straightforward 3-step procedure and after that, you will have un-warranted access to the target iPhone location and its data.
Step 1: Begin with registering an account with KidsGuard Pr and choose a plan. Then select the Operating System, i.e. iOS.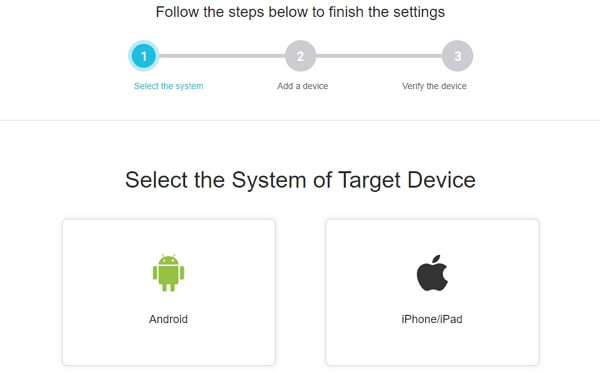 Step 2: Provide the iCloud credentials for the target iPhone. After you have provided them, tap "Continue', and the app will verify the account. If two-factor authentication is enabled, you should also enter the verification code.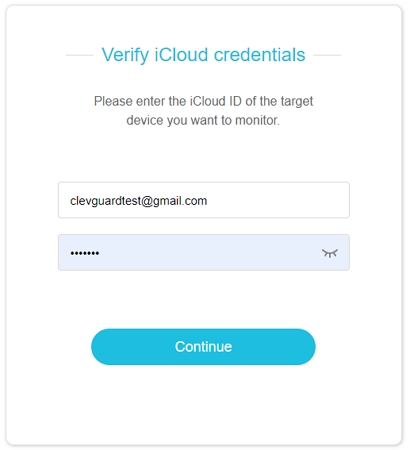 Step 3: After the completion of the verification process, you will be directed to the web control panel of KidsGuard Pro, where you can select "Location" and other files. This will begin the tracking of an iPhone remotely.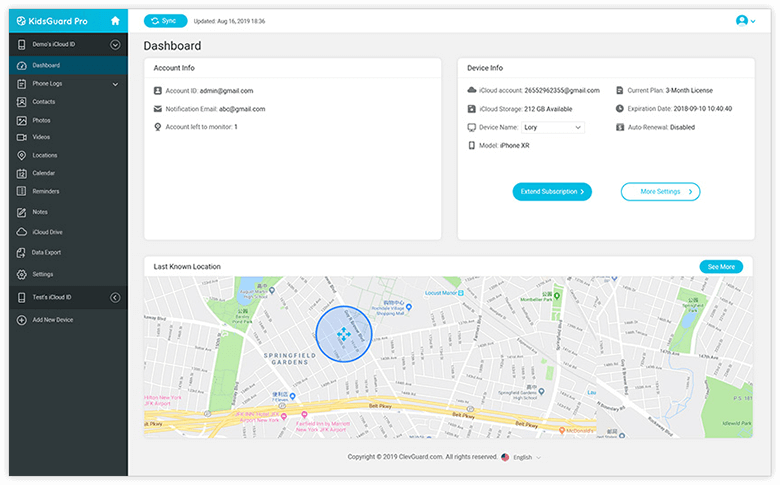 Recommend:
Conclusion
So, you can track the iPhone through its number and we have detailed several ways above. But if your goal is to locate the iPhone in real-time, then you will not be successful. Tracking by number won't provide you that kind of access to an iPhone. The level of access you are looking for can only be achieved via a professional app like KidsGuard Pro for iCloud . With its decent appearance and state of the art algorithm, the app made iPhone tracking easy and practical as well.
You may also be interested in:
By Cody Walsh
Posted on Dec 26, 2019 ( Updated: Jul 09, 2021 )
An experienced technology blogger and editor who has spent more than a decade writing about software, gadgets, and computing etc all over the Internet.