First of all, let's answer this question. It is quite possible to track iPhone by phone number. Many reverse phone number lookup services can be found online to help you check the general location for the phone. Besides, your network provider is actually keeping tracking the location when the SIM card is insered.
A more convenient method is by using some effective iPhone location tracking apps. These apps can help you check the most accurate GPS location in real-time, even without the use of phone number. So, in this article, we will see all the possible ways to track an iPhone by phone number.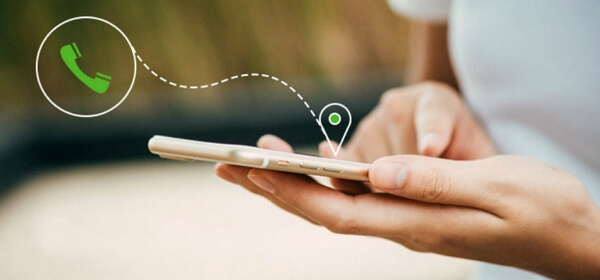 Method 1: Use Reverse Phone Number Lookup Services
One of the feasible ways to track an iPhone via its phone number is by performing reverse phone lookup. All you need to do is finding a reliable service online and entering the iPhone number, then waiting for the result. The phone number lookup service will run a process to match the input number with their database. The database is derived from publicly available information, social media and user-contributed address books, etc.
If there's a match, you will be able to see a genral location info of the said iPhone number. Some services even allow you to view the name of the number owner or lookup using the email address. Using such services is completely free, but there are also limits on the number of queries.
Top 5 services to track iPhone by phone number online
These are the mostly used reverse phone lookup services. If you are interested, just give it try.
Spy Dialar: https://www.spydialer.com

NumLookup: https://www.numlookup.com

ZLOOKUP: https://www.zlookup.com

Whitepages: https://www.whitepages.com

Reverse Phone Lookup: https://www.reversephonelookup.com/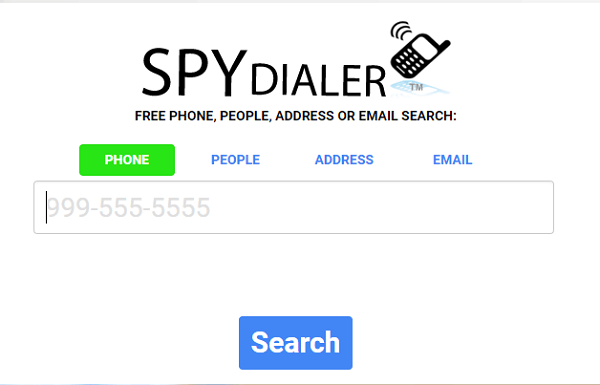 Limitations to track an iPhone in this way
However, there ain't no such thing as a free lunch. So correspondingly this method has its limitations.
You can't get exact iPhone location. Detailed address, timestamp, longitude and latitude and and things like that cannot be tracked.

Since it uses pulic database, many personal iPhone number are not covered, and in most of the cases, the information are out of date.

Some services only allow you look up 1-5 phone number for free. Additional queries will be charged.

It's impossible to track iPhone location in real-time.
Recommend:
Considering all these drawbacks, you should not blidnly rely on the resuly you'be received from above mentioned sites. There are betters way for you to locate iPhone by phone number, and they are discussed below.
Method 2: Contact The Cellular Network Provider to Track iPhone by Number
Contacting the network provider and asking them to track the iPhone location for you is the most dependable way, and it is absolutely legal. Major network provider company like Verizon and At &T offer paid service to track iPhone by number. For example, you can download the Verizon Smart Family app and set up the phone number that is connected to your account. This method e will provide the location history of the target device and also the call logs or texts.
How does network provider work to track iPhone location
Whenever you receive a phone call, send text messages or use celluar data, it must be connected to a nearby cell phone tower. The network provider can use the cell tower to triangulate the geographic location of the phone. This technology does not involve the use of GPS, so it works fine on basic mobile phones.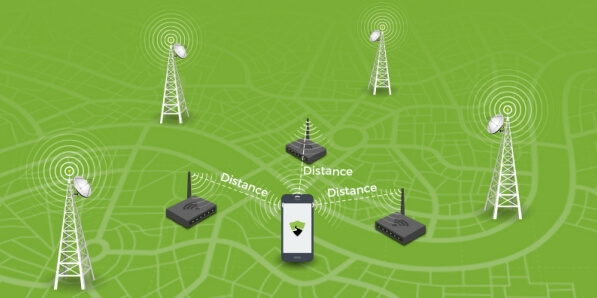 Limitations to track an iPhone in this way
Of course, using this method, you will be able to find iPhone by number but it is not absolutely feasible.
If your iPhone is stolen and the SIM card is ejected, you are not able to track the location.

Real-time location won't be available as it doesn't use GPS.

This method can only be used to track the phone number that belongs to particular carrier.
Recommend:
Method 3: Track iPhone Location without Phone Number using KidsGuard Pro
Let aside the limitations to locate iPhone by number, we'd like to introduce you a brilliant way to track iPhone location. The method doesn't involve the use of phone number, you don't need to install any apps on the target iPhone, either. It is capable of tracking iPhone remotely online via the iCloud credential.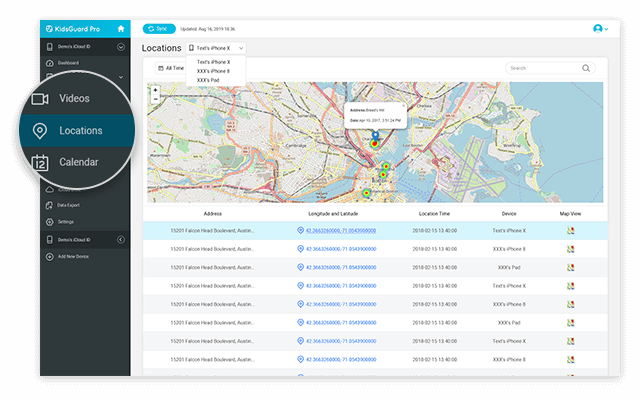 What can KidsGuard Pro do, and why to choose it
Due to the advanced security, iOS tracking is difficult, but KidsGuard Pro uses its advanced tracking technology to generat the most accurate result. It is a professional, leading, and very secure app designed to monitor and track iPhone and Android devices. It has numerous advanced functions, not only it is capable of tracking an iPhone location effectively, but it also allows you check the data on it, such as contacts, photos, notes, etc. We have listed some convicing reasons that you should not miss KidsGuard Pro.
Ease of use: You don't have to be tech-savvy in order to operate this application. No app installation at all.

Intuitive interface: That will make your tracking experience very satisfying.

Real-time tracking: Location information will be provided promptly. Info is also very accurate.

Work remotely: You will be able to track an iPhone location remotely via the internet without the knowledge of the user.

Rich features: You can also track and acess photos, videos, notes, calendars, reminders, contacts, iCloud drive and etc of someone's iPhone.

Wide compatibility: iOS 9- iOS 14. All iPhone modesl including the latest iPhone 11 Pro Max and iPhone 11.
So, KidsGuard Pro may not be able to track iPhone location by phone number, but the app implements a better and more effective method.
How to use KidsGuard Pro to find iPhone location
As we have discussed earlier, KidsGuard Pro has made tracking and monitoring of the target iPhone effortless. You will only have to go through a straightforward 3-step procedure and after that, you will have un-warranted access to the target iPhone location and its data.
Step 1: Begin with registering an account with KidsGuard Pr and choose a plan. Then select the Operating System, i.e. iOS.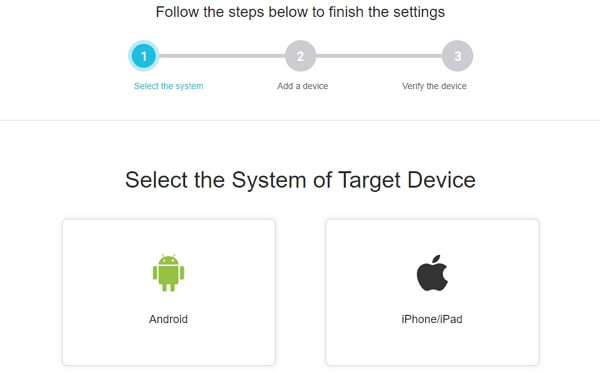 Step 2: Provide the iCloud credentials for the target iPhone. After you have provided them, tap "Continue', and the app will verify the account. If two-factor authentication is enabled, you should also enter the verification code.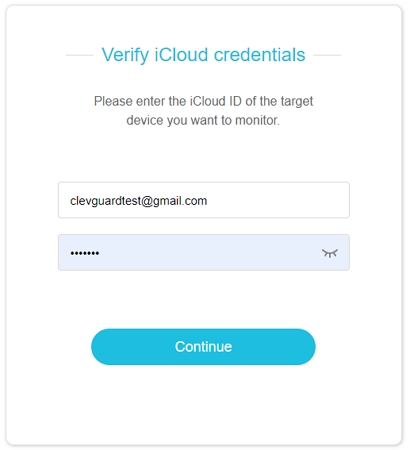 Step 3: After the completion of the verification process, you will be directed to the web control panel of KidsGuard Pro, where you can select "Location" and other files. This will begin the tracking of an iPhone remotely.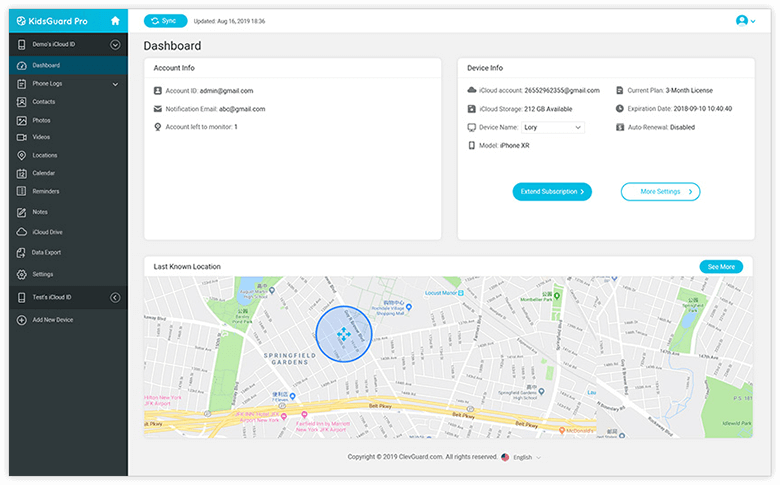 Limitations to track an iPhone in this way
Unlike the above methods, KidsGuard Pro doesn't truly work to track iPhone location by phone number. It uses GPS instead. The following conditions must be met before use KidsGuard Pro.
You need to know the target's iCloud account and password.

You will need to access the target iPhone once if two-factor authentication is required.
Recommend:
Conclusion
So, you can track the iPhone through its number and we have detailed several ways above. But if your goal is to locate the iPhone in real-time, then you will not be successful. Tracking by number won't provide you that kind of access to an iPhone. The level of access you are looking for can only be achieved via a professional app like KidsGuard Pro. With its decent appearance and state of the art algorithm, the app made iPhone tracking easy and practical as well.