iCloud Drive is Apple's online storage service to keep all your files and you can access them across all your Apple devices. If you want to know how to access your iCloud Drive on iPhone, you've come to the right place.
Besides, it's now possible to check someone's iCloud files on your own device.
By reading this article, you will get to know all the answers to how to access iCloud Drive on iPhone step by step within minutes.
What is iCloud Drive and How Does It Work?
iCloud Drive is one kind of cloud-based storage service where we can sync our files, documents across our iOS devices. Macs devices and windows PCs except for Android phones. iCloud program used to access particular Apple devices are called iCloud Drive.
It almost works as DropBox, Google Drive, or Microsoft one drive, simple data syncing iCloud used for data storage and backup. After syncing the iCloud drive archive you can use it for data sharing, documents store, and access any file by any Apple device.
You can store any big file or send the big file by using Apple iCloud email address, it also backup huge data on your iOS devices if you lost your phone or Apple devices.
iCloud allows you to track devices present position and can lock this device remotely, wipe your data or move it to anywhere It's very easy to set up iCloud to any iOS devices or iPhone or iPad. You don't need to download any additional apps, just by being signed into your iCloud account then use the iCloud drive iPhone or on any Apple Devices.
How to Access iCloud Drive on iPhone Using Files app
How to access icloud on iPhone? After you enable iCloud Drive on iOS 11 or later, you can access iphone files in your iCloud from the Files app on iPhone. The Files app is a very convenient way to access all your files. Basically, it lets you find, organize, share and work on files with your friends, open files in third-party cloud services.
Open the Files app.
Click "Edit" in the upper right.
Turn on iCloud Drive and tap "Done" in the upper right.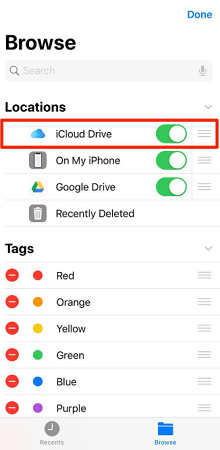 Here, you have learned how to access iCloud Drive on iPhone. Start to find your documents and files in the Files app! In addition to iCloud Drive, you are able to access your Google Drive, Dropbox files and more in the Files app, as we mentioned above, as long as you have enabled those cloud services in the same way.
How to Access Others' iCloud Drive on iPhone Secretly Using KidsGuard Pro
Suitable for: Users who want to view others' iCloud Drive secretly
Applicable devices: iPhone, iPad, Android and computer
Why should you access others' iCloud Drive secretly?
For parent, you ought to keep an eye on your children's mobile remotely to ensure they are not browsing inappropriate content.
For employer, you should spy on employees' daily documents to prevent sensitive information from leaking and find out which employees are really working hard.
To be short, you will get to know what's happening around this person and even their secrets by monitoring their iCloud Drives, where people store a lot of files.
If you can not check out others' iCloud Drive with their phones directly, all those purposes mentioned above can be done by a spy app. It is basically designed to monitor most activities that happened on target phone.
A Perfect Choice To Access Others' iCloud Drive - KidsGuard Pro
KidsGuard Pro for iCloud is such an outstanding application that offers you a bunch of features to secretly track most data stored on a target iPhone and giving you access to someone's iCloud Drive is one of its exceptional features.
All you have to in hand is the iCloud credentials of target iPhone and after a simple login, you will be completely allowed to explore what is in their iCloud Drive. But one thing to be noted that iCloud Drive on target iPhone has been enabled. Here're what makes KidsGuard Pro a pinnacle of modern phone monitor app:
You can access all files and documents like images, videos and app data folder from someone's iCloud Drive.
Data stays up to date with iCloud Drive turned on. You can check the previous files synced to iCloud Drive and the new ones created later.
You are able to save all files that stored on the target iCloud Drive on your own device.
KidsGuard Pro runs 100% discreetly as you don't have to install any software on the target iPhone and monitor data in a web-based dashboard.
The app is a long term solution to monitor someone's iPhone and its flexible functionality make it ideal for 24/7 surveillance.
It is highly recommended by many professional tech sites and used by a million people in 190+ countries for its performance and competitive price.
3 simple steps on how to access others' iCloud Drive via KidsGuard Pro
Step 1. Click Monitor Now button below and skip to KidsGuard Pro's website. Create an account and pick a subscription plan that suits your needs the best. (KidsGuard Pro for iCloud also provides free demo, just tap the below button to experience its features).
Step 2. You will be asked to enter the target iCloud ID and password.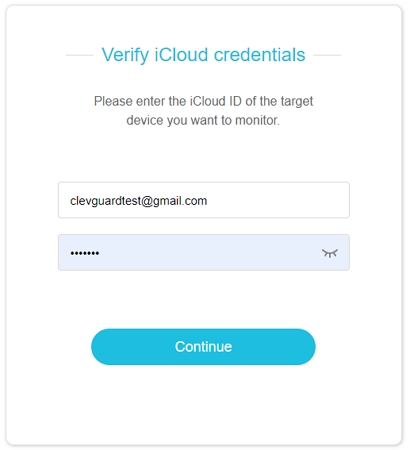 Step 3. You will be led to KidsGuard Pro for iCloud web panel. From here, you can easily choose iCloud Drive in the left side.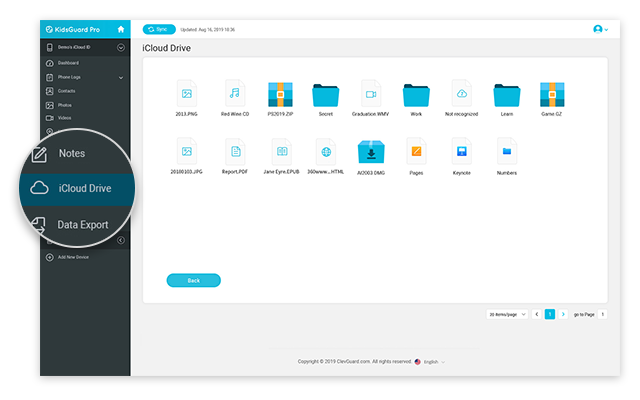 More features available while using KidsGuard Pro for iCloud
This app is capable to track GPS location of target iPhone in real time, and you can view location history, date and time stamps, address.
Photos and videos stored in iCloud are also accessible, including deleted ones.
You are definitely able to check contacts, notes, calendar and reminders. For your convenience, you can search the records by keyword.
KidsGuard Pro allows its users to export data in dashboard, which means you can save everything you want on your device.
This program is also compatible with Android device and equipped with comprehensive monitoring features. Have a look at its demo for free if you are interested.
NOTE:
Except for the iCloud data, if you also want to view someone's iOS data like social media, messages or even safari history, we recommended you choose a more cost-effective product named KidsGuard Pro for iOS. You can access another iCloud data and iOS data in this one app.
How To Set Up iCloud Drive?
Firstly, you need any Apple devices and need to sign in Apple ID then go to setting options and turn on iCloud Drive iPhone or from any Apple devices you want to use access or share files.
Set up iCloud Drive on your iPhone, iPad, or iPod Touch
One thing is important here if you have two Apple IDs for signing Apple iTunes and the App Store, you can't sign it at the same time. Just remember you can create a user ID a maximum of three times an Apple device.
Firstly, open the "Settings" on your Apple Phone.(Note: iOS 10.3 and up: Tap on Apple ID/ iOS 10.2 and lower: Tap on iCloud)
Then sign in with existing Apple ID neither create a new Apple ID
Toggle on the "Mail option".
Turn On the "iCloud Drive" button and make it green
Download iCloud drive the file app from the app store and view the drive, file, new folder, and other options.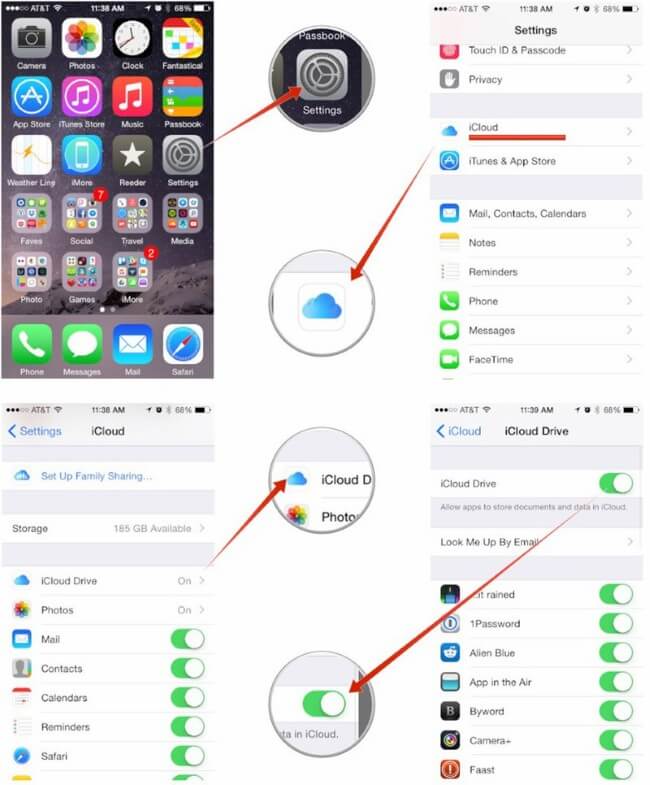 Set up iCloud Drive on your Mac Book
Open System Preferences and click on "iCloud".
Then click for sign in with your new Apple ID
Tick the "Mail option".
Click the "iCloud Drive" in the sidebar to finish setting.
Set up iCloud Drive on your Windows PC
Download iCloud drive apps from apple store Windows on your PC then install it.
Restart your computer for apps setting, you need to Make sure iCloud for Windows is open.
Enter your existing Apple ID to sign in to iCloud.
Choose any features and content which you want to keep in iCloud, in last just click "apply" options.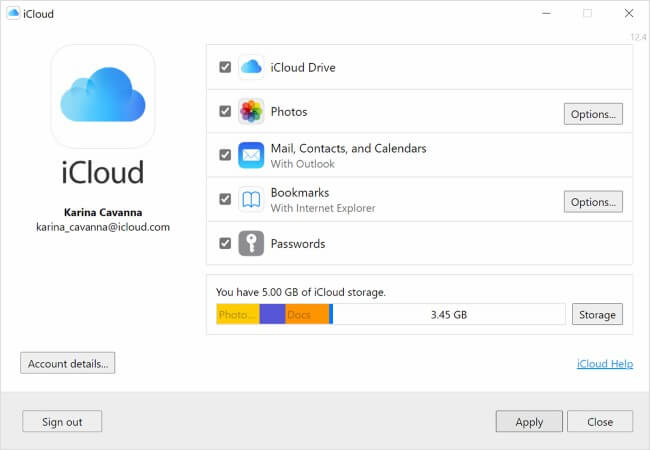 How Much is iCloud Storage?
When you signing the first time you will get 5GB iCloud drive of space for free. If you think you need more space or more data security you can purchase premium packages. So that you can remotely access your phone and stored more phone data will archive iCloud drive.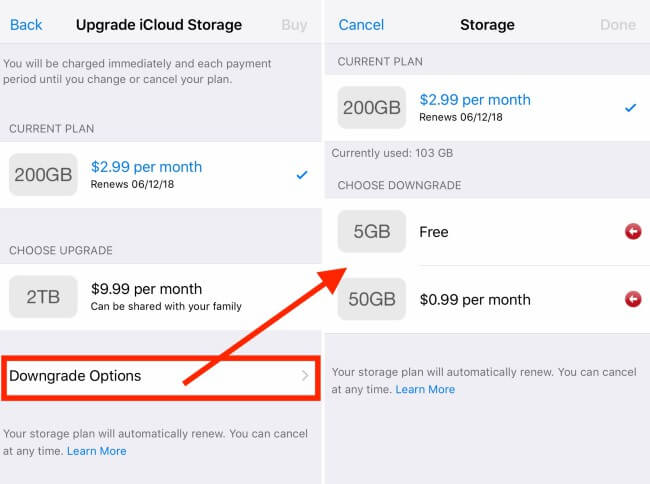 Apple offers first singing 5GB free but when you need more storage you need to purchase a new plan.
There are four storage options:
Plan 1: 5GB (free)
Plan 2: 50GB (99 cents/month)
Plan 3: 200GB ($2.99/month)
Plan 4: 2TB ($9.99/month)
What is The Difference Between iCloud and iCloud Drive?
In one sentence, iCloud is the brand name for Apple's services such as calendar sync, email contact, remote management system and remote document stored/delete, and device track system.
iCloud Drive is simply one of the particular services provided by the iCloud service so that you will sync documents you store and edit files regardless of the among the Apple device you happen to be using. You need more clarification please read the actual features of iCloud vs iCloud drive.
Conclusion
In this article, you have learned how to access iCloud Drive on iPhone in two different cases. If you are the owner of the mobile device and want to access your own iCloud Drive, just follow the instructions provided in the first part. If you are interested in accessing others' iCloud Drive, a third party application is of great help. We highly recommend you to try KidsGuard Pro to try its breath taken features. It allows you to open anyone's iCloud Drive even without letting him/her know. So, go for it and leave your thoughts below!