iCloud Drive is Apple's online storage service to keep all your files and you can access them across all your Apple devices. If you want to know how to access your iCloud Drive on iPhone or iPad, you've come to the right place. Besides, it's now possible to view what's in others' iCloud Drive on all kinds of devices like Apple products, Android. By reading this article, you will get to know all the answers to how to access iCloud Drive on iPhone step by step within minutes.
1. How to Access iCloud Drive on iPhone Using Files App
Suitable for: Users who want to access their own iCloud Drive.
Applicable devices: iPhone and iPad
iCloud Drive is a place where people store their photos, videos, documents, music, downloads, keynotes, pages, app data and more. But before you access files in iCloud Drive, you should enable it first. When you first set up an iCloud account, you will be prompted to enable iCloud Drive. If you have already set it, you can skip to the next section. If you are unaware of it and wonder where is iCloud Drive on iPhone, you can follow the below instructions to learn how to enable iCloud Drive on iPhone.
Make sure iCloud Drive is enabled before accessing it:
Go to Settings and tap on your Apple ID.

Tap iCloud.

Scroll down and find the iCloud Drive option. Then, turn on it.

Now, you have enabled your iCloud Drive files and you can access files in the Files app.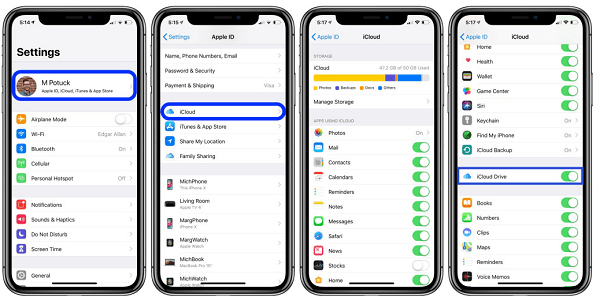 NOTE:
This above-mentioned instructions apply to the latest iOS version but if you are using iOS 10 or iOS 9, there may be a little difference in the steps. Please tap Settings > then iCloud > toggle on the iCloud Drive button, and tap Show on Home Screen. Then you can find your files in the iCloud Drive app.
How to access iCloud Drive on iPhone using Files app
After you enable iCloud Drive on iOS 11 or later, you can access your files in your iCloud from the Files app on iPhone. The Files app is a very convenient way to access all your files. Basically, it lets you find, organize, share and work on files with your friends, open files in third-party cloud services.
Here's a step by step guide on how to use iCloud Drive on iPhone through the Files app.
Open the Files app.

Click "Edit" in the upper right

Turn on iCloud Drive and tap "Done" in the upper right.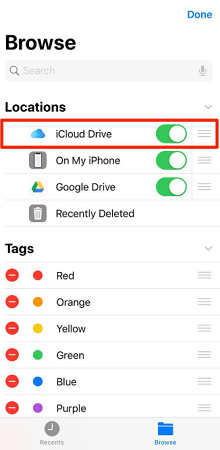 Here, you have learned how to access iCloud Drive from iPhone. Start to find your documents and files in the Files app! In addition to iCloud Drive, you are able to access your Google Drive, Dropbox files and more in the Files app, as we mentioned above, as long as you have enabled those cloud services in the same way.
2. How to Access Others' iCloud Drive on iPhone Secretly Using KidsGuard Pro
Suitable for: Users who want to view others' iCloud Drive secretly
Applicable devices: iPhone, iPad, Android and computer
Why should you access others' iCloud Drive secretly?
For parent, you ought to keep an eye on your children's mobile files remotely to ensure they are not browsing inappropriate content. For employer, you should spy on employees' daily documents to prevent sensitive information from leaking and find out which employees are really working hard. To be short, you will get to know what's happening around this person and even their secrets by monitoring their iCloud Drives, where people store a lot of files.
If you can not check out others' iCloud Drive with their phones directly, all those purposes mentioned above can be done by a spy app. It is basically designed to monitor most activities that happened on target phone.
A Perfect Choice To Access Others' iCloud Drive - KidsGuard Pro
KidsGuard Pro for iCloud is such an outstanding application that offers you a bunch of features to secretly track most data stored on a target iPhone and giving you access to someone's iCloud Drive is one of its exceptional features. All you have to in hand is the iCloud credentials of target iPhone and after a simple login, you will be completely allowed to explore what is in their iCloud Drive. But one thing to be noted that iCloud Drive on target iPhone has been enabled. Here're what makes KidsGuard Pro a pinnacle of modern phone monitor app:
You can access all files and documents like images, videos and app data folder from someone's iCloud Drive.

Data stays up to date with iCloud Drive turned on. You can check the previous files synced to iCloud Drive and the new ones created later.

You are able to save all files that stored on the target iCloud Drive on your own device.

KidsGuard Pro runs 100% discreetly as you don't have to install any software on the target iPhone and monitor data in a web-based dashboard.

The app is a long term solution to monitor someone's iPhone and its flexible functionality make it ideal for 24/7 surveillance.

It is highly recommended by many professional tech sites and used by a million people in 190+ countries for its performance and competitive price.

KidsGuard Pro for iCloud also provides free demo, just tap the below button to experience its features.
3 simple steps on how to access others' iCloud Drive via KidsGuard Pro
Step 1. Create an account and pick a subscription plan that suits your needs the best.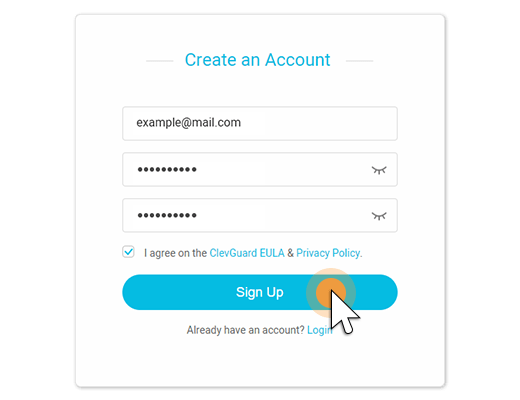 Step 2. You will be asked to enter the target iCloud ID and password.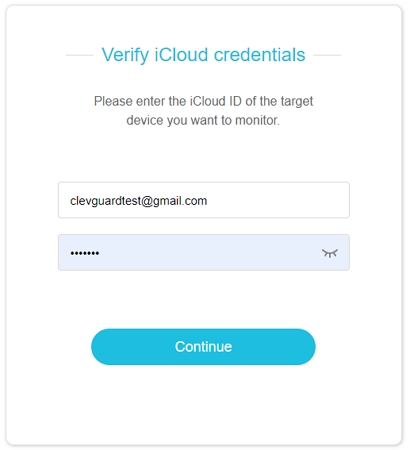 Step 3. You will be led to KidsGuard Pro for iCloud web panel. From here, you can easily choose iCloud Drive in the left side.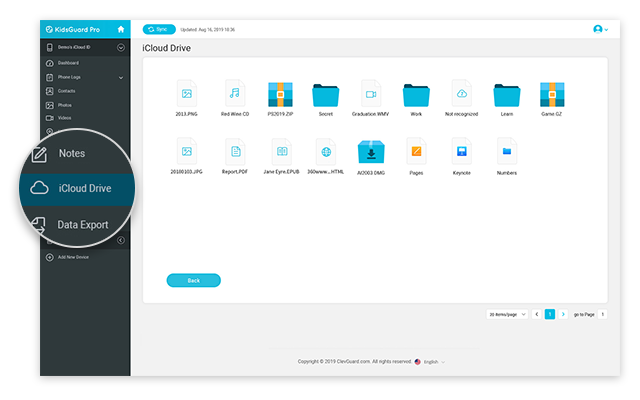 More features available while using KidsGuard Pro for iCloud
This app is capable to track GPS location of target iPhone in real time, and you can view location history, date and time stamps, address.

Photos and videos stored in iCloud are also accessible, including deleted ones.

You are definitely able to check contacts, notes, calendar and reminders. For your convenience, you can search the records by keyword.

KidsGuard Pro allows its users to export data in dashboard, which means you can save everything you want on your device.

This program is also compatible with Android device and equipped with comprehensive monitoring features. Have a look at its demo for free if you are interested.
Conclusion
In this article, you have learned how to access iCloud Drive on iPhone in two different cases . If you are the owner of the mobile device and want to access your own iCloud Drive, just follow the instructions provided in the first part. If you are interested in accessing others' iCloud Drive, a third party application is of great help. We highly recommend you to try KidsGuard Pro to try its breath taken features. It allows you to open anyone's iCloud Drive even without letting him/her know. So, go for it and leave your thoughts below!