Apple is considered as the best tech firm when it comes to security. But it was a matter of past if you remember the "Celebgate" about more than 100 celebrities whose naked selfies stored in iCloud have been hacked and leaked to the internet. It means that no matter how secure you think the system is, there are chances that you can hack into someone's iCloud account without them knowing.
But can iCloud be hacked if you don't have any tech skills to speak of? How do iCloud hack happen then? Yes! It can be done easily if you know the right tool. Here, we're giving you the easiest and safest solution on how to hack iCloud without the knowledge of someone else in 2020.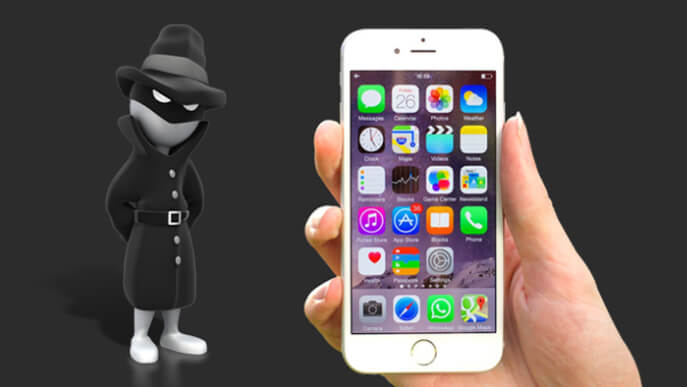 Try the Easiest and Safest Way to Hack iCloud Account
With the technological advancements, you don't need to be a computer genius to hack iCloud. All you have to do is to look for a good quality iCloud hacking application, then you can rest assured to get the best results.
KidsGuard Pro for iCloud is one of the only monitoring apps that can log into someone's iCloud without them knowing. Not only does the app give you full access to iCloud files, but it can also be set up remotely. It is completely web-based so you don't need to have access to the target iPhone and install the app, let alone jailbreak it.
As it is 100% undetectable, your target person will never suspect that they're being monitored. Furthermore, you can get real-time updates on your own device whenever an iCloud backup is created. With its cutting-edge features, you can view 10+ files on someone's iCloud. Let's have a closer look at it by tapping the button below.
How to Log into Someone's iCloud without Them Knowing via KidsGuard Pro
As mentioned, KidsGuard Pro is considered as the easiest solution to hack iCloud. Only 3 simple steps, an amateur user can set it up within a few clicks. Without further ado, let's see how to hack iCloud with this tool.
Step 1: Create a KidsGuard Pro account and purchase an iCloud license to access all advanced iCloud hacking features.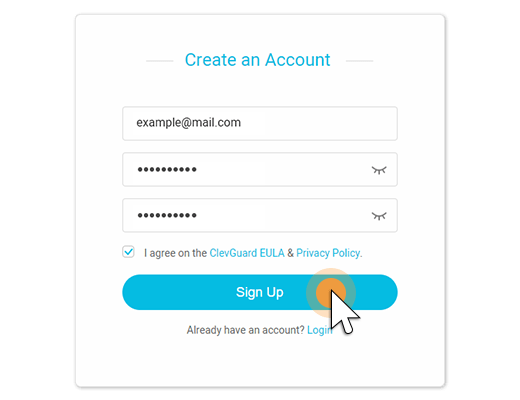 Step 2: Enter the My Product page, find your correspondering order and click on Setup Guide. Then you will need to enter the iCloud ID and password of the target person.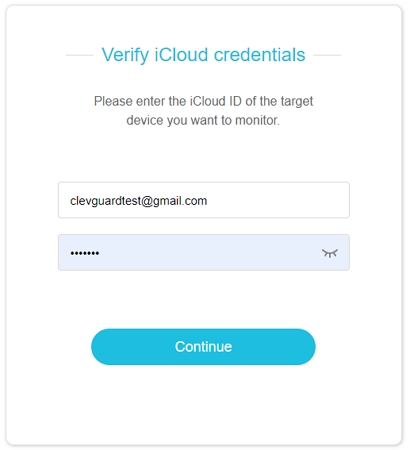 Step 3: Once you have done with previous steps, you will be led to KidsGuard Pro online dashboard. From here, you can remotely monitor the target iCloud account.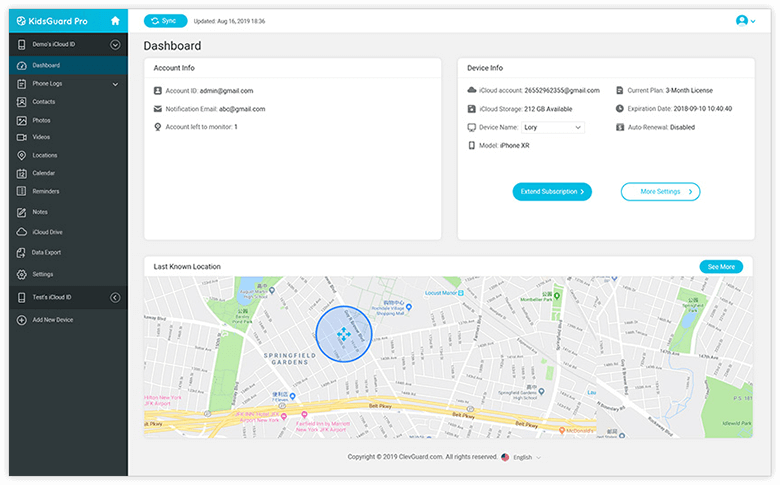 Now you are completely aware of the easiest way on how to hack someone's iCloud. Let's go to know what can you benefit from KidsGuard Pro.
iCloud Hacking Features of KidsGuard Pro
KidsGuard Pro offers a bunch of features. Almost all activities on iCloud will be accessible for you.
Have access to all photos and videos stored on the target iCloud, as well as the deleted ones.

Track real time location of your target remotely on an intuitive geographical map. With addresses, time and date, you can keep tap on the whereabouts of someone.

Check each existing or new contacts from the monitored address book.

Monitor notes, reminders, calendars and all files in the iCloud Drive, so you won't miss any important events!

All the iOS devices, even running latest iOS 14, are supported.
What Makes KidsGuard Pro the Best iCloud Hacking Application
Here are the reasons why KidsGuard Pro is the most reliable way to hack someone's iCloud and worths your choice.
24/7 real time tracking: This program provides real time tracking. You can hack all backup data in iCloud through an online dashboard.

No installation required: As you can see, KidsGuard Pro totally works remotely without jailbreaking. You don't have to worry about making the owner suspicious when using KidsGuard Pro.

Completely invisible: You are in great luck if you want to hack someone's iCloud without them knowing. KidsGuard Pro works in stealth mode without generating any notification on target device.

Best compatibility: All the iOS devices, even running latest iOS 14, are supported. And there is an ultimate iOS verison if you want to hack social media and text message.

Cheaper price: Compared to most of the hack iCloud apps on the market, KidsGuard Pro wins out with a cheaper price and exceptional features. The premium plan can be as low as $8.32 per month for a yearly plan.
[Video] Best iCloud Hacking App | Remotely Check iPhone Locations/Photos/Contacts/Note
Also Read: Other Solutions to Hack Someone's iCloud
Most iCloud hacking apps on the market won't work as effective as KidsGuard Pro. In fact, some may steal your personal information and require to jailbreak the target device which voids the device warranty. Nevertheless, you can have a look.
iKeyMonitor
iKeyMonitor is a wonderful spying app that can tell you how to log into someone's icloud without them knowing and preview data inside it with a few clicks. Besides only the hacking iCloud, iKeyMonitor mobile application allows you to monitor and control your children or employees by keeping an eye on their mobile usage activities.
Features:
The program allows you to get all the call history or messages received and sent.

You can keep track of where the user are going with the help of GPS.

You are able to see all photos captured.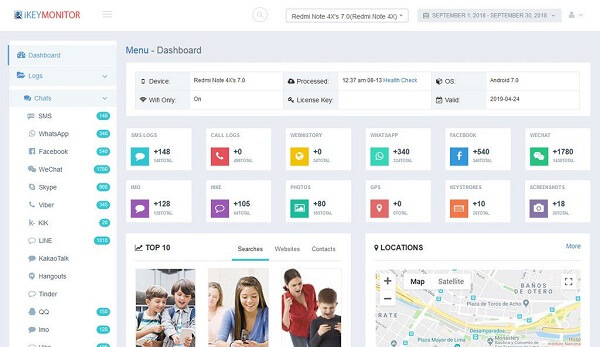 How to Hack into Someone's iCloud via iKeyMonitor
Sign up and login iKeyMonitor online panel.

Click on Download > iKeyMonitor > iPhone/iPad.

Enter the Apple ID and password of the target device.

It will start downloading the log for about 30-60 minutes, be patient and wait for the download to finish.
KidsGuard Pro for iOS
KidsGuard Pro for iOS is another excellent iCloud monitoring app. You can view other iCloud data without getting the target's iOS device. User key in the target's iCloud Apple ID on the phone, KidsGuard Pro will help you scan the iCloud data.
Features:
View someone's iCloud data without the target's iOS device.

This app allows you to reset your iOS device factory on the computer.

You can back up your iCloud data with one click.

Over 20+ features for iOS monitoring such as Instagram, WhatsApp, Snapchat, etc.
How to Hack iCloud via KidsGuard Pro for iOS
Use a valid email to sign up for an account of KidsGuard Pro.

Purchase a suitable plan and following the setup guide to download the app on your computer.

According to the on-screen guidance to view the target's iCloud data.
GuestSpy
GuestSpy is another largely used mobile application to hack iPhones or iPads. The app doesn't only allow you fully access to the target iPhone, but also you can remotely do online tracking and hack all the activities performed on the target device.
Features:
It is capable to track contacts, messages, videos and photos.

You can record phone calls and view the history of locations.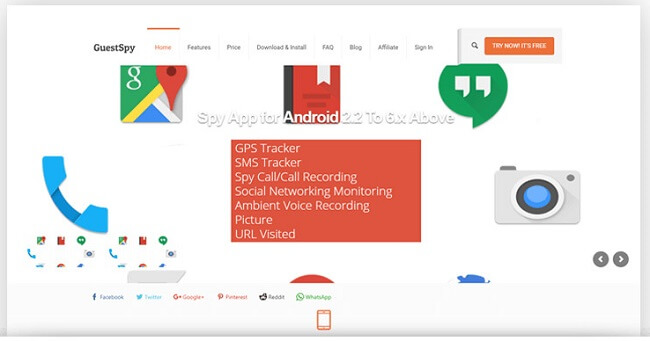 How to Hack into Someone's iCloud Account without Them Knowing via GuestSpy
Create an account and opt for a premium subscription.

Download the software from the official website.

You have to go through the setup wizard that will ask you to enter all the information.

Once you have completed the installation, login to the online panel and monitor the various activities on the target's phone.
FlexiSpy
FlexiSpy is a unique and powerful mobile tracking application that can help you get into someones iCloud account. Although, it is a little expensive but comes up with great user reviews. With advanced features, it is compatible with all iOS products, like iPhone, iPad, iPod.
Features:
FlexiSpy supports call recording on target phone.

You can allocate some specific words and you will receive a notification every time the user receives and sends the message with those keywords.

It tracks the files stored on target device.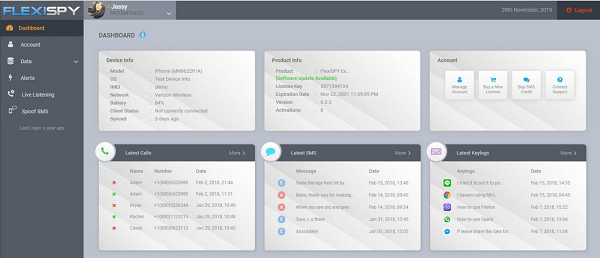 How to Hack iCloud via FlexiSpy
Sign up to the FlexiSpy and select a pricing plan suit looks you the best.

Jailbreak the target iPhone and install the app into it.

After following all the instructions, you can monitor the device through the online dashboard.
What We Recommend & FAQs about iCloud Hacking
Well in this post, you have learned how to hack someone's iCloud account. Compared with different features and prices, we concluded that KidsGuard Pro for iCloud is the best solution which gives you almost total access to the target iCloud, without the owner's knowledge. Besides this, we saw some other popular applications, but they need a jailbroken device. Now, it is time for you to make the final choice. I hope these recommendations truly help. If you still have problem, keep reading.
1. Can you log into someone else's iCloud on your phone?
Yes, you can remotely log into someone else's iCloud on your own device if you have their Apple account and password. But they might have 2-factor authentication on, which means that you have to access their phone to get the 6 digit code.
2. How to hack someone's iCloud password?
To hack someone's iCloud password, you can go to Apple ID account page and click "Forgot Apple ID or password" option. Then choose "Answer security questions" or "Get an email" and follow the rest of the steps.
3. How to hack into someone's iCloud account without them knowing?
If 2-factor authentication is off, you can hack into someone's iCloud account on other devices without them knowing. If 2-factor authentication is on, you can set your phone as trusted device to receive the verification code, so the person won't find out you're hacking.
4. Can someone hack my iCloud account?
Yes, but it is very difficult. Because the hacker must know your Apple ID and password. It the two-factor authentication is enabled, hacker will need physical access to your iPhone and unlock it in order to get verification code and make the necessary changes.
5. Do you get notified when someone logs into your iCloud?
Yes, Apple sends an email notification to your linked email address when someone logs into your iCloud account. This is a new security measure Apple has taken in the last few years for protecting their users. Therefore, no one can log into iCloud without notification intimation to the owner.
6. How do I know if someone is using my iCloud?
If someone is using your iCloud account from a different device, you can see his device under your Apple ID.
Step 1: Go to Settings and tap on your Profile Name.
Step 2: On the next screen, you will see all the devices that are currently accessing your Apple ID or iCloud account.
You can tap on any device to check its information. If it is not a trusted or known device, you can opt for Remove from Account option.
7. Can I log into my husband's iCloud?
You can use any of the above-mentioned ways on how to hack an iCloud account. The easiest way to check your husband's iCloud account is through KidsGuard Pro for iOS. You can check all the data on his iCloud without him knowing or getting any notification.