Question: Can someone read my WhatsApp messages without my knowing?
YES. There are many tools on the market for monitoring your child's WhatsApp, which make it easy to hack into someone's WhatsApp even if you don't have expert hacking knowledge. These tools can effectively help you to monitor someone's whatsapp chats and calls, as long as they are not used for illegal activities.
In addition, there are some complicated but free ways to spy on WhatsApp messages. In this article, we will enlighten you about three proven methods, including a cutting-edge app that can help you know how to read someone's WhatsApp messages without their phone. You can find the best solution after reading!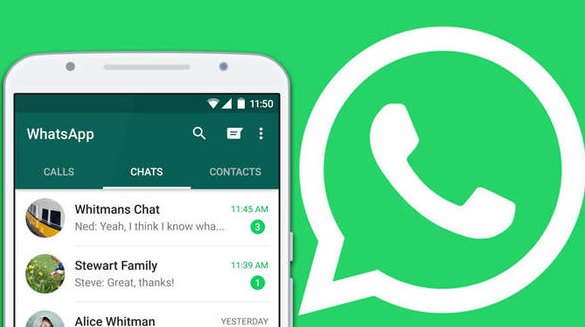 3 Ways to Read WhatsApp Messages without Others' Knowing
We have made a summary for you, you can read the chart below and click on the option of your choice to quickly jump to the corresponding method.
Without further ado, let's see the details on each method of reading WhatsApp messages without others' knowing.
Way 1: Read Others WhatsApp Messages on Android via Third-party Tool
Can someone see my WhatsApp messages from another phone?
Due to the end-to-end encryption technology of the platform, it can be very tricky for someone to read WhatsApp messages without your knowing. But by using some WhatsApp monitor apps, you can perform this activity.
1. WhatsApp Monitoring App - KidsGuard for WhatsApp [No.1]
You are advised to use a reliable and reputed WhatsApp monitor app that is 100% invisible and allows you to track all WhatsApp activities of others in real-time. This is where KidsGuard for WhatsApp comes in.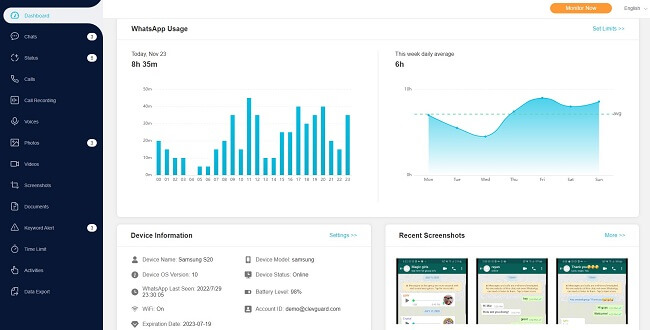 Once you get a chance to install this app on target device, all the WhatsApp chat conversations will be uploaded to your online control panel. You can get WhatsApp messages from other phone.
What Can KidsGuard for WhatsApp Do in WhatsApp Message Spying?
KidsGuard for WhatsApp gives you complete access to someone's WhatsApp chats. Using it, you'll be able to read someone's WhatsApp without opening, and also:
View all the outgoing, incoming, and deleted WhatsApp messages of others.
Listen to voice messages sent through chat and know what exactly they are talking about.
Check the shared media files like images, videos, documents, and GIFs.
Know more details like contact names, date and time, forwarded data, status comments, notification, etc.
Capture the automatic screenshots of the current activities on WhatsApp.
New launching feature to record WhatsApp calls remotely and secretly.
Pros & Cons about KidsGuard for WhatsApp
KidsGuard for WhatsApp's performance, features, and affordability make it the market leader in WhatsApp spying. Here are the advantages and disadvantages of using this app for carrying out the process of how to see others' WhatsApp chats.
Pros

Safety from being caught: This app works in incognito mode, meaning that there are no icons or notifications to indicate its presence.
Ease to use: You can set it up without any technical skills.
Real-time syncing: It captures all activities once the target is present on WhatsApp and uploads data in real-time.
Cons

This App can only be installed on Android phone now.
If you are looking for something that is both effective and efficient, you can't miss KidsGuard for WhatsApp. It can solve your problem of how to know someone WhatsApp chat history.
However, if your target is using an iOS phone, KidsGuard for WhatsAppis not valid. In this case, you can use KidsGuard Pro.
2. KidsGuard Pro Can Work on iOS for WhatsApp Monitoring
This is a comprehensive app that can be installed and used on both iOS and Android phones. Unlike KidsGuard for WhatsApp, it can monitor not only WhatsApp data but also other mobile phone content such as Facebook geolocation, Instagram chats, deleted SMS chats etc.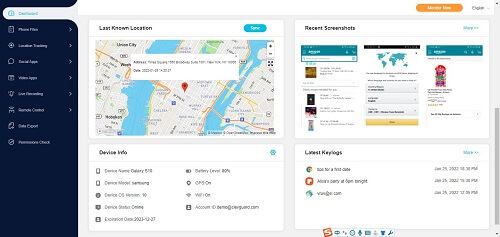 Pros

Comprehensive functionality: it can monitor data from almost all apps in all phones.
Keylogger function: it can record the input of the monitored person.
Geolocation tracking: for all Android phones and jailbroken Apple phones, the app can track the geolocation of the monitored person in real time; for Apple phones that are not jailbroken, the app can also get all the geolocation history after accessing the USB
Cons

Less monitoring of WhatsApp: unlike kidsguard for whatsapp, this app can only monitor part of the chat data, and cannot download them.
KidsGuard for WhatsApp can view WhatsApp status of the monitored person (including deleted and hidden ones), while this KidsGuard Pro does not have this feature.
How to See Others WhatsApp Messages Using KidsGuard for WhatsApp
KidsGuard for WhatsApp is fully compatible with all Android models and dedicated to WhatsApp monitoring. It is super simple even for a novice user and installing only takes a few minutes.
Let us now see the detailed process on how to read WhatsApp messages from another device.
Step 1. Create your KidsGuard for WhatsApp account and buy a license to activate the WhatsApp Monitoring features.
Step 2. Download the app on the target cell phone by visiting www.installapk.net. Install the app and complete the set up according to the on-screen instructions. You'll need to allow some necessary permissions on the phone in order to keep the app running.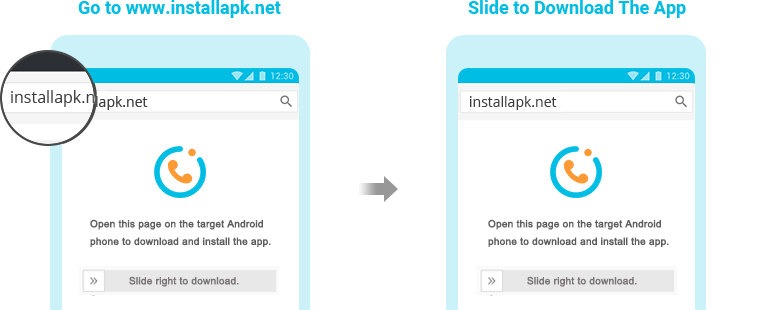 Step 3. Access KidsGuard for WhatsApp dashboard using any web browser and choose "Verify Setup" button, then you will enter the dashboard. Select the "WhatsApp Chats" option at the left side of the screen. (For the first synchronization, it will take some time to upload the data from the target device, please wait patiently.)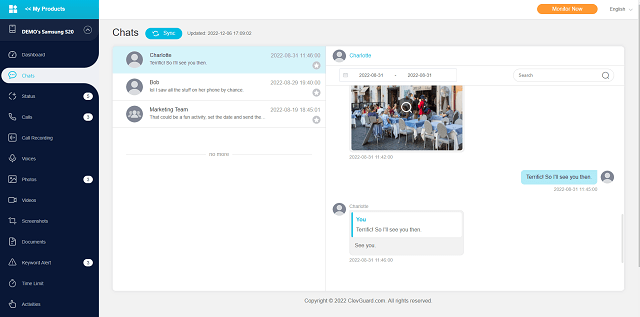 KidsGuard for WhatsApp offers a long-term solution for remotely reading someone's WhatsApp messages without their phone. Besides, It can be as low as $7.5 per month which is less than a coffee. While most other spy apps on the market cost several times as much.
Bouns Tip: Video Guide on How to Take Screenshots of View Once Messages on WhatsApp
Way 2: Track Others WhatsApp Messages by Opening WhatsApp Web on Android
WhatsApp web is a service provided by WhatsApp creators for the users who wish to access their WhatsApp through a web browser. You can use this to know how to read someone's WhatsApp messages.
It is very easy to hack into someone's WhatsApp this way but it also has a lot of drawbacks. Let's have a look.
1. How to Check Others WhatsApp Chat with QR Code
For this method of how to read others WhatsApp messages to work, you need to meet the requirements below:
You should have access to the target cell phone every time as the QR code generated will have to be scanned from it.
Also, you need to know the passcode of the target cell phone if in case it gets locked for access.
Here're the steps to read someone's WhatsApp messages with WhatsApp Web.
Step 1. For accessing others' WhatsApp messages on your Android, open your browser and select "Desktop Version" from the"Settings" option. Navigate to www.web.WhatsApp.com and you can see a QR code screen appear.
Step 2. Launch WhatsApp on the target cell phone and tap on "WhatsApp Web" by navigating to the "Settings" menu.
Step 3. From the phone, scan the QR code and the connection will be established automatically after which you can read WhatsApp messages from another device.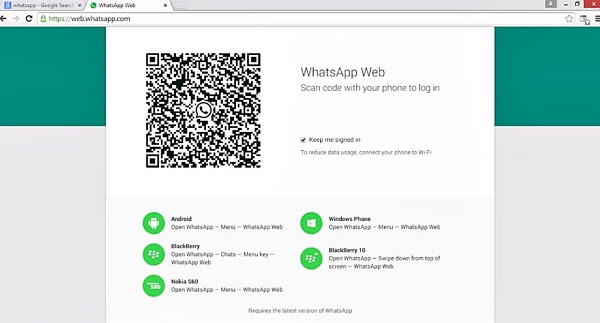 2. Shortcomings of Using WhatsApp Web to Spy on Others WhatsApp Messages
Although this method seems very simple and effective, it has a few shortcomings.
First of all, even if you can access the target phone for this period of time, you may not know the unlock passcode for the phone, without which this method would be useless.
Then, this method will only sync the existing WhatsApp message on someone's phone, meaning that if they have deleted the data before hand, you won't be able to view it on WhatsApp Web.
Another major drawback of using this method is that as soon as you make the WhatsApp Web active, a notification on the target cell phone will pop up saying that the WhatsApp Web is active. This way, the target device user would easily get to know that their WhatsApp is being accessed by someone else.
Way 3: Check Others WhatsApp Chat History by Restoring Backup to Your Android Phone
Google Drive is a place where all the data on an Android phone including the WhatsApp messages get backed up. You can take advantage of this to hack into others' WhatsApp and check their WhatsApp chat history.
1. How to Know Others WhatsApp Chatting Using Backup
For this method to work, there are a few requirements:
You will need to have access to the target cell phone and also the SIM card on it.
Also, you will need to know the unlock password of the phone and the SIM too.
You need a long time to carry out this process which would mean that you will need to have physical access to the target cell phone.
Here is how this method works:
Step 1. On the target phone, perform a backup on Google Drive of all the WhatsApp messages on the target Android phone.
Step 2. After this, add this account to your phone.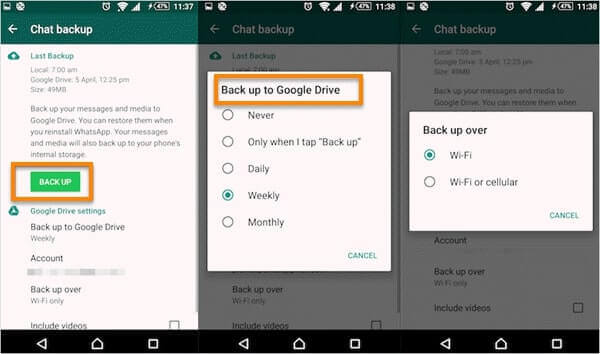 Step 3. Using the same SIM card, finish the installation of the WhatsApp app on your phone and then restore all the WhatsApp messages from the Google Drive backup.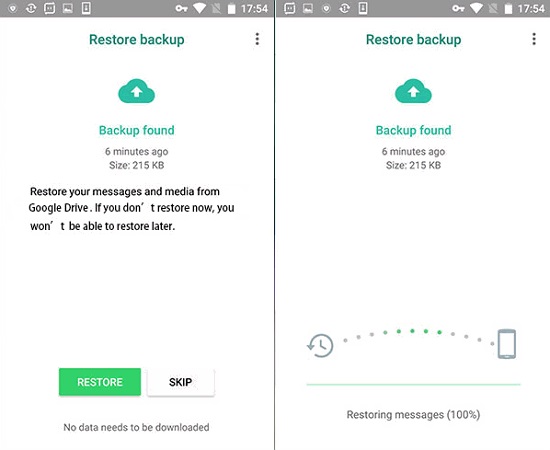 The entire chat history of WhatsApp would be then displayed to you.
2. Drawbacks of Using this Method to See Another WhatsApp on My Phone
Although this method seems doable, due to the following reasons, hacking WhatsApp messages using this way may not work always.
You need to have physical access to the target phone each time and also the SIM card on it for a substantial amount of time.
The Google account details of the target phone user will be required by you since you would need to access the backed up files of WhatsApp.
You can no longer access WhatsApp from two phones simultaneously for the same number, without the user getting notified.
FAQs You May Want to Know
We also gather some common questions and answers for your information.
Q1. How can I check WhatsApp messages from another number?
Launch the WhatsApp app on your mobile. Log in with another number, then you need to get the verification code sent to that number and use it to check the WhatsApp messages of others. Also can use KidsGuard for WhatsApp to check messages.
Q2. How to see WhatsApp messages of others secretly?
To read WhatsApp messages secretly, you need to wait for a WhatsApp message to appear on your smartphone, when instead of swiping the notification, you long press to read the message in the notification.
Q3. Can someone see my WhatsApp messages from another phone?
Yes, of course. Hackers can access your WhatsApp data in a variety of ways, they will register your number on another device so that they can easily keep track of all your chats. They can see your WhatsApp messages also by using a spy app.
Conclusion
So, as you can see from the above discussion, if you want to know how to see others WhatsApp chat, I would say that the best choice is KidsGuard for WhatsApp. Not only is this easy and untraceable, but is effective for monitoring all WhatsApp chats, calls, and statuses.