Are you wondering who texted your boyfriend or husband frequently? Or what your kid is chatting about so much? Or simply track down the person who just texted you?
These are a few questions popping up in the minds of a lot of people. Being doubtful can not only spoil your mental peace but also won't do you any good either. So, what to do in such circumstances? How to see who someone is texting? Well, the answer is very easy, in the last few years several tracking apps are popping on the internet and they are known to be very effective. But before you use it, you need to know a few details regarding the app and the monitoring. So, let's take look into the article below and find out the specific method on how to check who someone is texting.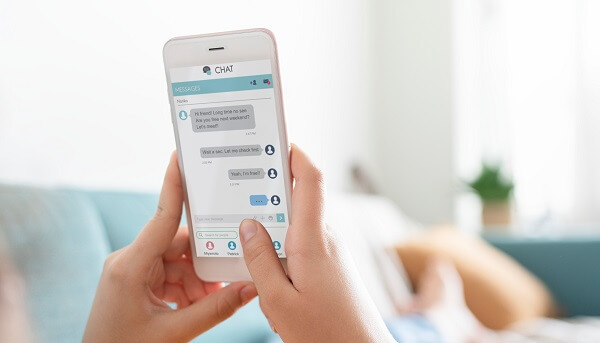 What to Expect in a SMS Tracking App
Well, tracking the text messages on a mobile device is possible and the process has become really convenient in recent days. Numerous powerful text message tracker apps are available online, and there are a few advantages that you can utilize in order to track texts remotely.
You can track sent, received and even deleted messages on the phone.

You can see see who is texting and have full access to details like time and date.

You can track their conversation without them knowing.

In addition to text messages, instant messaging apps can also be tracked.
4 Best SMS Tracker Apps to See Who Someone is Texting Remotely
The best way to see who they are texting would be a professional tracker app. After a lot of tests, we are glad to find the 4 best tracker apps to achieve the job.
Rating: 9.8/10
Functionality:
KidsGuard Pro for Android is undoubtedly the best solution and qualifies in every mentioned category. The advanced features implemented via this app satisfy to track each text messages on both Android and iPhone. You can also check the name of the sender and view timestamps as it is able to upload data in real-time. More importantly, this app stays 100% hidden and leaves no icon on target phone, which saves you from the trouble of being caught by someone.
How to See Who Someone is Texting with KidsGuard Pro
The app is very easy to operate with the simplest installation. So, here's how to see who someone is texting with KidsGuard Pro:
Step 1: visit KidsGuard Pro website and register your account. Then get hold of the target device and download KidsGuard Pro Assistant on the device.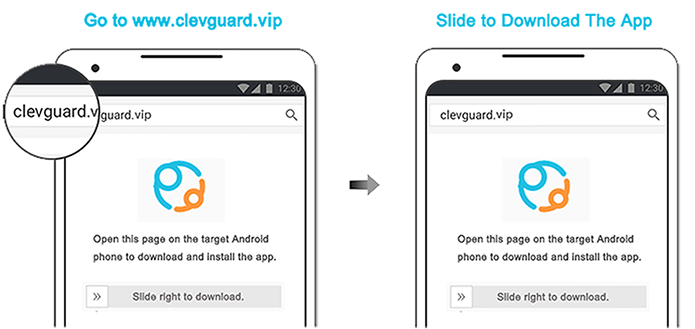 Step 3: Now, tap on the downloaded file to run the setup. You can follow the on-screen instructions to finish the process. Also, it is suggested that you should delete the file after the installation is finished.

Step 4: As soon as the installation complete, you can leave the phone alone and visit its official website with your account. And then you will be asked to sync your mobile. Do it, the first sync takes longer but after it is finished, you will be able to track the messages, sent and received by the target device by selecting "Messages" in the left bar.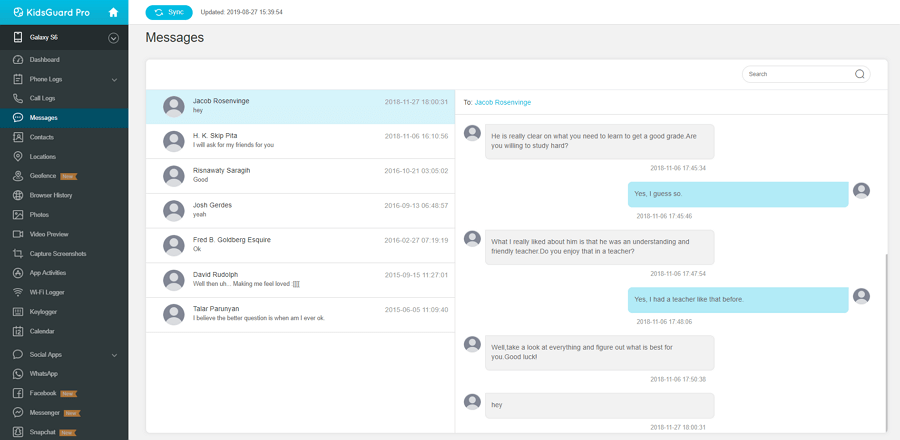 As you can see, the installation is also very simple. It also has the most intuitive interface.
What Else Can KidsGuard Pro Do to Monitor A Phone
As a one-stop monitoring app, KidsGuard Pro is packed with numerous features. Besides text message tracking this app is capable of 30+ features which includes call tracking and even Geofence. So, let's have a look at KidsGuard Pro's most useful list of features:
Location Tracking

Contacts

Social media apps like Snapchat, Instagram and more
Take Screenshot

Photos & Videos

Keylogger

Take Photo
For more details, you can access its free demo to check how KidsGuard Pro looks like by yourself.
Rating: 8.5/10
Functionality:
XNSPY is a popular message tracking app to see who someone is texting. It has a pretty user-friendly interface and is equipped with advanced tracking and monitoring features. Remote tracking is available for both Android and iOS device. You can even view the conversations deleted by the users. How to find out who someone is texting is as easy as a piece of cake.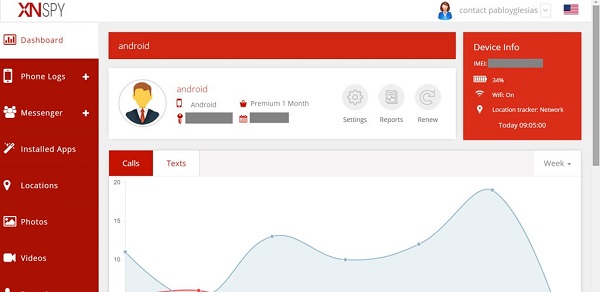 Rating: 8.0/10
Functionality:
If you wonder how to see someone's text messages, Appmia is another great app to track the mobile activity of someone else. You will be getting real-time access to the target device. The text message tracker allows the user to track every incoming and outgoing message on the target device.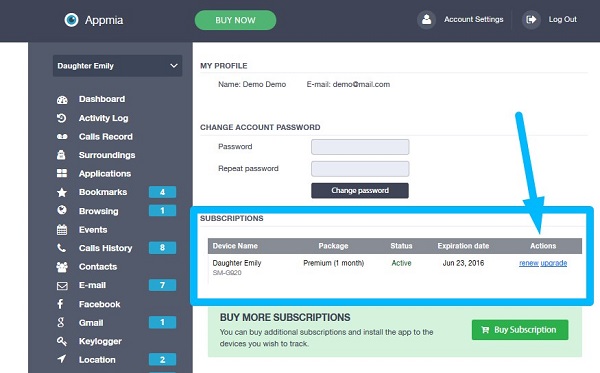 Rating: 7.8/10
Functionality:
MobiStealth is another app that is of great help to find out who they are texting. You can monitor all the incoming and outgoing messages on the target device. The app works on both Android and iOS devices. The installation of the app is very simple and you can also check social media chats along with texts.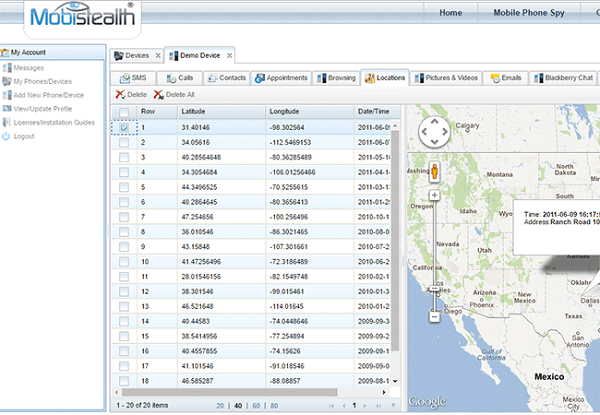 Why KidsGuard Pro for Android is Our First Pick?
You already knew how to know if someone is texting someone else after reading above. Overall, these are 4 exceptional apps capable of tracking text messages on the target device. They are all packed with features that complement their capabilities. Based on user reviews and other factors, KidsGuard Pro SMS tracker stands out from the competition for its distinct advantages below.
1. Secret Tracking. The tracking mechanism of KidsGuard Pro on the target device is completely incognito. This is a feature that is not so efficient on the other apps.
2. Good Compatibility. You don't need to jailbreak or root the device. It works well on all iPhone models running iOS 13 and up. For most Android devices, this app supports latest Android 10.
3. Budget-friendly pricing. The price of KidsGuard Pro for Android can be as low as $0.27/day for a yearly plan. What's more, you can get all premium features in one package unlike its competitors.
4. Timely Customer Support. KidsGuard Pro provides 24/7 live and email support to help with all your queries. You can also prefer video guides online and how-to tutorials to solve all your concerns.
How to Read Someone's Text Messages Without Their Phone Free
It is actually not that difficult to read someone's text messages without their phone. These days, with the developed technology, it is actually pretty easy to spy on someone else's activities on their phone including the messages that they send and receive. When it comes to checking the phone activities on an iPhone, it can be slightly difficult but not impossible.
iPhone
If you do not wish to install any spying software but still want to see who is texting whom on iPhone, iCloud backup can be used. You would need the iCloud sign in details of the concerned person after which you can check their messages within a few minutes without them getting to know about it. Follow the steps below to do this.
Step 1: Sign in using the iCloud credentials of the targeted person.
Step 2: Select "Recover from iCloud" Backup Files.
Step 3: Select any of the backup files available on iCloud that have the text messages and download it.
Step 4: In the pop-up window, select "Messages" and start the scanning process.
Step 5: Once the scan is over, select any message to preview it and then click on "Recover to Computer" to download the selected messages.
After this, you will have all the required messages saved on your computer.
Android
All the messages that are either sent or received on an Android device are backed up automatically and saved locally on the device. If you wish to restore these messages or read them, you can download a specific app from Google Play or App Store.
However, this way of checking text messages is suitable only if the target person allows access to their device or they trust with their information.
Extra Tip: How to Track Down the Person Who Just Texted You
Did you receive a text message or a call from an unknown number? If you want to track down who texted without asking directly, then there are a few tricks to do:
1. Do a reverse directory search:
When it comes to search something on the internet, Google is our first thought. It may contain the names, addresses and even social media accounts related to this phone number. It is noted that don't hope high of this, because it doesn't work everytime. But it is the most easy way to start tracking who texted anyway.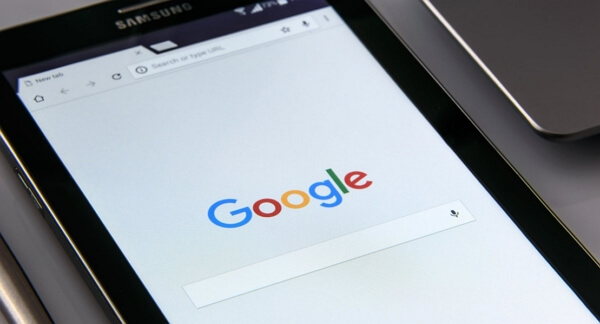 2. Resort to phone tracking websites:
There are a lot of online websites for free to help you track the location of a phone number. For example, FreePhoneTracer.com is a famous one. All you need to do is type in the cell phone number of the text message you received. Then it can tell you the country or the city where the owner of the phone number is located in.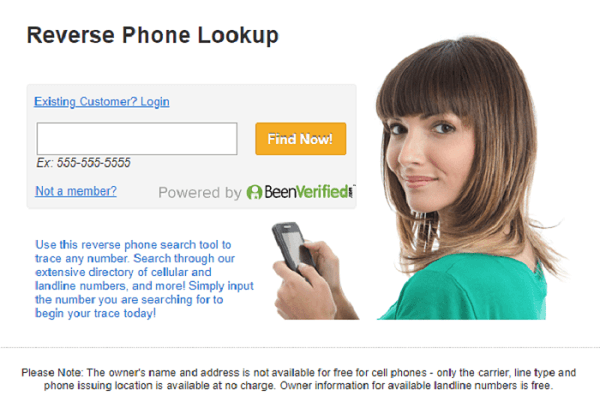 3. Go to your telecom operator:
If you wonder who is texting for free, some of the telecom operators offer inquiry services to check the text message. Basically, you have to go to the official website of your service provider, provide proper ID and password and you will find out some details of the text messages associated to that number.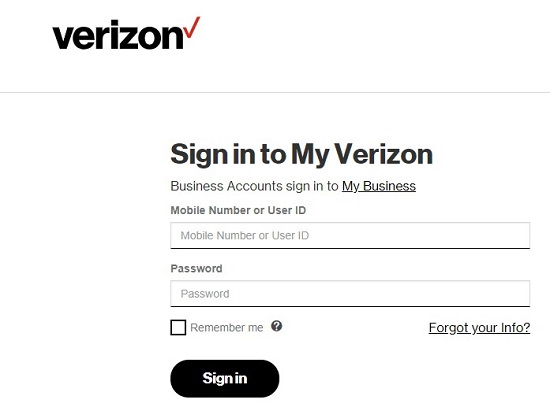 Summary
Therefore, you have the idea of how to see who someone is texting, now. If you want to track the messages on your closed ones' cell phone, it is very simple, just get a professional app that is capable of tracking the text messages. And we took the privilege and chose KidsGuard Pro for you. You will enjoy working with this app! If you want to track person who just texted you from an unknown number, we also offer some useful tricks to help you out.