Question:
"Recently, my girlfriend is so wired, she always keeps texting without someone on her device and refuse to tell me who she is texting, so I need a great alternative to see girlfriends text messages without her knowing. Anyone can help?"
Want to Check Who Your Girlfriend Is Texting Without Touching Her Device?
Well, gernerally speaking, it's not easy to spy on girlfriend's text messages without touching her device. However, this post is right here to introduce the top 2 ways to help you spy on girlfriend's text messages for free with a third-party app or get from backup files, read on and find out the different ways.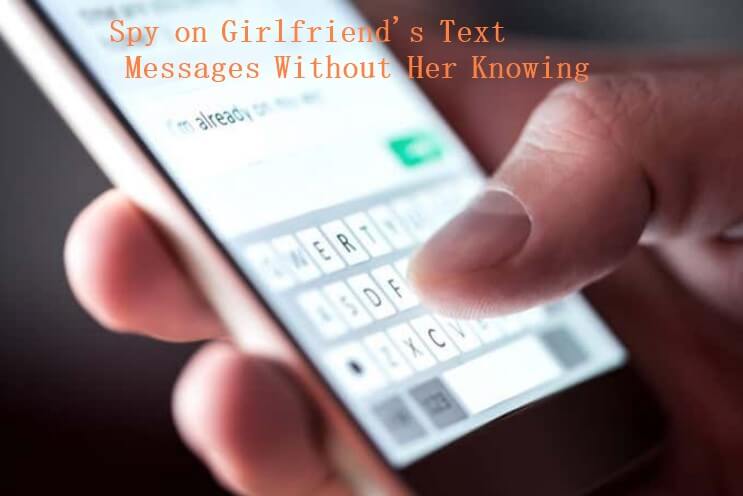 How to See Your Girlfriend's Texts Messages Remotely?
It is pretty cumbersome to borrow or steal the phone for a few minutes and check messages manually, and your girlfriend may not share the information with you. And in case she has deleted a particular text message, you would not be able to find out about it as well. Therefore, using text messages tracker apps is more effective and you can even read deleted messages with these apps.
How to Check Who Your Girlfriend Is Texting Without Her Knowing?
If you want to check the texts messages without your girlfreind's detection remotely, then you need to ask a great phone monitoring tool for help. That's KidsGuard Pro, the best and smartest text messages tracker. With this tool, you can easily spy on your girlfriend's text messsages remotely without her knowing.
And the app should be installed easily without complex operation. KidsGaurd Pro is such an app praised by million Android & iPhone users.
What KidsGuard Pro Can Bring:



KidsGuard Pro stands out as a professional text spy application with a lot of features of spying on your girlfriend's text messages. This is the most reliable text messages tracker app and trusted by millions users.

And it is very suitable to spy on gf text messages without the target phone user knowing, as it support to check all the messages remotely with an online dashboard.

The app's installation takes less than 5 minutes to complete, and after that, the app icon will disappear from main screen and rename in settings, then you can leave it away.

Just check all collected data remotely in your dashboard without holding the target phone access all the time.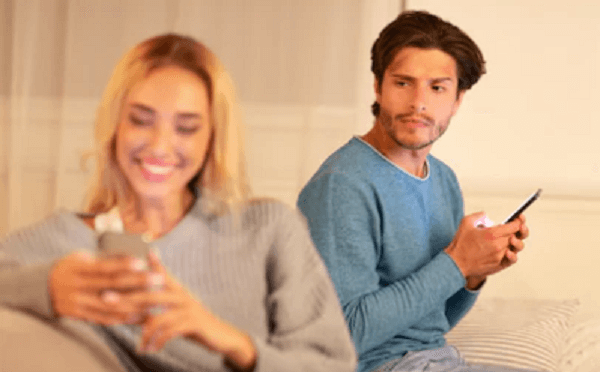 Advantages of using KidsGuard Pro:
You are able to check others' incoming and outgoing text messages on your girlfriend's phone and know who she has been texting all the time.

Even you can see deleted messages on your girlfriend's phone can be uploaded to your dashboard immediately if target device has an Internet connection.

Besides text messages, you can also spy on the instant messages sent and received from popular social media sites like WhatsApp, Facebook, Instagram, Line, Snapchat and more.

All collected data will be uploaded to a online dashboard in real time, where you can access remotely on any device, at any time.

The best part about this app is that there is no need to root the device in order to access more monitoring features, like location, browser history, keylogger, screenshot, photos and videos, etc.
3 Simple Steps to Spy on Your Girlfriend's Text Messages Without Her Knowing
Step 1. Click the button below and using your valid email address to create a KidsGuard Pro account from the official website of this app and then get a license to access all features.
Step 2.: Take the target device, navigate to www.clevguard.net and download KidsGuard Pro Assistant and make the necessary configuration settings on the target phone as well.

Step 3. Once installed, the app goes incognito on the target phone. You can use your account details to sign in to KidsGuard Pro from any device and monitor the incoming and outgoing messages on your girlfriend's phone easily.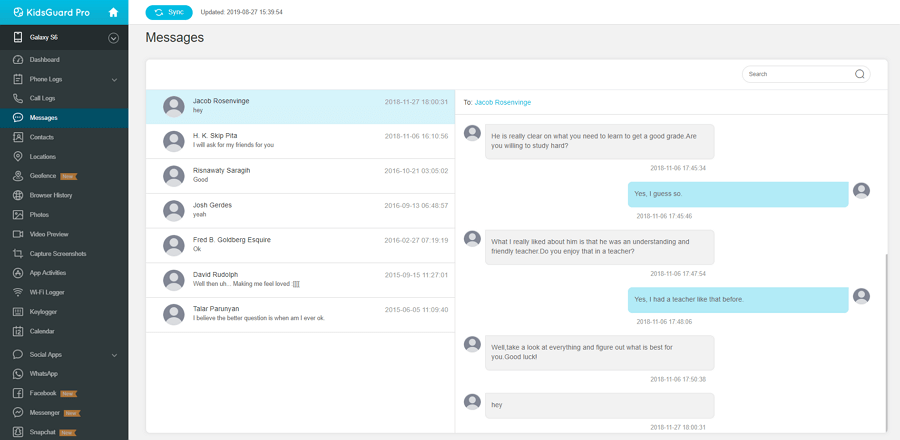 This is how can I read my girlfriends text messages without her phone with KidsGuard Pro for Android. Since this app is readily available, and the interface is quite straight-forward, once you have access to your girlfriend's phone, you can finish the whole installation process within 5 minutes.
Don't worry if your girlfriend is using an iPhone, because KidsGuard Pro's iPhone version - KidsGuard Pro is also avaliable. Check below!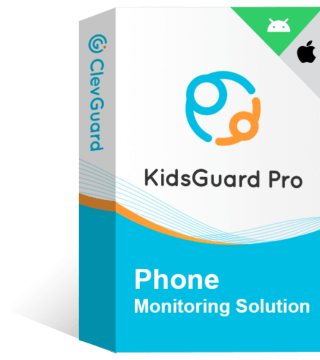 An Array of Amazing Features of KidsGuard Pro
Read all the sent or received text messages
tack all incoming and outgoing calls and SMS
Monitor social media apps like WhatsApp, Viber, LINE and more
Check all the safari history
How to Check Girlfriend's Text Messages from Backup Files?
Wondering how can I see who my girlfriend is texting for free? And whether there are any other methods through which you can know how to see cheating girlfriend text messages without installing spy apps?
The answer is yes, you can read her backup files. If your girlfriend is using an Android phone, it may be possible that she may be using an SMS backup tool to back up her messages. Therefore you can access that easily and read all the messages sent and received, even the deleted messages from there.
NOTE:
Google Play Store has tons of backup tools and most of them simply store SMS messages as encoded files. So there is a real problem if you want to read the contents directly because it saves the data in an XML format. In order to make it readible, you have to copy the backup file to a folder on the computer, then edit and view messages using MS Excel.
Steps to spy on girlfriends text messages free:
Step 1. Open XML files in MS Excel and select XML Files (*.xml) in the file type dropdown. And allow all permissions.
Step 2. The date as stored in the file is not readable. You have to enter this value: =([@date]/86400000)+25569 in a new column and then copy it to all the rows.
Step 3. Format the new column as a date, then it is done. Please be noted that if you edit the file in Excel, it may not allow you to export it back to XML.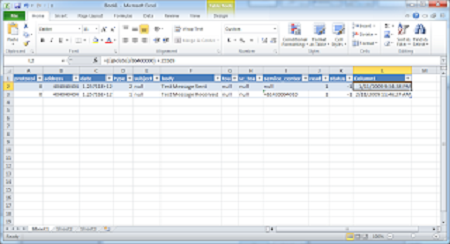 As you can see, the process to read girlfriend's texts free may be a little tedious. You have to access your girlfriend's phone to transfer the backup text messages files to computer via USB cable. The editting in MS Excel is not very friendly for users without any previous knowledge.
If you are interested in tracking your girlfriend's location, use KidsGuard Pro. This powerful tracking app helps you know the real-time location.
Because this girlfriend tracker has incredible tracking features such as GPS, geo-fencing, and Wi-Fi location history, you can get to know the real-time location by using the inbuilt GPS.
Additionally, you set the geo-fencing system on your girlfriend's phone, so when your girlfriend goes to an added specific place, you will receive a location alert by KidsGuard pro with time and date.
How Can I Read My Girlfriends' Text Messages Without Her Phone?
Reading the messages on a girlfriend's phone without touching her phone is not a tough task. Because a variety of spy apps made it easy to access someone's personal chats.
But you should download KidsGuard Pro because it works in stealth mode. Wondering how can I check my girlfriends text messages online? You can read all messages from your girlfriend's phone via the KidsGuard Pro online dashboard. You also can even recover the deleted conversation with KidsGuard Pro.
Related Read: How to Read My Girlfriend's WhatsApp Messages Without Her Knowing?
Main Reasons to Know Who Is Your Girlfriend Texting
There could be different situations when you need to know who is she texting to.



For example, when a man sees his girlfriend is always on the phone and hiding her phone from his boyfriend, it increases the curiosity of knowing whom she is talking to.

Usually, boyfriend think she may be cheating on him and he try to read girlfriend's text.

Sometimes people check their girlfriend's inbox to make sure she is safe; because they want to keep them safe from online hazards like blackmailing, cyberbullying, harassment, and drug dealers.

So, in these situations, its okay if you want to check who your girlfriend is texting.
Tips and Conclusion
Nobody expects that their partner would cheat on them but unfortunately, this happens to many people more than one can imagine. Here are some major red flags which can indicate that your girlfriend might be considering cheating on you or may already be cheating on you.
She is always doing something on her phone, more often than before.

She suddenly puts a password on her phone and does not let you touch her cell phone.

She is much busier than usual.

There are some items or men's clothing in her house which do not belong to you.

At her home, the sheets and clothes smell of a men's fragrance which you do not use.

She has suddenly started paying more attention to her fitness and fashion.

More often than not, she is paranoid that you are cheating with her (this is very common with all cheaters)
If you think that the above situations seem similar to you, then it is time to act and find out ways to know how to spy on cheating girlfriend text messages. From our experience, using an app to see my girlfriends texts like KidsGuard Pro is the easiest and most effective way.
Reading backup files is another possible way in the condition that your girlfriend has enabled backup on her phone and the process is tedious to make it readable. However, it's time for you to make a right choice. If you have any thoughts, leave your comment below.