"How to check my girlfriend's text messages for free? Someone is texting my girlfriend very frequently and she is very bothered by it. Is there way to keep track of her and also check her texts? I am really worried."
Well, a girlfriend tracker app is used to track or to learn the whereabouts of any ones girlfriends. These are basically tracking apps used to track the targeted person but if you wish to track your girlfriend, then you can generously call it the girlfriend tracker app.
These are all very capable apps equipped with high-quality in-built GPS to track the target device in real-time, providing you with accurate co-ordinates. Besides location tracking, these apps usually come with other powerful features like monitoring messages/calls, recording keystrokes, etc.
Unfortunately, internet is flooded with similar apps and it is very confusing for regular users to select the right one among them. So, we took the privilege to provide you with our picks of top girlfriend apps.
So, in terms of a good tracking app, there are a lot of things to consider but without the specific knowledge of intricate of these apps it will be hard for you to select the best one as your girlfriend location tracker. Here are out top 6 picks.
Here Are the 6 Best Girlfriend Tracker Apps
1. KidsGuard Pro
There are a lot of people asking for a way to track or recording my girlfriend all over the internet. Well, if you are one of them, then we have the best ever app for you. This app is called KidsGuard Pro. First, introduced as a parental control and cell phone monitoring app, the GPS capabilities of this app were recognized by all, making it one of the best tracking apps, ever.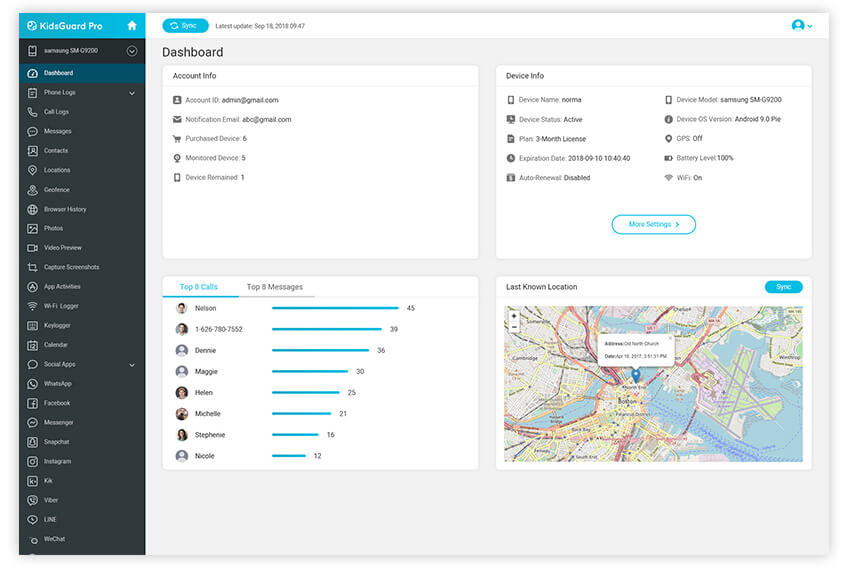 Although, this app is not available for free but a 3-day trial period is provided with all the features. Several features of this app are as follows;
Excellent location tracking, very accurate. The real-time GPS tracking provides data throughout the day.

A clear map view with current location along with all the previous location history.

Device monitoring options are great, taking real time screenshots, viewing mobile activities and more.

Keylogger is available. You can use it check browser history and chats from third-party messaging apps like WeChat, WhatsApp, Kik, LINE and QQ.

Unlimited file access of the target phone, include call logs, contacts, photos, apps and more.

The app goes incognito right after you launch it. Even the app icon will be hidden as well!
Why do we rank KidsGuard Pro as No.1 in cell phone tracking:
1. The app stays hidden after the launch. The owner of the target device won't have any idea regarding its existence.
2. Multiple monitoring features provided.
3. The gathered data from the target device can be viewed on a web-portal or via smartphones.
2. XNSPY
XNSPY is one of the most powerful apps designed for tracking any iPhone and Android devices. If you want to know, how to track my girlfriend's phone; this can be very helpful for you. You will be able to easily know her whereabouts and get access to any type of data like text messages, call history, images, photos, browser history, chat history, social media applications like Facebook messenger chats, Whatsapp, Viber, Kik, Instagram etc. with ease.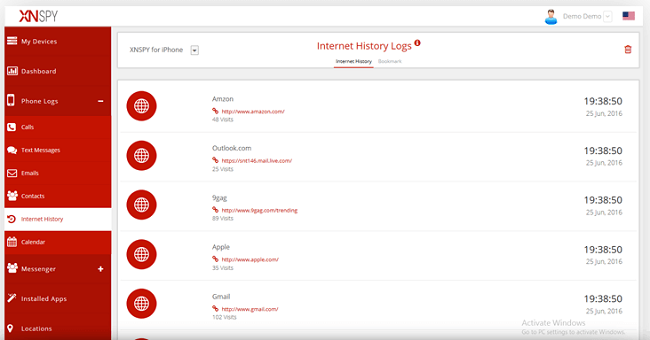 Pros
XNSPY uses a high-quality GPS system in order to track your girlfriend's location. You can also get the location history of the device along with address stamps, date and even time.

There is no need to jailbreak or root the device in order to install this app. It works on both rooted and unrooted devices.

The collected data can be viewed via any device like a mobile or a tablet, you just need access to the internet connection.

A unique surround recording feature can be used remotely.
Cons
The surround recording feature is only available on Android devices.

Sometimes the GPS tracking lags.
Compatibility
Designed for iPhone and Android devices.
3. Appmia
Another giant in the tracking app line up is Appmia. It is a great, reliable and user-friendly app with effective features. It is equipped with all the necessary and common phone monitoring features that you can expect from a tracking software. Real time location tracking, monitoring sent and received text messages, recording calls and surroundings, tracking social media apps etc. The installation is very easy as well, just takes 3-4 steps and it is ready to track your girlfriend.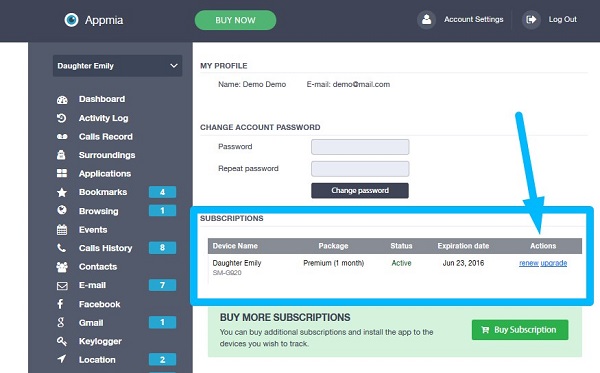 Pros
Real-time tracking of the target device.

Tons of monitoring features.

Call and surrounding recording option.

Monitor texts and social media apps
Cons
Procedures like jailbreak or rooting may be required for the installation of this app.
Compatibility
Works on both Android and iOS devices.
4. FlexiSPY
So, if you are still asking "how to track my girlfriend phone location"; well, FlexiSPY is one of the best apps to use for it. Another powerful app that enables you to monitor your girlfriend's Android phones, iPhone, tablets and even computers! This is a simple program that you can use to listen and even record phone calls. It even has the capability to track texts and emails. All the data gathered from your girlfriend's devices with be sent directly to your cell phone or computer.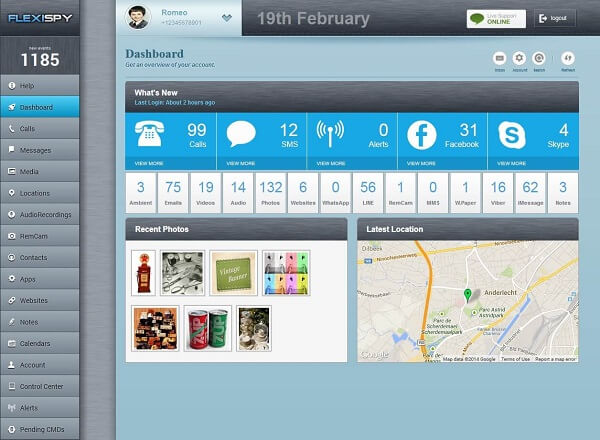 Pros
The installation is pretty easy and straightforward.

Live call recording is possible.

GPS location tracking is effective.
Cons
Jailbreak or rooting of the device may be necessary to get the advanced features.

The price is just too high.
Compatibility
Works on iPhone, Android and computers.
5. TrackMyFone
TrackMyFone, another top quality tracking app with an attractive interface! If you are confused about "How to track my girlfriend's phone without her knowing for free?" then you can use TrackMyFone. It is great, and comes with all the necessary tracking features like monitoring calls, texts, social media an email. You can track real time location, lock or wipe out target device remotely. You can also block apps remotely that are installed on the device. Overall, it is quite similar to the XNSPY app above just without the call recording feature.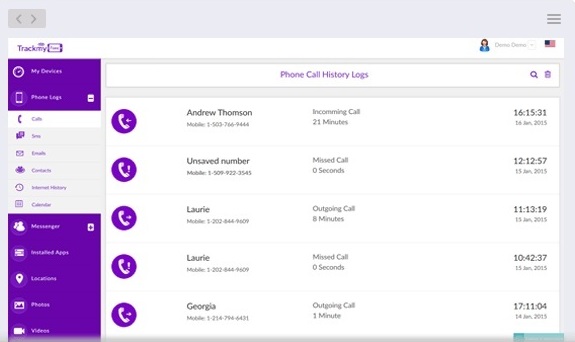 Pros
Real-time location tracking is available and it is accurate. Also equipped with Geofencing.

Works on multiple platforms.

Installed apps blocking remotely.
Cons
Some reports on malfunctioning features.

No call recording feature.
Compatibility
Works on Android and iOS devices.
6. FoneMonitor
FoneMonitor is an extremely popular tracking app that you can use to track your girlfriend's phone. This is a very helpful tool, with professional grade tracking capability. The installation is very easy, just takes 3-4 steps and it is ready to track your girlfriend's phone.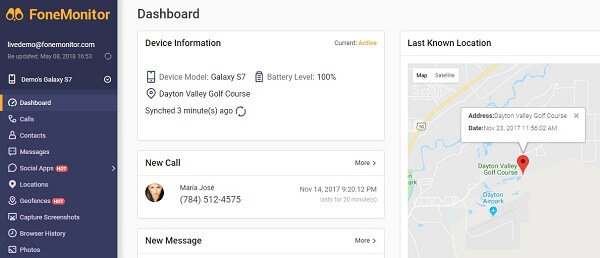 Pros
It is capable of monitoring several types of data like call history, SMS, browser history, photos and more.

The GPS tracking capability is over the top.

Simple installation, jailbreak is not required.
Cons
The activity tracker of this app is not good.
Compatibility
Works on both Android and iOS devices
FAQs about Tracking Girlfriend
Q1. How to Track my Girlfriend's iPhone?
You can track your Girlfriend's phone by downloading KidsGuard Pro. Through this, you can easily locate where she is going.
Q2. How to Track my Girlfriend's Android Phone?
You can track your girlfriend's android phone in the dashboard of the KidsGuard. Through the online portal or GPS, you can find out whether she is crossing her daily areas or not.
Q3. How Can I Monitor My Girlfriend's Text Messages?
You can check your girl's messages on every app through the KidsGuard Pro. Moreover, you can take screenshots and record your girl's screen.
Conclusion
As you can see, numerous apps have been developed these days with extensive tracking capabilities but only a handful of them lives up to their promises. Well, a girlfriend tracker app is like any general tracker app but you have to set it to track your girlfriend. Using them is very simple and accuracy is high. But for your convenience we have provided our pick of the top 6 best girlfriend's phone tracker app. They are all great but we do recommend using KidsGuard Pro, it is best of the best. It comes with 3-days free trial with the help of which you can try out all its features completely free. Go for it!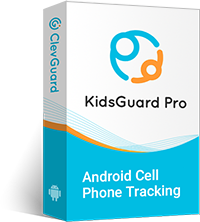 No.1 Monitoring App to Track Anyone
Track the real time location and view location history

Check all incoming and outgoing calls & SMS

Monitor app activities and know which app is frequently used

Remotely access the files on kid's phone, like contacts, notes, photos, keylogger, etc.