Minspy is a leading phone monitoring solution that allows you to track someone's activities on their phone discreetly. Whether you are a concerned parent or a person spying on cheating partner, Minspy provides related features that give you some control and visibility into the target device.
In this in-depth Minspy reviews, we will explore what Minspy is, how it works, its features and benefits, compatibility, step-by-step guide on using it, customer reviews, pros and cons, and a comparison with its best alternative -- KidsGuard Pro.
Minspy VS KidsgUard Pro: Which One Is Better?
| Features | KidsGuard Pro | Minspy |
| --- | --- | --- |
| Compatibility | Android/iOS/Win/Mac | iOS/Android |
| Price | $39.99 | $49.99 |
| Phone Files | | |
| Real-time Location | | |
| App Activities | | |
| YouTube Monitoring | | |
| TikTok Monitoring | | |
| Wi-Fi Logger | | |
| Record Surround | | |
| Record Screen | | |
| Record Call | | |
| Keywords Tracking | | |
| Data Export | | |
| Safari History | | |
| Remote Control | | |
| Notes/Voice Memos | | |
Part 1: A Comprehensive Review About Minspy
1. What Is Minspy and How Does It Work?
Minspy is a powerful phone monitoring app that enables you to remotely monitor someone's phone activities without their knowledge. It operates in stealth mode, ensuring that the target user remains unaware of being monitored. The app works by extracting data from the target phone and uploading it to your Minspy account, where you can access it anytime, anywhere.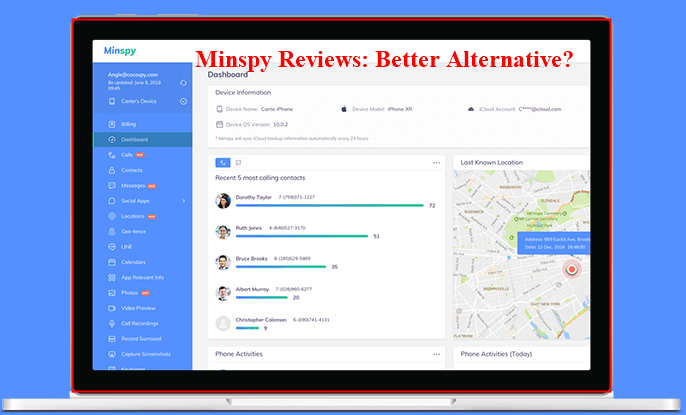 To get started with Minspy, you need to create a Minspy account and select a subscription plan that suits your needs. Once you have subscribed, you will receive an email with the setup instructions. Follow the step-by-step guide to install the Minspy app on the target device. After installation, the app will disappear from the app drawer and run silently in the background. You can then log in to your Minspy account from any web browser and start monitoring the target device remotely.
2. Minspy App Review: Features and Benefits
Minspy offers a wide range of features that make it a versatile and comprehensive phone monitoring solution. Here are some of the key features and benefits of using Minspy:
Call Monitoring: With Minspy, you can view call logs, including incoming and outgoing calls, contact information, call duration, and timestamps.
Message Tracking: Minspy allows you to read text messages, including SMS and social media messages, on the target device. You can view message content, sender and recipient information, and timestamps.
GPS Location Tracking: Minspy enables you to track the real-time GPS location of the target device. You can view the live location on a map and also check the location history.
Social Media Monitoring: Minspy allows you to monitor popular social media platforms like Facebook, Instagram, Snapchat, WhatsApp, and more on Android. You can view messages, posts, photos, videos, and other media shared on these platforms.
Keylogger: Minspy includes a keylogger feature that records all keystrokes made on the target device. This allows you to capture usernames, passwords, and other sensitive information entered on the device.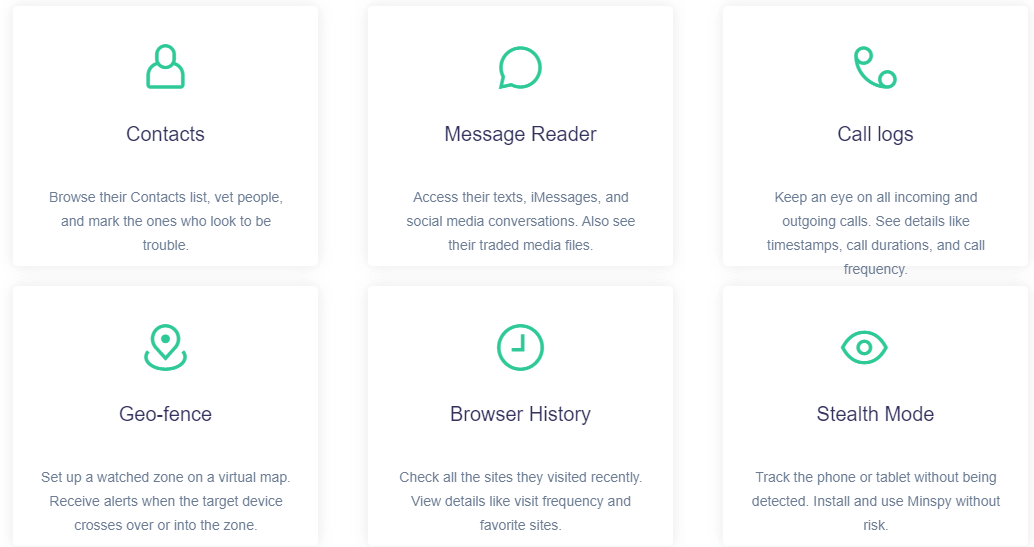 3. Minspy Compatibility and Device Support
Minspy is compatible with both Android and iOS devices. For Android devices, Minspy supports all smartphones and tablets running Android 4.0 and above. The app works on both rooted and non-rooted devices, although some advanced features may require rooting. For iOS devices, Minspy supports all iPhones and iPads running iOS 7.0 and above. No jailbreak is required for iOS devices, making it a hassle-free solution.
4. How to Use MinSpy: Step-by-Step Guide
Using Minspy is simple and straightforward. Here is a step-by-step guide on how to use Minspy:
Step 1: Visit the Minspy website and create a Minspy account. Select a subscription plan that suits your needs and complete the payment process.
Step 2: After successful payment, you will receive an email with the setup instructions. Follow the instructions to install the Minspy app on the target device. The installation process is quick and easy, and the app will run in the background without the user's knowledge.
Step 3: Once the app is installed, log in to your Minspy account from any web browser. You will have access to a dashboard with various options to monitor the target device. You can view call logs, messages, GPS location, social media activities, and more.

5. Minspy Reviews: What Customers Are Saying
Minspy has received different reviews from customers worldwide. from the Trustpilot, most are the complaints about its not working, bad customer support, misleading advertisement, etc. Check what some customers say:
"Did not work as advertised. And it takes hours to update. Not all calls or messages were logged. I could see some activity on keylogger so i know there was both. Many many calls and messages on keylogger but have no information of who or what. Reported some messages on wrong dates and times. Social app reports show nothing except there is activity, just not what or with who. It was fairly easy to install on target phone but i was dusappointed. For the price, it should be better. I would not recommend thus program".

6. Minspy App Review: Pros and Cons
Like any other phone monitoring app, Minspy has its pros and cons. Let's take a look at some of the advantages and disadvantages of using Minspy:
Pros

Easy to install with a user-friendly interface.
Minspy operates in stealth mode.
.
Minspy is compatible with both Android and iOS devices.
Cons

Doesn't monitor app activities on the cell phone.
Minspy location tracker doesn't support Wi-Fi logger.
No YouTube and TikTok monitoring feature.
No remote control such as screenshots and photos-taking features.
Minspy for iOS has limited features.
Part 2: The Best Alternative to Minspy -- KidsGuard Pro
Given Minspy's some negative reviews and disadvantages for functions, you may want to look for a better alternative to Minspy. Well, we recommend KidsGuard Pro, which has more monitoring features than Minspy and functons more effectively. KidsGuard Pro can be used to track Android, iOS, iOS RT and iCloud. Check some of its key features below.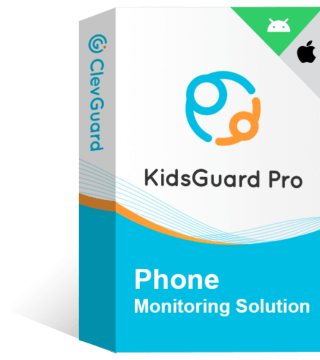 KidsGuard Pro: Most Comprehensive Cell Phone and Location Tracker
Monitor files on smartphones including photos, contacts, messages, call logs, browser history, app activities, calendar, and more.
Track cell phone location with 3 modes: real-time GPS locations, Geofence settings and W-Fi logger.
Spy all social media apps like WhatsApp, Snapchat, Instagram, Facebook, Discord, Tinder, Telegram, YouTube, TikTok, Viber, etc.
You can achieve live recording such as record surround, record calls, and record screens.
You can remotely control the targeted device, for example, capturing screenshots, taking photos, tracking keywords and further recieve real-time alerts.
How to Use KidsGuard Pro on Android/iOS:
Step 1. Sign up/in for the website and get a subscription plan for KidsGuard Pro.
Step 2. Get KidsGuard Pro on the targeted device. Download the software from www.clevguard.net for Android or from www.useapp.net on your computer for iOS.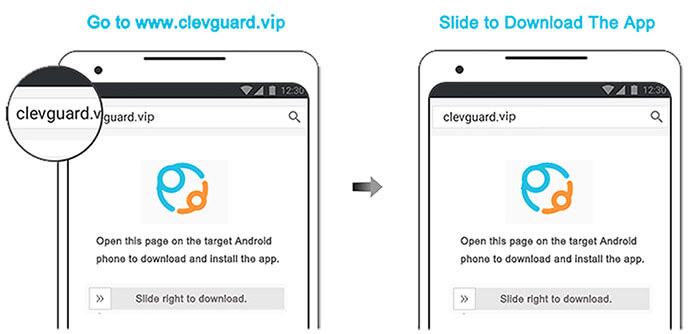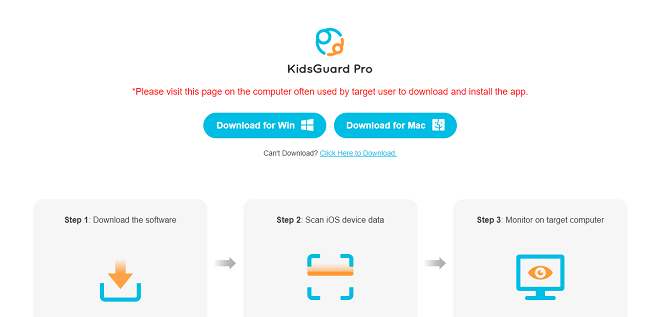 Step 3. Log into the KidsGuard Pro dashboard and bind the device. You can start monitoring the targeted device remotely and hiddenly.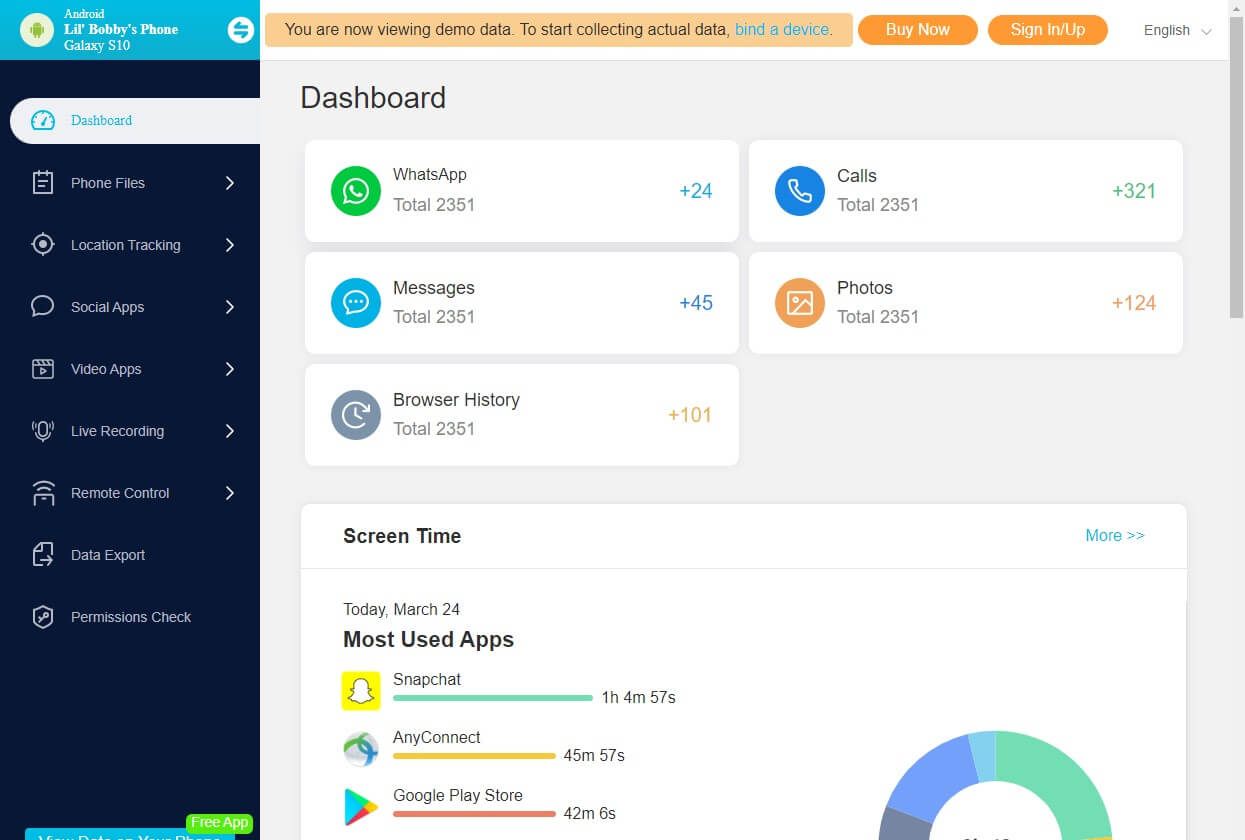 Conclusion
In this ultimate guide to Minspy, we have explored the capabilities of this monitoring application. With its extensive range of features, ease of use, and compatibility with both Android and iOS devices, Minspy is undoubtedly a good choice. However, owing to its limited features and other disadvantages, you are suggested to use the better alternative, KidsGuard Pro, which is 100% working and safe.
Sign up for KidsGuard Pro today and experience the peace of mind that comes with knowing what's happening on the target device.