Real-Time Spyware Detector and Remover
24/7 heuristic scanning to detect more spyware and trackers.
Detect and notify malicious files and unsecure apps in real-time.
Highlight the abnormal records and support removing them all with one click.
Unlimited and customized Whitelist or Blacklist updates.
Microphone and Camera Protection
Notify you when any applications turn on microphone or camera with or without your consent.
Detailed reports on the use of the microphone and camera, including app info, duration, time and date, etc.
Detect all attempts to access the microphone and camera to prevent unknown attacks.
Detect and Show Hidden App
Find hidden or suspicious apps which are disguised with fake icons/names.
Remove all invisible threats going around on your devices.
Reinforce the security of your mobile against the various risks which can reach you.
Easily know if WhatsApp is monitored, find GPS tracker on your phone, etc.
Email Leak Checker
Check if your email has been exposed in a data breach.
Protect your sensitive online information from prying eyes.
Professional tips on how to secure your personal info.
Clear Android Junk Files and Data
Analyze & remove junk files, residual, cache, ad and more which slow down your phone.
Only a 1-tap boost can free up more space and speed your phone.
Find out which apps occupy too much memory.
ClevGuard Anti-Spyware Pricing & Plans
Start protecting your Android phone remotely.
1-Month Plan
$4.99 / Mo
You will be billed at $4.99 / $7.99
Auto Renew. Cancel Anytime.
The license will be automatically renewed in a month. You can
cancel
it at any time on the product Settings page.
Renew Here >>
1-Year Plan
$2.49 / Mo
You will be billed at $29.99 / $59.99
Auto Renew. Cancel Anytime.
The license will be automatically renewed in a year. You can
cancel
it at any time on the product Settings page.
Renew Here >>
More Features
App Audit
Manage every permission you've granted for all apps.
Customized Blacklist Report
Send suspicious samples to help us rectify the issues.
Scan All Phone App
Remind you which app is threatening the safety of your phone.
App Whitelist Enumeration
Add your trusted app to whitelist without security remind.
Simple and Quick Scan
Scan the whole phone within minutes and fix all the issures effectively.
Delete Threats in One Step
Delete any unsecure app or files in one single click.
How to Use ClevGuard to Protect Your Phone
Using ClevGuard anti-spy app to find the hidden spyware and remove the malicious files with several simple steps. ClevGuard can protect your privacy security well.
Step 1: Download ClevGuard
Download ClevGuard Spyware Remover on Google Play.
Step 2: ClevGuard Scanner
Scan phone app in real-time and check the result.
Step 3: Remove Spyware
Remove Spyware from phone in few seconds.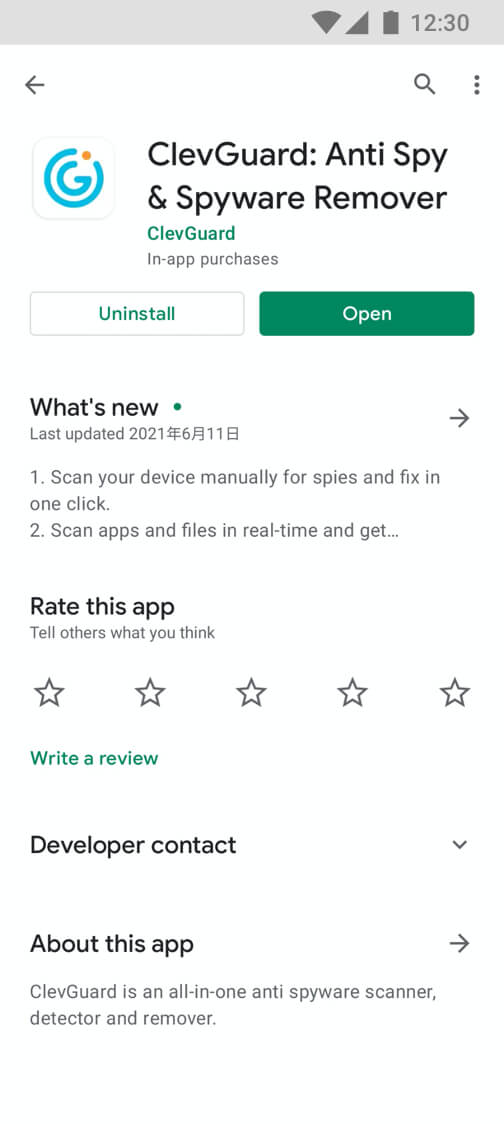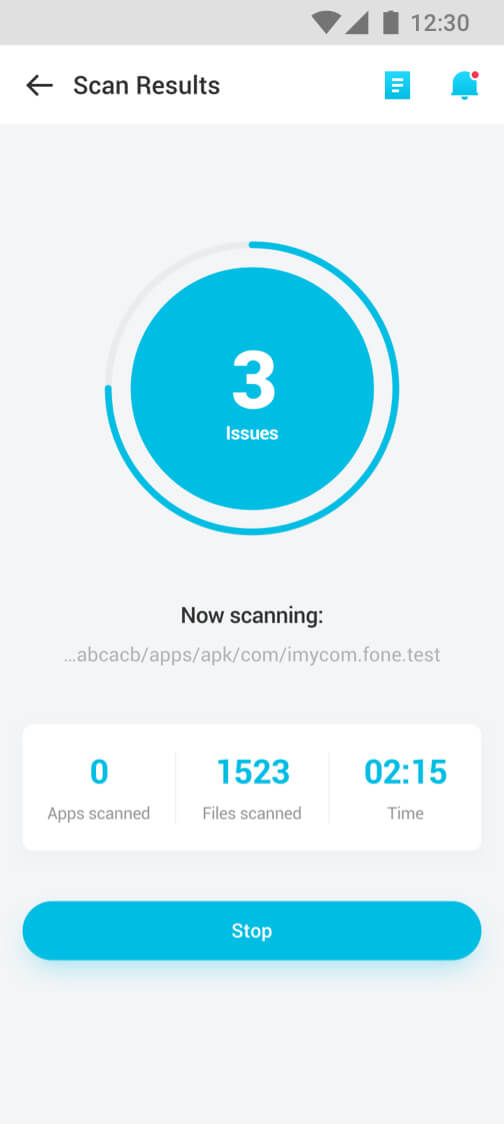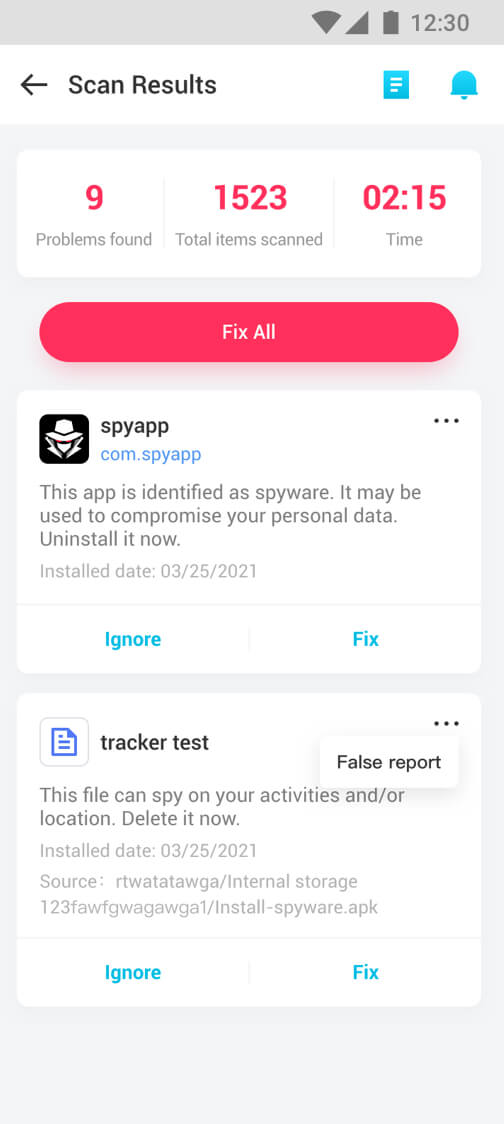 Check Video Guide
Full Guide
Discover Why ClevGuard Is Best Choice
ClevGuard Anti-Spy is one of the best Anti-Spy software for Android phone users. You will get an overview of why it stands out below.
Multiple Functions
All in one tool to scan and keep phone away from spying and unsecure state in real time.
Update Database
You can update whitelist/blacklist database yourself without limitation.
Real-Time Scan
ClevGuard protect phone in real-time. No worry about any spy tool to track your privacy data.
App Reminder
Scan all Third Party app to remind you whether it is safe or not.
Data & Privacy Protection
We protect every user's data and privacy with high-security standards. Nobody else can access your data.
Easy to Use
With user-friendly interface, every user can handle it in several seconds without any trouble.
Cheap Price
We provide much cheaper plan for our users to get the best anti-spy software to keep data safe.
Free Update
Yes, you can upgrade the software and get latest features with no extra cost when updates are available.
Free Version vs Pro Version
ClevGuard Anti Spyware for Android offers 2 different versions. Download for free, and choose whether to upgrade to the Pro version according to your needs.
| Points of Comparison | Free | Pro |
| --- | --- | --- |
| Fast & Full Scan | | |
| Scan Result | | |
| Crush Spyware in One Click | | |
| Real-Time Protection | | |
| Microphone/Camera Abuse Warning | | |
| Email Password Leak Check | | |
| Auto Alert | | |
| App Audit | | |
| Junk Clean | | |
| Unlimited Blocklist & Customized Whitelist | | |
| Enhanced Heuristic Anti-Spy Engine | | |
| Priority Updates of New Signatures | | |
| 24/7 Support | | |
| | | Buy Now |
ClevGuard Anti-Spyware Pricing
$4.99/1-month
Buy Now
FAQs
How can I tell if there's a hidden spyware in my phone?

You can use ClevGuard to test if there is a hidden spyware in your phone. Its support detect Application of hazard level determination, Blacklist example monitoring, etc.

Where can I download ClevGuard?

You can download it in ClevGuard.com or Google Play.

How can I know whether the current version of ClevGuard is the latest one?

You can directly check it's latest version in our App, if you can't figure, just contact with our Customer Center for help.

Is there any method that can help to prohibit with one-click?

Yes, we support one-click prohibit or open permissions in this App, so you can setting this function and reduce inconvenience caused by operation.
More FAQs