Kik seems to be one of the safest messing apps in the world. But is Kik safe? For example, is it safe from hackers and scammers?
Kik users have been regularly reporting about coming across female predators, spammers, hackers, chatbots, and whatnot. The cases of users getting blackmailed by scammers who tricked the users into getting their intimate photos are very regular.
Under all these scenarios, we will weigh how safe Kik is as a messaging platform. We will also recommend steps to follow to strengthen the safety and security on Kik app.
Is Kik Safe?
Kik does not need a phone number to open an account. Besides, it does not require a person's name and other personal data for verification. This is why it is equally popular among teens and scammers. Here is the list of all the potential Kik app dangers any Kik user may face.
You Might Get Scammed on Kik:
A huge chunk of Kik users uses Kik as a dating app to find potential dates. Scammers are coming up with fake personalities to trap innocent Kik users and get intimate photos to blackmail them. Besides, they use chatbots that seem to be like Kik official accounts, and users give in their personal data only to get scammed.
Your Kik Account Might be Hacked by Hackers:
Kik security is often threatened by hackers' communities. They send phishing links to random Kik users with attractive offers and schemes. Some Kik users open these phishing links and give in their login credentials and financial details.
Similarly, hackers send links through chats on click which spyware app gets downloaded on the users' phones.These malicious apps record users' phone activities. For example, login credentials of online accounts, monitor Kik messages, and more. Besides, hackers can access target users' phone galleries, chats, messages, and much more.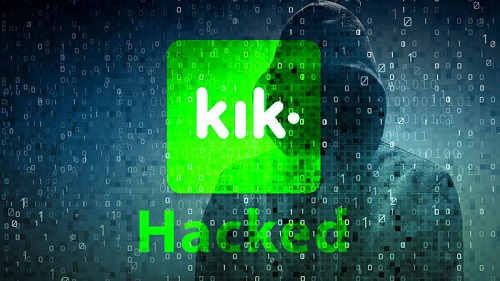 Kik Can Trace Your Chat History:
Even though Kik does not trace user messages directly but they can trace your chat history from their databases if they want to. Therefore, any data breach incident on Kik's servers can expose your chat history. Hence, the personal data and private information you shared through your chat can become public.
Kik Privacy Concerns:
Since there is no requirement of phone number and identity verification to open a Kik account, it has become a playground for scammers. Therefore, if you are using Kik app to chat with strangers and find potential dates, you can be disappointed.
This is because the person you are chatting with and thinking of him/her as a nice person or as your friend could turn out to be a scammer. You could be in trouble if you share your personal data and intimate photos with strangers and click on random links shared by strangers.
How to Stay Safe on Kik: 8 Key Safety Tips
Now that you are aware of the hidden dangers of Kik app, you have to take steps to ensure your safety and privacy while using the app. Here is the list of steps to follow rigorously.
1. Use A Professional Tool to Safeguard Your Kik
Since scammers and hackers are highly active on Kik app, you need to have an external professional tool installed on your phone to safeguard your security and privacy.
We recommend ClevGuard app that can eliminate the risk of your Kik account getting hacked and your Kik chats getting spied on.
How to Stay Safe on Kik with ClevGuard?
Here are the steps to follow to install ClevGuard protection app and safeguard your safety of Kik.
Step 1. Install ClevGuard App
Click the "Google Play" button below, it will lead you to the ClevGuard page on Google Play so that you can download ClevGuard directly instead of searching it on Google Play.
Step 2. Run A Thorough Scan
Open ClevGuard and tap on "Scan" option. Wait patiently for ClevGuard to scan your phone files including Kik thoroughly to detect security threats on your phone.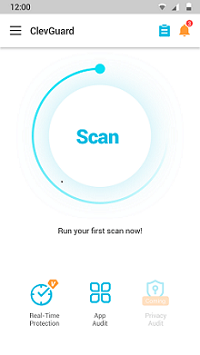 Step 3. Remove Threats to Defend Your Kik and Phone
After scanning gets over, review the list of threats and issues on your phone. Tap on "Fix All" button to eliminate all the threats instantly.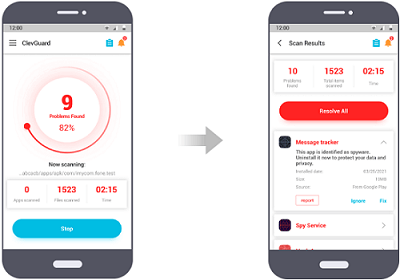 What Can ClevGuard Do for You?
Here are all the features of ClevGuard Anti-Spy app to safeguard Kik security.
Find Out Any Threats on Your Phone

ClevGuard Spyware Remover app scans your phone thoroughly to find out all the hidden spyware, malicious files, and security threats that can put your Kik safety and privacy at serious risk. You can instantly get rid of those security threats with a single tap.

Protect Your Kik and Phone in Real-Time

Prevention should always be your first priority, and hence, ClevGuard app comes with real-time protection that monitors your phone to detect any malicious files and apps trying to get entry on your phone. It immediately alerts you to take prompt action and keep your Kik account safe.

Protect Your Phone Camera and Microphone

There could be certain disguised spy apps on your phone that let the hackers get access to your phone camera and microphone. They can listen to your conversations and monitor your physical movement in real-time.

Therefore, ClevGuard app alerts the users as soon as it detects any app accessing your phone camera or mic secretly.

Check Your Email Data Breach

You have to open Kik account with your email address. You must also be using the same email address for other online accounts. During major data breach incidents, your email address and password could be leaked, and that could put your Kik and other online accounts at risk.

ClevGuard allows you to check email breach and let you know if your email account was exposed in any data breach incident. The app also suggests security steps to protect your email account.

Clean Your Phone Junk Files

Junk files take up space on your phone storage unnecessarily and this leads to the phone slowing down and running out of space. ClevGuard Anti-Spy app lets you clean junk files all at once. You can also delete the junk files selectively after reviewing them.

2. Be Careful While Chatting With Strangers

How private is Kik app depends on how you use the app. If you use the app for dating and adding random people, sooner than later, you are going to get scammed and blackmailed.

Do not send messages to random people just because you are bored because you could become the next target of scammers who could pretend to be regular Kik users.

Use your instinct and judgment to understand whether the person is genuine or he/she has some evil intention planned for you.

3. Don't Share Personal Photos and Videos

There are male and female predators on Kik whose intention is to lure the targeted user into sharing intimate photos and videos.

When they achieve their goal, they use those intimate photos and videos to threaten and blackmail the targeted person and extort money.

Therefore, it is wise not to share such intimate photos as the receiver can take screenshots and save them.

4. Block Unwanted People

You will come across annoying people who may continuously send you messages, unwanted links, and explicit photos.

You may find people who may verbally abuse you and bully you. Instead of entertaining their messages, you should report and block the users immediately.

Here are the steps to follow:

Step 1: Open the chat of the person whom you want to report and block.

Step 2: Go to the user's profile.

Step 3: Tap on the three-dot icon.

Step 4: From the pop-up menu, select Report User.

Step 5: Select the reason for reporting and tap on Report and Block button.

Step 6: On the next screen, you will be asked if you want to remove the chat or not.

5. Don't Give Away Personal Information

Since the answer to the question "Is Kik secure?" is negative, you have to keep your personal information confidential. Under no circumstance should you give away personal information like your full name, your address, phone number, date of birth, and likewise to any strangers you meet on Kik.

Similarly, you should not reveal this information to any form whose link you have received via any Kik users. If they turn out to be scammers, they can use those data against you to claim your account and do identity theft to humiliate and blackmail you.

6. Set A Strong Password

Your Kik account should have a strong password that is difficult to crack. To set a strong password, make the password lengthy and preferably more than eight characters. It should contain a combination of upper case letters, lower case letters, numbers, and special characters.

No one should be able to guess your password from your personal data. Most importantly, your Kik password must be unique from all the other passwords you have used for other online accounts.

7. Manage Messages From Strangers

When someone who is not in your contact messages you, their messages will appear under "New People". Their profiles could be blurred if they are messaging anonymously. Unless you add them to your contacts, their profiles will stay blurred.

However, instead of adding them to your contacts, you should judge the persons by their messages. You can even have a light conversation to understand his/her intention. Thereafter, you can add or block and even report to the Kik team.

8. Report Any Serious Issue to Kik Immediately

In spite of taking all the Kik safety tips, there are going to be times when you may get scammed. Your account may get hacked if you have shared your Kik account details through any phishing page by mistake.

Moreover, there could be a group of scammers and abusive people who are continuously disturbing you. Even when you are blocking them, they are coming up with new accounts. You can report any user on Kik app as well as state any issue in detail by sending emails at safety@kik.com.

Conclusion

The answer to the question "Is Kik app safe?" is no. There are hackers and scammers active on the platform to trap Kik users. They can hack Kik accounts, get personal data for identity theft, use intimate photos to blackmail and extort money.

Therefore, we have stated important safety tips to stay safe on Kik. We recommend you install ClevGuard Anti-Spy app on your phone for complete protection from hackers and scammers.