Launched 12 years back in 2009, Toady WhatsApp is one of the most popular texts and voice messaging applications. You may send messages on both desktop and smartphones, conduct voice calls, and hold video chats for free.
Since its usage is so widespread, a common question arises about security. Have you thought of the WhatsApp security issues and the consequences if your account is being tracked?
Most people consider that knowing how to secure WhatsApp from being monitored is a top priority.
How to Secure Your WhatsApp from Monitoring?
If you've seen some weird behaviour with your WhatsApp account, chances are, someone could already be spying on you.
There are, thankfully, viable techniques to prevent people from spying on you and tracking your WhatsApp activity.We've put together a listing of the most efficient methods for preventing someone from spying on your WhatsApp account.
If you are worry about the security of your WhatsApp account, or feel that your smartphone is being monitored. We strongly recommend you to use the ClevGuard Anti-Spy app to protect your privacy. Using ClevGuard is super easy!
Step 1: Download and install ClevGuard anti-spyware
Click "Get it on Google Play" button below and skip to Google Play Store page to download it and finish installation.
Step 2: Launch ClevGuard Anti-Spyware
After installation,open ClevGuard and click "Scan" to determine whether spyware is installed on your device.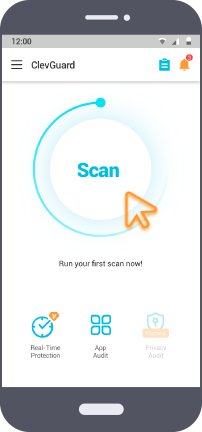 Step 3: Remove spyware on your mobile phone
After Scanning, you can review the results and eliminate spyware (If there is a spyware on your mobile phone), you can choose "Fix" to remove it in a matter of a few seconds. Otherwise, "Report" and "Ignore" are required when you cannot ensure the security of the application.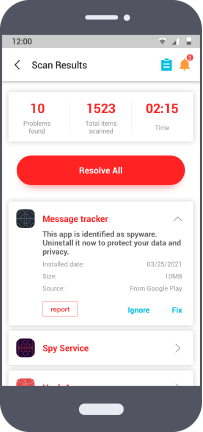 Method 2: Enable Two-Step Verification
Go to the WhatsApp Settings page.
Enable two-step verification by going to Account.
Enter and validate a six-digit PIN of your choice.
Tap Skip if you don't want to enter an email address and click Next.
Tap Save or Done after you've confirmed the email address.
NOTE:
Adding an email address is recommended by WhatsApp since it enables you to reset two-step verification and helps protect your account
Features of ClevGuard Anti-spy App
As a professional spyware remover, these are a few significant ClevGuard anti-spy app features that we vouch for:
Real-time protection of your smartphone
Protect your privacy from being tracked in real-time with the App. It can keep running in the background to protect your smartphone stay away from spyware and other hazards.
Listing and segregation files
Scan and update phone files to either whitelist or blacklist.Files that are added to the whitelist are not subject to the risk warning the next time scan is run. You can easily remove files from the whitelist and report apps to the blacklist.
ClevGuard Auto Alert
A 24-hour check notifies you of any hazardous apps.With an insecure app detected,a notification is sent,reminding you of the malware presence on the device that you may choose to eliminate.
WhatsApp Security Concerns
WhatsApp has earned a reputation of being protected, safe, and private— Thanks to highly publicized end-to-end encryption feature.
WhatsApp is fundamentally secure than other messaging apps as it employs end-to-end encryption. Facebook Messenger, Instagram Messages, Snapchat, and even plain old iMessage are all included.
However, it isn't completely fool-proof. WhatsApp claims to be totally encrypted, but that doesn't mean it can't be hacked.
There can be certain WhatsApp security issues that can lead to your account being compromised.
Your WhatsApp Can Be Tracked In These Methods
Someone might hack another person's WhatsApp account for a variety of reasons, including parental supervision, cheating suspicion, or for mere fun and so on.
Your buddy or lover could wish to peek into your chats to see what you are up to, what you talk about,etc.
There are some methods by which your WhatsApp account can be tracked.
Your device backup file
Hackers may be able to retrieve data from your WhatsApp backup file or the media folder if you don't keep them safe.
They may be able to access all your chats and media files shared through the App.
Open unsafe public WiFi networks
Scanning and connecting to public WiFi networks that aren't password-protected, allowing you to access the internet inexpensively is quite common.
In fact, offering free WiFi to customers is a common selling point for many restaurant chains nowadays, and local governments provide public WiFi hotspots in numerous locations.
However,can you vouch for security there? Open networks are seldom well-protected, and there are always more chances of your login details stolen and your accounts getting compromised.
Spy apps
There are various ways to eavesdrop on WhatsApp communications, including software vulnerabilities, social engineering,amongst others.
Spy apps, such as mSpy, and FlexiSpy, are invisible and difficult to detect. They can seamlessly integrate and retrieve all the details from the compromised accounts.
Related Read: What is the Most Secure Messaging App?
What Can Whatsapp Monitoring App Do?
The WhatsApp Tracker Apps empower the users to view all incoming and outgoing texts as well as the multimedia world's most popular messengers from afar and invisibly.
Some of the applications can even collect and transfer the messages to a web dashboard so one can read them later.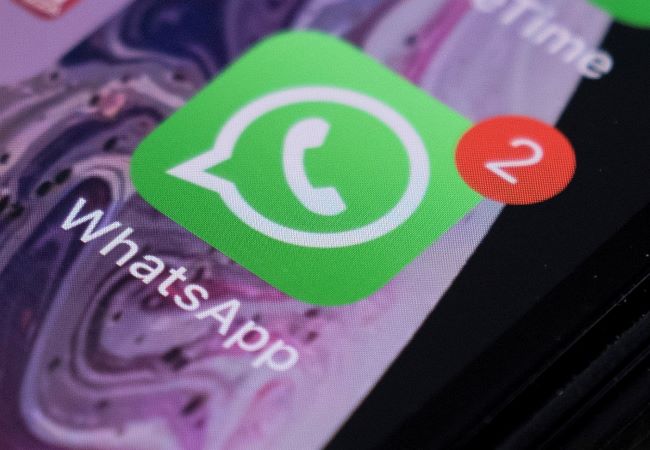 Monitor WhatsApp in the stealth mode
These are totally concealed WhatsApp monitoring spyware apps that work in stealth mode,they are entirely undetectable by account owners and work invisibly in the background.
Monitor Social communication on WhatsApp
Spying Apps such as mSpy and FlexiSpy, once installed, help you monitor all the social communications of the hacked accounts, including live chats, history and multimedia transfers.
View All Media Types on Whatsapp
Spying Apps can monitor all types of media shared and received on the targeted WhatsApp account, including images, stickers, emojis, video clippings, audio messages, and so much more.
Final Words
For any smartphone user, device security should be a primary consideration. In recent years, phones have rapidly evolved to keep and share our most sensitive information.
These devices have important data that unscrupulous actors can profit from-whether they are managing our financial, social lives, or business information.
To be protected, you'll need to use security-focused gadgets and applications.
Anti-spyware apps such as ClevGuard, help protect your device in real-time from all possible spying threats looming around. The program takes a single click post-installation to eliminate malware from your device,offering 360-degree protection.