Digital privacy has become one of the prime concerns in today's technologically advanced world. Security breaches have become more common now than ever and this is exactly why there is a need for encrypted messaging apps to secure your privacy. Over the past few years, the awareness about malicious activities like data theft and online snooping and the need for online privacy has significantly increased.
Although there have been major efforts by the government and tech agencies to balance public security and data privacy, the encrypted messaging tools can surely be very helpful. Since users have become more concerned about their privacy online, app makers have been seen to make continuous efforts towards adding end-to-end encryption to the messaging services. This article will highlight major concerns when it comes to online data privacy and will also talk about the best messaging apps for privacy. Moreover, there is a method for you to enhance your privacy security.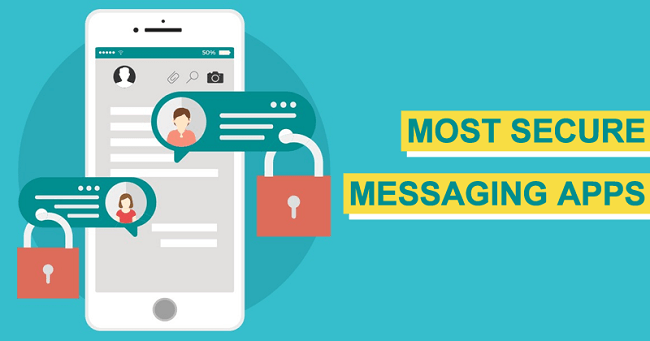 1. Why Individual Data Privacy Is Important?
In plenty of jurisdictions, data privacy is considered very important and in order to protect this there are certain data protection laws in place as well. Data privacy is also very important to every individual as they need to trust that their personal data gets handled with care whenever they engage online. Personal data can be misused in a number of ways online if its privacy is not maintained or if the individuals have no control over how their personal data is being used. Below are some of the ways in which your personal data can be misused.
Criminals can harass or defraud you using your personal data.
Without your consent, certain online entities can sell your data to outside parties who can then keep sending you annoying advertisements for marketing.
You can feel restricted mentally to express how you feel even with your friends when you have a feeling that your personal conversation is being monitored and tracked.
Due to the above reasons, individual data privacy is very important. When these outcomes are faced by a business, it can affect their reputation and lead to sanctions, fines, and other consequences legally.
2. What Is Secure Messaging?
Plenty of elements are involved in secure messaging. We have chosen the most important elements that qualify a messaging app to be secure. Multi-mode messaging, end-to-end encryption, and syncing capability among multiple platforms are the key elements that decide whether a messaging app is secure or not.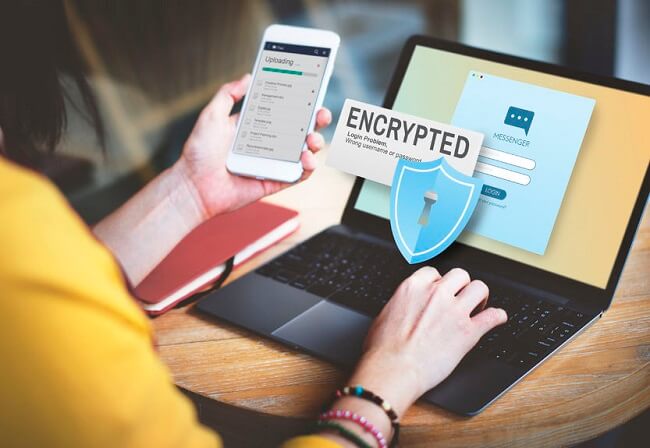 Multi-mode messaging
This feature allows the individuals to exchange messages via videos, texts, or audios. When an app allows the users to send their messages using different modes, any kind of message that they send or recieve can be deleted by the user.
End-to-end encryption
Through this feature, all the messages exchanged are secured by encrypting it. This would allow only the user to read the message and nobody else. When this feature works fine, the app developer, internet provider, as well as any government agency cannot read any part of the messages exchanged. This is why this feature is considered to make any messaging app secure, safe, and private. If you come across any app that does not support end-to-end encryption, it cannot be deemed secure. When the message is sent, it can be decrypted using only a secret stored code and this can be done only by the sender and receiver. Encryption ensures that no copies of the messages are saved elsewhere.
Multi-platform support
This feature ensures the synchronization of messages across multiple platforms including web, mobile, and desktop. If you ever feel more secure storing the messages in only one location and deleting it from the others, it can further increase your data privacy.
3. How to Choose a Private Messaging App?
Although there are plenty of private messaging apps available online, not all of them are as secure and private as they claim to be. All the best private messaging apps mentioned in this article offer the feature of end-to-end encryption. This means that nobody else apart from you can read or see the messages you exchange unless they have the secret code or private key for decrypting your message. This means that even your service provider cannot view the exchanged messages. Even hackers, government officials, as well as abusive employees cannot read your messages, unless you show it to them. However, each of these apps have their own advantages and shortcomings. You will know more about this in detail as you read on.
4. Best Privacy Focused Messaging Apps
Here are the 19 best privacy focused messaging apps that can be used by you for safe and secure message exchange.
4.1 WhatsApp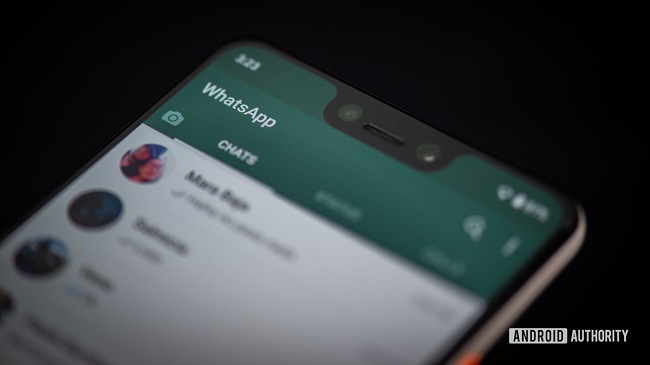 Compatibility: Android, iOS, Windows, MacOS, KaiOS.
Price: Free
More than 1 billion users use WhatsApp on an everyday basis to communicate with their loved ones and friends. It has a very user-friendly interface and offers excellent features like file and location sharing, gifs, and so much more. It also has a desktop version for those who would like to use it on their Windows PC or Macbooks.
It uses the Signal by Open Whisper Systems protocol for powerful Perfect Forward Secrecy encryption. This means that, even if someone manages to steal the secret key to your conversations, they would be able to see only the last message sent by you and everything else will remain secure and private. Although this is a great secure messaging app, a few people still find it hard to trust WhatsApp since it underwent a major security breach in 2019.
Pros

Uses encryption by signal.
Used by almost everyone.
User-friendly interface.
Cons

Has previously experienced a major security breach.
Owned and managed by Facebook.
4.2 Facebook Messenger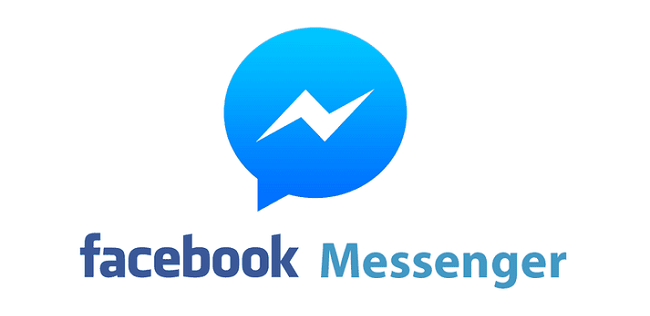 Compatibility: Android, iOS, Windows, and MacOS.
Price: Free
Although billions of people use Facebook Messenger, not many are aware of this fact that this app uses end-to-end encryption. However, this should not be your first choice when it comes to picking the best messaging app for privacy, since this app still collects data like whom you text and how often you are texting them.
Also, in the year 2018, Facebook Messenger faced a major security breach which makes many people still doubt the security maintained on this app. Private conversations getting leaked can be a major turn down for any app and makes users apprehensive about trusting their service again.
Pros

Most of your friends would be using this app.
You can use it irrespective of whether you have activated or deactivated your Facebook account.
Cons

Does not use encryption as a default setting.
The past conversations are not encrypted.
Your behaviour gets tracked.
4.3 iMessage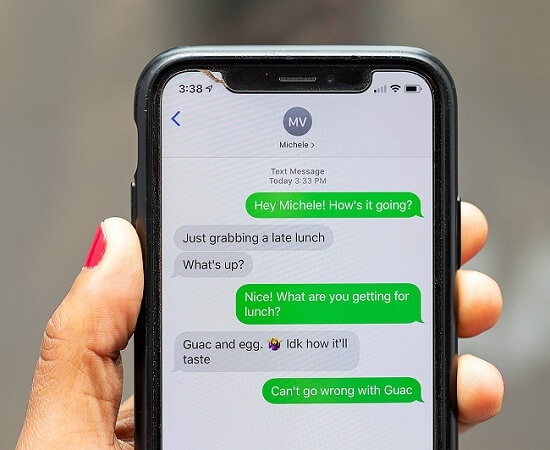 Compatibility: iOS and MacOS.
Price: Free
When it comes to cybersecurity, Apple services have always been on top of the list. iMessage is an alternative to the SMS app that has been inbuilt on all iPhones. iMessage features end-to-end encryption which keeps all your conversation safe and secure. However, even iMessage has its own set of vulnerabilities which makes it fall short of being the best chat app for privacy out there.
Data like contact lists, IP addresses, timestamps and mobile numbers are stored in the form of plain text instead of hashes. Any of your phone data that gets synced to the cloud storage called iCloud and any metadata is not encrypted by iMessage.
Pros

Encryption is always turned on by default.
No matter which device you use this on your messages cannot be accessed without the passcode.
Video calls made via iMessage are E2EE.
Cons

Collects the information of users based on their behaviour.
Data encryption fails when it comes to metadata, mobile numbers, and data stored on the cloud.
4.4 Viber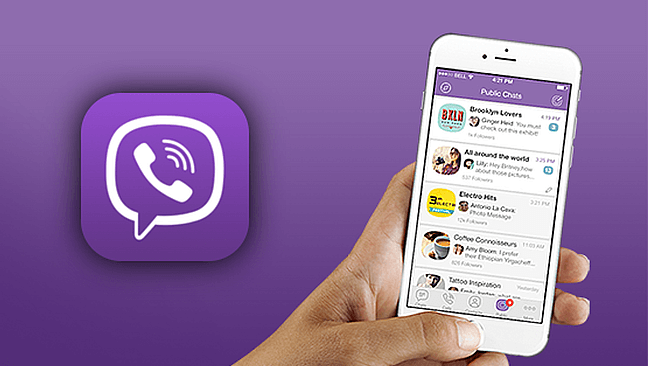 Compatibility: Windows, HarmonyOS, MacOS, Android, and iOS.
Price: Free
Viber has a user base of more than 260 million users and was primarily introduced as a competitor for Skype. It was initially launched for Android users, and was later developed for Blackberry and Windows devices. Since 2016, it has enabled end-to-end encryption on all the conversations made via this app making it one of the most secure messaging apps.
The most unique feature supported by Viber is that it color codes all your conversations based on how secure they are. For instance, if your conversation is highlighted in grey, it means that it is encrypted. The green color denotes that the communication with a trusted contact is encrypted. The red color signifies that there is a problem with the authentication key.
Pros

Features end-to-end encryption on all platforms.
Color codes your conversations based on how safe and secure they are.
Supports the feature of self-destruction.
Cons

End-to-end encryption is only supported for one-on-one conversations.
You need a valid phone number to sign up.
4.5 KakaoTalk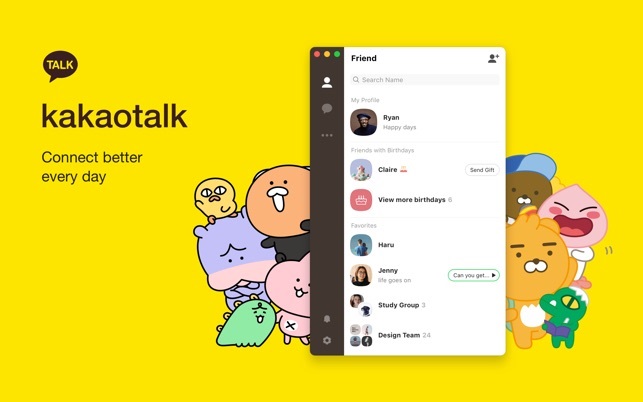 Compatibility: Bada, Blackberry, iOS, Android, MacOS, Windows Phone, Nokia Asha, and Windows NT.
Price: Free
This app is majorly used by a large number of people who reside in South Korea. This Korean chat app has introduced the feature of encrypting the chats on this platform since 2014. If you wish to use this security add on, you will have to enable the "Secret-Chat" feature on this app. This feature has been inspired by the security features offered by the popular app, Telegram.
With the help of this feature, users can opt to secure their chats with end-to-end encryption. However, the default mode which is set on KakaoTalk app is not end-to-end encrypted. So, if you wish to chat securely on KakaoTalk, you will have to enable it.
Pros

Free to download.
Interactive user interface.
Features the call function for free.
Cons

You cannot run this on your Windows PC.
The emoticons are not free.
Not many people use this app outside of South Korea.
4.6 Telegram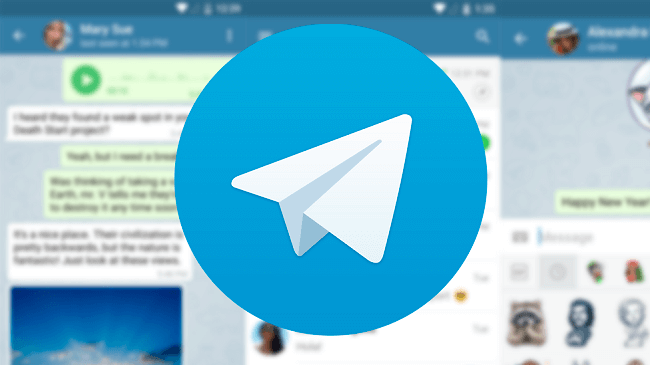 Compatibility: MacOS, Windows, Android, iOS, and Linux.
Price: Free
Telegram features an amazing user interface which is highly interactive and easy to use. This app is not obligated to give out any user's information or data to any kind of intelligence agencies. Due to its advanced security features, over 100 million people can be seen using Telegram all over the world.
However, the data privacy is not all that good as Telegram claims it to be. It is very strange that an app which claims to be high on data security does not have end-to-end data encryption turned on by default. Most of the people who use this app are not even aware of this fact which beats the entire purpose of this app being categorised as a secure messaging app.
Pros

Has the feature of disappearing messages.
Very easy to use interface.
Cons

Not an open-source app.
Encryption protocol used is proprietary.
The encryption feature is not enabled by default.
4.7 LINE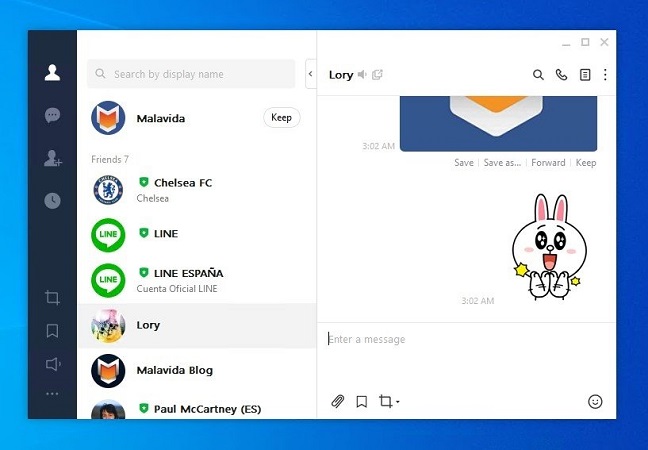 Compatibility: Android, iOS, MacOS, and Windows.
Price: Free but has some in-app purchases for advanced features
Line is another great secure messaging app that you can use if security of the data you exchange online is a major concern for you. There is an unusual story behind the development of this app. It was initially designed and developed by a team of Japanese technical specialists in order to facilitate communication post the devastating earthquake in the region in 2011.
During the same year, the developers of this app introduced end-to-end data encryption to its platform. This data protection add-on was introduced in the form of "Letter Stealing" feature and was made available to all the users of this app.
Pros

Keep all your social media communications in one place.
Has plenty of unique features.
Can be used even on your computer.
Features a strong end-to-end encryption security.
Cons

Maximum users are from only the Asian countries.
Encryption protocol used is proprietary.
The calls made to landline will cost you extra.
4.8 Signal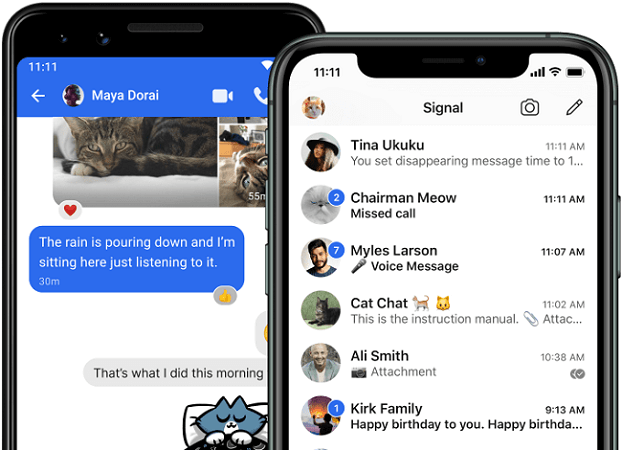 Compatibility: MacOS, Windows, Linux, iOS, and Android.
Price: Free
Signal is one of the best encrypted messaging apps for all those users whose main concern is the protection of their data on the online communication platforms. The data encryption protocol used by this app is considered to be one of the best in the industry. This app offers almost everything that a user may need including voice and video calls, SMS, file sharing, group chats, disappearing messages, etc.
Once you use this app you will realise that there is no unwanted appearance of ads through which agencies generally collect user data. Since it is an open source platform, almost anyone can check this app for vulnerabilities, if any. The only flaw which this app seems to have is that you can never use it anonymously and would need your phone number to sign up on it.
Pros

Features disappearing messages.
Uses signal protocol.
Has open source end-to-end encryption.
Cons

You will need a phone number to register on this app.
4.9 Threema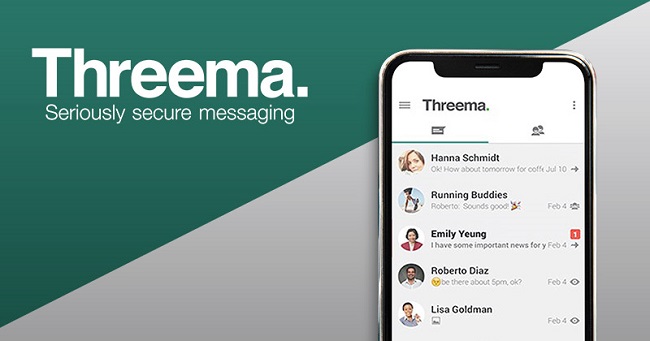 Compatibility: iOS and Android
Price: $2.99/device onetime payment for consumer license,
$1.55/device/month for business license,
$2.10/device/month for enterprise license,
$10.06/device one time payment for education license
Unlike the other messaging apps, Threema is a paid messaging app which can be considered to offer a secure platform to exchange messages. This app uses E2EE for the encryption of texts and calls. It is not a fully open source platform and has been previously audited a few times.
The makers of this app claim that the messages sent through Threema get deleted after a period of time. However, there is no proof for this. Users can protect their individual chats by activating the "Private Chats" feature.
Pros

With the generation of a unique key, you can use this app anonymously.
Uses an open source platform making it very secure.
Cons

The claims of the messages being deleted after a period of time has never been proven.
It collects metadata which can be given out to government officials when requested.
4.10 Dust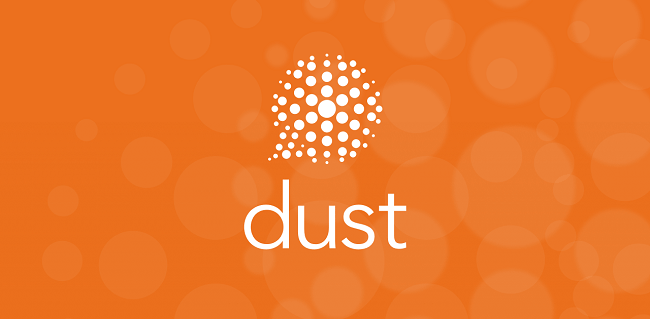 Compatibility: Windows, MacOS, Android, and iOS.
Price: Free
Previously known as Cyber Dust, this best privacy messenger app has been developed specifically to address the safety and privacy concerns posed by other messaging apps. The functioning of this app is very much similar to that of Snapchat. This app features the amazing ability to erase the messages that you sent to someone else.
None of the messages exchanged through Dust are stored in any phones or servers. The messages exchanged via this platform are encrypted heavily which means that it is not accessible to anyone other than you. The main idea behind creating an app like Dust was to provide a messaging platform with enhanced security and privacy.
Pros

Has all the standard features that must be there in a messaging app.
The messages on it disappear after a while.
Detected if the receiver takes a screenshot of the conversation.
Cons

Cannot be used as the main communication platform as the messages are not stored anywhere.
Not many of your friends would be using this app.
4.11 Wickr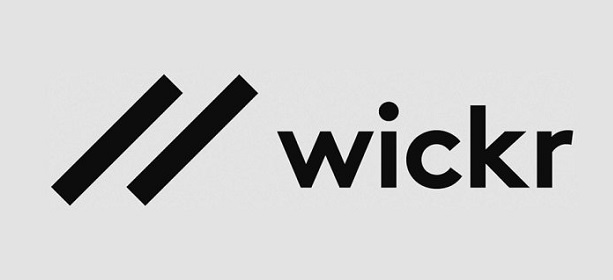 Compatibility: MacOS, Windows, Linux, iOS, and Android.
Price: Free for a normal account, up to $25/month for an enterprise account
In terms of security and privacy, this app is the best secret chat app. Since it is an open source platform, it does not collect any form of metadata or any other user data. With the "Shredder" feature, any message you sent via this app can be deleted by you. You don't even require an email ID or phone number to register on this app.
The only downside to this app is that it is not as famous as the other messaging apps like WhatsApp, Telegram, and Signal. Since it was initially aimed at enterprises and businesses, its marketing efforts were not directed towards the common people.
Pros

You do not need an email ID or phone number to sign up.
An open source platform.
Does not store metadata.
Cons

Can be challenging to shift from other messaging apps.
Hardly a few people use this app.
4.12 Cyphr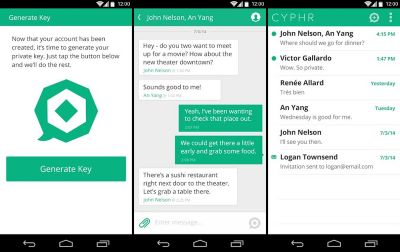 Compatibility: iOS and Android
Price: Free
If you are looking for the best app for secret chat, you must consider Cyphr app among your other choices. This app is especially useful when you need to send a private message across in a secure manner. This app is very easy to use and is available for free to download. This app is developed by the well-known company, Golden Frog.
This company has been known for creating a VPN product which goes on to show their level of professionalism when it comes to data security and privacy. This messaging app is zero knowledge, which means that any message that you send through this app cannot be seen, read, shared, or decrypted by anyone else other than you.
Pros

You can remain anonymous on this platform.
It is very secure.
Can be downloaded for free.
Cons

Used by only a small community of people.
Does not support voice or video calls.
4.13 Silence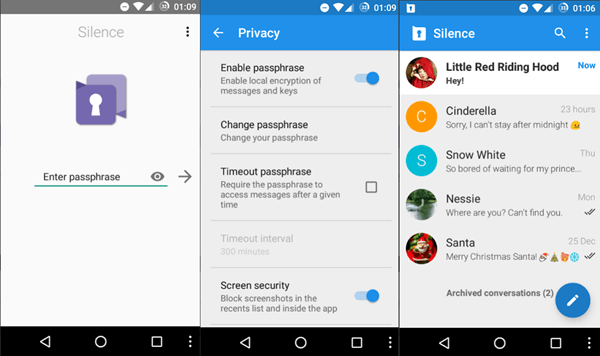 Compatibility: Android, iOS, and Blackphone.
Price: Free
This is a very simple and straightforward app that has been developed around the idea of keeping privacy and security of your app as prime considerations. It works alongside MMS and SMS rather than the communication protocols that function over the web. This app is a spin-off of the more popular signal app and uses a similar open source platform with top-tier encryption security.
It can be audited by anyone to check for vulnerabilities and see whether it can be unlocked or cracked by hackers. To ensure the safety of your conversations through the Silence app, you need to enter a paraphrase which is unique and strong for unlocking the app. This app also ensures that the person who receives your text cannot take a screenshot of it.
Pros

It is an open source platform.
Encryption standard is top-tier.
Cons

SMS through this app is not as secure as IM.
4.14 CoverMe

Compatibility: Android, iOS, and Windows.
Price: Free
When you start using this app, you need to first create a passcode which you would need to enter every time you try using this app. This way your content remains secure because even if someone manages to access your phone, there is no way they can access the contents stored in this app unless they know the secret password.
The best part about this app is that you can send self-destructing messages to your friends. You can enjoy unlimited services of this app for absolutely no cost whatsoever. Combine these amazing features with end-to-end encryption, and that's when you have the perfect secure messaging app, CoverMe.
Pros

You can make free calls securely over this platform.
Has the feature of self-destructing messages.
All sensitive files can be kept protected in Vault.
Cons

If you happen to lose the password for this app, there is no way in which you can retrieve it.
4.15 Wire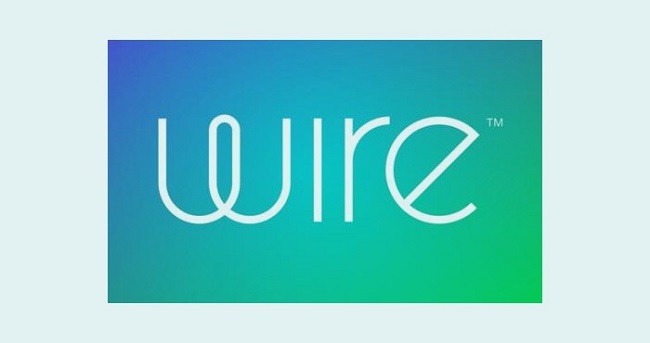 Compatibility: Linux, MacOS, Windows, iOS, and Android
Price: Free for a basic account, $9.50/month for an enterprise account
When you first come across this app, you would instantly get the feeling that it ticks all the right boxes of features to make it the perfect secure messaging app. This app complies strictly with all the data security and privacy laws laid out by the European Union. It is an open source platform, which means that it is open for anybody to audit it and find vulnerabilities, if any.
You can use this app on any of the popular internet browsers like Chrome, Firefox, Opera, and Safari. However, this app does have a few shortcomings, a major one being that it collects some amount of information and personal data of the users.
Pros

It is an open source platform.
Can be easily used on most of the internet browsers.
Complies strictly with the data laws of European Union.
Cons

It does collect a few personal data of the users.
4.16 SureSpot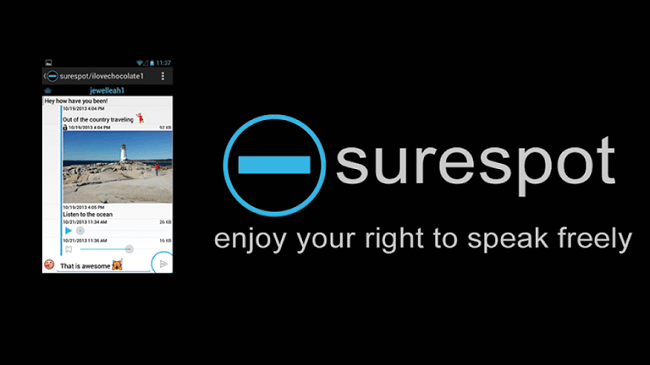 Compatibility: Android, Windows, and iOS.
Price: Free
Every image, file, text, voice, or any other data that you send to your contacts via this messaging app remains protected with the use of end-to-end encryption technology. This means that without your permission, nobody else can read the conversations that you have over the SureSpot app.
SureSpot ensures that no data of yours is shared anywhere else. This app transfers all your messages in a conversation securely to other devices with which you may wish to sync the contents of this app. It features an easy-to-use interface with pretty straightforward navigational controls. The downfall of this app is that you may not find many of your friends and family using it, which defeats the entire purpose of it being a messaging app.
Pros

Features a strong end-to-end encryption for data protection.
You can use it anonymously.
The messages are stored safely.
Cons

Only a limited number of users are there for this app.
Compatibility is also limited.
4.17 Pryvate Now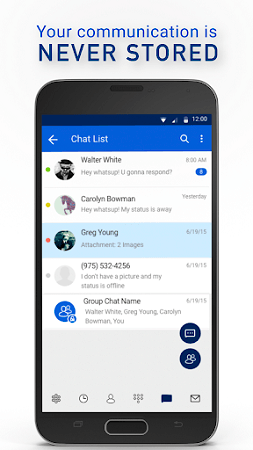 Compatibility: Android, iOS, and Windows.
Price: Free with in-app purchases
Pryvate Now was basically developed for attending to the messaging requirements of business and professional users. Even in its free-tier, this app offers some incredible features that are worth noting. This secure messaging app offers RSA-4096 encrypted IM and voice messaging functions along with the self-destructing messages.
If you are willing to spend a little extra for the premium account of this messaging app, you can access superior features like private video and voice calls, private email, secured conference calls, anti-blocking measures, and file storage, which enables you to utilise this app from any part of the world.
Pros

Features a simple user interface.
Triple-layered security is offered by this app.
Offers a 30-day trial for free.
Cons

For using the premium features of this app, you will need to pay for it.
After the 30 day free trial, all the useful features get disabled on its own.
4.18 Voxer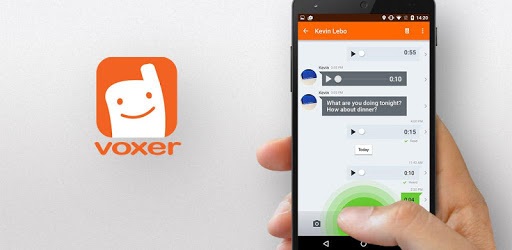 Compatibility: Android and iOS.
Price: Free with in-app purchases
This app uses a voice-oriented approach to communicating online which is considered the most secure video chat app, unlike the other apps in this list.It works similar to a walkie talkie by featuring the push-to-talk button. The users can either listen to these voice messages live or can even check them out at a later time that is convenient to them.
On this app, you can create a group of up to 500 participants. It uses the Signal protocol to offer the option of end-to-end encryption for the messages. Although this app is free, with the premium subscription, you can unlock additional features like admin controls for chats on group, unlimited history of your messages, hands-free walkie talkie, etc.
Pros

Features the ability to allow users to answer to the messages using voice.
Very easy to set up and use.
A non-intrusive app.
Cons

At times even the old messages that are already read by the user show up as new messages.
Has a few technical glitches due to which it doesn't function as effectively as it claims to.
4.19 ProtonMail

Compatibility: Windows, MacOS, Linux, Android, and iOS.
Price: Basic version for free,
ProtonMail Plus for up to $5/month,
ProtonMail Professional for up to $8/month,
ProtonMail Visionary for up to $30/month
This app allows the users to encrypt the mails that they send. It features self-destructing messages, which means that the messages sent via ProtonMail gets deleted after a period of time automatically.
This app works like any other email app like Gmail. However, it takes the security up a notch making it a better choice when it comes to exchanging sensitive data online via emails. If any of the email you send is very private and sensitive, you can protect it with a unique password and limit access to it.
Pros

Provides the feature of end-to-end encrypted emails.
Messages get expired and vanish after a period of time.
You can protect your messages with a unique password.
Cons

There are limits on daily messages even on the premium versions.
More useful for professionals.
5. How Can I Stay Safe?
All the above apps are some of the best secure messaging apps in the market. Although they feature great features, they do lag behind due to the limited security and privacy features provided by them. To ensure that the data on your phone remains safe irrespective of the messaging apps you use, we recommend you to download ClevGuard Anti-Spyware.
This app not only identifies the malicious files stored on your phone but it also detects spyware on your phone effectively. It is compatible with almost all Android phone models.
Features of ClevGuard Anti-Spy app:
Scans and deletes spyware
Deletes unwanted files in one click
Safe whitelist files you can create by yourself
Offers real-time data protection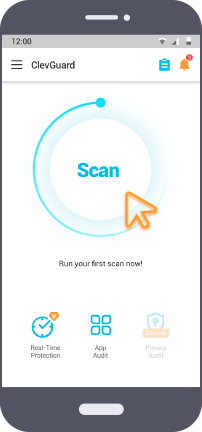 This app provides enhanced privacy protection to all the contents you use. It can easily detect any kind of unwanted intrusions virtually in your phone and is highly recommended.
Bottom Line
Although there are a number of free and paid secure messaging apps available online, selecting the most secure chat app can be a real struggle. Since this article outlines the good and bad of the best secure messaging apps available online, you can easily pick the messaging app which suits you the best. No matter which messaging app you choose to download, ensure that you install ClevGuard Anti-Spyware for maximum data protection.