Question:
Is it possible for someone to read and intercept my text messages without me knowing?
Smartphones have made communication super convenient. However, we often hear news of leaking of private chats and messages which makes us cannot ignore the security of smartphones and apps.
While iPhone users are at relative peace thanks to their tight security, Android users always doubtful. Though hard to believe, it is possible for someone to read and even intercept your text messages without your awareness.
The ramifications of your personal information falling into the wrong hands are hard to imagine.Therefore, in this article, we will introduce how to stop someone from seeing my text messages on Android and protect your privacy effectively.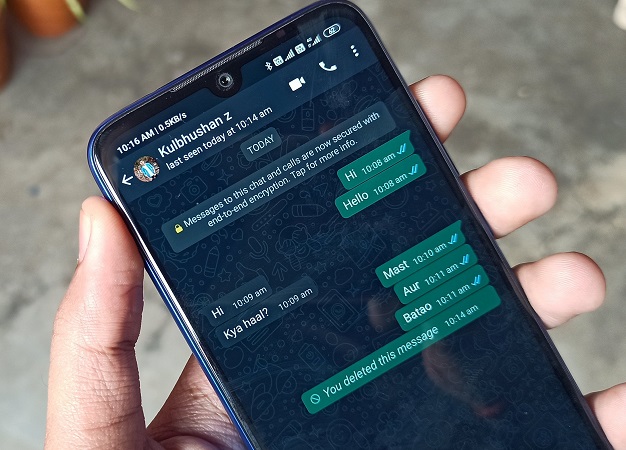 Part 1. Who Can Read Your Text Messages?
Tracking activities of users on their smartphones have become quite easy among the hacker community. If the users are not serious about their smartphone's security, anybody with correct knowledge can track everything they do with their smartphones. Here are the possible scenarios of how your smartphone can be spied.
Spying Through Wi-Fi Connection
When you are using someone's hotspot, you are literally giving the person permission to track your smartphone activities. Hacking becomes extremely easy when you are using a public hotspot as the security setting is minimal.
The hacker can track all the activities you are doing through the Wi-Fi session, intercept your messages, steal data store in your phone. Most importantly, dump a spy app on your device to track your future messages and even hack your phone's camera.
Hacking Through Spyware
Spyware is a malicious application that users install thinking that it is a regular app. Sometimes, it can get downloaded in the background when you click on a malicious link that you come across while reading emails or surfing websites. Spyware stays hidden in your smartphone, and it transfers all your sensitive data to hackers secretly.
It can also perform text messages intercept as well as forward incoming messages to the hacker's phone. Moreover, it can record pins and passwords, and hackers can log into your accounts and read messages remotely without your knowledge.
Reading Messages Through Physical Access
If someone gets physical access to your smartphone, he can read the unread messages that appear on the locked screen. If he can unlock your phone, he can install a spyware, a keylogger, and even read your messages on various apps. With a keylogger, he can get to know everything you type on your smartphone. This includes your private messages, passwords of various accounts, and much more.
Part 2. How to Stop Someone from Reading Your Text Messages on Android?
Is there a way to stop someone from reading my text messages on Android? Yes for sure! We have sorted out some methods that you can stop someone from reading your text messages. Let's explore them together!
Method 1. Use ClevGuard
Using a powerful anti-spyware software such as ClevGuard is the best way to stop someone from reading your text messages. ClevGuard uses cutting-edge technology to stop some people from reading your text messages. It also offers complete data security protection.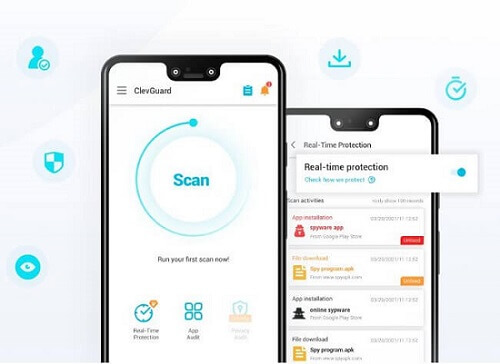 Firstly, let's check the main functions of ClevGuard:
Scan All Apps and Remove Spyware

One of ClevGuard's strengths is its efficiency. ClevGuard does a fast scan of the user's mobile apps. The scanning report is available in a matter of seconds. Furthermore, by using ClevGuard, you can find out the hidden spy app on your Android, and then stop someone from reading your text messages, as ClevGuard can completely remove spyware.

Real-Time Protection

ClevGuard ensures that your device privacy 24/7. In addition, it continues to scan all app usage. You'll receive notifications if any app is detected as spyware to read your text messages and other phone files.

Check Email Breach

If you feel that your email is breached, but are not sure about it. Don't worry, you can use ClevGuard's email breach check feature to verify it. If your email data is leaked, you can take the action immediately.

Protect Microphone and Camera Privacy

Sometimes your privacy can be leaked by your phone camera and microphone. We know this is horrible. How to prevent it? Using ClevGuard, it will notify you once there is any app that wants to take pictures or record your conversation.

Clean Junk Files

Moreover, ClevGuard provides the feature of clearing your phone junk files. Amazing right? With ClevGuard, you can not only free your phone storage and speed up your phone.
How to Use ClevGuard to Stop Someone from Reading Your Text Messages
Are you wondering how to use ClevGuard to stop someone from reading your text messages? It's easy, you can stop someone from intercepting text messages only in 3 simple steps.
Step 1: Download and Install ClevGuard
Click "Google Play" button below and then you can start downloading and installing ClevGuard.
Step 2: Start Scanning and Detecting Spyware on Your Phone
Once the installation is done, you can click "Scan" button and then check which spyware is accessing your text messages.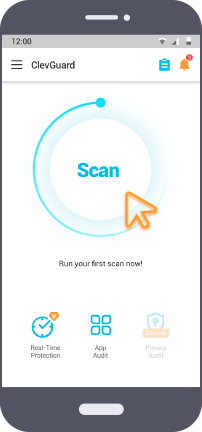 Step 3: Stop Someone from Reading Your Text Messages with ClevGuard
You can get a scanning report after scanning. Then checking the result to see if the spyware on your phone and remove it to stop someone from reading your text messages completely.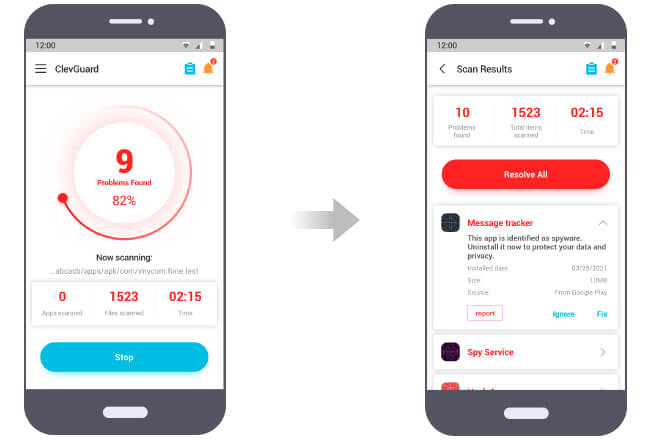 Method 2. Lock The Messages
It is easy for anyone to watch you enter your password, PIN, or pattern when you unlock your phone in front of them. They can use the same to access your phone in your absence when the phone is away from you. Once they get through, they can easily read the messages unless you double protect them.
You should install an app locker from Google Play Stores. An app locker locks the selected apps with a PIN, password, or pattern. Therefore, even when someone opens your phone lock physically, he has to know the PIN or password you have set in the app locker to read the messages. The most secure thing is to use a fingerprint lock so that no one can access your phone or app in your absence.
Method 3. Manage Access Permissions
An obvious question might arise how can I?tell if someone is reading my text messages? There are many apps installed on your phone that are secretly accessing your messages and photos. As a matter of fact, you yourself gave them permission for access unknowingly when you installed them.
If you find any app having access to messages for no reason, you can be certain that those apps have the potential of reading or transferring your messages secretly. To know which app is having what access permission, you should go to Google Play Stores and install ClevGuard anti-spyware.
ClevGuard anti-spyware app has a dedicated Access Permissions Management where you can see the installed apps and their access permissions. You may consider non-essential apps that are having access permission for messages and photos without any purpose.
Moreover, ClevGuard anti-spyware labels apps as safe, warning, and dangerous based on their access permissions and background activities. You can uninstall unsafe apps to block their developers from reading your messages.
Method 4. Disable Lock Screen Message Preview
Every messaging app shows notifications on the screen when the phone is locked for user convenience. When you are away from your phone, anyone can read the message previews or snippets, and your privacy can be hampered. If you think such a situation can occur, you can turn off the lock screen message preview on your Android smartphone.
Step 1: Go to Settings of your phone.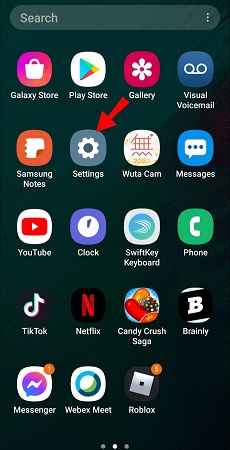 Step 2: Tap on Apps & Notifications option.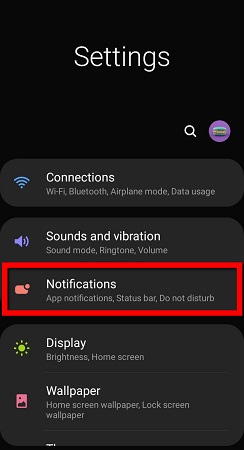 Step 3: Turn on Don't Show Notifications option.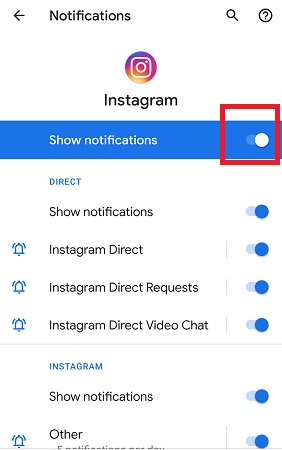 These options can vary for different Android phones. You can refer to the manual for better clarity. Moreover, there are some apps like Instagram where you can exclusively disable locked screen message previews.
Part 3. How to Prevent Other People from Reading My Text Messages?
Although we have introduced excellent solutions to you to stop someone from reading your text messages, daily protection is quite essential. To continuously help you protect your privacy, we have listed some preventive tips which can help you prevent attacks.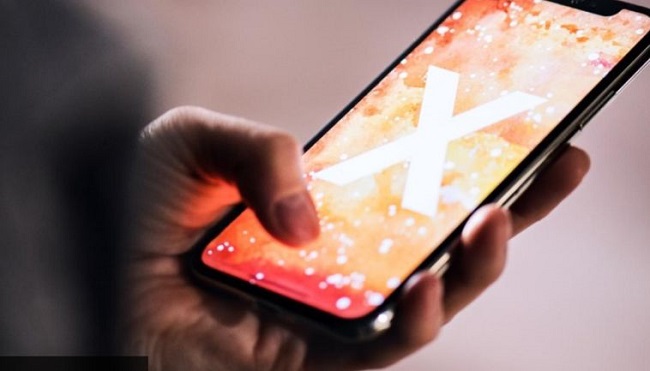 Tip 1. Install ClevGuard Anti-Spyware
ClevGuard anti-spyware is a highly efficient and trusted app that not only detects and removes spyware apps, but also provides a real-time protection feature, which can effectively help you prevent someone from reading your text messages and other files. It will alert you as soon as it detects downloading on the spyware app or suspicious files.
Installing ClevGuard on your phone, it would be the simple and convenient method to prevent someone from viewing your phone.
Tip 2. Be Careful About Using Wi-Fi Connection
Make it a resolution never to use a public hotspot. Public hotspots can be tempting as they are free of cost, but cheap things always have their own drawbacks. Therefore, whether you are in an airport, hotel, railway station, or shopping mall, avoid using free Wi-Fi connection. You should only connect to hotspots of very trusted people, and that too when there is an urgent need.
You should also be careful when you connect to someone's hotspot. Do not do any account login or online transaction, as well as send private messages when you are connected through someone's Wi-Fi. Most importantly, turn off Wi-Fi on your phone as soon as your work is done. This would block any tracking activities going on when you were connected.
Tip 3. Enable Two-Factor Authentication
If someone has installed a keylogger app on your phone secretly or you have downloaded thinking it is a regular app, the hacker can get regular update on what you are typing. After some basic analysis, he can discover the passwords you are typing for logging into various accounts.
Even if any hacker gets passwords of your various online accounts, if you have two-factor authentication enabled, he will not be able to get through. This is because, in two-factor authentication, one needs to provide OTP sent to the linked mobile number after entering the password. This OTP keeps changing every time, and hence, the previous OTP that you have typed will not be useful.
Summary
It is high time for you to take steps to protect your smartphone by tightening the security. No matter how premium your Android phone is, it is vulnerable to spying and hacking all the time. Therefore, install a trusted spyware detection app like ClevGuard for 24/7 monitoring. Take all the other measures you can to prevent an intruder from getting access to your sensitive data.