Question: Can someone see you through your phone camera?
Yes. Hackers are looking for cowardly ways to abuse phone camera. They can remotely access your phone camera to take pictures and videos for several purposes.
So it is imperative to find a way to protect your phone from spy and remove hacker from phone.
How To Know If Someone Is Watching You Through Your Phone Camera?
Can hackers see you through your phone camera? Hackers can spy camera in different possible ways. But how can you know it? There are four signs to check if the hackers are using your webcam to spy on you. Please view this signs and find correct way to remove spyware from your phone.
Is the camera misbehaving?
Did you see unknown files appear in your device storage?
Does indicator light gives you any strange sign?
Check your background applications.
Detect Spyware with ClevGuard
The best way to know if someone monitor you through your phone camera is using ClevGuard to check for spyware. All Android users can use the ClevGuard Anti-Spyware app to enhance the protection of their phones. It helps to scan and test the spy software and keep the phone safe in real-time.
Step 1: Download and install ClevGuard anti-spy app
Download the ClevGuard anti-spy app by click "Get in on Google Play" and finish installation
Step 2: Scan your phone
Now click on the ClevGuard app and open it. After it, press the Scan button and see the spyware installed on your device.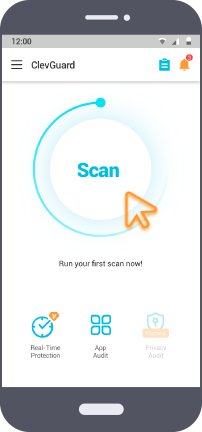 Step 3: Remove spyware
In scan results you can see how many problems have been found,now you can know whether the monitor app on your phone. Open each of them, there are three choices you can make,click Fix to remove spyware, Report uncertain dangerous, or  security app.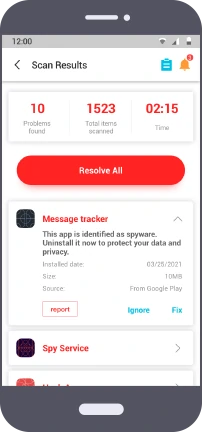 You can take some elementary steps to keep yourself secure. It doesn't matter which type of device you are using. To increase simple security measures, you can choose to do these acions.
Open ClevGuard Real-time Protection Mode
To get real-time protection, you should go to download the ClevGuard and open its real-time protection mode.
These are some fictions ClevGuard can provide to you:
24/7 scanning mobile's download documents.
See the fallacious file.
Show 100+ records.
Be Careful Of What You Install
When installing the app, you may be asked for different permissions and read additional files to reach your camera or listen to the microphone. These abilities are legitimate but potentially open to abuse: Think before approving the application. This is especially true for Android users, as Google's app testing process isn't as rigorous as Apple's, and even unfortunate apps have been reported to spend months on the Play Store before taking the spot and down.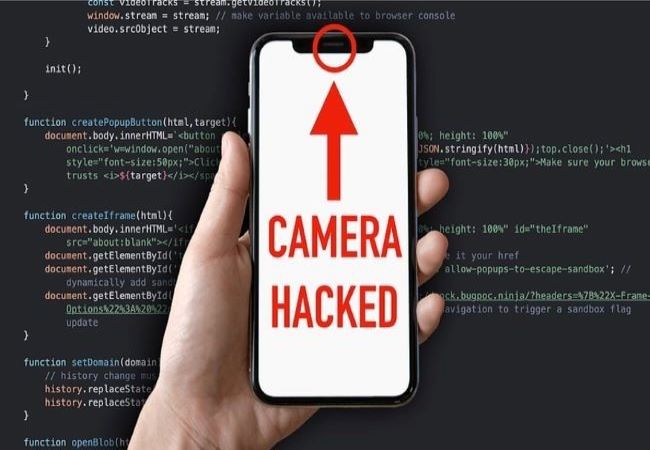 Beware Public Wi-Fi
Open wifi is very dangerous for your mobile security. Someone can monitor your online activity. You should not ignore this threat. If you have any doubt about an open network, don't connect it. Instead, you should use a VPN tool such as CyberGhost or TunnelBear, which is freely available.
Lock Individual Apps
You can lock your apps for their security if anyone cracks your lock screen but can't reach your email and banking app without other PINs. Unfortunately, iOS users can't lock individual lock apps, but they can use folder lock.
Secure your phone with PIN and passwords
Phone security is quite necessary to avoid hacking. Everyone uses passwords for phone security but it is not enough. You have to use a strong password that can't be cracked easily. Password with 16-20 characters as a minimum with mixed numbers, letters, upper/lower cases, and symbols. Never use your birthday, pet name, or the same password for different accounts.
Moreover, you can also use a PIN to secure your phone. PIN can't be everything to secure your device, but peace of mind dictates if you lost your phone and the man who finds the phone will not be able to use it. A PIN can be a four to six digits passcode, and you have to never share it with others to avoid hacking.
FAQs
How can people hack your phone camera?
Hackers are developing new concepts to spy on our personal information daily. They can hack into the camera of your mobile phone by Install spyware on your phone or attacking your phone through public Wi-Fi or Bluetooth.
Can your phone take picture without you knowing?
Yes, it can. Hacker can capture video with Spyware like FlexiSpy using the phone's camera. This is a precautionary measure in which the video can be recorded without the victim knowing anything. In addition, they can easily transfer automatically to the online database.
Conclusion
Nowadays, with the electricity technology increasing, a lot of people are worried about the security of electric products, especially mobile phones. Above, we have discussed all possible ways of monitoring by mobile phone camera in detail.
We also mention the most specialized applications, such as ClevGuard anti-spyware, which can protect your security from being discovered. It's unparalleled to protect you from hackers. You can use it to see malicious software and many others.