Your smartphone can store a lot of private data. You are using it daily to send and receive text messages and emails, listen to voicemail messages, make calls, receive and share videos and photos, use social media,etc. What would happen if someone could access your phone with all personal information? It can be a disaster.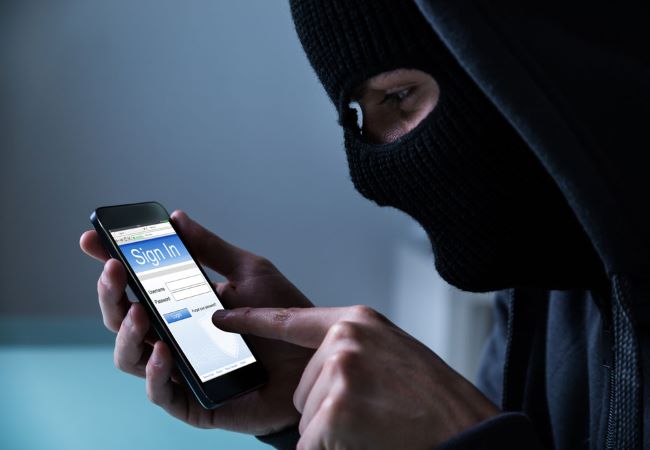 Due to many purposes, someone may need to spy on the activities that are the basis of your smartphone. Old friends and ex-close relatives are possibly surprised at what you do when they are not around. Important information about your business may be saved on your smartphone. Anyone can steal your credit card balance and your bank account information. Therefore, is somebody keeping an eye on your device? Are you searching about "is my phone spying on me", but could not get a satisfactory answer? Then this blog post is mainly for you.
Is Someone Spying On My Phone?
Hackers, criminals, and even people we know, there are other phone technology sources and motives, such as our spouse or employer, hacking into our phone and invading our privacy. Whether it's a prying boss or a stranger companion, no one should spy on your phone or laptop. But what will happen if stalkerware is somehow installed on your devices? These software tools are hidden and challenging to find.
Dealing with programs run by your employer on company-owned devices is different from the person you know you are personally trying to spy on. When your bosses monitor your activities through spying software, your employers should tell you that they are watching rather than keeping a secret from you. Also, with company-owned phones and laptops, it's at all times safe to assume you're being monitoring.
How Does Spyware Work?
Spying on windows operating systems is much easier, but hackers are also looking for clues to find ways to spy on Apple and Android's OS.
Some common ways that your device is most at risk.
You will be at risk when you Download content from untrustworthy or strange sources.
When you accept a pop-up ad or point without reading the content, your system may be affected.
Your device will also be at risk when you receive and open emails from unknown sources.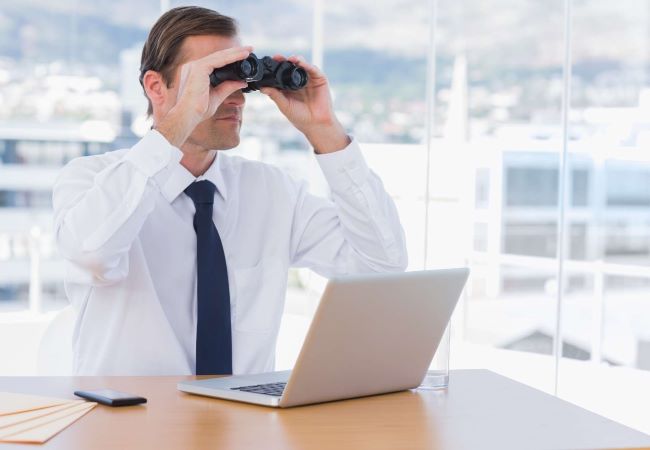 The Risks And Effects Of Phone Spyware
Spyware is a kind of virus that is precisely planned to steal data by monitoring your activity on your system. Spyware writers have many different purposes, mainly fraudulent financial advantage. Moreover,Spyware can also perform other illegal things. For example, it can capture screenshots of the sites you visit and or even sign-in in your typing keys to creating pop-up ads. In this way,it can steal your bank login details. We can say that spyware is self-replicating.
Enable internet fraud
Spyware can rearrange the browser's site every time an ad is opened or redirected to a web search and control the given results, disable the search engine. That helps to attach to the Net. Extremely dangerous, Spyware will track web browsing history and record words, PINs, and other personal information, for example, credit card numbers or banking details.
And all of this information can be collected and used for identity theft. Spyware can modify a firewall setting of a smartphone secretly, allowing more malware to be configured in the security settings. Some versions of Spyware are so effective that they detect when the device is trying to delete it and spoil all efforts to do so.
Real-time GPS tracking
The Global Positioning System (GPS) can also monitor the location of the device owner. Your device is the primary tool for hackers to search your position or keep an eye on your private info. GPS tracking on your device is no harm; then hackers can utilize these details to track your home address, your shopping habits, and where your children go to school as well as.
Gather data and transmit it to the third party
Spyware comes to hack into your computer device, collect data about you and send it to a third party without your consent. Spyware may also refer to legitimate software that keeps an eye on your data for commercial objectives, such as advertising.
Mobile phone turns slowly
The same as a computer, malware working in the background can slow down your phone, and if you think your phone used to be fast and now it gets stuck too much, it can get infected.
How To Stop When My Phone Is Spying On Me?
Spyware is a potential risk of cell phones. So, how to check phone for spyware? These are two methods as below.
Option 1: Remove spyware manually without software
Firstly, press your device's "Power" button, then hold this power button for a few moments and restart to safe mode.
Arrange your apps, when you find the malicious app, press "Uninstall" to delete it from your phone.
Next click to uncheck the box, tap "Deactivate" in the pop-up list. Now you can uninstall the app that you weren't able to before.
Start your device again, turn it up in normal mode.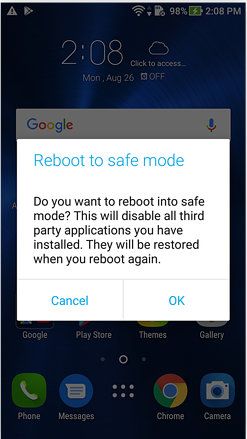 Option 2: Remove Spyware And Protect Smartphone With ClevGuard
You just need three simple steps to remove spyware on your cell phone.
Step 1: Download and Install ClevGuard
Press "Get it on Google Play" and skip to download page to download and install ClevGuard on your smartphone.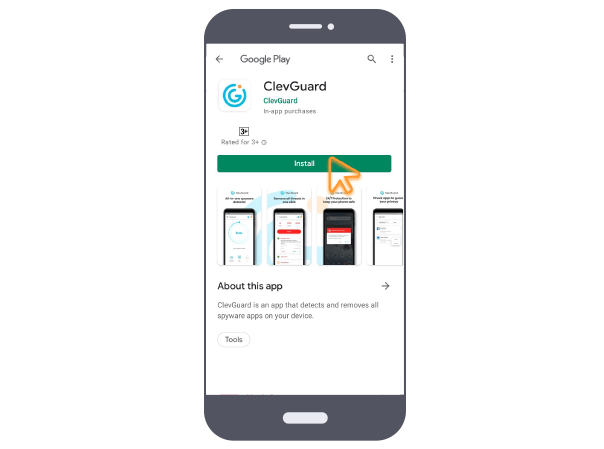 Step 2: Check for Spyware on my phone
After install successfully, please open ClevGuard anti-spyware, press the "Scan" button to find whether the spyware downloaded on your phone.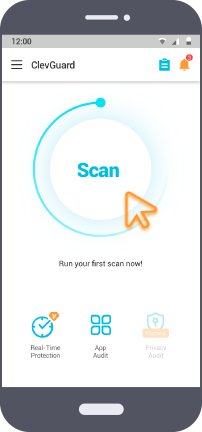 Step 3: Remove the Spyware
After scanning, ClevGuard will list the suspicious applications. You can click the "Fix" button to remove the spyware in a few seconds. If you cannot ensure the security of the app, you can also choose "Report" it. For the safe software, you can choose "Ignore" it.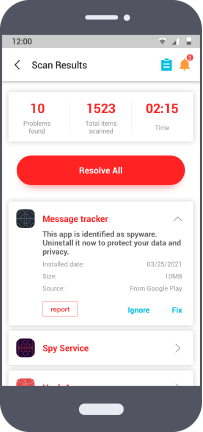 Protect Your Smartphone With ClevGuard In All Directions
Real-Time Spyware Detector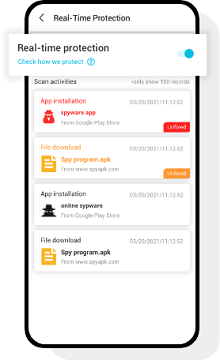 Using ClebGuard 24/7 heuristic scanning phone's download files. It will highlight the abnormal documents and display 100 records.
Scan spy automatically by ClevGuard
Scan phone files and add them to the whitelist or Blacklist. Files that add to the whitelist can bypass the next time risk warning. You can move files from the whitelist and report the app to blacklist freely. ClevGuard also has notification reminds with unsecured App.
ClevGuard Cheap Price and Free Update
ClevGuard provide a much cheaper plan for users to get the best anti-spy software to keep data safe.You can upgrade the software and get the latest features with no extra cost when updates are available.>
Final Words
In this digital world, our mobile phone becomes the home of all our information storage. It it the center to save information from our personal life to business. While it is the easiest device to be traced to steal our personal and other sensitive information which can be illegally used. That's why the security of this device is our top priority to remain protected.
There are different anti-spyware apps to keep your mobile phone safe from data attackers. ClevGuard is also from one of them. It will help protect your device in real-time from all possible spying threats. You can remove spyware from your device within a single click.