Are you concerned about your phone safety and worried about if your phone is tapped? Indeed, nowadays, if someone has got the related resources, practically they can access your phone easily.
Sounds horrible, right?
However, don't be panic! In this article, we will discuss how to stop someone from accessing your phone remotely in detail. If you want to safeguard your phone privacy, just keep reading!
Can Someone Access My Phone?
"Can someone access my phone?" The answer is absolutely Yes.
Your phone has sensitive personal data on it. Let's admit it, that device controls your whole existence. Frequently, people use a mobile device to send emails, make calls, hear voicemails, take and share films and images, utilize social networks, and far more.
However, with the development of technology, someone can access the phone and get all your information by using a spyware. If this thought comes to anyone's mind, it is definitely the worst thing. Because if someone had access to almost all of your personal information, that might turn out to be a nightmare.
Moreover, spyware is very tricky which frequently is packaged with apps that appear to be beneficial, such as download managers, registries cleaners, etc. Also, it may be spread via phishing, which automatically sends emails containing links that really when you clicked, install the spy programme.
How to Know that Someone is Remotely Accessing My Phone?
Who would ever want to keep an eye on you? What else are they going to do with the information? Someone may wish to keep track of your mobile phones for a variety of reasons.
Before you can discover a solution, you must first figure out how you should know if someone is snooping on your smartphone. There are some signs below might help you determine whether or not it is snooping on your phone.
Battery Is Being Depleted:
The deterioration of battery life would be the next major issue that will raise red flags. We already know how long anyone smartphones' batteries are expected to last as well as how much extended they can last. However, if smartphone battery life suddenly decreases, it's a way to discover out what surveillance software works on your smartphone.
An Increased Data Usage:
Another symptom of a hacked phone is indeed an abnormally high data bills only when the month ends which might be the result of malware as well as spy applications operating within the background and relaying data back to something like a server.
When You Get Mysterious Texts:
If receiving unusual and unknown texts which is not a good sign. A message and even a phone call may hijack your smartphone, but unless you permit it. The smartest way you can really do is avoiding downloading software from unfamiliar or untrusted sources.
How to Stop and Prevent Someone from Remotely Accessing My Phone
As your phone can directly be contacted remotely, you should know how to stop and prevent someone from remotely accessing your phone. Simply said, don't see any shady or dangerous programs on your smartphone. Here we've listed the most effective methods to stop and prevent someone from remotely accessing your phone. Let's explore together!
1. Stop Someone from Accessing My Phone With ClevGuard Anti-Spyware
As spyware is a tricky software, if you want to know how to stop someone from remotely accessing your phone on a radical way, it requires a professional anti-spyware such as ClevGuard Anti spyware to finish this work, as ClevGuard is a top-notch anti-spyware which can scan, identify and remove spyware completely.
Also, it can protect your phone at any time and from anywhere. Let's see what ClevGuard can do for you: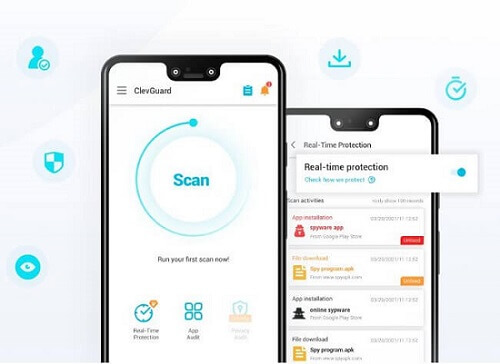 Scan All Apps Quickly and Remove Spyware Completely

Unlike other anti-spyware programs, ClevGuard scans all of your phone apps in a few seconds, saving you time from waiting for the scanning procedure to complete. Furthermore, after checking the scanning report, you can remove all spyware not only quickly, but also completely, which can effectively stop someone accessing your phone and protect your phone's security.

Real-Time Phone Protection

ClevGuard ensures that your privacy is protected 24 hours a day, 7 days a week, on your devices. Furthermore, it continues to track all app activity. You'll get notifications once any app shows the risk to your phone, and then you can take action accordingly.

Check Email Breach

In order to provide an all-round protection to users. ClevGuard also offers the funtion of checking email breaches. You can check if your email data is leaked or not via ClevGuard.

Microphone and Camera Protection

Do you know your privacy can be viewed by your phone camera and microphone? Shocked, right? Don't worry. As the best anti-spyware, ClevGuard will alter you if there are apps that recording your conversation and taking pictures via your phone immediately.

Clean Junk Files

Also, if you feel that your phone runs slow, it might be caused by phone junk files. Using ClevGuard, you can clean your phone junk files and speed up your phone.
How to Stop Someone from Accessing with ClevGuard - 3 Easy Steps
There are the easiest steps to stop someone's spying. Let's have a look:
Step 1: Download and Install ClevGuard
Tap the "Google Play" button below to download and install ClevGuard on your device.
Step 2: Start Scanning and Detecting Spyware
After the installation is done, click "Scan" to check if there is spyware on your phone.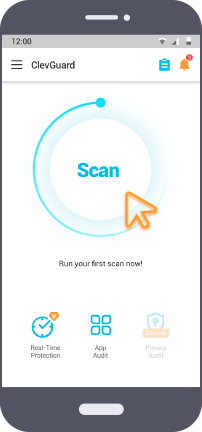 Step 3: Remove Spyware with ClevGuard
After scanning, you can get a scanning results and then you can find out if there is spyware on your phone, and remove spyware to stop someone from accessing your phone radically in a few seconds.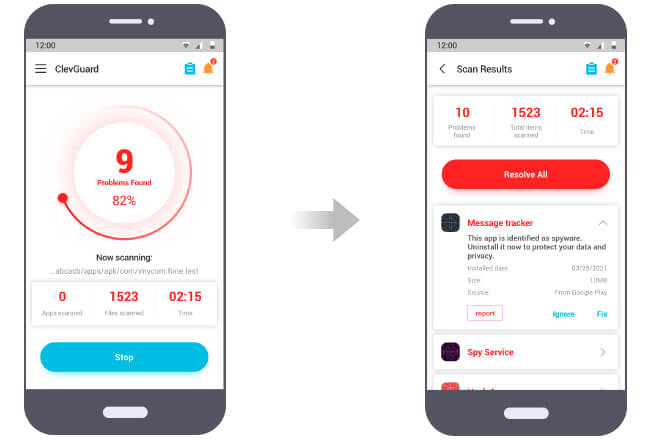 2. Tips to Prevent Someone from Accessing My Phone
Know Where Your Phone is At All Times:
First, you should know where your phone is, never try to leave it in a restaurant or any place where there is a chance that someone can see it or take it without telling you. Because you don't have the idea who wants to spy on you or who wants all the data which is stored in your phone.
Don't Let Anyone else Use Your Cell Phone:
Never give your phone to someone not for even a call. It can cause any harm to you. The worst thing which happens with people is using Bluetooth, when someone shares images or any file they don't know that a particular thing contains a virus which can become the purpose of hacking and getting into someone's phone.
Avoid Connecting to Public Wi-Fi without VPN:
Never use the public Wi-Fi, anyone can get access to your phone because public Wi-Fi is not saved at any cost, they can get into your mobile phone and can get access to your information.
Make Sure Your Phone's Software Is Up-To-Date:
Whenever your phone pops up the notification that you should update your software doesn't ignore it, it helps you to keep protected.
Be Careful What Apps You Use:
Many people download any kind of application and they don't know if those applications become the reason for hacking.
Avoid Clicking on Suspicious Links:
Thousand of people just click on the link without reading and knowing. Always avoid opening any link if someone sends you privately. These links are the sources of hacking.
Conclusion
Nowadays, our phone contains lots of our information and privacy. However, no doubt that spyware is one of the horrible tools to get your privacy. We believe after reading this article, you might have more ideas about spyware as well as keeping your privacy.
To keep your privacy, we suggest checking your phone regularly with specialized anti-spyware such as ClevGuard Anti-spyware, as the old saying, choose a professional to handle your affairs. You are your own protector, let's protect our privacy from today!