Phishing is one of the most common ways of scamming people online. It is a fraudulent practice where scammers impersonate websites and emails of legitimate organizations so that they can trick consumers and extract their sensitive information. For example, a scammer can send you phishing links via email, and you can get tricked to click them and land on their fake websites that look like legitimate websites of popular organizations. You can enter your login credentials and even credit card details, and such sensitive information will go directly to the scammer, and misery will follow for you.
Phishing attacks are so rampant online that there are more chances of you falling a victim than not if you are not conscious. Fortunately, there are ways to avoid getting scammed by phishing attacks. In this article, we will illustrate how to prevent phishing attacks and the steps you can take to avoid them.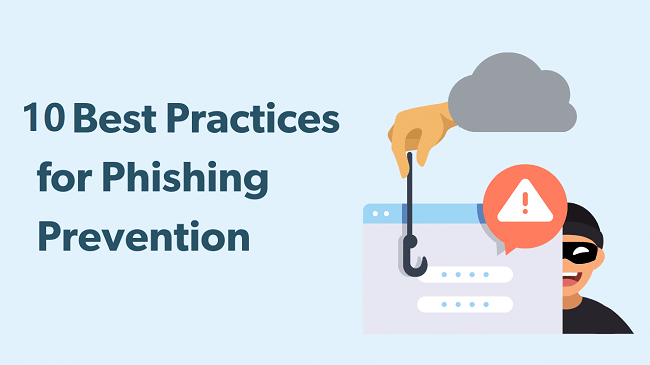 1. How to Identify Phishing
There are various methods scammers use to trick you so that you give them your personal information thinking that they belong to legitimate organizations. This personal information includes passwords of various account, credit and debit card details, and even social security number.
Once they get such sensitive information, they can get access to your online accounts, bank accounts, and whatnot. People lose millions of dollars every year due to the phishing schemes of scammers. Scammers keep updating their phishing schemes, but there are some common signs to identify phishing.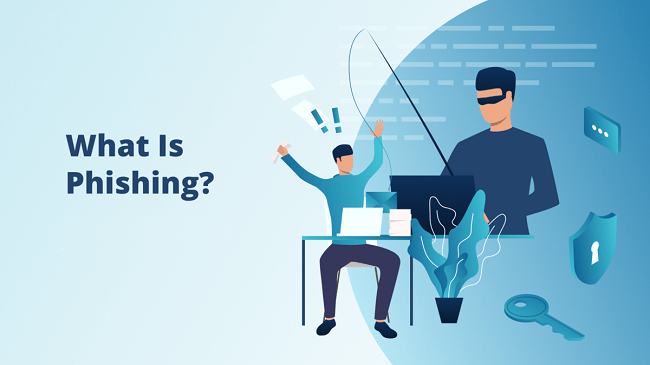 Phishing Emails and Text Messages Look Very Legitimate
A phishing email or text message may look exactly like an email or text message that you receive from banks, social media sites, online stores, and payment platforms. For payment-based phishing messages, they will ask you to share bank account and card credentials, online payment passwords. For social media or online store based messages, they will ask you to login through their phishing links so that you can get your login credentials.
The emails and messages will even use logos, banners, and headers of popular companies to trick you. For emails, you can check the email addresses, and you will surely find the addresses suspicious and not so legit. For text messages, you can look up the senders' numbers online to find that others have marked them scam or spam.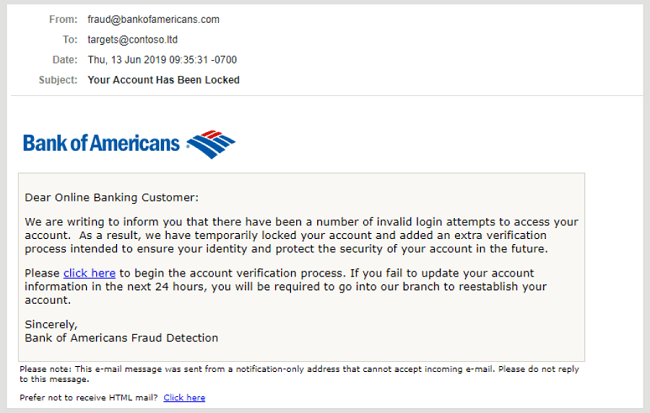 Phishing Emails and Text Messages Tell A Story To Get Attention
Most people ignore promotional emails and advertisement text messages. However, scammers play with the psychology of the consumers and hook them with a story that requires immediate action. This is how they trick you into clicking on a link provided in the email or text message to take action. For example, the common stories are as follows
- Urging you to login and check as they have noticed suspicious activities on your account.
- Asking you to login to fix a security issue with your account to avoid hacking.
- Asking you to confirm personal information immediately, otherwise, face consequences.
- Forcing you to check out an attached fake invoice from online stores.
- Tempting you to check out freebies, coupon codes and discount offers.
- Tempting you to share card details for an instant refund and monetary reward.

You should keep in mind that when you come across such tempting and urgent emails, you should not click any link or attachment in the email. You should verify the story in the email or text message by visiting the website of the company by directly typing the link on the web browser.
2. How to Protect Yourself from Phishing
Thousands and thousands of people fall victim to phishing attacks daily. In such a scary scenario, it is important to know how can you avoid becoming a victim of phishing. Here is the list of the top 10 ways to prevent phishing attacks.
1. Get Updated About Phishing Attacks
Scammers are coming up with new phishing schemes all the time. When you keep yourself updated with the common and the new phishing techniques, you will always be suspicious and identify them when you come across phishing emails, text messages, and other schemes. Surf online about phishing attacks and news, and you will come to know about the latest developments.
2. Don't Click On Links
Never click on any link that you receive through email or text messages. More often than not, they are going to be phishing links. Even when you have enough knowledge, you will not be able to distinguish between a legit link and a fake link.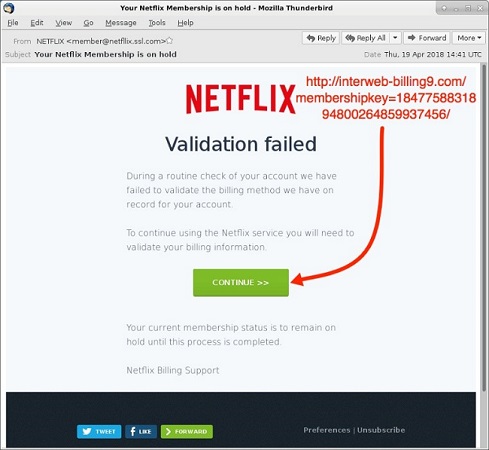 This is because the fake link may read exactly like a legit link with a difference in one alphabet. Instead of clicking the link, go to the website of the company directly from your web browser. You can even search the link on the search engine to spot it, if available.
3. Install An Anti-Phishing Extension
Most popular browsers have a section to install extensions. Extensions are add-ons apps, and an anti-phishing extension will continuously monitor the websites you open. If it detects any malicious website or phishing webpage, it will alert you immediately to close it. Netcraft Extension is a popular anti-phishing extension among Google Chrome users.
4. Watch Out For Unsecured Websites
When you open a website on the web browser, you need to check the address bar. If the website does not have "https" or a closed padlock at the beginning, you can deem the website as unsecured. In that case, you should not download any file and enter any sensitive information on the website. This is because such unsecured websites are easy target of hackers and scammers to trick users.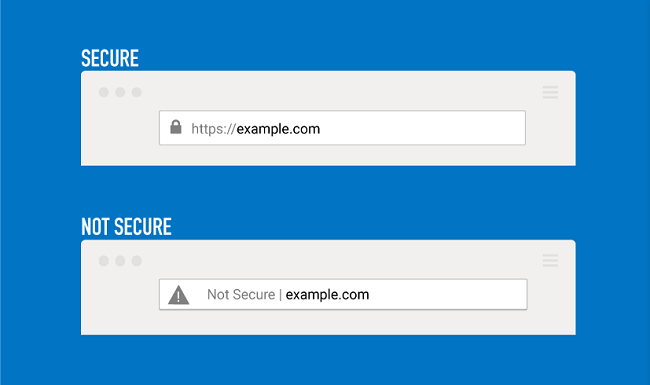 5. Use Different Passwords
Even after taking all the steps, you can fall victim to a phishing attack due to lack of attention or awareness. That is why you should keep different passwords and PIN codes for different accounts. This is because if the hacker gets holds of the login credentials of one account, he should not be able to use the same for other accounts.
6. Update Apps and Security Patches Regularly
App manufacturers and OEMs continuously send the users notifications to update their apps and systems. You should not ignore them even though they can be annoying at times. You should update your apps, browsers, and security patches for operating systems as soon as possible. These updates prevent scammers and hackers from employing their new techniques to get a backdoor and trick you.
7. Activate Firewall
Firewalls are highly useful in preventing external attacks. Justifying its name, a firewall puts a barrier between the user and the attacker. It verifies all the network activities and blocks any activity that is suspicious and malicious in nature. Keep the security level of the firewall high for complete protection.
8. Avoid Pop-Ups
Pop-ups are an easy way for attackers to get attention and tempt them with irresistible offers. However, they are linked to spyware and phishing attacks. You should install an extension on your browser to block pop-ups originating from websites. Make it a point to never click on the body on the pop-up message.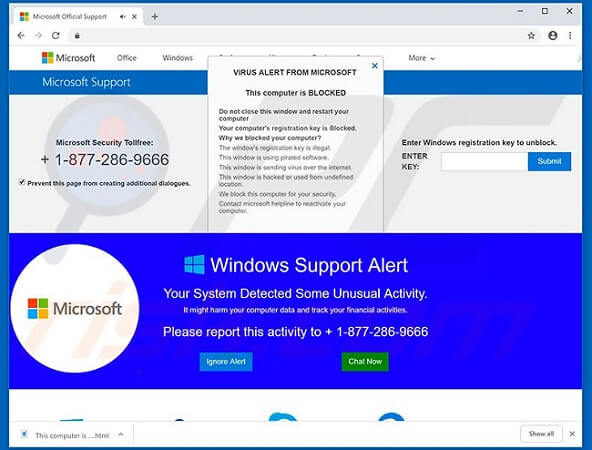 9. Get Real-Time Protection
Just like extensions anti-phishing and pop-up blocking extension, you should have a spyware detection app installed. The app should provide real-time protection so that it can detect any spyware downloading and notify you. ClevGuard Anti-Spyware is a trusted and efficient app with spyware scanner and real-time protection. It keeps updating its database regularly to keep up with new phishing attacks.
10. Do Not Give Out Personal Information
Apart from phishing, spoofing is another way of tricking people into giving their personal information. In spoofing, scammers call people and identify themselves calling from banks and online platforms where you have an account.
They will trick you into giving your passwords and other details to prevent suspension of your accounts and likewise. Never give them anything as no company calls and asks its customers for details as they already have them.
3. What Should You Do If You Suspect That You Have Received A Phishing Email
Now that you know how to stop phishing attacks, you should know what to do when you come across a phishing email or message. If you receive an email or a text message that has all the signs of a phishing attack, you should take the following steps.
1. Report the message
Step 1: You should report to the email provider like Gmail and others so that they deem the email as scam or spam. This will ensure that no email appears in your inbox from the same email address. Gmail has a direct option to report phishing.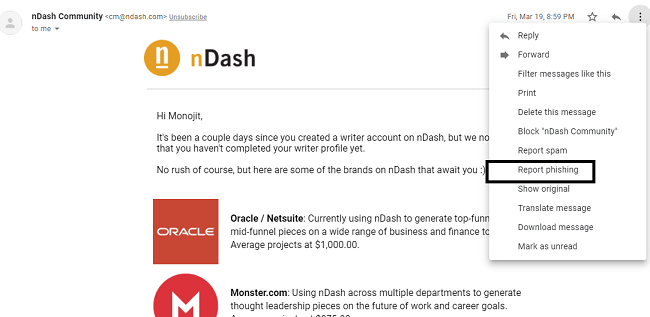 Step 2: You should directly go to the website of the company whose logo the phishing email is using. Find out their support email or phone number and report them the email or message you have received. This will help them take the necessary steps to prevent such phishing attacks in future and safeguard their consumers.
Step 3: You can lodge a complaint to the online cybersecurity department and consumers' forum like FTC as applicable in your place. For example, you can report to Anti-Phishing Working Group(APWG) at reportphishing@apwg.org. Similarly, you can forward the phishing text message to SPAM (7726).
2. Use ClevGuard Anti-Spyware to Detect and Delete
Step 1: Install ClevGuard Anti-Spyware from Google Play Store.
Step 2: After installation is complete, review the Privacy Policy. Tap on 'start' to get started.
Step 3: Scan the downloaded files and installed apps by click the 'Scan' button. Scan is completed in 1-3 minutes.
Step 4: After scanning is over, you will get the list of dangerous files, messages, and apps if your phone is installed with spyware . You can delete them with a single tap instantly after reviewing the list.
ClevGuard has good compatibility. You can downloads via Google Play Store without having to worry about privacy leaks.
4. What to Do If You Responded to A Phishing Email
Even though we know about phishing how to prevent it, we can still get tricked by scammers. If you think that you have already become a victim of a phishing attack by accidentally responding to a phishing email or text message, you can do the following.
Step 1: Immediately change the credentials that you have provided the scammer through the phishing email. This could be credentials of online accounts or bank accounts and credit cards. Ask the bank to freeze the account transactions temporarily before you can secure it and change credentials wherever possible.
Step 2: If you have given out something that you cannot change, like social security number, you should contact the authority. You can lodge a report on www.identitytheft.gov/Info-Lost-or-Stolen. You can also lodge a complaint in the police so that you can get refunds if the scammer uses your details for monetary gain.
Step 3: You should notify the support team of the website whose credentials you have provided through the phishing email. This will help them take the necessary steps to prevent any suspicious activities on your account by the scammer.
Summary
We have clearly explained how to prevent phishing and spoofing. You should take all the preventive measures at the earliest so that you can prevent yourself from becoming a victim of a phishing scheme. Always be skeptical when you receive a link or attachment through emails and text messages from an unlikely source. Keep yourself updated and stay safe from online frauds. We also highly recommend you install ClevGuard Anti-Spyware to improve your information privacy security.