Before We Start
Instagram is one of the most popular social media platforms among youth adults, celebrities, and brands. Due to its growing popularity, Instagram has become an easy target for hackers.
We often come across news about Instagram accounts of celebrities and brands getting hacked. If an Instagram user is not serious about his account's security, the account can get hacked easily in few minutes by hackers.
In this article, we will explain how to find out who is trying to hack your Instagram account, how to prevent such hacking, and what to do when your Instagram account is hacked.
1. How to Find Out Who Hacked My Instagram
If you notice unusual activities on your Instagram account, the chances are high that your account is already hacked. Here are the steps to take when your Instagram account is hacked to find out who hacked it.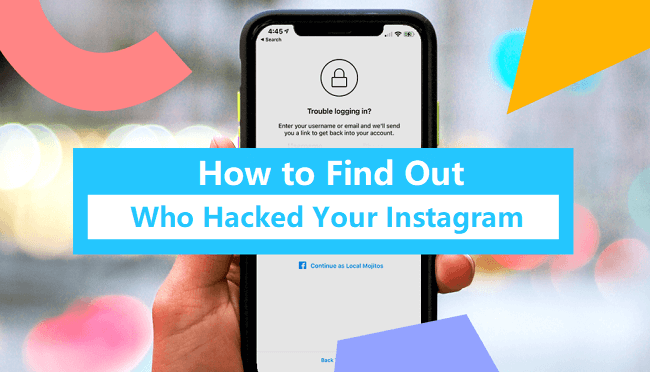 Way 1: Detect with Anti-Spy Software
A hacker gets hold of the login credentials of their victim's Instagram account using spyware. Spyware is planted in the victim's phone by various means, and it records the login credentials when the victim logs into his Instagram account. ClevGuard Anti-Spyware is a trusted spyware detecting app you can use to scan and detect spyware present in your phone.
Step 1. Click "Get it on Google Play" button as below to install ClevGuard Anti-Spyware.
Step 2. After installing the app, check the Privacy Policy and tap on "start" to get started.
Step 3. Tap on "Scan" option icon to start a detailed scanning on your phone. After the scanning is complete, you will see the list of spyware apps present along with their names. You can also report the applications to ClevGuard if you consider the app on your phone is spyware.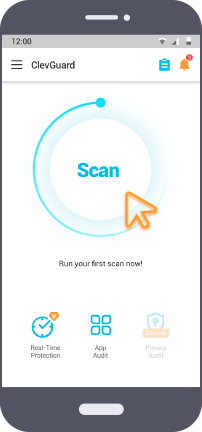 Related Read: How to Know If Someone Blocked You on Instagram?
Way 2: Report Your Instagram Account
As soon as you detect your Instagram account is hacked, you should report your Instagram account to find out who hacked your account.
Step 1. Go to Instagram Help Center and click on "Privacy, Safety, and Security".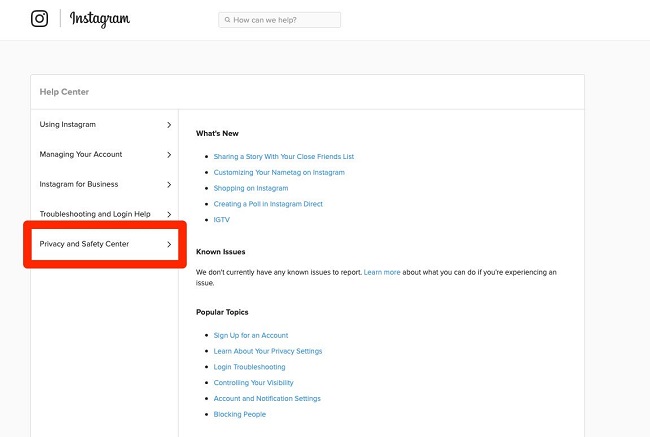 Step 2. Click on Login and Password and go to Login on.
Step 3. Click on I Can't Log In and go to "I think my Instagram account has been hacked". Here you will find all the possible scenarios and steps you need to take to recover your account depending on your situation.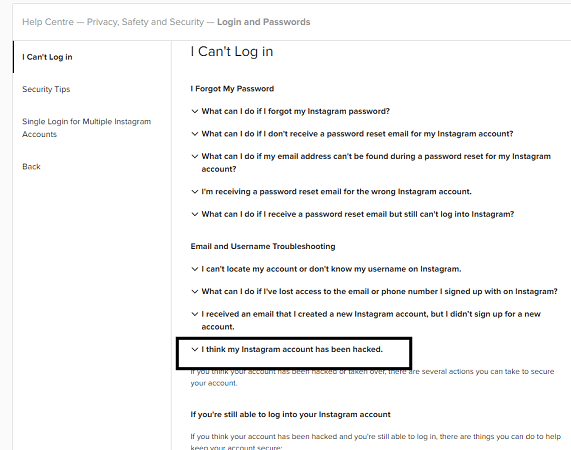 Once you have recovered your account, you should reach out to the support team and request them to give you the last few login details. The login details should include IP address, login data, time, and device used. You can easily identify the IP address of the hacker as it will be different from yours. By tracing the IP address online, you can identify the location of the hacker.
Way 3: Help by Police
The best way to find who hacked your Instagram account is by taking the help of the nearby police station. This is because they have the necessary resources and permissions to extract the details from Instagram that you will never get from the support team.
Step 1. You have to lodge a complaint regarding your hacked Instagram account with all possible details.
Step 2. The police station may hand over the case to the cybersecurity department. The cybersecurity department will start an investigation to find whether your complaint is genuine and take the necessary steps.
Step 3. The concerned officials will contact the Instagram team to extract the details of activities on your account and get the login details of the hacker.
Step 4. If the IP address is real, it will be easy for them to locate the hacker. However, if the hacker is using VPN, it will be difficult to trace him. However, most of the time, the hacker is found to be among the followers of the hacked account. Therefore, the concerned officials can do further investigation on suspicious followers of your account to unveil him, if possible.
2. How to Prevent Your Instagram from Being Hacked?
Now that you know how to find out who hacked your Instagram account, let's move to the preventive measures. Prevention is always better than suffering and running after the cure. In fact, if you take all the preventive steps beforehand, it becomes very difficult for the hacker to get access to your Instagram account.
Activate Two-Factor Authentication
In two-factor authentication, a user needs to enter the credentials as well as a code that is sent to the link phone number to login.
Therefore, if the hacker somehow manages to get your login credentials, he will not be able to login. This is because he will not get the code sent to your phone number.
Check Your Account's Login Activity
You can check the login activity of your account under the Security section on the app. You will see all the devices that your account is logged in currently.
Not just that, you will see the geographical locations of the devices. If you suspect anything unusual, you can log yourself out of all the devices. Besides, you should revoke access permission to any suspicious third-party app.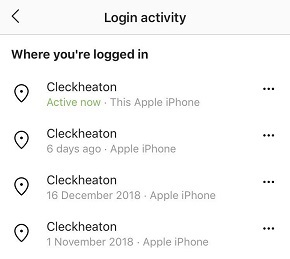 Review The Emails From Instagram
Instagram keeps alerting the users through emails when they detect any unusual activity on any account. If someone tries to reset password, logs into your account from a new device or new location, changes password, and even changes the email address associated, you will get immediate email notification on your linked email address.
In fact, you can revert the changes through email if you can attend to them immediately.
Install ClevGuard Anti-Spyware
Spyware in your phone can record your account's credentials when you enter them and transfer them to the hacker. ClevGuard Anti-Spy app has a special feature to prevent any spyware deployment by hackers. The feature is called 'Real-Time Protection' through which your phone will be completely secured 24/7. You will get notifications as soon as the spyware detection app detects any spyware trying to get downloaded and installed.
3. Tips: How to Recover a Hacked Instagram Account
If you are wondering how to recover if your Instagram is hacked, well, here is the answer. If you have not changed your password and yet you cannot login with your password, your account is hacked.
For confirmation, you can check your email where you must find a notification of password changed.
The following is the list of steps you should take to recover your Instagram account after it is hacked.
Step 1: Check Your Email Account
When the hacker has changed your password, Instagram must be immediately notified you about the change through your email. Therefore, check your email account and find the email notification.
In the body of the email, you will find the option 'Revert This Change'. Click on it and follow the on-screen instructions to see if you can recover your account.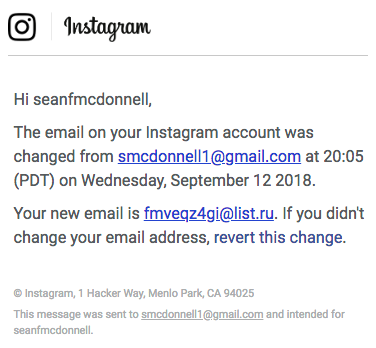 Step 2: Get A Log in Link
If the revert to changes is not possible, do the following.
1. Go to the login screen.
2. Tap on 'Forgot Password?' option.
3. In the next 'Find Your Account' screen, enter username or email address or phone number connected to your account. Tap on Next button.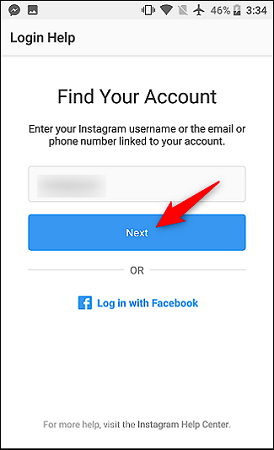 4. You will be asked to select your email address or phone number for sending the login link.
You will get a login link to your email address or phone number. By clicking the link, you can reset your password and log into your account.
Step 3: Request A Security Code
If the login link is not working for you, you have to request a security code.
1. Tap on 'I can't access this email or phone number' option.
2. You will get a Request Support form where you have to enter various details about your account. Here you can enter a new email address where a security code will be sent.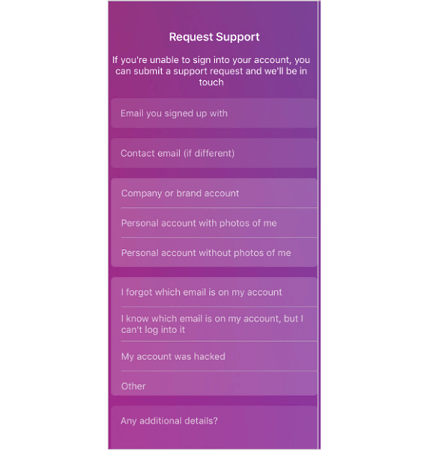 3. Once submitted, you will get a security code on your new email address.
For verification:
You have to take a selfie holding the security code handwritten on a piece of paper. You may also have to provide the support team with email address, phone number, and even the device you used to sign up for the account.
Conclusion
The hackers' community is quite active on the Instagram platform. Therefore, it is important for Instagram users to take all the preventive measures we have mentioned. Install a spyware detection app like ClevGuard for real-time protection. We have clearly mentioned what to do if your Instagram account is hacked in order to recover it successfully before further damage.