Today, we love to send texts, photos, videos, and GIFs through WhatsApp Status to share special moments throughout our day with friends and family. But when we watch the status update of your contacts, they will know you have seen the status. Therefore, the question arises: I want to see status of others on WhatsApp, but I don't want to let them know. What should I do?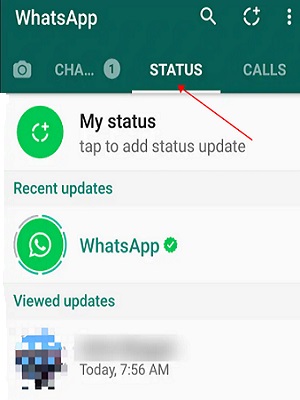 So for all the people searching for how to view hidden WhatsApp status, then we've got you! Here're a couple of ways to view WhatsApp status anonymously.
Way 1: By Third-party WhatsApp Status Viewer - KidsGuard for WhatsApp
At this point, if you're looking for an effective method to see all the WhatsApp status even the hidden ones without their knowledge, then you need a professional WhatsApp status viewer online.
There are a lot of WhatsApp online status viewers in the market, but only KidsGuard for WhatsApp is the best hidden status viewer app for the following several reasons.
100% Secrecy

Effectiveness

Ease of Use

Support viewing private and public status

Check the target's hidden status anytime
KidsGuard for WhatsApp is a top-notch WhatsApp tracking app that lets you view someone's WhatsApp statuses including texts, photos, and videos secretly. Also, this app could assit you track someone on WhatsApp without letting them know.
With its expert design, the app will disappear from the screen and work stealthily in the background once installed, so your confidentiality is guaranteed and can't be violated.
Steps to See WhatsApp Status without Known Using KidsGuard for WhatsApp
Before We Start
Before you start: In order to view hidden WhatsApp status, you have to create an account on its website with an email, then you would expect to buy a license for it. Then you will be presented a complete setup guide and access the target phone to finish the installation of this WhatsApp status viewer.
KidsGuard for WhatsApp app works on all Android phones and it is easy to download and install, even without any tech skills because you have no need to root the phone.
Time needed: 5 minutes
Step 1. Log into your KidsGurad account on our website and download the app from www.installapk.net with any browser of target phone.
Step 2. Install the app and go through some basic settings according to the on-screen wizard.

Step 3. Verify your setup on its website. If everything is ok, you will take to the web dashboard, where you can view the WhatsApp hidden status of the target Android device.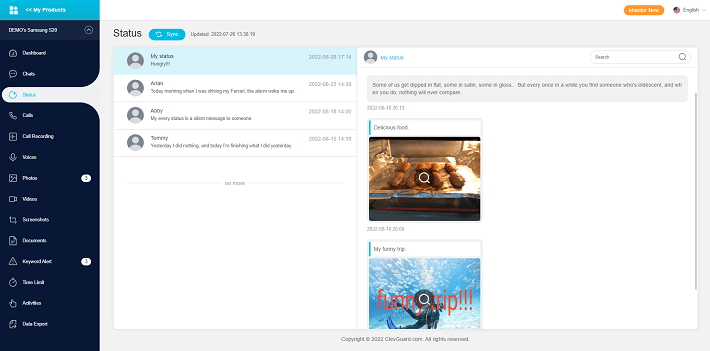 What You Can Do with KidsGuard for WhatsApp to View WhatsApp Status
There are many apps to view hidden WhatsApp status, why choose KidsGuard for WhatsApp? Well, on top of that, you can monitor basically everything on someone's WhatsApp from your personalized KidsGuard control panel. These are some key features:
See WhatsApp status

Check multimedia files

Record WhatsApp calls (voice/video)

Check WhatsApp activities

View WhatsApp documents

Set Keyword alerts

Limit WhatsApp screen time
Way 2: Unmute the Mute Status and Disable Read Receipts
If you unintentionally silenced someone's status, you can use the second technique. To make the individual's status visible, follow the instructions and unmute the person.
How to View WhatsApp Hidden Status Secretly on WhatsApp
Open WhatsApp on your smartphone.

Press the Status Icon.

The silent status may be found by scrolling down on the status page.

To unmute the status, use the down arrow button..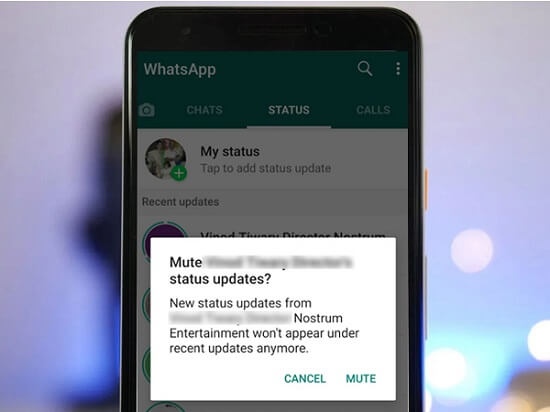 After completing the aforementioned procedures, you may quickly view the person's WhatsApp status. Then you should turn off Read Receipts to secretly view other's WhatsApp status. If you don't mind that you will always have 0 Views on your status, then this is the best way to view WhatsApp status without being seen.
How to View WhatsApp Status Anonymously with Read Receipts Off
Open WhatsApp on your smartphone.

Go to Settings and touch the menu button in the upper right corner of the screen.

In Accounts and navigate to Privacy.

Finally, scroll to the end and turn off Read Receipts.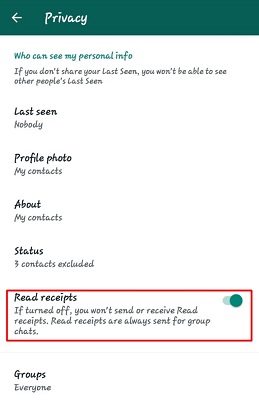 NOTE:
Please keep in mind that you won't be able to track those who have read your WhatsApp messages or viewed status when Read Receipts is turned off.
Way 3: Check Hidden Files on Phone
If you have been trying to find out how to view WhatsApp hidden status anonymously, there is a trick, which is available for Android phones, allows you to preview the photos and videos posted in status, even before you tap on a particular status to check it. What you require is to access the hidden files in the file manager, which is a default app on any Android phone.
How to View Status Update on WhatsApp Secretly in File Manager
Open your phone's File Manager app and turn on Show hidden files option in Settings first.

Go to Internal storage and find WhatsApp folder.

Tap on the Media folder and select ".Statuses" option.

You can view any Status media files including photos, videos, and gifs without being seen.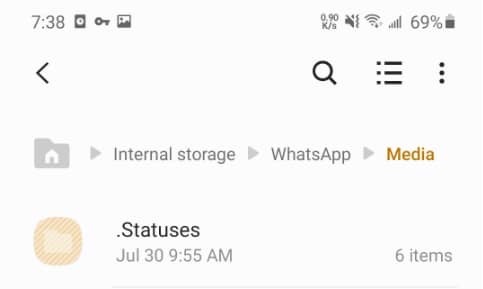 NOTE:
You can't view text updates in status with this method. What's more, the person you check must be your WhatsApp friend. Most importantly, it will disappear in 24 hours automatically and won't update in time.
Way 4: View Status in Browser's Incognito Mode
Another popular trick claims to view WhatsApp status anonymously is by using WhatsApp web in incognito mode. It is said that any user activity on WhatsApp will not be recorded in incognito mode, and the others will not know you have seen their status.
However, we tested many times and it didn't work at all! Nevertheless, we'll tell you how to do with this method here so you won't waste your time.
Open WhatsApp Web on your computer in incognito mode.

Click the circle at the top of the chat screen to view the list of contacts who have updated their statuses.

Disconnect the internet on your computer.

Open the specific status you wish to view. (Note that you can't open the photos, videos, and gifs statuses when offline.)

Close the WhatsApp Web window and your browser data will be deleted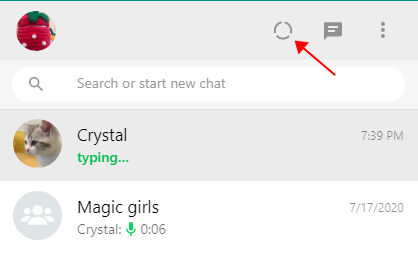 Conclusion
That's it! With this complete guide, you will quickly know how to view someone's WhatsApp hidden status even without them knowing. When it comes to truly effective and convenient in such case, using a WhatsApp online status viewer like KidsGuard for WhatsApp is the best choice for you to look at status without being seen.
Due to its simple design, you do not require training or expertise to use the app. You only have to pay a few bucks to have access to 15+ WhatsApp monitoring features. Sounds great? Try it Now!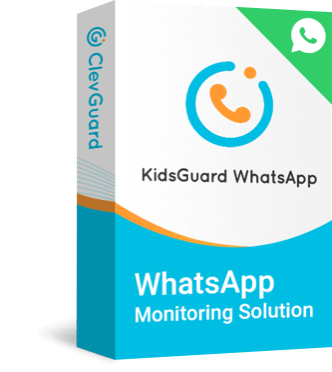 KidsGuard for WhatsApp
The Ultimate WhatsApp Monitoring App for You.