It is not strange that sometimes we may delete some important WhatsApp messages by coincidence for these or those reasons, or sometimes we may want to check our kids deliberately deleted WhatsApp messages.
Perhaps, the first solution we can find will be to recover deleted WhatsApp messages, which is also the directest one. This article will provide us with methods about how to retrieve deleted WhatsApp messages no matter what OS we are using.
How to Recover Deleted WhatsApp Messages with Backup?
As we know, it will be easier to recover the WhatsApp messages if the we backed up WhatApp before the delete operation. Just import the backed up WhatsApp data to Whatsapp App, then the deleted WhatsApp messages can be recovered. You can see your child's or other's deleted WhatsApp in your laptop to aviod accupying phone's memory. Click the button below to try.
Except the local backup, the most common choice may be the Google Drive, a safe tool to backup and access all our files, including the WhatsApp data, from any devices. Now let's check the specific steps to backup WhatsApp messages with Google Drive.
How to Backup Your WhatsApp Messages to Google Drive?
Step 1. Open your WhatsApp app and select "More options", go to "Settings".
Step 2. Select "Chats" on Settings page and choose "Chat back up" and click "Back up to Google Drive".
Step 3. You will be redirected to a special page where you will need to set up the backup frequency for your phone.
Step 4. When you've set on a frequency, it is time to choose the Google account where you want to store your backup chat history. In the case where you don't have any Google account connected to your device, you will simply need to select "Add account" and enter your login credentials.
Step 5. Select "Backup over" to choose the "network" that you want to use for your backups, then the backup starts.
How to Recover Deleted WhatsApp Messages from Backup?
Method 1: Recover Deleted WhatsApp Messages thanks to Local Backup
Step 1. Uninstall WhatsApp Desktop.
Step 2. Reinstall the application and enter the phone number that you used to register on WhatsApp.
Step 3. Follow all the instructions given by the app to restore your chat history.
Step 4. Once you fulfill every steps, your old and deleted messages will be back on your phone.
Method 2: Get Deleted WhatsApp Messages back from Google Drive
Step 1. Ensure that you have properly backed up your messages on Google Drive. If you followed the previous instructions regarding Google Drive, there should be no issue.
Step 2. Delete WhatsApp and reinstall it from your phone.
Step 3. Your phone will automatically detect the data backed up on Google Drive before and will ask you if you want to restore the.
Step 4. Simply follow the instructions accordingly and you will be able to retrieve your deleted messages.
How to Restore Deleted WhatsApp Messages without Backup?
We may know how to backup WhatsApp data and recover WhatsApp data directly from backup, so what if we forget to make the regular backup setting? No backup, no data to be imported into the WhatsApp. So how to see deleted messages on WhatsApp without backup?
Well, let's see how to recover deleted WhatsApp Messages on Android phones and iPhones respectively.
1. How to Recover Deleted WhatsApp Messages on Android without Backup?
PhoneRescue for Android, a professional Android data recovery tool, can not only help recover the deleted WhatApp Messages but also other types of data including SMS, call logs, images, video, and so on, for the Android phones. Now let's check the steps how to recover deleted WhatsApp messages with PhoneRescue for Android.
Step 1. Install PhoneRescue for Android on the PC
Register and install PhoneRescue for Android on our computer, launch this PhoneRescue for Android App on the computer and connecting our Android device to the computer through an USB cable(In the Settings section, choose Developer Options and click on USB debugging)
Step 2. Scan the WhatsApp Messages on Android Phone
Choose the WhatsApp when we see the prompt on the screen to select the types of file. The PhoneRescue for Android application will start to scan only the WhatsApp messages on our device.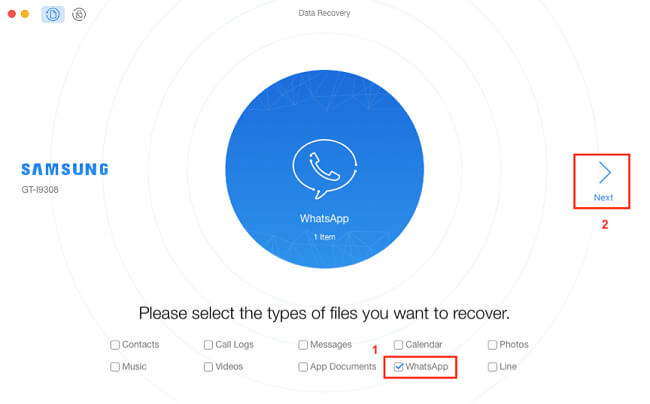 Step 3: Check and Recover WhatsApp Messages
When the scanning step is completed, you will be able to check the chat history on WhatsApp, even the deleted messages. In order to recover your WhatsApp messages, you will need to select the messages and files you want to recover and click the "Recover" button. If you were wondering: How can I recover deleted WhatsApp messages without backup, then this solution is for you!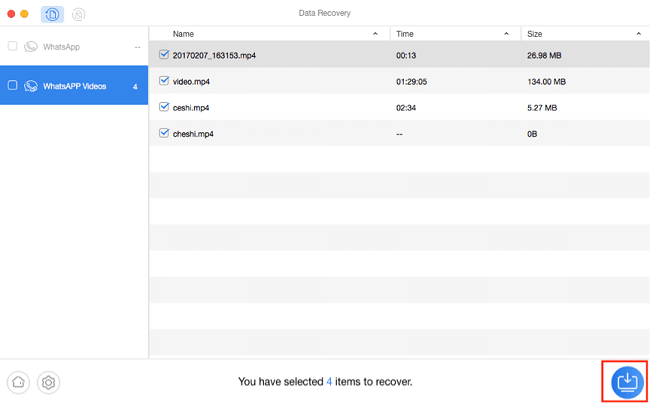 2. How to Retrieve Deleted WhatsApp Messages without Backup if Using iPhone?
Syncios iOS Data Recovery is an iPhone data recovery software, which can not only recover data directly from the iPhones but also iTunes & iCloud. The Syncios iOS Data Recovery supports nearly all data types of restore and the recover success rate is also high. So how to recover iPhone deleted WhatsApp messages directly from an iPhone? Please check the following steps:
Step 1. Download and Set up Syncios iOS Data Recovery on PC.
Download and install Syncios iOS Data Recovery on your computer and register and buy the service.
Step 2. Connect the iPhone to PC.
Launch Syncios iOS Data Recovery, connect your phone to the computer with an USB cable.
Step 3. Scan WhatsApp Messages
Push Start button to scan and analyze all data on your iPhone tick off WhatsApp and WhatsApp Attachments in order to load deleted WhatsApp messages.Syncios iOS Data Recovery starts to scan WhatsApp data.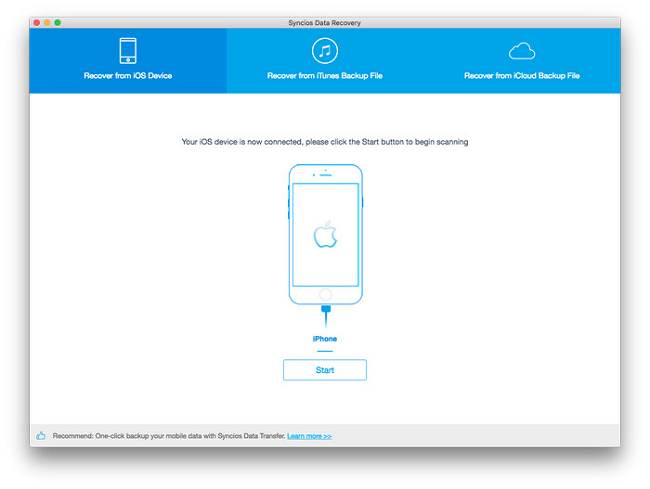 Step 4. Preview and Restore WhatsApp Messages
You will have access to a preview of the deleted WhatsApp messages by going to the checkbox WhatsApp Attachments, choose the specific conversations that you want to get back and choose the option Recover to iPhone ,all your designated deleted WhatsApp messages will be downloaded back to your iPhone.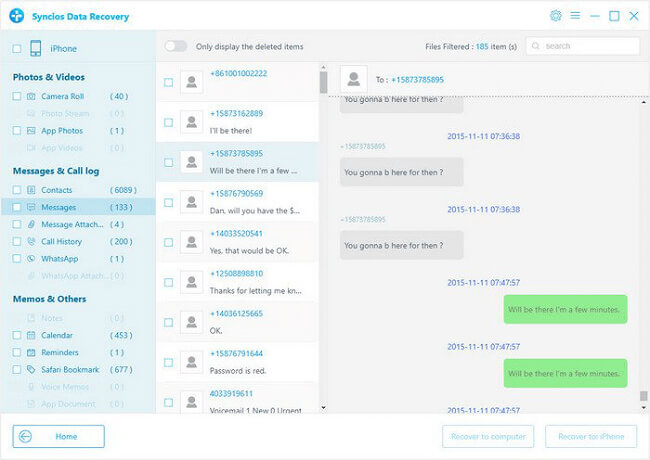 How to Check WhatsApp Messages with KidsGuard for WhatsApp?
KidsGuard for WhatsApp is a tool that will help you monitor social communications on WhatsApp. It is a great way to save and see all types of media files that one has shared on WhatsApp (videos, photos, documents, messages...).
Although Kidsguard for WhatsApp can't directly restore the WhatsApp data to our phones, we can track WhatsApp messages even deleted and files online and never let the phone storage space occupied, very convenient! You can even take screenshots when WhatsApp is in use and see the whole activities of the target phone. If you're not sure about the abilities of this program, you have the possibility to use a free online demo of KidsGuard for WhatsApp to see and understand how it works.
Trying a demo version can be a great way to know if using this program will worth it for you or not. Next, let's see how Kidsguard for WhatsApp works in details.
Step 1. Click Monitor Now and use a valid email address to sign up an account.
Step 2. After registration, choose a plan that fits your needs, and then go to www.installapk.net website with the target's phone, download the APK file KidsGuard for WhatsApp. Then, follow the on screen instruction to download KidsGuard for WhatsApp. This step only needs to take 5 minutes.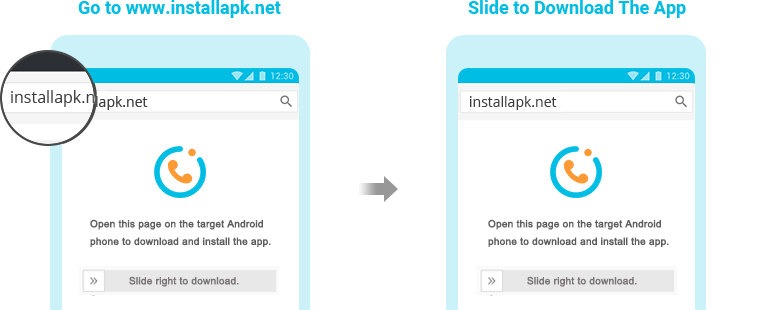 Step 3: After correct setting, the icon of this app will be disappear from the home screen of target phone, it's 100% undetectable. Now you can start to monitor target phone's WhatsApp activities from dashboard.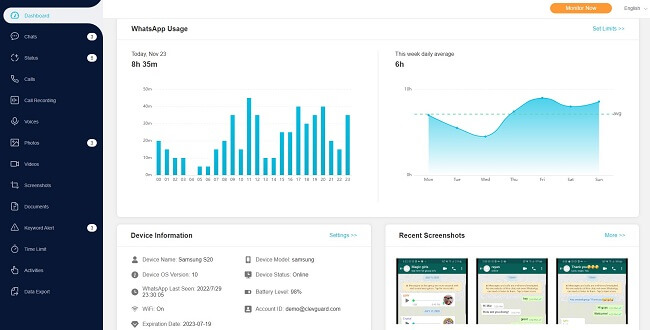 From this dashboard, you will see various options regarding WhatsApp. You will be able to view someone's WhatsApp call history and even record the calls, access WhatsApp multimedia files as well as view WhatsApp chats and status.
What's new is that it has included the features of WhatsApp screen time and keyword alerts to help parents better manage child's WhatsApp usage and safeguard their online activity.
FAQ about Deleted WhatsApp Messages
Q1. Are Deleted WhatsApp Messages Gone Forever?
The answer is no. Even if you delete all your messages from WhatsApp there are ways to get them back. If you had previously made a backup on your computer or on Google Drive, then it will be easy to get them back. If it's not the case, you can use specific data recovery applications to retrieve them , or you just need to follow the instructions given in this guide.
Q2. How Can I Recover My Two Year Old Deleted WhatsApp Photos?
To recover your two year old deleted WhatsApp photos you have two solutions : either use a backup or download an application that will specifically help in recovering your data. The data recovery application that we advise for you are MiniTool Mobile Recovery and iMyFone D-Back. They can both be used with Android and IPhone. If you know that you have a backup, like on Google Drive for instance, then you just need to connect your device and authorize the deleted files to come back to your phone.
Q3. Does Deleting a Chat on WhatsApp Delete it for the Other Person ?
When you're deleting a chat from your phone, you will have the ability to choose to delete the messages only for yourself or to delete the messages for everyone. Most of the time, in one hour, the messages will be deleted from both conversations if you choose this option.
Conclusion
All in all, some people may think that once they deleted their messages, videos or photos on WhatsApp then there are no possible ways to get them back, however, this belief is wrong. There are actually multiple ways to recover data as we explained in this article. Take use of a program run by a computer to retrieve the lost data, or recover all your data directly from backup.
Well, if we don't want to recover the WhatsApp messages at all in order not to let the huge WhatsApp data storage affect the mobile phone's operating speed. Just try KidsGuard for WhatsApp,we can check the WhatsApp deleted messages without restoring them to our mobile phones. Directly check WhatsApp messages online on the browser anywhere and at anytime we like, and the data will never be lost!