Do you want to keep track of who and what your employees or your significant ones are talking to on WhatsApp? Well, although WhatsApp doesn't keep any communication records that were sent through the platform.
There are tons of different WhatsApp call recorder apps that you can use in order to listen in audio/video calls or download them on your device to spy whatsapp call recorder.
In this article, we will show you the top 5 of those apps. Let's begin!
The Benefits of Whatsapp Call Recording
Sometimes there are many important details we miss in hurry. By keeping their record we may go through the issue that our clients have with us. This builds a clear picture of minor details and helps to upgrade our business and also solve the household issues, so it is very important to record even Whatsapp calls.
Furthermore, we can have more understanding of our family members and intimacy through monitoring their Whatsapp calls, especially to protect kids on the Internet.
How To Record Whatsapp Calls With Your Own Phone?
Now there arose a question that can Whatsapp call be recorded or not. As we all know, we can easily record local sim calls, but in social media applications, this is a bit difficult. Many people do not know how to record a Whatsapp call. In fact, there are many applications on the Google Play Store. User can search "App Call Recorder" to find the right application for your mobile phone.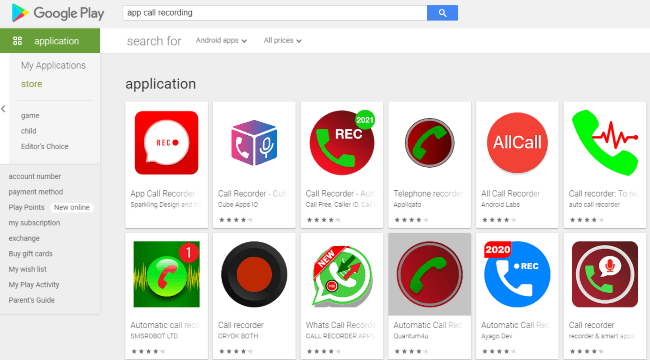 Generally, this application allows user to record Whatsapp calls, and can automatically start and stop recording. It's simple to set up, so everyone can use it. Once we have set it up, it will start recording automatically.
By default, each call record is saved on your device memory, and you can listen to the call record using the default media player of your phone. If you want to record WhatsApp calls with your own phone, you can try to use spy app to record whatsapp calls.
How To Record Whatsapp Calls Of Other Devices?
Sometimes it is demanding to record the other party's calls. Perhaps you want to monitor the social communication activities of your kids, intimacy or employees or just want to spy whatsapp call recorder. There are many secrets hidden in the contents of a call. Do you want to record someone's Whatsapp calls secretly? Are you finding a whatsapp call recording software? Next,we will introduce several practical products in Whatsapp calls record.
WhatsApp Call Recording App for Android
Our top pick for a WhatsApp call recorder is KidsGuard for WhatsApp. It's the combination of dedicated features, ease of use, incognito mode and a 24/7 customer support, that all serves up to make KidsGuard for WhatsApp the best solution to record voice/video calls.
It takes just a few taps to set up the app on target device and you're ready to go in less than 3 minutes. Once installed on a compatible device, it will become invisible and monitor all WhatsApp activity without letting the target know of its existence.
Aside from WhatsApp call recording, it has introduced some few advanced features, too, which include tracking WhatsApp instant messages, reading multimedia files sent via these chats, spying public and hidden Whatsapp status, and a lot more.
1. Features
Spy All Messages: Allow you to listen to WhatsApp video and audio call conversation in real-time.

Monitor All Calls: Record every incoming and outgoing call from both sides automatically.

Get Data Easily: Download all WhatsApp call recordings or listen directly from your remote web account.

View Any Details:Get complete WhatsApp call history about caller name, duration, date and time.

Hard To Discover: Fully tamper proof of turning invisible mode on target device.

Easy To Operate: Support to search specific contacts or filter the logs by time.

Easy To install: Step by step guide without any tech skills.

Maximize Your Spy: Extensive solution that also monitors WhatsApp chats, voice notes, status, screenshots, etc.
2. Price
KidsGuard for WhatsApp provides only one edition with different prices, meaning that you can use all advanced WhatsApp monitoring features.
| Plans | 1-month | 3-month | 1-year |
| --- | --- | --- | --- |
| Price | $17.95 | $12.65/m | $7.34/m |
3. How to Use
Step 1: Click Try It Now button below and skip to KidsGuard Pro's website. Create an account and purchase a KidsGuard for WhatsApp license.
Step 2: Get the target phone in your hand and install the app, then leave it back. You don't need the target phone anymore.
Step 3: Login to your web account and all recorded WhatsApp calls will be listed.
Related Read: You may want to check out the detailed setup guide. Click here >>
4. Limitation
It does not support to record WhatsApp call on iPhone in the current version.
No.2 - TheOneSpy
The next best app to record WhatsApp calls is TheOneSpy. It has the usual array of features, including call recording, instant messages, and location tracking. This WhatsApp call recorder app has one of the longer feature lists and cleaner interfaces which other similar applications hardly offer. It assists you in monitoring everything on someone's smartphones easily. You can download this app directly in Google Play store, but you have to buy a subscription to activate the features.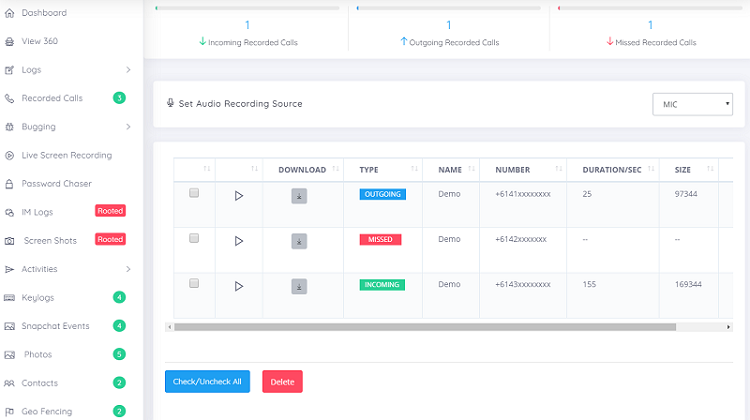 1. Features
Get details about the WhatsApp call log of a person.

Record WhatsApp video and voice calls secretly.

One can check chronology, call duration, and timestamps.

This tool features keylogging, where you can track
2. Price
TheOneSpy offers basic and premium edition, but recording WhatsApp calls is only available in the premium edition.
| Plans | 1-month | 3-month | 1-year |
| --- | --- | --- | --- |
| TOS Premium Edition | $50 | $70 | $99 |
3. How to Use
Step 1: You need to visit the official website and then get the subscription.
Step 2: Then, you should get access to your email and get the credentials.
Step 3: Now get physical access on the target mobile and complete the process of app installation.
Step 4: Lastly, use credentials to activate the online control panel and get access to features like WhatsApp calls recording.
4. Limitation
The price is on the higher place compared to KidsGuard for WhatsApp.

Damages battery rapidly due to its fast updates.

WhatsApp call recording feature doesn't work for iOS devices as well.
No.3 - TiSPY
TiSPY is, without a doubt, another great WhatsApp call recorder app that works on Android phones. You can spy on VoIP call logs history of your target cell phone installed WhatsApp, Vine, and other social media apps with complete time stamp. This program is capable of recording no matter what WhatsApp calls are at cell phone user's end or user has made calls to someone. It also has other nice and intricate features like video preview and capturing screenshots, which is not being offered by other spying app vendors.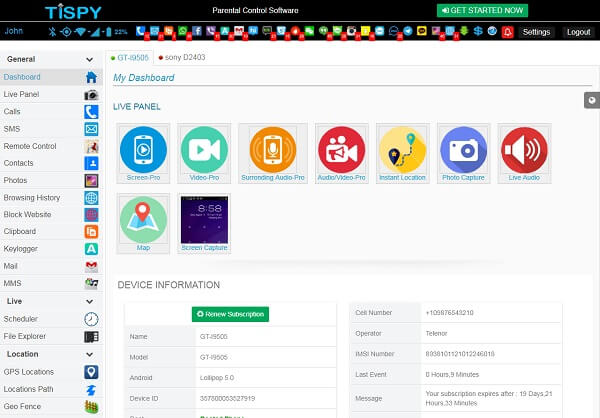 1. Features
Capture any number or duration of WhatsApp calls.

Access captured call-recordings directly from dashboard.

Find out who they have been chatting with on WhatsApp.

You can track social media apps like WhatsApp and LINE.
2. Price
| Plans | 3-month | 6-month | 1-year |
| --- | --- | --- | --- |
| Price | $35.20 | $52.80 | $81.95 |
3. How to Use
Step 1: Register your account and get verification email in email inbox.
Step 2: Disable Google Play Protect on your target mobile first.
Step 3: Download the app and tap on the downloaded APK to trigger installation.
Step 4: During installation TiSPY will prompt to activate some permissions to allow features to function.
Step 5: On Android 10 and above, you need to connect the phone with the Windows Desktop and run the Permission Tool.
Step 6: Go back to TiSPY online website, you can use this Android app to record WhatsApp calls remotely.
4. Limitation
You'll find a lot of complaints regarding its complex installation and download.

Not as great as all of its features do not work on all Android smartphones.

The interface is clunky and hard-to-use.
Spy WhatsApp Call Recorder iPhone
No.4 - Spyera
Spyera is one of the oldest WhatsApp call recorder apps on this list. It's been around for a while, and it's definitely one of the most sought-after spy software in the market — if only because it's available for both iOS and Android (with some limitations on the iOS version.) For WhatsApp call recording feature, you can get the usual conversation recording and the call history details that gives you a report of the contact names, time, date and type on the device.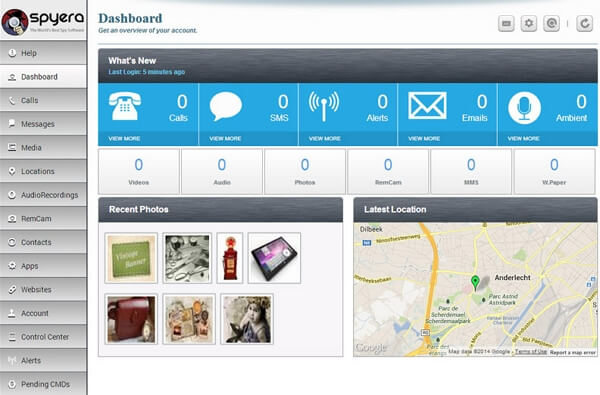 1. Features
Records WhatsApp VoIP calls in hidden sound files.

You can choose all or specific phone numbers to be recorded automatically.

You can listen or download recorded files anytime from your control panel.

It supports tracking more social media applications like Skype.
2. Price
Spyera is available for Android, iOS, computer and tablet.
| Plans | 1-month | 1-year |
| --- | --- | --- |
| iPhone/Android Phone | $89 | $389 |
| iPad/Android Tablet | $69 | $279 |
| Windows or Mac | $49 | $199 |
3. How to Use
Step 1: After a successful purchase, you will receive a verify email, which contains your login credential and web account login URL.
Step 2: Login to your web account and you will find step by step guide and pre-installation configurations and download URL.
Step 3: Get your target device and by entering download URL with any browser, the install will begin automatically.
Step 4: Once installation complete you will need to enter your activation code and click activate it.
Step 4: The setup is done. Now start monitoring on your remote control panel.
4. Limitation
You have to root or jailbreak the target device in order to get advanced features like WhatsApp call recording.

Offers feeble technical support for the app's installation and usage.

The price is not affordable and friendly.
No.5 - FlexiSpy
Our last WhatsApp call recorder app recommendation is FlexiSPY! This is also a well-known and popular used monitoring app on this list. The interface provides is a little more antiquated, but it can get the job done if all you want is WhatsApp voice and video call recording. Other features it supports include location tracking, read text messages, emails, and internet browsing history. The only problem is you have to jailbreak or root your device for using FlexiSPY for iPhone/Android app to record WhatsApp calls.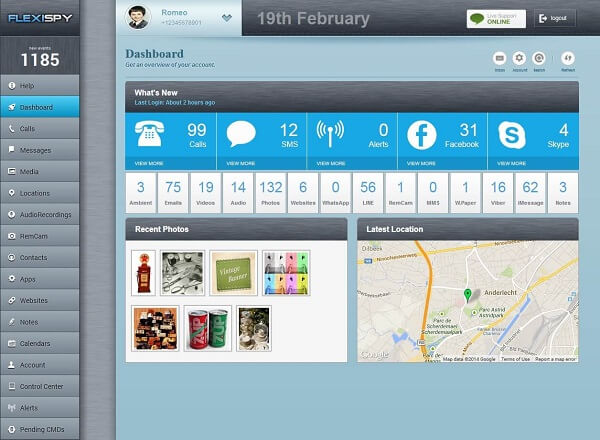 1. Features
Complete WhatsApp call recording available.

Download recorded calls in bulk using a special download manager.

Spy on WhatsApp contacts, and chats, giving you a backup for future reference.

View WhatsApp usage history including launches, closures, and uninstallations.
2. Price
Flexispy comes in 3 packages with different prices. But WhatsApp call recording is only offered in Extreme edition.
| Plans | 1-week | 3-month | 1-year |
| --- | --- | --- | --- |
| Android | / | $199 | $349 |
| iPhone | $19.99 | $199 | $349 |
3. How to Use
Step 1: First, purchase FlexiSPY.
Step 2: Root or jailbreak the phone before installation of the software.
Step 3: You will need to download the software onto target device from the company website. You will not find this application on the App Store or Google Play.
Step 4: You will be prompted to activate the application on target device.
Step 5: Log in to the web portal and view the uploaded data.
4. Limitation
One should be tech-savvy to root or jailbreak the target phone. The process is time-consuming and definitely spotted by target user.

Some important functions are not working well, as a result of black recordings sometimes.

Compared to other WhatsApp call recorder apps FlexiSPY is more expensive. If you are not satisfied with the app, it does not offer a pleasing refund experience.
Frequently Asked Questions
Q1. Which is the best WhatsApp call recorder?
The best WhatsApp call recorder app comes to KidsGuard for WhatsApp. It is completely discrete, ease of use, and provide all the information you could possibly want when it comes to record someone else's WhatsApp video/voice call on their phone.
Q2. How can I record WhatsApp video calls secretly?
Are you finding a WhatsApp video call recorder? If you look at the apps of this list, recording WhatsApp video calls secretly is possible while being truly hidden. However, only KidsGuard for WhatsApp and TheOneSpy can accomplish that. The other apps require you to root or jailbreak the target device, which may be caught by the target user.
Q3. Can I record WhatsApp call without the user's mobile?
Yes. There are some apps in our list that can record WhatsApp call completely remotely, without you ever having to touch the user's mobile. But you need to install the software on the phone first. Afterward, you don't need to touch the phone again.
Q4. Can I record someone's WhatsApp calls for free?
All WhatsApp call recording apps come for a price. But if you choose a good app like KidsGuard Pro, you can get WhatsApp video or voice call conversation just spending a couple of bucks. It also provide a live demo for free before purchasing.
Conclusion
Now, you may have an idea of 5 best spy app to record WhatsApp calls. All the applications listed here are some of the best ones available out there. You can choose the most desired WhatsApp call recorder app to download for monitoring someone's WhatsApp on their smartphones. And we also collect some quently asked question about WhatsApp call recorder app.