WhatsApp is a popular messenger app that is being used by billions of people worldwide. You may feel the need to hack into someone's WhatsApp for plenty of reasons.
But, do you know how to hack WhatsApp by yourself?
Hacking into someone's phone or an app was extremely difficult in the earlier times; however, with the advancement in technology, this task has become fairly easier. Using a WhatsApp hack app becomes the best possible way to hack into someone's WhatsApp.
You might ask for the best WhatsApp spy apps. Well, in this article, we make this decision-making process easier for you by introducing 6 great WhatsApp spy apps.
The 6 Best WhatsApp Spy Apps
Rating: 4.9/5
Root/Jailbreak: No
Price: There is a free demo with this WhatsApp spy app, but to get its premium features you need to buy a license, which only costs $7.5 per month for the yearly plan.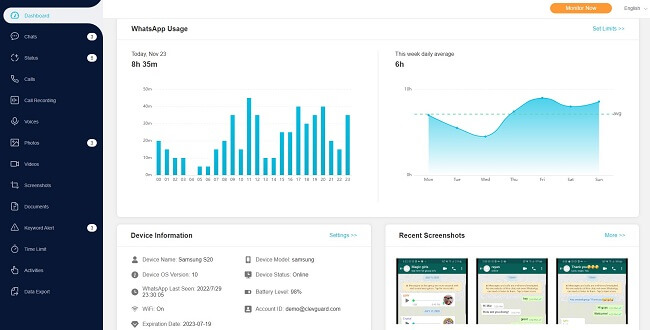 KidsGuard for WhatsApp ranks among the top in comparison to other WhatsApp hacking tools due to its unique features. With it, to remotely read somene's WhatsApp messages is not difficult. You will be able to hack the entire WhatsApp, such as incoming and outgoing messages, audios, status, photos, videos, and much more. You can also view someone's WhatsApp call history.
It supports even advanced functions like WhatsApp call recording and live screenshot without having to root the target device first. This is a major advantage of the app as it greatly simplifies its use.
Once installed, it will remain active in the background without any notification and the app icon will vanish from the home screen. You can get started to hack someone's WhatsApp remotely from a control panel that can be accessed from anywhere provided that there is a strong internet connection.
Moreover, you don't need to get WhatsApp account and password in order to monitor activities on it.
Notice: 30% off discount is distributing now! Seize the chance to enjoy the sales!
Pros:

Simple installation within 5 minutes.

It can remotely hack WhatsApp with 100% secrecy.

It offers a variety of advanced WhatsApp hacking features.

It syncs all WhatsApp data in real-time.

30-day money-back guarantee in case you're not satisfied.
Cons:

Some advanced features aren't supported in iOS version, like VoIP call.
Also Read: How to Read My Girlfriend's WhatsApp Messages Without Her Knowing
2. FoneMonitor App
Rating: 4.7/5
Root/Jailbreak: Yes
Price:
Premium edition (only for Android monitoring) at $29.99/month and $39.99/3 months

Ultimate edition at $39.99/month and $49.99/3 months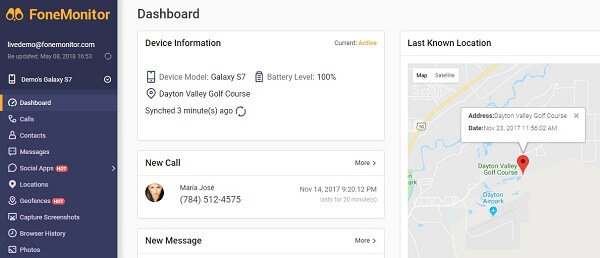 The next best WhatsApp hack app that comes to mind is FoneMonitor. It has appealed to a large market although it was just recently launched compared to its competitors.
Once you install this app on the target cell phone device, you can then easily gain control over the target cell phone and hack all the activities happening on WhatsApp.
The app works on both Android and iOS devices. You are allowed to track WhatsApp messages, screen time, and other activities with ease. But some advanced WhatsApp hacking features are missing.
Pros

A very intuitive interface that you can access all features in a few clicks.

Makes remote WhatsApp activity monitoring possible.

It can be used to hack multiple WhatsApp accounts.
Cons

Unlike KidsGuard for WhatsApp, it can't provide you with an extensive feature set like VoIP calls, documents, etc.

You have to disable Google Play Protect in order to make this app function.

You are required to root or jailbreak it to access the product.
3. mSpy App
Rating: 4.5/5
Root/Jailbreak: Yes
Price: WhatsApp hacking is only available at the premium version which costs $69.99/month, $119.99/3 months, and $199.99/year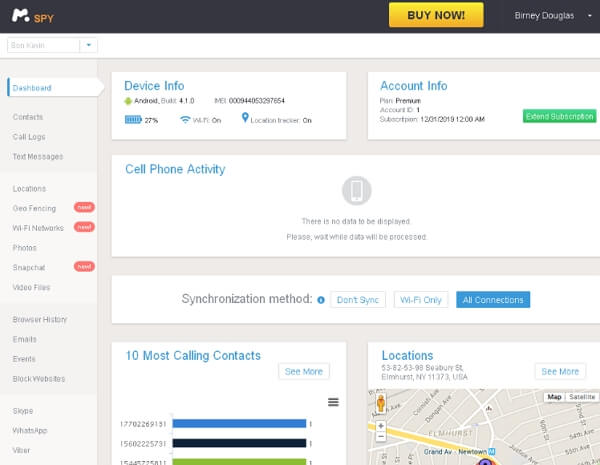 mSpy is a good WhatsApp hacker app that can be used to keep a check on all the WhatsApp activities on the target cell phone device. It can't be denied that mSpy comes with a great set of features you will need, such as hacking WhatsApp messages, shared photos, and videos.
It also features in blocking third-party apps on the target devices, making it one of the best parental control app among people who want to easily monitor WhatsApp usage on their children's phones.
Pros

It provides 24-hour monitoring.

Features an interactive dashboard.

Offers a variety of features to hack WhatsApp activities.
Cons

In the basic version, only limited features are available.

Compared to other competitors in the list, mSpy is more expensive.

A clear guide support is absent.
4. Spyera App
Rating: 4.4/5
Root/Jailbreak: No root, but jailbreak required.
Price: It costs $31.99/month, $189/3 months, $289/6 months, $389/year.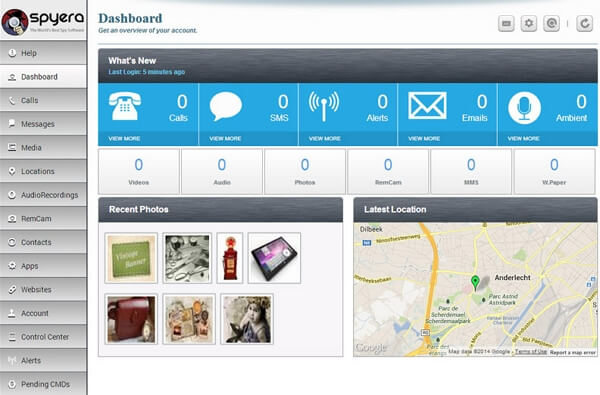 Spyera WhatsApp hacking app is one of the most advanced spying tools and is free to download. It is capable of hacking all the uploaded photos, videos, and the entire chat history of WhatsApp.
You can also choose to download the attachments and media files for later viewing. Another aspect that makes count Spyera amongst the best spying apps is its PC and Mac OS monitoring capability. Not just WhatsApp but this app can be used to monitor other social networking sites like Snapchat, Facebook, etc.
Pros

Remotely track WhatsApp without account password just like KidsGuard for WhatsApp.

You can see the frequency of WhatsApp and other app usages on the target device.

The app also supports multiple languages.
Cons

The setup procedure is time-consuming and requires technical knowledge.

Upon prolonged usage, this app tends to deteriorate the performance of the target device.
5. Hoverwatch App
Rating: 4.3/5
Root/Jailbreak: No
Price:
Personal version, where 1 device can be monitored at $24.95/month, $59.95/3 months and $99.95/year

Professional version, where up to 5 devices can be monitored at $49.95/month, $99.95/3 months and $199.95/year

Business version, where up to 25 devices can be monitored at $149.95/month, $299.95/3 months and $499.95/year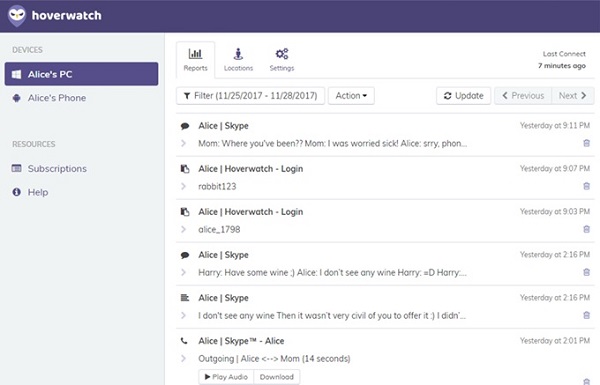 Hoverwatch WhatsApp hacker software is another potent phone monitoring app that can be used to keep a close check on the WhatsApp activities on the target device. The incoming and outgoing WhatsApp messages can be easily read by you.
Even the audio and video files that have been shared over WhatsApp can be downloaded and seen/listened to with the help of this app. While the app has a number of hacking features, it is only available for Android phones.
Pros

It can effectively keep track of WhatsApp.

Provides lots of details and file types of WhatsApp monitoring.

It allows for remote access to the target device's data.
Cons

The app is not invisible and notifications pop up often when working.

It is very hard to find a suitable installation and usage guide for this app.

Extra fee for the viewer app that allows you to check WhatsApp activities on the target phone.
6. FlexiSPY App
Rating: 4.2/5
Root/Jailbreak: Yes
Price:
Premium version at $68/month, $99/3 months and $149/year

Extreme version at $199/3 months and $349/year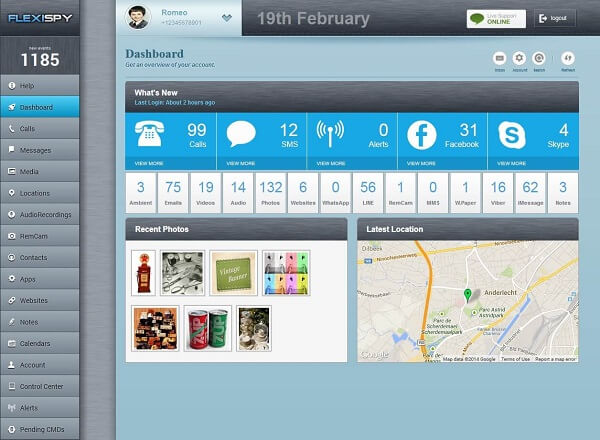 FlexiSPY WhatsApp spy tool can be used on both Android as well as iOS devices. Sadly, you will need to jailbreak and root the devices in order to monitor them. Then, it will require you to log in to an online control panel where you can now be able to check WhatsApp activities.
The app is also able to restrict the usage of the target device. A good technical support team and readily available guides for WhatsApp hack app to download and use this app makes it one of the best phone monitoring apps.
Pros

You can remotely hack WhatsApp with control panel at any device.

Live demo for installation and use is available.
Cons

Some functions might not work well, such as blank WhatsApp call recordings.

A free trial is not available before purchasing.

There are lots of reviews that the app glitches are very common.
Conclusion
Although WhatsApp is great for keeping in touch with all your close friends and family members, there are several potential dangers on the app for your kids and your loved ones.
In order to keep them safe, all the WhatsApp hacking apps listed on this list are readily made to hack WhatsApp activities on your desired target device.
Out of all, KidsGuard for WhatsApp is the best solution for more advanced features, easy to use, better prices, better customer support and you will get real-time hacking updates remotely.