WhatsApp status is only visible for 24 hours before being automatically deleted. However, you can manually delete it before that if you want to.
Even though WhatsApp Status is one of the most well-known and frequently used features, some users still have trouble deleting a WhatsApp Status. One restriction when discussing WhatsApp status is the absence of editing, regardless of whether it is an image, video, or text.
Many of us have, at some point, consider adding an editing feature to WhatsApp Status to update it as needed. Anytime we add an error, usually an incorrect spelling, etc. But regrettably, this option does not exist; we are the only ones who can delete WhatsApp status and add a new one.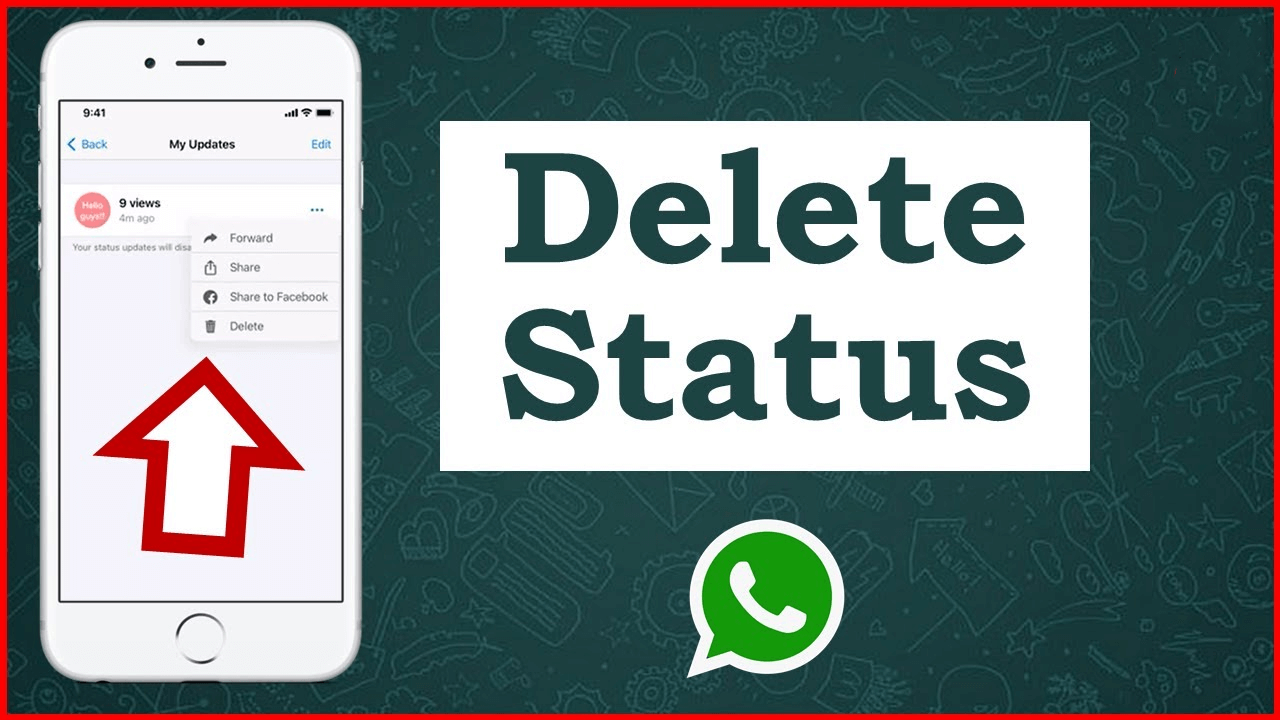 Therefore, in this article, we'll look at how to delete a WhatsApp status before it expires and how to recover deleted WhatsApp status with a smart WhatsApp monitoring tool -- KidGuard for WhatsApp.
What Is A WhatsApp Status?
You can update your celebrations, fancy or local trips, etc., for your friends and families to see using WhatsApp's fantastic and unique status feature.
There, you can express every feeling that humans have ever experienced. Unlike before, you can now upload images and videos in addition to just written status updates. Generally speaking, you are not allowed to check other's hidden WhatsApp status because of WhatsApp's serious privacu protection.
Let's say you posted something in your status that you didn't want your friends and family to see. It'll make you panic. Don't worry. Before it deletes itself automatically after 24 hours, you can remove it. Let's know everything about how to delete my WhatsApp status.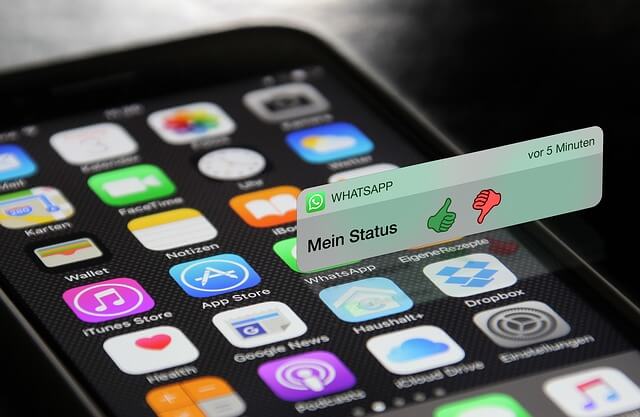 How To Delete WhatsApp Status on Android?
Nowadays it is very convenient, in the WhatsApp system settings, you can delete your WhatsApp status individually or in bulk.
Delete A WhatsApp Status
You can delete your WhatsApp status by following the steps below.
Step 1: Open WhatsApp.
Step 2: Open the 'STATUS' tab (The middle one).
Step 3: My Status is displayed in the top-right corner.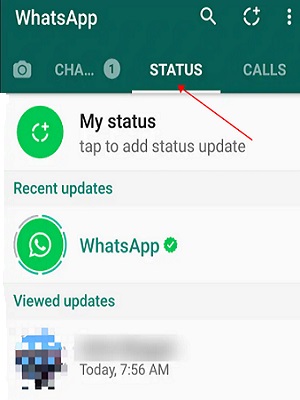 Step 4: Click the three dots next to "My Status."
Step 5: Click the status image by long-pressing it now.
Step 6: At the top right corner, you can delete both the share option and the "Delete". You can delete your WhatsApp status by clicking the "Delete" icon.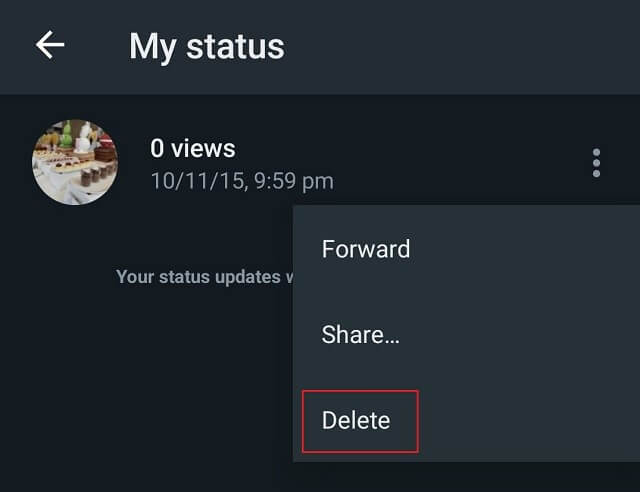 How to Delete WhatsApp Status in Bulk
If you prefer, you can delete your WhatsApp status in bulk by following the steps below.
Step 1: Open "My Status." It will display your status image or video.
Step 2: Long press the status that you want to delete.
A small check mark will appear in the lower right corner of status, which means you have selected this status.
You can see the number of selected statuses in the upper right corner.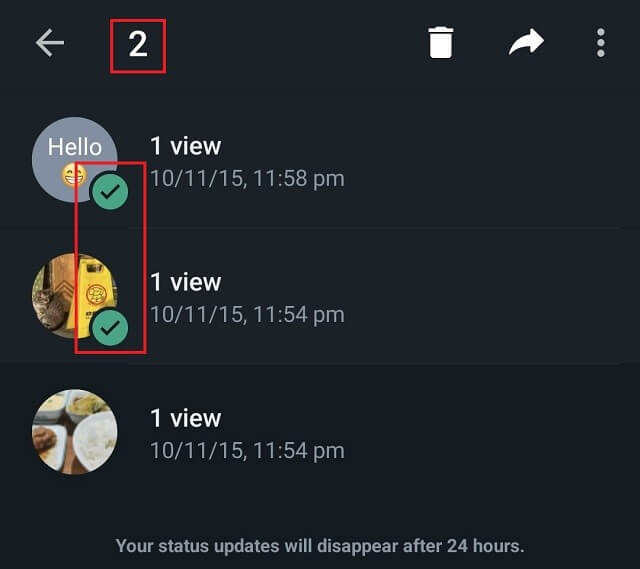 Step 3: The "Delete" icon is also located in the top green bar. Tap it to delete your WhatsApp status.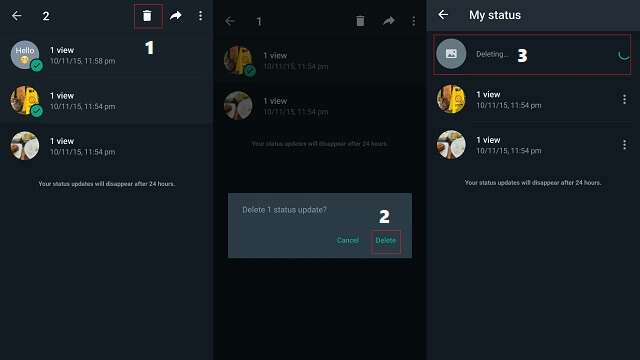 How To Delete WhatsApp Status On iPhone?
Step 1: Open the WhatsApp app on your iPhone, then tap the status icon in the bottom left corner of the screen.
Step 2: At the top of the screen, you can see and select the "My status" option.
Step 3: Press three horizontal dots at this point. It will display options.
Step 4: From there, select 'Delete.' Select "Delete 1 status update" from the menu that appears. It will be impossible to recover your status.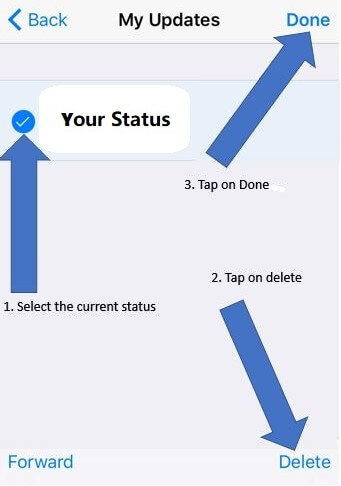 This is where it is finished. On an iOS or Android device, it is very simple to delete WhatsApp status. Implement the actions listed above.
Related Read: How to hide online status on Android and iPhone?
How To Recover Deleted WhatsApp Status?
Recovering WhatsApp status data with a third-party tool is fairly easy. KidsGuard for WhatsApp is an official WhatsApp status viewer. It can easily recover your deleted WhatsApp status even over 24 hours in no time. In this case, you can trace back some important WhatsApp status which were deleted by yourself carelessly.
In addition, KidsGuard for WhatsApp is a smart WhatsApp status viewer, which allows to to view hidden WhatsApp status of your contact's without being knowing. This WhatsApp status tracker is compatible with both iPhone and Android.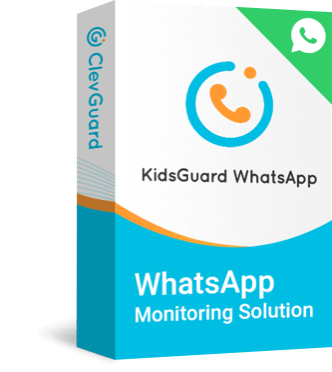 Recover deleted WhatsApp status over 24 hours instantly.
Check other's WhatsApp data on your device in real-time (Android & iPhone available)
Track someone's current location without being knowing.
Remotely take screentshots of any WhatsApp chat, pictures, call history on the target WhatsApp account.
Easy to use, no jailbreak.
Step 1: Buy and Activate KidsGuard for WhatsApp
With KidsGuard for WhatsApp, you will get a better experience than most WhatsApp monitoring apps on the market. Just click the "Try It Now" button below to select a suitable WhatsApp status tracking plan. and click Start Monitoring to see the deleted WhatsApp status.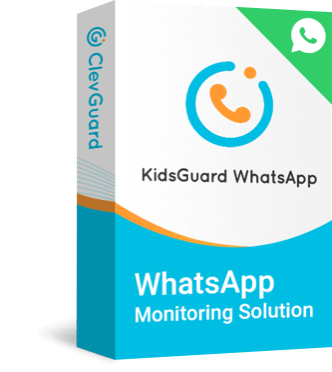 KidsGuard for WhatsApp
Best Way to View Deleted WhatsApp Status on Android/iPhone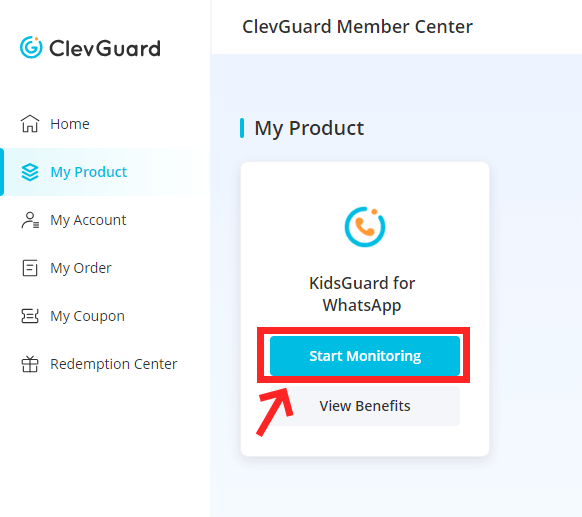 Step 2: Install KidsGuard for WhatsApp
Install KidsGuard for WhatsApp from www.installapk.net on the target Android phone (Choose iOS option if you use iPhone device.), and follow the instruction on the screen to log in KidsGuard for WhatsApp.

Step 3: View Deleted WhatsApp Status
You can easily find "Status" in the left right bar, then choose it. Now you can view all WhatsApp status, even the deleted or hidden WhatsApp status, or thumbnails and clear pictures.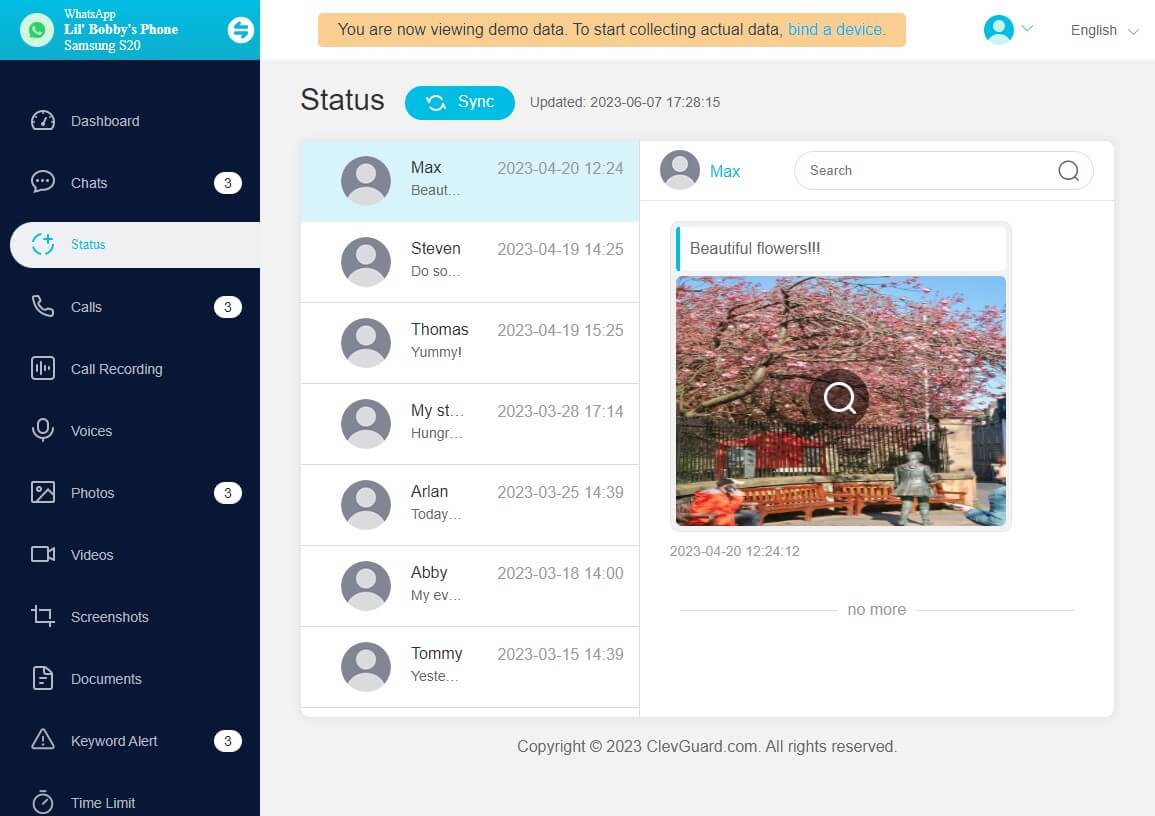 Step 4: Recover Deleted WhatsApp Status in One Click
Scrolling down to "Photos" or "Videos", there you'll find the images or videos from previous status. Click Download icon once to recover your deleted WhatsApp status now!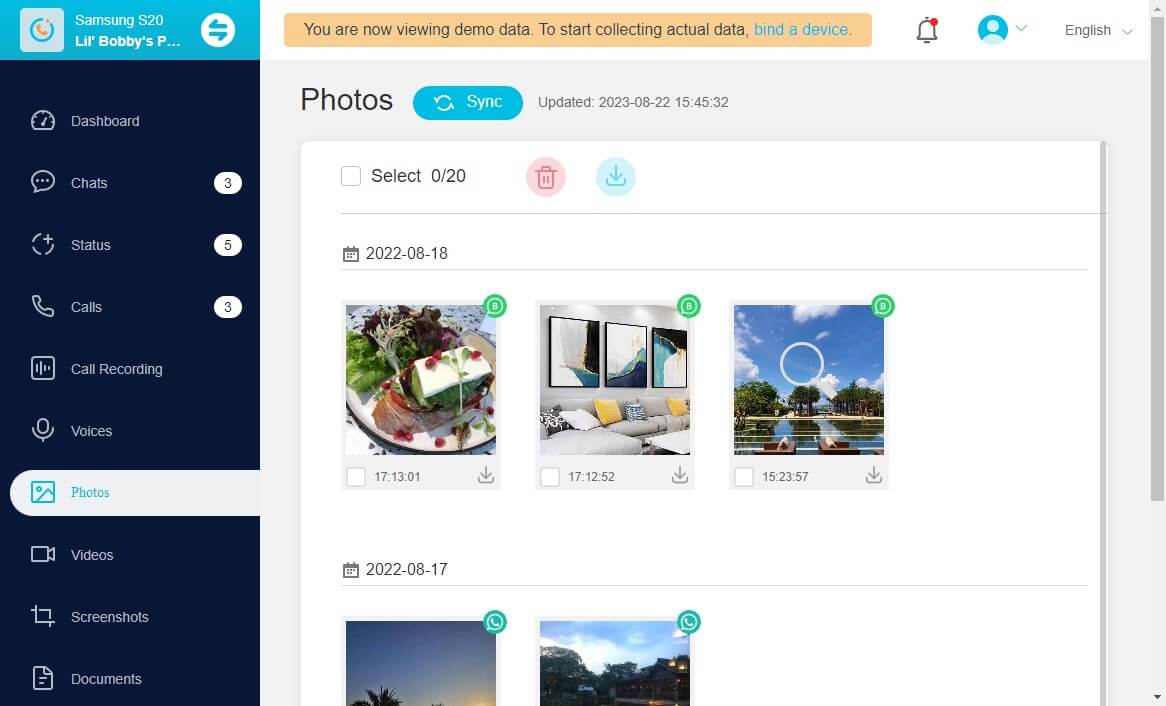 Tip:
If you only want to find deleted WhatsApps, you can skip step 4. Because WhatsApp status data in KidsGuard for WhatsApp will not take up your phone storage, but if you download them, the pictures or videos will be stored in your phone gallery, which will take up phone storage.
How To Find Out Who Viewed Your WhatsApp Status?
Knowing who has seen your WhatsApp status can help you decide whether or not to delete that WhatsApp status.
Open the WhatsApp app.
On the top middle bar, select the "STATUS" option.
Swipe up, you will see who see your status.
The Number at Eye icon indicates the number of people who have viewed your status update. Click that icon to see who has viewed the most recent version of your status.
FQA: The Most Wanted Questions About Deleting WhatsApp Status
Q1: Can You Delete WhatsApp Status After Posting?
Yes, you can deleted WhatsApp status after posting.
Just go to your WhatsApp > Status.
Tap More button next to the status update you want delete.
Then click and hold the status updata , click Delete button and click DELETE button again to confirm.
Q2: How Can I See My Deleted Status On WhatsApp Again? Or The Status Of Others?
Answer: Yes, you can use KidsGuard for WhatsApp that can ensure the recovery of deleted WhatsApp statuses on Android. Even if your friends have already deleted it, KidsGuard for WhatsApp can still assist you in viewing WhatsApp status and downloading them.
As for iPhone user, there is another app named GBWhatsApp. Though it isn't as safe as KisGuard for WhatsApp. If you're willing to take a chance, you could try downloading GBWhatsApp from website links even though it's not available on the Google Play Store or the App Store.
Navigate to GBWhatsApp's settings. Both the normal and GBWhatsApp settings are available here, where you can also access the app's unique features.
You can read the deleted message group, status updates, and contact messages by clicking the anti-delete feature on the corresponding button. Go to Settings and enable it there. Utilize your contacts' GBWhatsApp deleted status after that.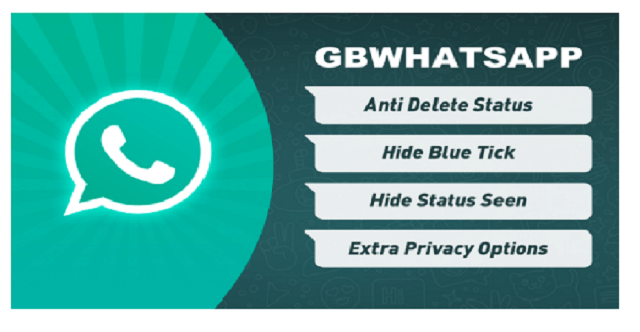 Q3: Why Is My WhatsApp Status Still Can Be Seen Even After I Deleted My Status?
Answer: The deleted status should no longer be visible or readable on any other mobile device. But it might still show up for a number of reasons. Consider this:
The receiver might not have access to the internet right now. As soon as they turn on the Internet, the status will therefore be removed from their phone.
Last but not least, it's possible that your friends are using a WhatsApp MOD instead of the official version, like GBWhatsApp.
Q4: How Can The WhatsApp Status Be Deleted Automatically?
Answer: Once a status is posted on WhatsApp, it automatically expires after 24 hours, at which point no one can see it. So, if you make a mistake and don't want other people to see it, you can delete your WhatsApp status. The status can be immediately deleted if you want to. Not all WhatsApp statuses can be deleted at once, though.
Bottom Line
You can hopefully learn top useful method about how to delete WhatsApp status after reading this article. We've already covered the majority of WhatsApp status updates. Feel free to inquire if you have any further questions on this subject.
Besides, we has recommended a great WhatsApp status viewer -- KidsGuard for WhatsApp to help you reover deleted WhatsApp status of yourself or see someone else's deleted WhatsApp status. Just try to use this smart WhatsApp status viewer, you can find out much surprise.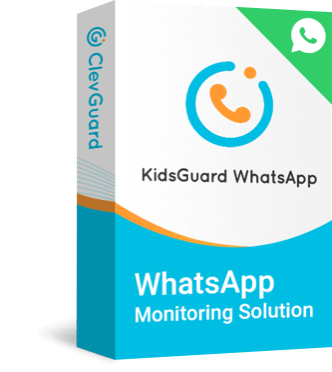 KidsGuard for WhatsApp
Best WhatsApp Status Viewer Online (Android/iPhone)