Using social media platforms like WhatsApp, we can stay connected with friends and family. But the biggest issue is that your personal information, including our WhatsApp status, can be captured via screenshots. What is a possible solution to prevent screenshots on whatsapp status? You can simply turn off privacy status visibility in WhatsApp to hide your status. Besides, there are other ways to prevent screenshots on whatsapp status.
In this blog post, we will discuss the different ways on how to prevent someone from taking screenshots on WhatsApp status and ensure that your personal information remains private. Let's find out how to prevent screenshots on WhatsApp status.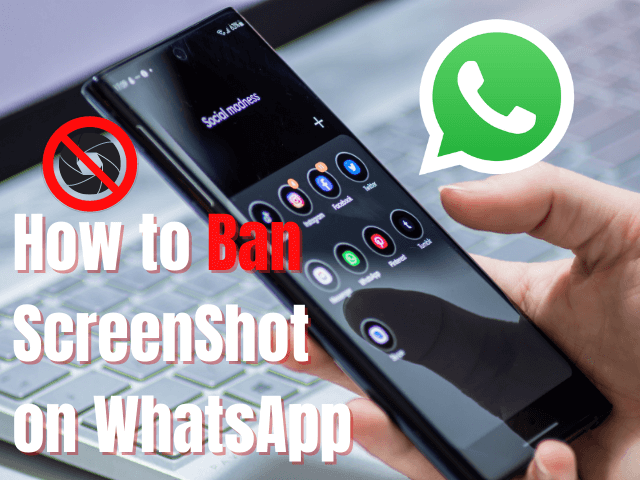 Hot Questions About Taking Screenshot on WhatsApp Status
1. Does WhatsApp Restrict Taking Screenshot While Using the App?
Before we explore this issue, many people will have this question.
We all know that WhatsApp is a popular instant messaging app that provides end-to-end user encryption. People use the app to send private and personal messages, photos, and videos.
But does WhatsApp always safe? In spite of the high level of security, anyone can still take a screenshot of WhatsApp messages and photos. The platform does not notifies users when someone takes screenshots of their messages, profile pictures, or status updates.
If you don't know, then let us inform you that the View Once messages can be screenshotted. You will only know whether the message has been seen by the other person. It is also possible for them to take screenshots without your knowledge. You won't receive any notification or notice any changes that will let you know someone took a screenshot of your message, text, or image.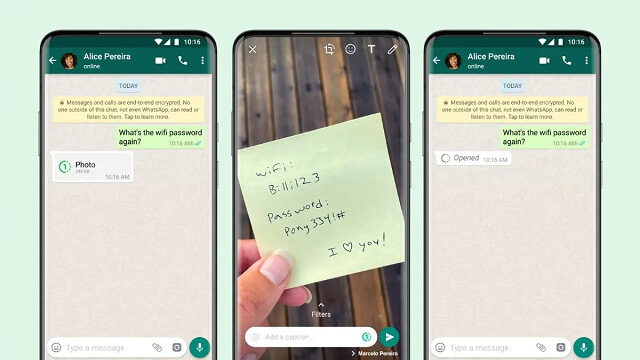 Despite WhatsApp's high levels of security, users should be cautious when sharing information. This feature may be added in the future since Facebook and Instagram already have this feature for disappearing messages. As technology continues to evolve, it's always a good idea to keep an eye out for new privacy and security features that may become available.
2. Can Anyone Know If I Screenshot Their WhatsApp Status?
No, others can't know if you screenshot their WhatsApp status and won't recieve a WhatsApp screenshot notification when you screenshoting their status. And the screenshot will be saved on your device and viewed in your camera roll. However, the person who posted the story will be able to see who viewed their story.
[3 Ways] How to Prevent Someone from Taking Screenshots on WhatsApp Status?
Here are top 3 ways on how to prevent someone from taking screenshots on WhatsApp status.
Disable Privacy Status Visibility on WhatsApp
If you are concerned about your privacy and don't wish your status to be shared with a specific person, utilize privacy option on WhatsApp. This prevents anyone from viewing their status updates, so you can prevent someone from taking screenshots of your status.
Step 1. Open WhatsApp on your device, then look at the top right corner of the screen. Next, click the three dots. From the drop-down menu, select "Settings".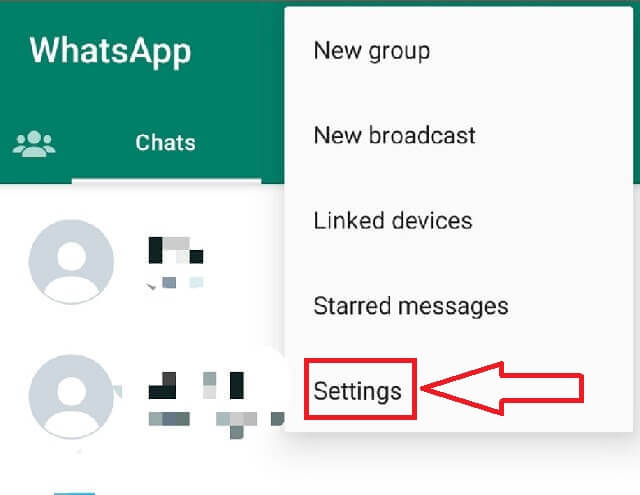 Step 2. Tap on "Privacy."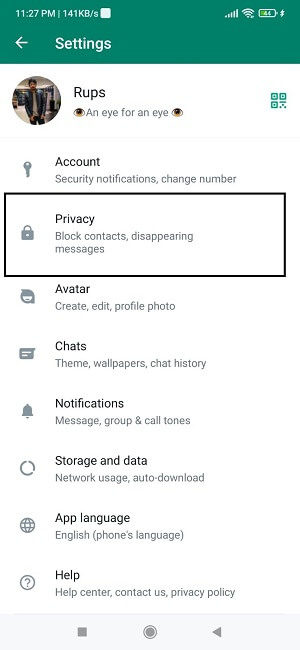 Step 3. Scroll down and tap on "Status."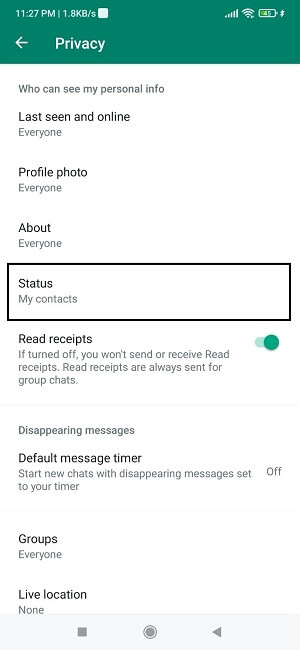 Step 4. Select "My contacts except"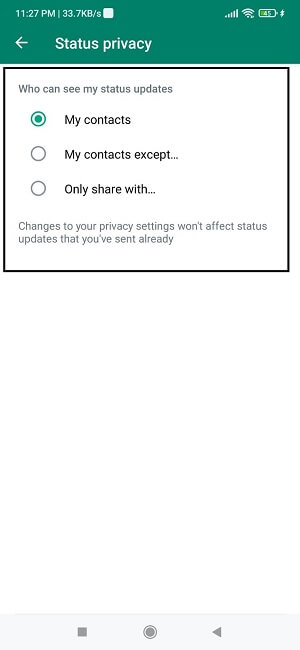 Step 5. The number of people you select is up to you. Then tap "Done" to save your changes.
By following these steps, you can control who can see your status updates on WhatsApp. By choosing "My contacts," only your contacts will be able to see your status updates. Besides, you can select "only share with" option to share your status with specific contacts. In this cases, you can restrict someone to take screenshot of your WhatsApp status.
Block Someone Before You Posting The New WhatsApp Status
The next step how to protect WhatsApp status from the screenshot is to block suspicious contacts.
If you have a negative relationship with someone, you may want to block them before posting a new status on WhatsApp. The reason is that there is a possibility that they may take a screenshot of your status and use it for their own purposes. Additionally, if you share sensitive information, you can block someone who may violate your privacy.
How to Block Someone from Screenshoting on WhatsApp
First, you should do:
Open WhatsApp on your device.
Open the chat window of the person you want to block.
Tap on the three dots located in the top-right corner of the screen.
Step 1. Select "More" from the drop-down menu.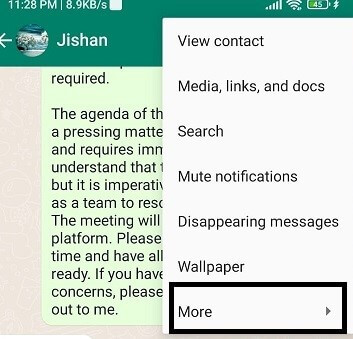 Step 2. Tap on "Block" to block the person. Don't miss to confirm the action.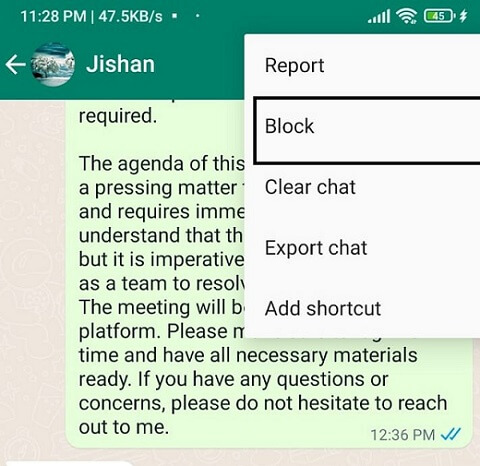 Once you have blocked the person, they will no longer be able to see your status updates so that you can prevent your WhatsApp status being screenshotted. Before posting a new status, it is important to check your privacy settings and make sure that only the desired individuals can view your status updates. This will ensure that your status updates are not visible to anyone you have blocked on WhatsApp.
Alternative to Other Apps to Prevent Screenshots on WhatsApp Status
The best way to prevent WhatsApp status screenshot from being taken is to use other social media apps. Alternative apps like Snapchat and Instagram are becoming increasingly popular among privacy-conscious users.
Snapchat is particularly known for its disappearing messages feature. It protects users from having their messages screenshotted or saved. With Snapchat, messages disappear after viewing, making it an excellent choice if you are not satisfied with WhatsApp's privacy settings.Instagram, on the other hand, offers both public and private posts, making it a versatile option. Instagram also allows for private messaging, giving users an alternative to WhatsApp for their private chats.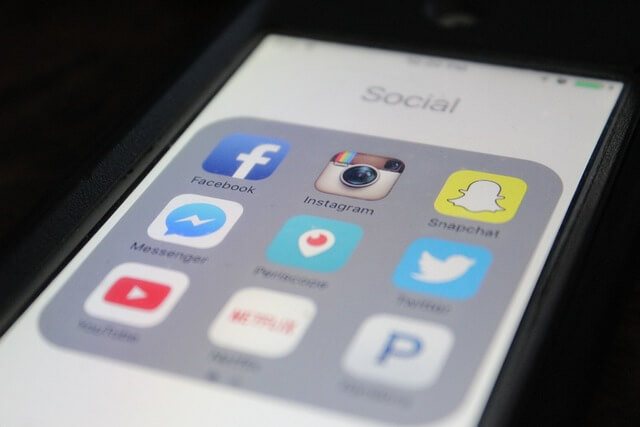 Bonus Tip: How to View Someone's WhatsApp Status Without Being Detected
Earlier, we have provided pratical ways on how to prevent screenshots on whatspp status. The question is, what do you do if someone is hiding their status from you? Don't worry, we have a solution for you to view the hidden WhatsApp status as well. The ClevGuard's KidsGuard is great app to monitor or see hidden WhatsApp statuses. The app is compatible with all kinds of Android devices, and allows user to track WhatsApp data, see whom they are communicating with or calling with.
Get a plan of KidsGuard for WhatsApp and download the app to the targeted phone to access the dashboard. Once you have installed the app to the targeted phone, you will be able to get WhatsApp status screenshot or view chat logs, call logs, record WhatsApp conversations, and more.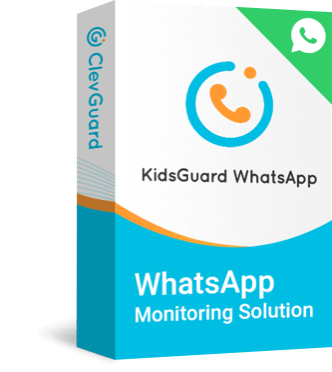 KidsGuard for WhatsApp-- Best Way to View Someone's WhatsApp Status Without Being Detected
See someone's WhatsApp activities including WhatsApp activities, last seen, status, chats, call history and so on without being knowing.
Able to track someone's WhatsApp ID location remotly.
Allow users to take screenshots of view once messages on WhatsApp.
Allow you to listen to someone's WhatApp call voice even they deleted it.
How to Check WhatsApp Status with KidsGuard for WhatsApp?
Step 1. Start the Plan of KidsGuard for WhatsApp on One Click
Click the Monitor Now button below to buy a license of KidsGuard for WhatsApp. Or you can click View Now button to experience it first.
Step 2. Log in KidsGuard for WhatsApp
Follow the instructions to sign up and log in KidsGuard for WhatsApp on the target device which you want to monitor. Here you will be able to get the setup guide on KidsGuard for WhatsApp. The process will take only 3 minutes complete.

Step 3. Bind the Target WhatsApp Account on Your Computer
Go to Dashboard on KidsGuard for WhatsApp site, click Bind a Device and Verify Setup to bind the target WhatsApp account on your computer.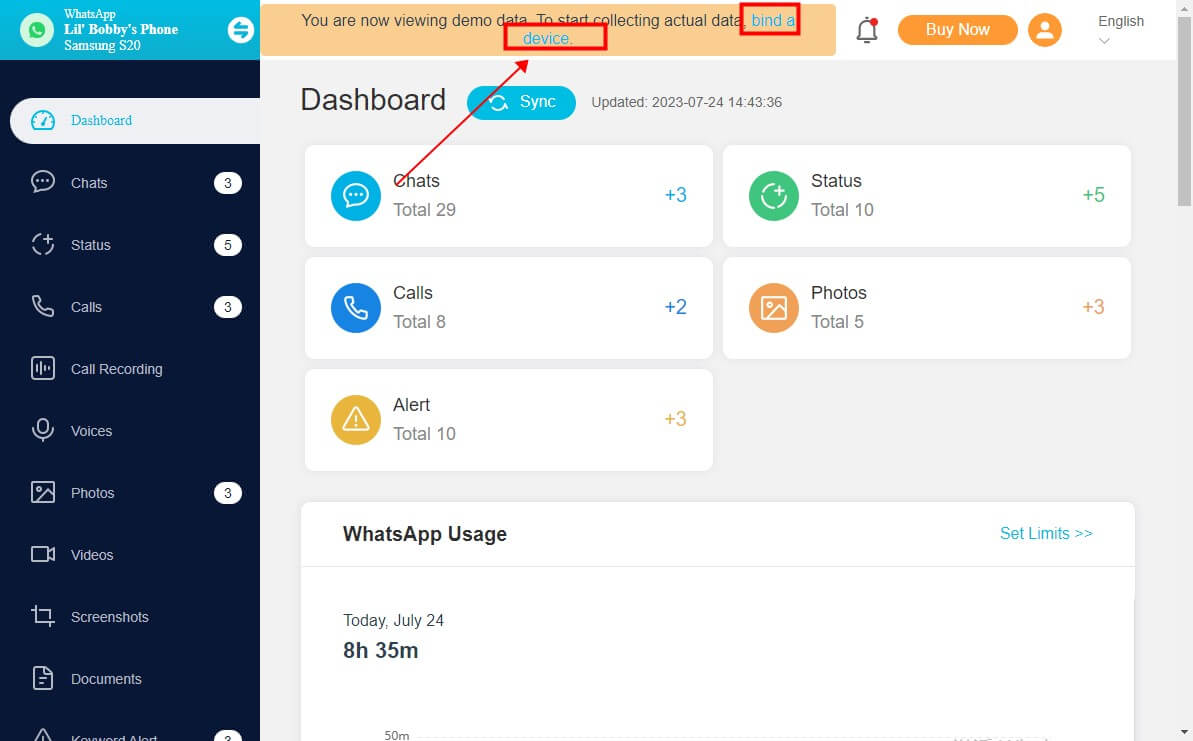 Step 4. Verify your Setup and Start Monitoring
After completing the installation of the app, click on "Verify Setup. You will be redirected to the dashboard of the app.
Now you can start monitoring the WhatsApp data to the targeted phone. You'll find the main menu on the left side of the full dashboard. This will allow you to navigate to the specific function that you are looking for. You can monitor all WhatsApp activities of the target phone on the dashboard. From viewing WhatsApp status to recording WhatsApp app calls, you will get a number of options.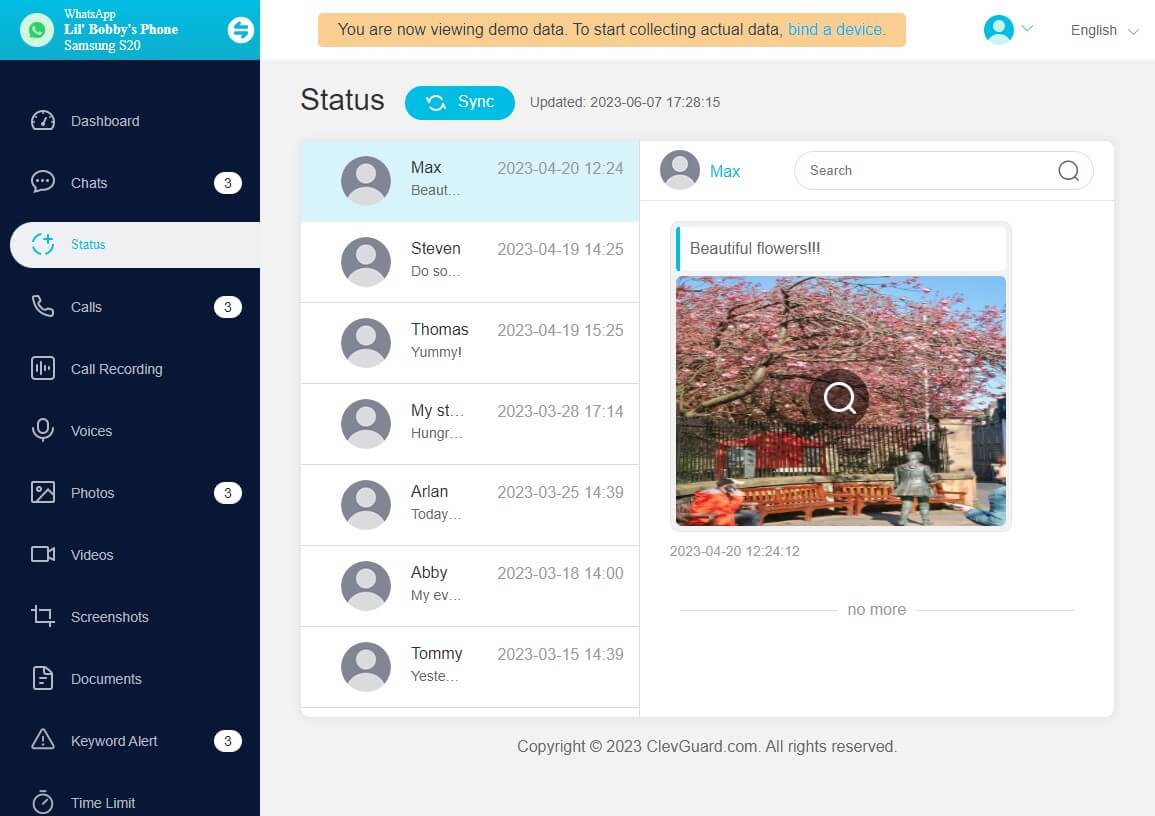 Final Words
This article has brought top 3 useful methods about how to prevent someone from taking screenshots on WhatsApp status, now you can certainly prevent anyone from take screenshots on your WhatsApp status.
In the event that someone blocks you from showing their status on WhatsApp, then you can use KidsGuards for WhatsApp in order to view their hidden status on WhatsApp. Furthermore, using the app will give you access to a complete WhatsApp monitoring system for the targated phone.