Can Macs get Keyloggers and do keystroke logging?
Sure! A keylogger is a keyboard tracker that runs in the background of the system, recording every keystroke. There are several keylogger tools available that are specifically designed for Mac, and these keyloggers are known as Keylogger for Mac.
However, locating a keystroke logger Mac is a bit difficult. The numbers are very limited, and all the websites claim that they are selling the best tool. So, we have compiled a list of the best keyloggers for Mac. Check out the article below to find more details. Besides, the article will give you a bonus tip to monitoring others' Windows computer secretly. Just remember that the keyloggers we have introduced in this article can only be used for education purposes.
Part 1: Keylogger Definition - What Is a Keylogger?
Keylogger or Keystroke loggers are tools designed for capturing all the typed keystrokes on the target device. These days, the keylogger tools have become quite popular. Several new features have been added with each one for effective monitoring. They can be used to keep your kids safe, and they are also effective tools for employee monitoring, and even be used to check if your partner cheating on you.
Is using a keylogger illegal? A keylogger tool by itself is not illegal. But it all depends on the use. If you have installed the tool on a computer that is not owned by you with the intention of stealing credit cards, passwords, and other information; it is illegal.
Considering the above usage scenarios, we have provided a list of keylogger Mac below. Check them out now.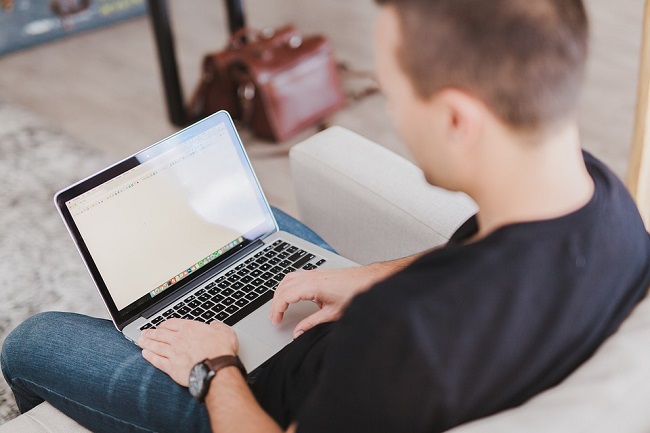 Part 2: Review of 7 Best Keylogger for Mac to Record Keystroke
Here's our review of the best keyloggers for Mac. We have picked 7 of the best tools available on the internet. We have tried to make the review as detailed as possible. These details will help you to figure out which one of them is best suited for your need.
Our first pick is Elite keylogger. Elite Keylogger for Mac is a good keystroke logger for monitoring. Do not expect anything extraordinary as that tool has all the necessary features and nothing more.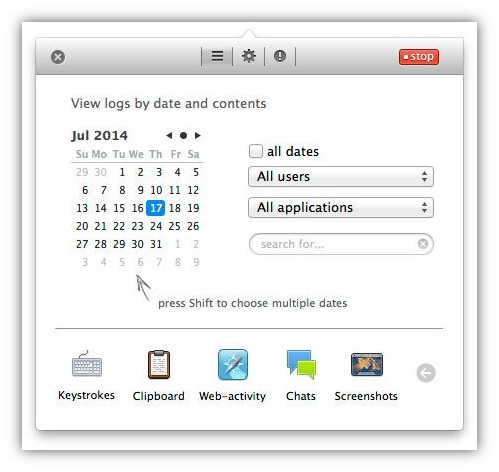 The features are pretty basic but they are useful if you do not have any especially particular need. Otherwise, this tool works just fine. You will be able to view the online logs, read the name of the sender of the email; things like that. But there is one catch, though. You have to know the password of the target Mac.
Key Features
Keylogger

Screenshot capture

Monitoring messages on instant messaging platforms and email

Browser history

Tracking username and password

Clipboard history
Overall, Elite is a good keystroke logging tool for macOS. But it is pretty basic. There are only necessary features available, and if you are looking for something basic like this, then you will be happy with this tool. But if you want some over the top function, you will be disappointed.
Mac has only a handful of keyloggers available, and our next pick is Aobo Mac keylogger. This tool runs smoothly on mac, considering your Mac is running on OS X 10.4X and above.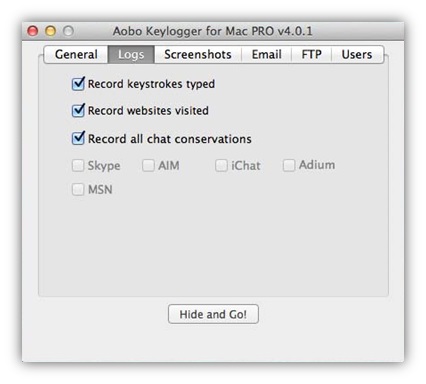 Aobo Keylogger is easy to install, and due to its simple interface, it is easier to operate. Remote monitoring is possible with this tool, but it can be done via your online account. It has a lot of great features, but features like live view or live webcam are missing.
Key Features
Keylogging

Website monitoring

Tracking the location of the target Mac via its IP address

Screenshot capture

Creates a log and sends it via email

Conversation recording on instant messaging tools like Facebook, iChat, Skype, MSN, AIM, Yahoo, Messenger, Adium.
Aobo is a great keylogger for Mac. It has a decent number of features, and it works perfectly. It is especially suited for parental monitoring. It has a keen grip on tracking location and recording conversation on instant messaging platforms.
Our 3rd pick is Perfect keylogger for Mac. Yes, the name of this keylogger is perfect. The name may suggest that it is the perfect monitoring tool, but it is not true.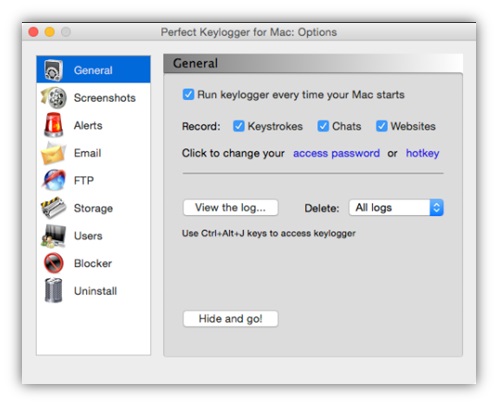 This tool is a user-friendly keystroke logging tool and has some interesting features as well, but the live monitoring feature is not available. It records conversations on the instant messaging apps that can be viewed from your online account, remotely.
Key Features
Keylogging

Recording browsing history

Blocking websites

Instant messaging chat logs

Screenshot capture

App monitoring

Email alerts
Perfect is an excellent tool, but in terms of perfection, it doesn't live up to its name. The features are excellent, and the operation is simple, but some of the key features are missing from it.
Refog is the simplest keylogger app for monitoring. Both its installation and operation are very simple. It is really a tool for non-tech savvy persons.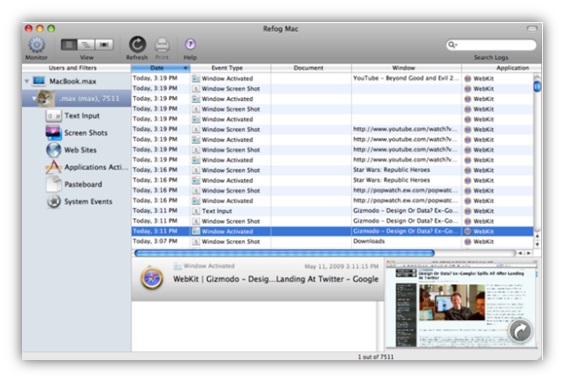 Refog is a good keylogging tool for Mac. It is not packed with unnecessary functions like most keyloggers available on the internet. It has some core functions, but it is also missing a few important ones.
Key Features
Keylogging

Website monitoring

Screenshots capture

Detailed chat logs

App monitoring

Search filter
In terms of performance, Refog is a good tool. You won't have any unexpected inconveniences while using it and all the necessary features are available. But after installation, you have to set a master password, and only after that, you will start monitoring.
At the 5th place, we have Spyrix. Now, Spyrix can only be described as one of the most powerful keyboard trackers available for macOS.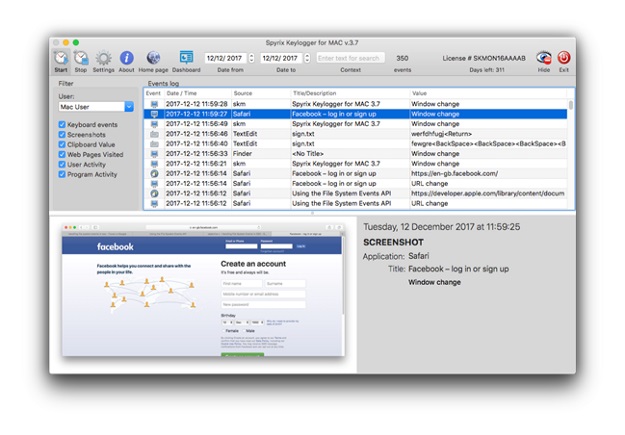 It is a multi-functional that can be used both for monitoring kids and monitoring employees. Spyrix is a really good tool. It has some of the most amazing features, easy to install, and you won't face any inconveniences while using it.
Key Features
Keylogger for Mac

Remote monitoring via web account

Live viewing

Instant screenshot

Website monitoring

App monitoring

Clipboard monitoring

Password recording
Spyrix is one of the most powerful and effective keyloggers for Mac. This is one of the few keyloggers that offers features like Live viewing and Live Webcam. These features will give you a comprehensive report on the activities of the target Mac.
The name KidInspector automatically suggests that this tool is designed specifically for monitoring kids. It is a handy tool, a very useful tool that makes sure that your kids are safe online by URL recording, IM, social media app tracking, search recording, and more.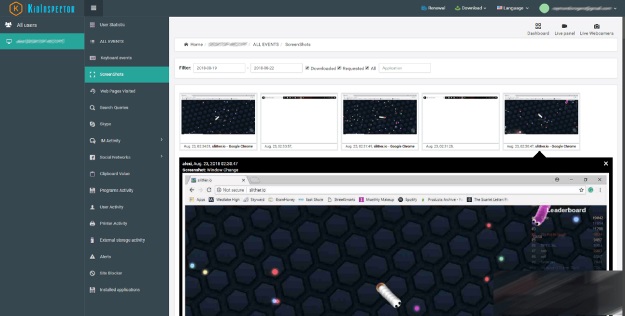 Overall, this is a great keystroke logger that is packed with features. But this app is cloud-based, and all the recorded data go to your online account. If you are looking for a keylogger Mac free, you should look into KidInspector.
Key Features
Keylogging

A free trial

Screen broadcasting

Microphone and webcam recordings

Easy installation
KidsInspector is an example of a simple keylogger tool. It is easy to install and easy to operate. A free trial is available for you to get an insight into its operation. If you are not that tech-savvy, then this is the tool for you.
A lot of people consider Actual Keylogger to be one of the best keyloggers for Mac. It is true. Actual Keylogger provides the best price and some of the best features when it comes to Mac monitoring. This tool will record all the running apps on the device. It also records all the websites visited, keystrokes, printer activity, clipboard events, and more.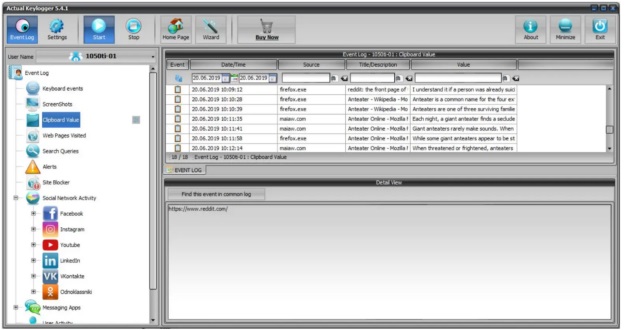 The most unique thing is that Actual Keylogger will monitor the startup and shutdown of any operation. It is a good tool for parents for monitoring their kids and even suitable for employee monitoring as it captures screenshots and creates a report. You have to download the report for viewing it, and it is available in HTML format.
Key Features
Keylogging

Screenshot capturing

Delivers reports

Hidden mode

Easy to install
Actual Keylogger is not the best one on this list, but this tool is especially suited for employee monitoring. And it is available at an affordable price.
Bonus: More Than a Keystroke Logger - MoniVisor for Windows Monitoring
Now, this article is about the best keylogger tools for Mac as they are not easy to locate, and most people have an idea that such tools don't work on macOS. As we have discussed the keyloggers on Mac, we thought it would be best to discuss similar tools on Windows OS.
Windows is the most common operating system. It is used by billions of people all over the globe. So, if you have a Windows PC in your home, you can use MoniVisor keylogger on it for monitoring. More importantl, MoniVisor is not just a keyboard tracker, it is also an entire Windows computer monitoring solution. It has numerous features, easy to install, available at an affordable price, and works while staying completely hidden.
Key Features
Easy installation: Follow the video tutorial to install, only 5 minutes to achieve keystroke logging and computer monitoring.

Works in stealth: After installing, the application will run in the background, and you can monitor someone's computer without knowing.

Social media monitoring: Support to view the chat messages from web WhatsApp, Facebook, Twitter, Skype, and Instagram remotely.

Internet activity tracking: Record all the created internet browsing history, such as Chrome, Firefox, Microsoft Edge, Firefox, Opera and Internet Explore.

Screenshots Capture: Can secretly capture the real-time screen image of the target's computer.

Email recording: You can read the detailed content of each email incoming and outgoing from the target's computer on your online dashboard.

Print activity tracking: View the printed document name, page, and even the file path without hassle
As you can see, these tools have all the necessary functions that provide a complete monitory solution. We have said that it has a simple installation procedure, but you can also check it below to learn how to install.
Step #1: Complete the registration of MoniVisor and go to the 'Monitor Now' option. Need to purchase a plan with all the necessary functions you require. If you are using this product for the first time, it is recommended that you buy the most cost-effective 3-month plan to try.
Step #2: After that, you will be taken to the 'My Products and Orders Management' Page. Click on the 'Setup Guide' option and follow the on-screen instructions.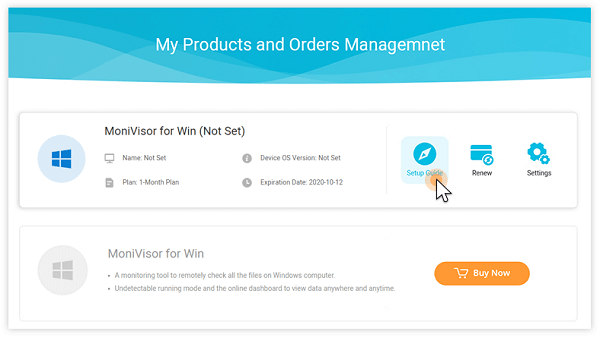 Step #3: After that, you have to install the app on the target computer.

Step #4: After completing the installation, the program will start running in the background of the computer. Now, visit the ClevGuard website and login into your account. Click on the "Dashboard' option, and all the recorded data will be visible to you.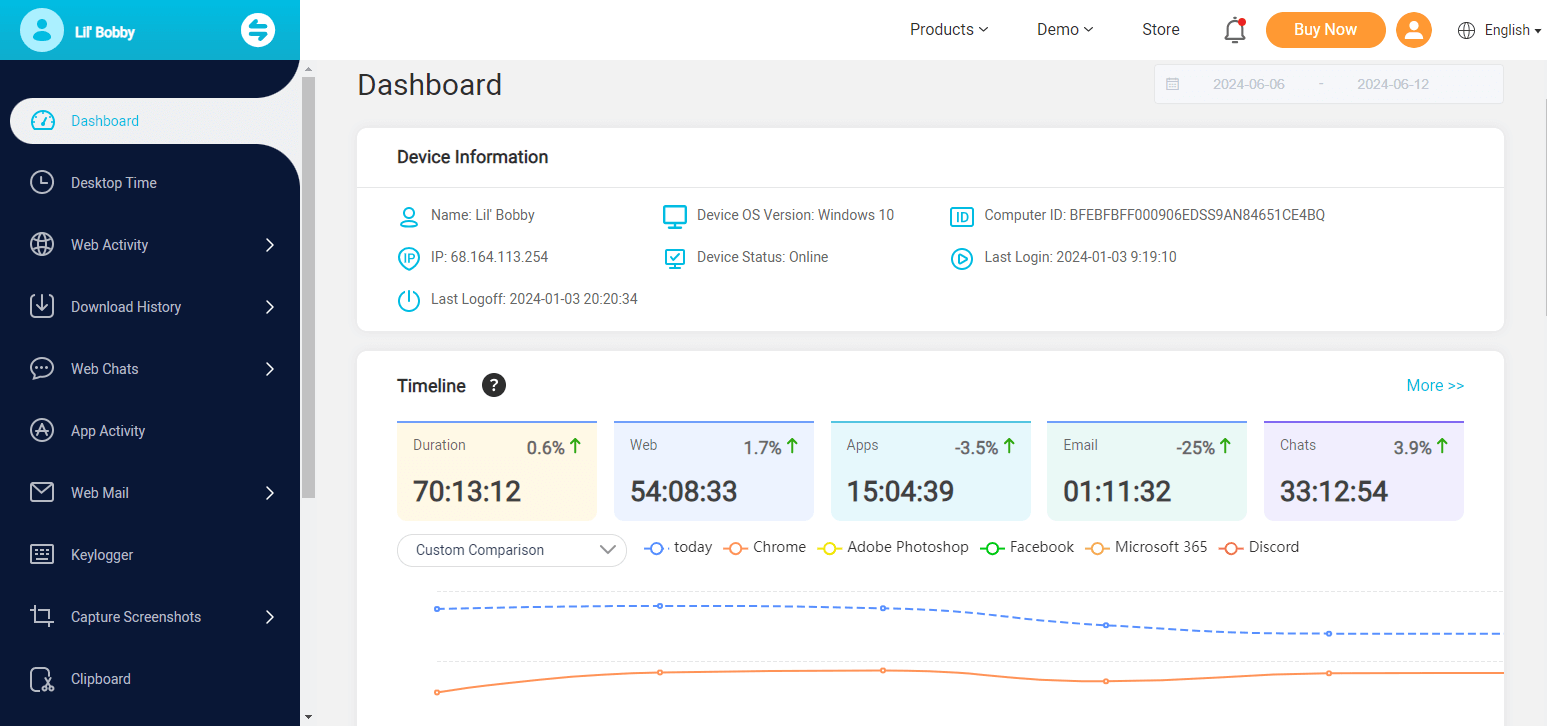 The first data sync takes a considerable amount of time, do not get worried. All the data will be available via your online portal, and finally you can do keystroke logging anytime and anywhere.
Summary
If you are wondering if there are keylogger for Mac; you know for certain now that they are available. We picked out the top keyboard tracker for Mac and introduce it in this article. So, pick your choice and start using them. But if you were also wondering about keystroker logging on Windows, then you do not have to choose. We have a single solution for you: Monivisor.