Is there any free keylogger for the MacBook to do keystroke logging?
Sure! There are several keystroke recorders on macOS. A keylogger is a keystroke software program running in the background of the system, recording every keystroke. However, finding keystroke software for Mac is not that easy, as the number is not very large. For your convenience, we decided to run some tests and compile a list of the best keyloggers for Mac.
Check out the article below for more details. Besides, the article will recommend a keystroke logger for Windows. Before we dive in, it is noted that the keystroke software is only for parental control.
Part 1: What Is Keylogging?
A keylogger or keystroke recorder is designed to covertly capture all the typed keystrokes on the target device. By keeping track of the paths every stroke goes through, a keyboard recorder can capture each keystroke. These days, keyloggers have become quite popular. Several new features have been added for effective monitoring. They can be used to keep your kids safe and ensure the productivity of the workforce.
Is a keylogger safe to use?
A keylogger tool by itself is legal and virus-free. But it all depends on how you use it. If you have installed the tool on a computer that is not owned by you with the intention of stealing credit cards, passwords, and other personal information, it is illegal.
Therefore, keystroke software is ideal for parents, network engineers, or business owners. If parents want to keep an eye on what kind of websites their kids are visiting, a keyboard tracker comes in handy. Besides, network system administrators can use them to figure out what is exactly happening to their system. Employers can use them to ensure no information leak occurs in the workplace.
Now that you have understood the definition of keylogging, here's our review of the best keyloggers for Mac in 2023.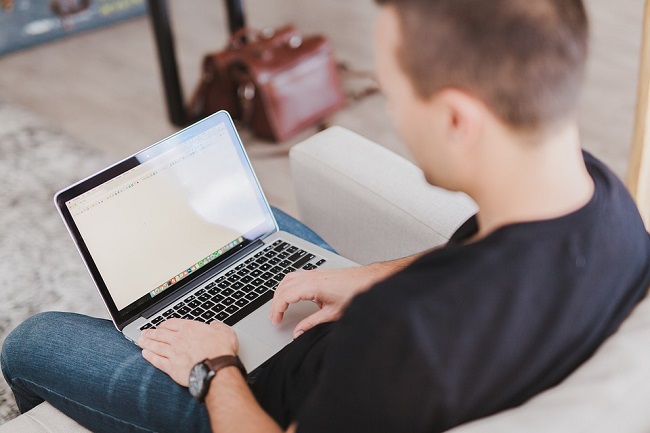 Part 2: Review of 7 Best Keyloggers for Mac to Record Keystrokes
We have handpicked the best 7 keyloggers for MacBook, some of which are free to use (free trial). All the remarks are real user experience; just choose the one suited to your needs.
Our first pick is Elite Keylogger. This is a good keystroke logger for monitoring. Do not expect anything amazing, as this tool only covers some basic features. Even though this tool works well on a MacBook. You can view the online logs and access the email details. Knowing the password of the target computer is a must before you can record the keystrokes.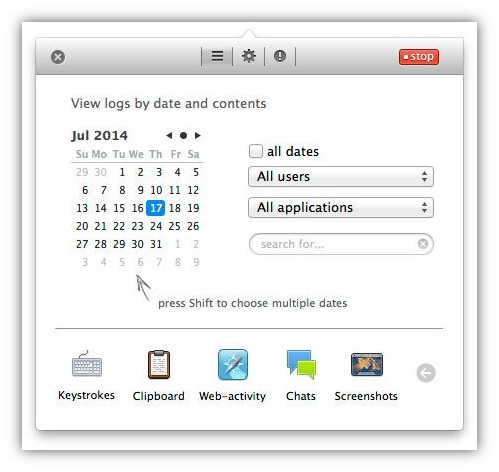 Key Features
Keystroke logging

Screenshot capture

Monitoring messages on instant messaging platforms and email

Browser history

Username and password tracking

Clipboard history
Overall, Elite is a good keystroke logging tool for macOS. But it can solely meet the basic needs. There are only fundamental keylogging features available, and if this is what you are searching for, then Elite could be a good choice. But if you want some advanced features, read on for more information.
Mac has only a handful of keyloggers available, and our next pick is Aobo keylogger for Mac. But this tool has some requirements for the system: OS X 10.4X and above. Otherwise, the overall performance may let you down. OK, now take a look at this keystroke software.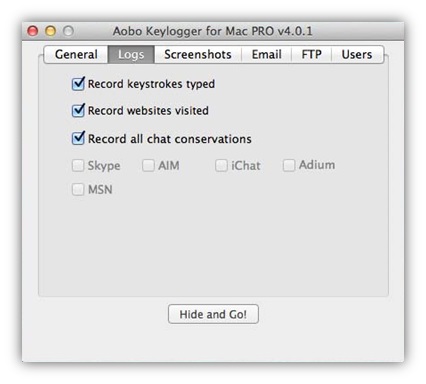 The Aobo Keylogger is easy to install. And thanks to its simple interface, remote keyboard monitoring is made simple. Nevertheless, keystroke recording can be realized via your online account. It has a lot of great features but lacks some, including Live View or Live Webcam.
Key Features
Keylogging

Website monitoring

Tracking the location of the target Mac via its IP address

Screenshot capture

Creates a log and sends it via email

Conversation recording on instant messaging tools like Facebook, iChat, Skype, MSN, AIM, Yahoo, Messenger, Adium.
AoBo is a great keylogger for Mac. It has a decent number of features, and it works perfectly. It is especially suited for parental monitoring. It has a keen grip on tracking location and recording conversations on instant messaging platforms.
Then the next selection is Perfect Keylogger for Mac. Exactly. The name of this keylogger sounds nice. Is that true? Look at how this keystroke recorder works.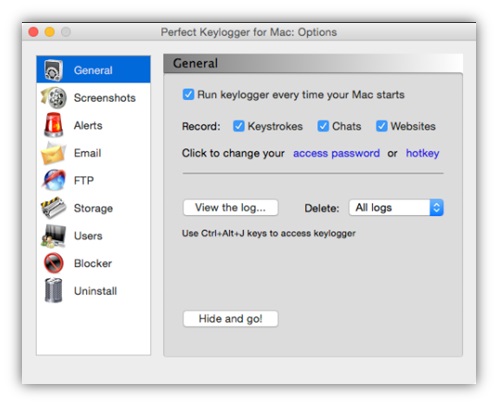 This tool is a user-friendly keystroke tracker and has some interesting features as well, but the live monitoring mode is not available. It records conversations on the instant messengers that can be viewed from your online account remotely.
Key Features
Keylogging

Recording browsing history

Blocking websites

Keeping Instant messaging chat logs

Screenshot capture

App monitoring

Email alerts
To sum up, Perfect Keylogger for Mac is a good tool, but in terms of perfection, it doesn't live up to its name.
Refog is the simplest keylogger software for both macOS and Windows. No matter wthether its installation or operation is smooth and simple, this keystroke tracker is really a top choice for tech rookies.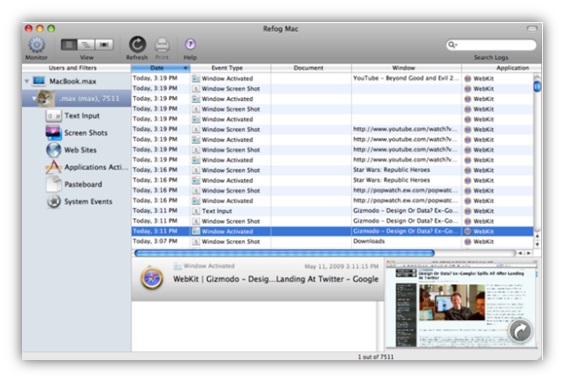 Refog is a good keylogging tool for Mac. It is not packed with unnecessary functions, like most keyloggers. If you are looking for a full-featured keylogger on your MacBook, we are 100% sure this is your ultimate solution.
Key Features
Keylogging

Website monitoring

Screenshots capture

Detailed chat logs

App monitoring

Search content filter
In terms of performance, Refog is a good tool. You have almost no unpleasant inconveniences while using. Noteworthily, you have to set a master password before proceeding.
Next comes Spyrix. This is a free keylogger for Mac. It's suitable for parents and employers. It contains some advanced features that you won't see in other keystroke recorders, such as printer control and report generation. With the help of Spyrix, your kids can enjoy a safer online environment, and employees can greatly improve efficiency.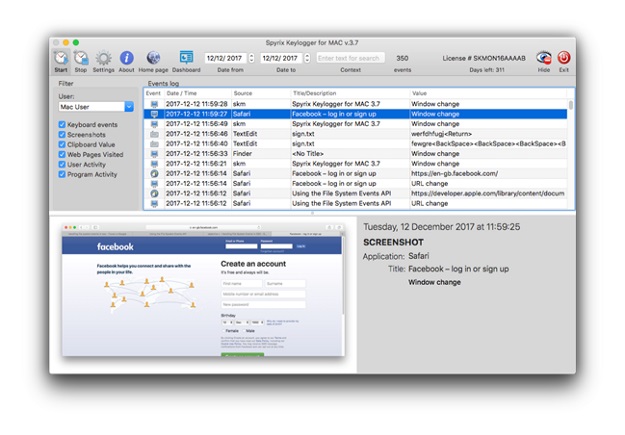 Key Features
Keylogging

Remote monitoring via web

Live viewing

Instant screenshot

Website monitoring

App monitoring

Clipboard monitoring

Password recording
As you can see, Spyrix can be regarded as the best keystroke software on the list. Features like Live viewing and Live Webcam are not always accessible. It is these features that give you a comprehensive understanding of the activities on the target MacBook.
As the name implies, this keyboard tracker is developed for young kids. It is a handy and lightweight tool that makes sure that your kids are safe online through URL recording, IM, social media app tracking, search recording, and more.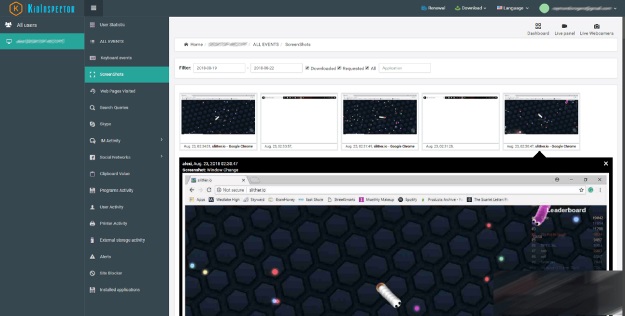 In general, this is a great keystroke tracker packed with several robust features. But this app is cloud-based, and all the recorded data will be stored in your online account. If you are looking for a free keylogger for Mac, you should opt for KidInspector.
Key Features
Keylogging

Offering free trial

Screen broadcasting

Microphone and webcam recording

Easy installation
KidsInspector is an example of a simple keylogger tool. It is easy to install and easy to operate. A free trial is available for you to get an insight into its operation. If you are not that tech-savvy, then this is the tool for you.
A lot of people consider Actual Keylogger to be one of the best keyloggers for Mac. It is true. Actual Keylogger has a reasonable pricing strategy and some of the best features when it comes to keylogging on macOS. This tool will record all the running apps on the device and record all the website history, keystrokes, printer activity, clipboard events, and more.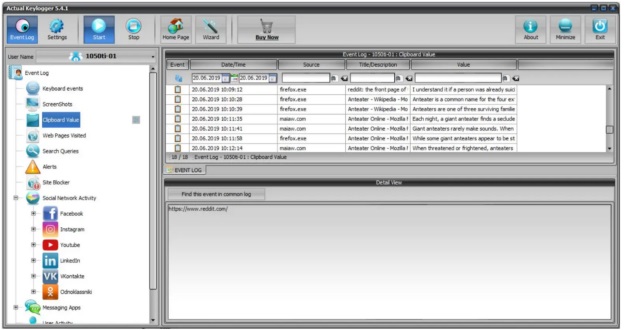 The most distinguished feature is that this keyboard tracker will monitor the startup and shutdown of apps. It is a good tool for parents and business owners as it captures screenshots and creates a report. By the way, you have to download the report to view, which is available in HTML format.
Key Features
Keylogging

Screenshot capture

Reports ouput

Hidden mode

Easy to install
The Actual Keylogger is not the best one on this list, but this tool is especially suited for employee monitoring. And it is available at an affordable price.
Bonus: Best Keystroke Logger for Windows - MoniVisor
When you read here, we're sure you have found the keystroke software that best suits your MacBook. Here, we have another bonus for your – MoniVisor.
This is an easy-to-use keyboard tracker for Windows. More importantly, MoniVisor is more than a keylogger, it is also all-in-one computer monitoring solution for Windows PC. That being said, you can employ this software to monitor app usage, keystroke typing, track Gmail and Yahoo mails, capture real-time screenshots, and perform more tasks. What's the most impressive is that a very few people can find it. This hidden program runs in the background after installation.
Key Features
Easy installation: Follow the setup tutorial to install, only 5 minutes to do keystroke logging and computer monitoring.

Works in stealth: After installing, the application will run in the background, and you can monitor someone's computer without his or her knowledge.

Social media monitoring: Support to view the chat messages from web WhatsApp, Facebook, Twitter, Skype, and Instagram remotely.

Internet activity tracking: Record all the created internet browsing history, such as Chrome, Firefox, Microsoft Edge, Firefox, Opera and Internet Explore.

Screenshots capture: Secretly capture the real-time screen image of the target's computer.

Email recording: You can read the detailed content of each email incoming and outgoing from the target's computer on your online dashboard, including Gmail and Yahoo.

Printing activity tracking: View the printed document name, page, and even the file path without hassle
As you can see, these tools have all the necessary functions that provide a complete monitory solution. We have said that it has a simple installation procedure, but you can also check it below to learn how to install.
Step #1: Complete the registration and hit the "Monitor Now" button below. Then make the purchase to upgrade your account. If you are the first-time user, it is recommended that you buy the most cost-effective 3-month plan to try.
Step #2: After that, you will be taken to the "My Products and Orders Management" page. Click on the "Setup Guide" option and follow the on-screen instructions.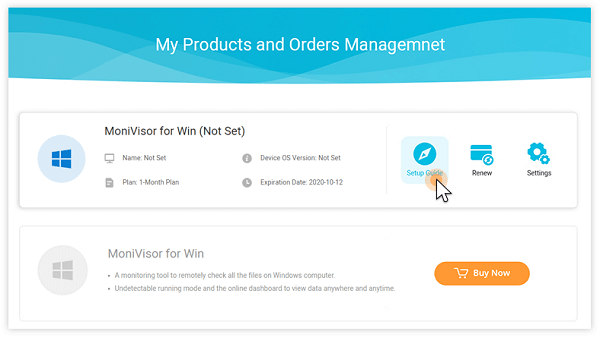 Step #3: After that, you have to install the app on the target computer.

Step #4: After completing the installation, the program will start running in the background of the computer. Now, visit the ClevGuard website and login into your account. Click on the "Dashboard' option, and all the recorded data will be visible to you.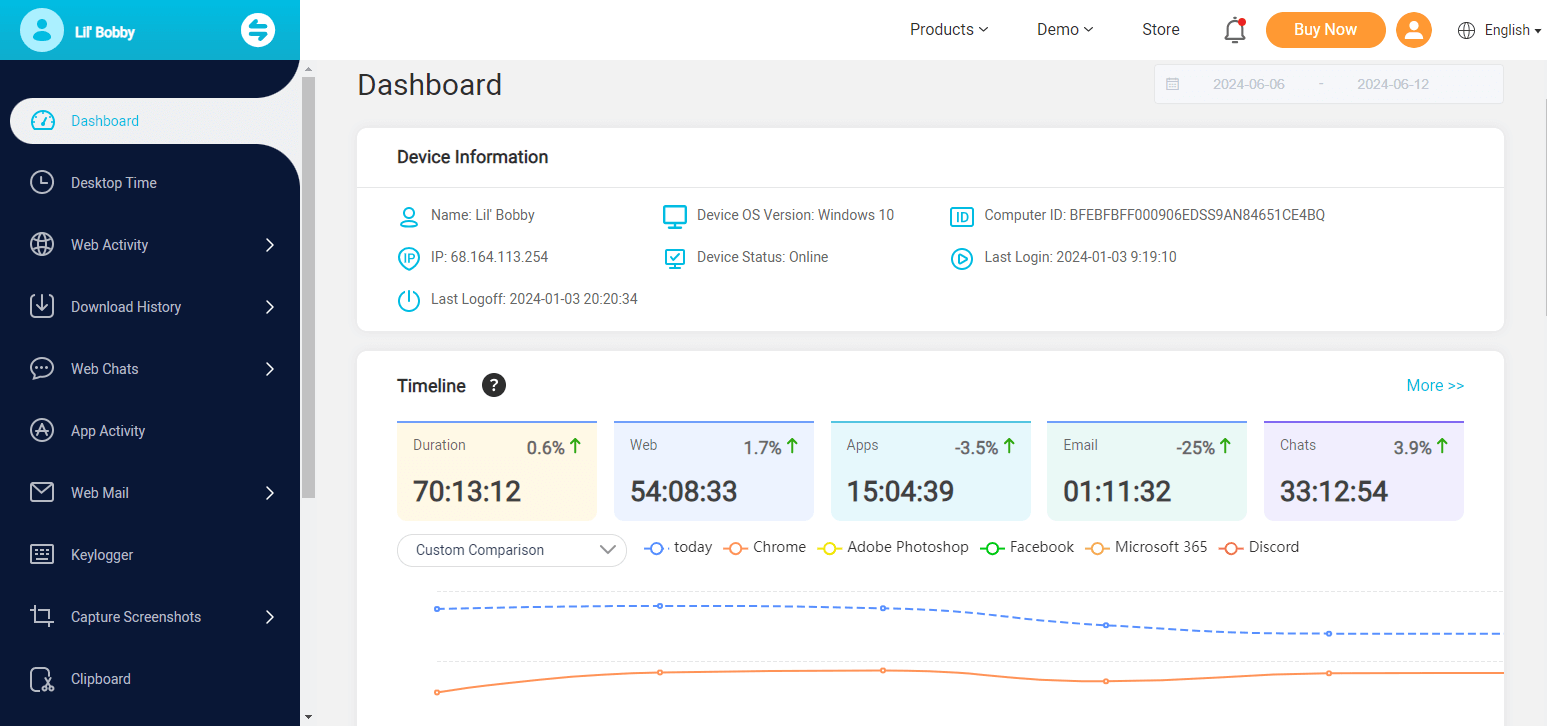 The first data sync takes a considerable amount of time, and don't worry. All the data will be available via your online portal, and finally you can do keystroke logging anytime and anywhere.
Summary
Honestly, the number of eligible keyloggers for MacBook is less than expected. We have still narrowed down your choice and sifted the 7 best keyloggers on Mac for your reference. We hope you can find the one. At last, we have to mention that keyloggers can be applied to certain situations.