With the advancement of cutting-edge technology, now everything in the world is at your fingertips. Anything you need is only a keystroke away, from watching your favorite television shows to reading the latest headlines. When it comes to parents and teachers, this may be a cause of concern.
At times it could be difficult for parents to keep track of their children, especially if they are under 18. Kids may be immersed in and even hooked to material that is not always suitable for their age group. As a result, keeping tabs on their online activities is strongly suggested. At this stage, you might be wondering how can I check my child's internet history on computer? This article will answer this question in detail.
Why do You Need to Check Your Child's Computer History?
There is an Internet-connected computer, tablet, or smartphone in the hands of nearly every youngster these days. As a parent, you must be cautious about teaching and regulating your child from an early age, beginning at a very young age. So why do you need to check your child's computer history?
Some of the obvious reasons are listed below.
Keep an eye on your children so you can protect them from being duped or exposed to violence.
Finding the time and date stamps with browser history can deter your kids from late-night Internet browsing.
To prevent them from visiting adult websites.
To know their browsing history and online activities.
How to Monitor Your Child's Online Activity on Computer?
The history of all the major browsers, including Google Chrome, Internet Explorer, and Microsoft Edge, may be readily accessed until deleted or visited a website in an incognitive mode. However, nowadays, kids are smart enough, and they know how to delete history and use an incognitive mode to avoid detection.
But you don't need to worry. There is another powerful software to monitor your child's Internet activity called MoniVisor for Windows. It enables you to remotely monitor your kid's computer activities. You will not only monitor their browsing history, but it will also empower you to have real-time access to track their screen and online activities.
Way 1. MoniVisor for Windows
It is a premium tool that enables you to keep a check on your children or staff. MoniVisor is compatible with all the major browsers, including Google Chrome, Opera Mini, Firefox, Internet Explorer, and Microsoft Edge. It offers many awesome features. Some of them are listed below.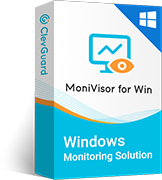 Track Internet Activity
It saves all browsing activity and lets you go back and look at the pages your child has visited. In addition, it shows the precise time of browsing any site. The downloads they have made can also be checked, as well as the location of the files.
Chrome, Firefox, Opera, Microsoft Edge, and Internet Explorer are among the supported browsers. The best part is that you do not need to physically reach the target computer to open the visited page, as you can do it remotely from the comfort of your device.

Monitor Social Media
When you use MoniVisor, you will be able to access all of their chat messages from the web versions of Facebook Messenger, WhatsApp, Twitter, Skype, and Instagram. You can monitor their social media, including shared contacts and multimedia like photos and videos. For example, you can read your child's Facebook messages without seen.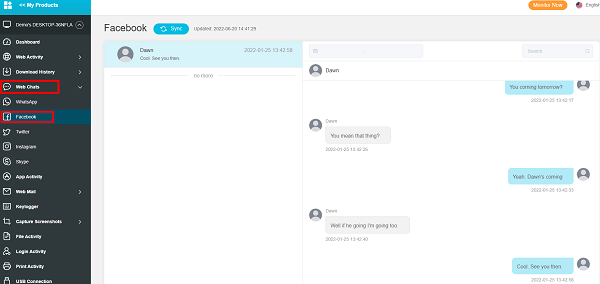 Even the missed calls can be viewed in the call history section. Real-time data transmission means you can keep an eye on the target's data without being detected.
Read Sent & Received Emails
With the help of MoniVisor, you can monitor the sent & received emails of your kids, staff, and partners. The software runs in the background, and the targeted person will not get any notification that they are monitored.
Besides, the MoniVisor supports all major mailing platforms, including Gmail, Yahoo, and Outlook. You can easily know the full attached file path of each email.
Take Automatic Screenshots
Another fantastic feature that MoniVisor offers is that you can take automatic screenshots at regular intervals to know the screen usage of the targeted device and individual. You can also download or delete the screenshots at your convenience. With this feature, you can remotely know what your child is doing so as to make sure the child's safety.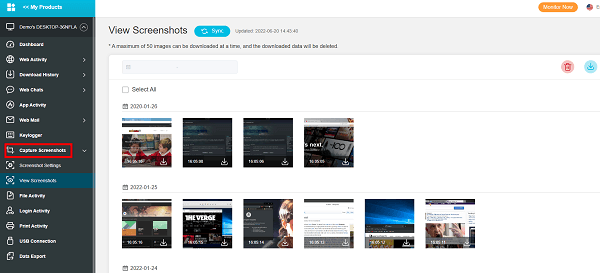 Record Every Keystroke
Recording keystrokes is another excellent feature of MoniVisor. Using this feature, you can monitor each keystroke they make on their computer. It allows you to monitor keyboard on the target device. You can even find the deleted keystrokes of the targeted device. Even an incognitive browsing mode can also be monitored, and you can easily find their activities.
Pros

Highly reliable
QUndetectable
Real-time data syncing
User friendly
Cons

You have to access and install the software on the targeted device for the 1st time
Steps to Install MoniVisor
You can install and start monitoring the targeted device in a few easy steps instantly.
Step 1: Simply click 'Monitor Now' bellow and register an account.
After that, you can purchase a suitable pricing plan to activate all the PC monitoring features of MoniVisor.
Step 2: Follow the Setup Guide and finish configurations.
After the purchase process, you' ll be taken to a webpage title 'My Product and Orders Management'.Then, click' Setup Guide' to check out the detailed instructions for completing the required configurations on the target's Windows computer.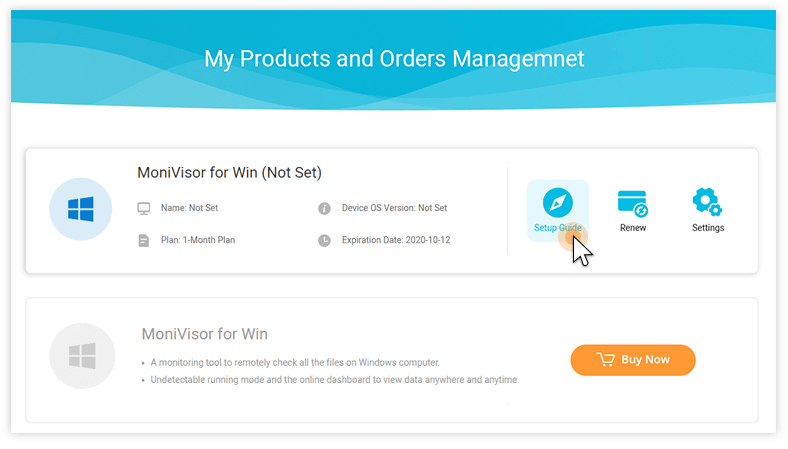 2.1. Download and install MoniVisor for Win on the targeted computer.

Step 3: Start monitoring on dashboard.
Go to www.clevguard.com and log in your account. Afterward, you will be guided to the online dashboard to see all the monitored data from the targeted device.
You can check the intallation steps in detail with a video.
Way 2. Use Google Family Link
It helps parents monitor their kid's online activities and enforce specific limitations on their gadgets using Google's parental control software. Parents may also set up a Google Account for their children using the Family Link. The app is often used to keep an eye on children under the age of 18.
Creating a Google Family Link account is as simple as going through the steps listed below.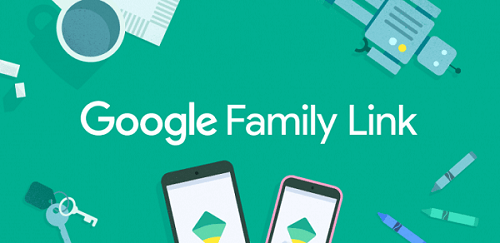 1. You will need a Google account to get started.
2. The Google Family Link app may be downloaded for free from the Google Play store.
3. Create a family group and link it to your child's account after installing the app.
4. The next step is installing the Google Family Link app on your kid's device and signing in using your login details to start monitoring.
Way 3. Use Google Account
Your kids' Google account history is accessible from any browser-enabled device, such as a computer, smartphone, or tablet. You simply need your login and password to get started. What you have to do is as follows:
1. Open Google in your web browser and log in to your account.
2. Go to "Manage your Google Account" by clicking on your profile symbol in the screen's upper-right corner.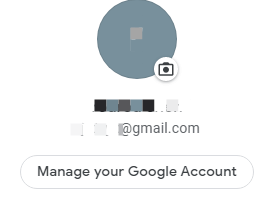 3. Select "Data & Privacy" from the menu.
4. Select the "Things you have done and places you have visited" tab from the drop-down list.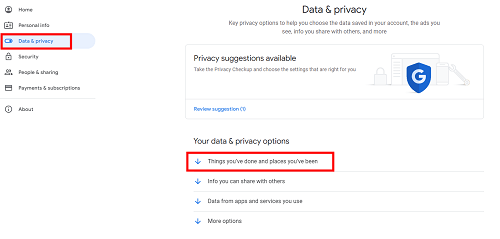 5. Select "My Activity" from the drop-down menu.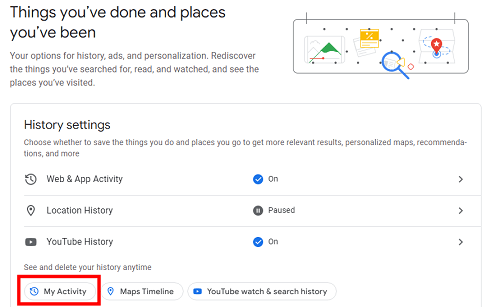 6. If you are looking for something specific, you may use the general search box or the Filter by date and product option (Android, Maps, YouTube, etc.), or you can just scroll down the list and explore by time.
The above activity page keeps track of everything your kids have done with your Google account.
Other Ways to Check Your Child's Computer History
There are other simple ways that you can use to find out the browsing history of your kids. You can manually check the browsing history in Google Chrome and Internet Explorer to know what your kids are up to.
1. Google Chrome
Simply open Google Chrome on the target device and click on the three dots icon on the right top of the page. There you will see the 'History' option in the menu. By clicking on the 'History,' you can easily find out the browsing history of your child.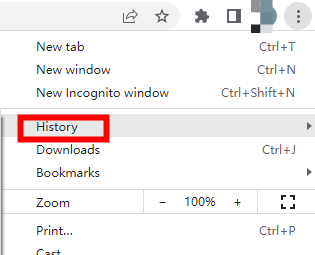 2. Internet Explorer
Just like Google Chrome, Internet Explorer follows the same process. You just need to open Internet Explorer, and you will find a three dots icon on the top right of the main page. There you will find your kids' browsing history with just a few simple keystrokes instantly.
FAQ About Child's Online Activity
Q. Can I check child's social media activity with MoniVisor?
MoniVisor is a powerful software that enables you to remotely monitor your child's social media activities in real-time with utmost ease and comfort.
Q. How to check child's browsing history on iPhone?
KidsGuard Pro for iOS has been designed to remotely monitor the browsing history of kids, staff, and partner. It is a sophisticated tool that works silently in the background and can not be detected.
Q. Can I see someone's websites visited and screen time on the computer?
Yes, with the help of MoniVisor, you can remotely monitor browsing history, visited websites, and screen time of the targeted computer in real-time.
Conclusion
With the advent of modern technology and the abundance of social media platforms, keeping an eye on your kids to safeguard them from negative online activities is crucial. There are several ways to monitor your kid's online activities.
But the MoniVisor gives you unprecedented access and control to remotely watch the browsing history, social media activity, and screen time of your kids. As a result, MoniVisor for Windows puts you in a strong position to keep an eye on your child and track their activities.