Question: How do I listen to another phones surroundings free?
It's easy to listen to another phone's surrounding conversations and you just need to turn on Android microphone remotely.
In this case, people in a relationship can find out if they are getting cheated, and employers can keep a check on their employees if they are giving out confidential information or badmouthing their companies. Similarly, parents can learn what their kids are up to and their whereabouts.
We will illustrate two ways on how to listen and record phone surrounding sounds remotely.
1. Can You Listen to Phone Surrounding Live Free?
Yes, it is possible for anyone to listen to someone's phone surrounding live by getting access to the phone's microphone remotely.
There are voice recorder apps available that you have to install on the target phone. Once done, you can be anywhere in the world and turn on the mic of the target phone remotely and start listening to the phone surrounding live.
Ambient Recording:
It enables you to turn on the phone's microphone remotely and start recording the phone surrounding sounds secretly. You can access them through the web portal of the particular monitoring app you are using. It also allows you to listen to the surround sounds live as well as schedule them for recording.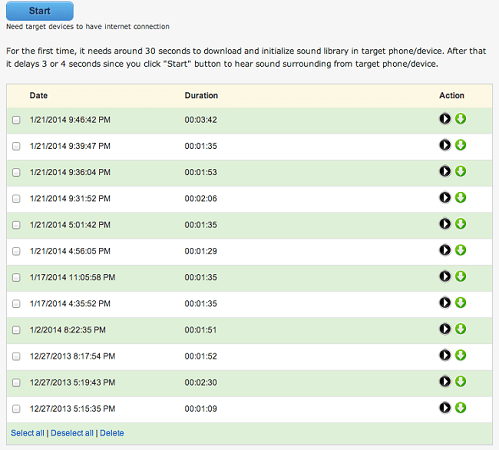 If you are finding a tool to spy on someone's phone, KidsGuard Pro for Android is the best choice for you.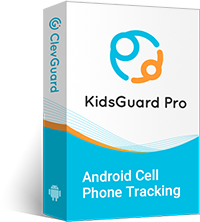 KidsGuard Pro for Android Features
Track cell phone location in real time and view location history
Check all incoming and outgoing calls & SMS
Spy on social media apps like WhatsApp, Instagram, Snapchat, Facebook, Viber, WeChat and more
Remotely access the files on the target phone, like contacts, photos, call logs, etc.
Features of Ambient Recording
Record Conversations – Record the secret conversations of the target person and the people around him/her.
Live Recording – Not only record phone surroundings remotely in real-time but also listen to it live. If you don't think the conversation is not that important, you can stop the recording.
Download Recording – Most of the ambient recording apps offer the users to download recordings.
Remote Access – You do not need to get physical access to the target phone except for installing the monitoring app. With a simple click on the remote recording option, you can start recording the surrounding conversations of the target phone.
Record Any Time – It can still record the ambient conversations automatically,even when you are not present in front of the web interface of the app.
Advantages of Ambient Recording
Undetected Monitoring – The ambient recording feature of a secret voice recorder app works in a hidden mode. The target person will not be able to detect the recording going on.
Record Conversation - You can not only listen to the surrounding conversations but also record them for listening to them in the future as well for evidence.
Set Duration – You can set a time limit for the recording to go on even in your absence.
Easy To Use – It is user-friendly and easy to use.
2. How to Listen to Another Phone Surroundings?
There are many apps available online that claim to let you do the ambient recording. However, most of them are scams, and they loot the money of the users without providing the required service. That is why we have picked the most legitimate and trustworthy secret ambient recording apps.
Use iKeyMonitor
Here, we are illustrating how to listen to another phone surroundings using iKeyMonitor app. The process is almost the same for any spy listening device app.
Create An Account
Step 1: Go to iKeyMonitor's official website. Click on Sign Up button. Select the operating system of the target phone.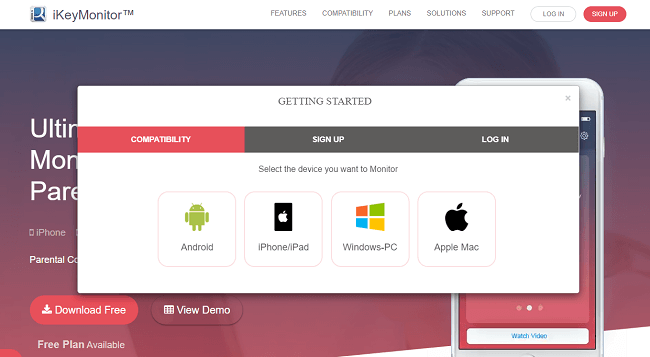 It is important to note that to listen to iPhone's surroundings, you have to jailbreak the device. On the next screen, select "Yes, I can get device in my hand and unlock it" option.
Step 2: Now, you have to register an account with iKeyMonitor with UserID and Email address. Click on Sign Up button.
You will soon get an email from iKeyMonitor where login credentials will be mentioned.
Install On The Target Phone
Step 3: Get physical access to the target device and open iKeyMonitor's official website from the device's web browser. Log in with the credentials in your email.
You will see a screen asking you to select Android or iPhone. Select as per the target device. We are assuming it is an Android device.
Step 4: On the next screen, select "Yes. I will download the app directly on the device and install it."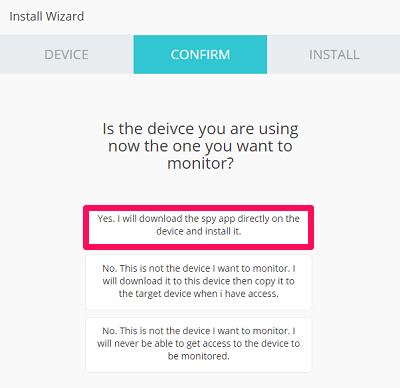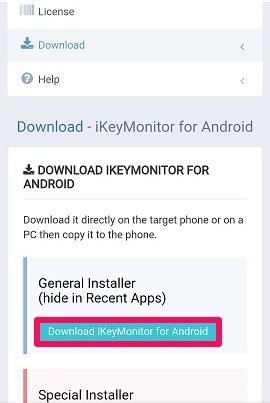 After downloading the app, tap on Install button. You will require to allow some permissions so that the app can listen to the surrounding sounds.
Step 5: Once the app is installed, you have to open the app. The app will ask for a password for logging in. As no password is set yet, leave it blank and tap on Login button.
On the next screen, tap on Continue as User App with No Root option.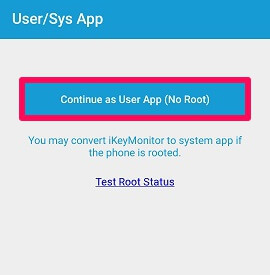 There will be a series of screens for making some configurations so that the app can function properly on the device. Follow the on-screen instructions and tap on Next button. Then the app will be ready to start recording surrounding sounds secretly.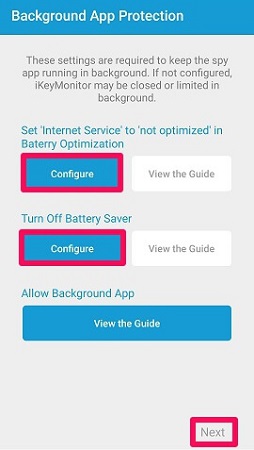 Listen and Record Ambient Sound
Step 6: Come back to your own device and log into iKeyMonitor to go to Dashboard. Then go to Logs> Surrounding option. Click on Record Live Surrounding Sound option.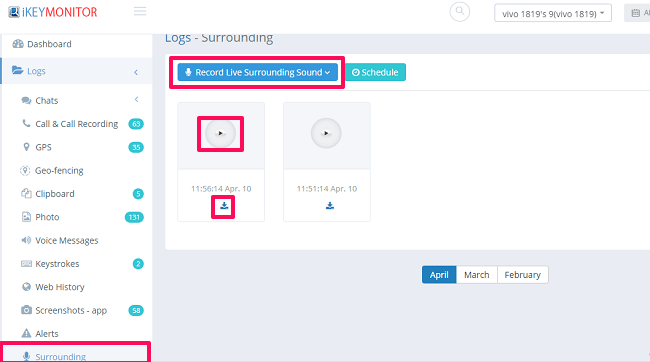 You can also Schedule ambient recording and set the duration of the recording. You will also be able to see the recorded audio clips and download them at your convenience.
3. Why You Need to Record A Phone's Surroundings?
There are many reasons and scenarios where you need to listen to someone's phone microphone. The main intention of getting access to phone's microphone to record as well as listen to surrounding conversations is monitoring.
Parental Monitoring
Parents are always curious about their kids' activities and conversations when they are away. By turning on their phone's microphone remotely, parents can listen to what their kids and their friends are saying. By listening to such conversations secretly, parents can easily infer how their kids' friend circle is, what they are planning for the future, if they are up to any mischief if they are getting bullied or harassed, and much more.
Employee Monitoring
There are always some employees who say bad things about the company and employers in public. Besides, some give out confidential information to rivals for personal gain. Therefore, to keep a check on such unprofessional employees, you can listen to their phone surroundings and conclude whether you need to warn them and even terminate them from the job.
Evidence Collection
The most important application of recording a phone's surroundings is to collect evidence so that you can catch someone red-handed. For example, if your partner is cheating on you, you can record his/her flirting and lovey-dovey conversation easily. You can also record bullying and harassment in your workplace and take action with evidence.
4. Tips: How to Listen to Target's Phone Call?
It is important to note that you will not be able to record surrounding sounds when the target person is on a call. Therefore, you will need to listen and record the phone call. You can understand with whom the person is keeping contact and the subject of their conversation. KidsGuard Pro for Android is the best app to listen to target's phone calls easily.
Features of KidsGuard Pro for Android
Stays hidden in the target phone.
Record calls and check call history.
Check call logs and contacts and remotely hack iPhone photos and videos.
Monitor social media messages and activities.
Track GPS location in real-time.
Take live photos and capture screenshots.
Check browser history, calendar
Steps To Listen and Record Phone Call
Step 1: Click the 'Monitor Now' button to launch the sign-up page on the official website and create an account with your email address.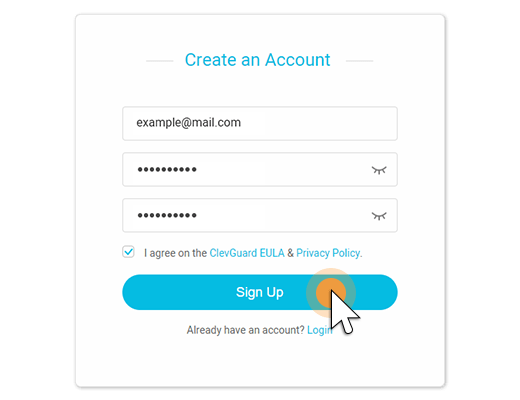 Step 2: After account registration, log in and purchase a license.
Step 3: Go to the target phone and visit download page from the web browser to download the app.
Step 4: After downloading, tap on the apk file to install it and follow the on-screen instructions to complete the installation.

Step 5: Come back to your computer and log into KidsGuard Pro for Android's Dashboard and go to Record Calls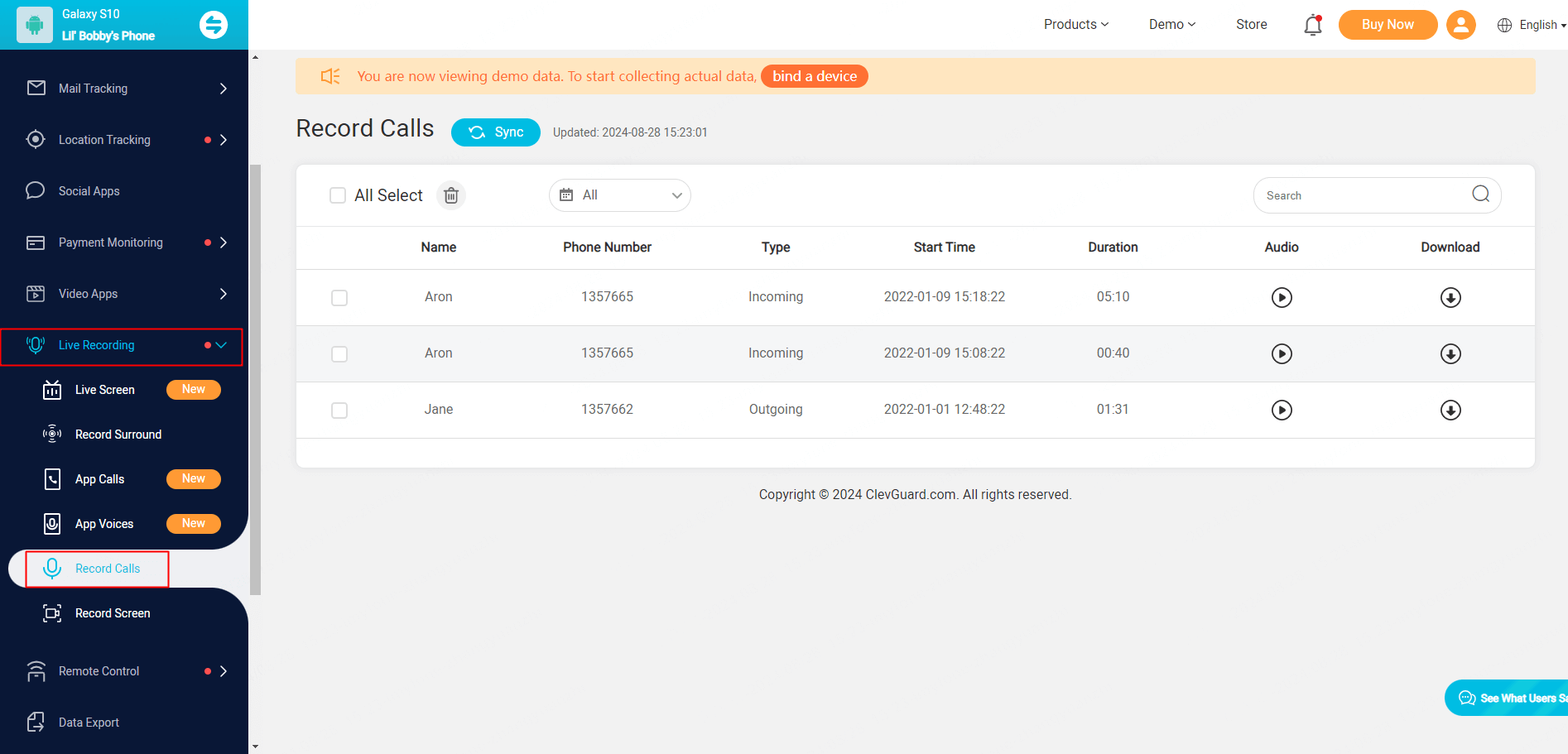 With this option, you can record and listen to the target phone's calls.
Summary
Listening and recording someone's phone surrounding sounds is no more impossible. Some monitoring apps enable you to listen remotely to what people are saying. However, some apps may require you to root or jailbreak the target device. That is why we recommend KidsGuard Pro for Android as the listening device app. The app has all the remote monitoring features, and there is no need for rooting or jailbreaking.