There are many times when you need to save important conversations that you might want to prefer later. Some may be important work-related arrangements. Some may be memorable moments with your loved ones.
So, if you are wandering for best call recorder for Android, then you have landed at the right post. Understanding the need for call recorders, we have explained our criteria and shortlisted 6 best call recorders for Android. Let's read and learn how do they work.
Table of Contents
How We Rated The Best Android Call Recorder Apps
No doubt, there is a whirlpool of apps out there claiming themselves the best Android call recording app but finding a 100% guaranteed and safest among all of them becomes a real hectic.
So, before proceeding toward the topic, you must have knowledge of what criteria we used to evaluate the different applications and on which basis we declared the best call recording apps.
Ease of Use: Ease of use might be the first preference of everyone before getting a phone call recorder app. There are many useful apps with amazing features hence come up with a compact layout and require technical skills to run. This kind of application won't be our choice. So, we kept this feature in mind before testing and evaluating all the apps that we mentioned below.
Price: Price is another perspective that significantly impacts the usage of any application. People always want all in one at reasonable costs. So, an efficient and top call recording app must also have an attractive price so that people don't hesitate before buying it.
Audio Quality: Audio quality is another flank that can't be missed. The saved audio should be of good quality otherwise it will not work properly.
Security: To prevent the content of our call, containing a lot of sensitive information, from being leaked and misused by people with malicious intentions, security measures will be an important factor in evaluating the best call recorder for Android.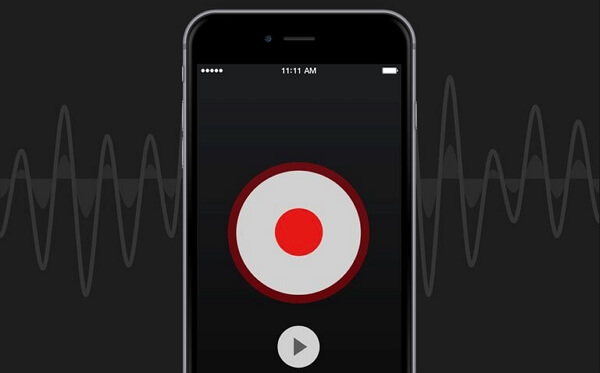 Best 6 Call Recorder Apps For Android
1. KidsGuard Pro for Android
Rating: 4.8/5
Price: There is a free demo with this phone call recording app, but to get its advanced features you will need to purchase a license, which costs ranging from $8 - $29.95 per month.
KidsGuard Pro for Android is the best Android call recorder in the market. Simple yet effective, it can help you automatically record phone calls of anyone without them knowing. This app is regarded as the best choice for a worried parent who wants to keep an eye on their kids, or a desperate wife who wants to seize the evidence of husband cheating.
After installation, it will remain active and help you record all incoming and outgoing calls, as well as VOIP calls. You can play each audio file or download it as needed. Contact name, duration, date, and time are also included. In addition to these MUST-HAVE features in any spy app, you can also use KidsGuard Pro to monitor WhatsApp calls & chats, track cell phone location, view call logs, etc.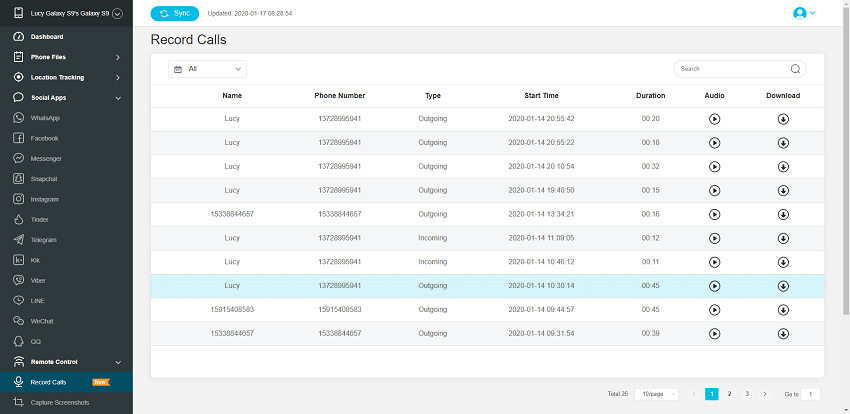 Pros

Automatic call recording without missing, both sides' voices can be recorded.

Works in incognito mode so target user won't find out calls are recorded.

30+ other spy features like monitoring call logs, WhatsApp, Facebook, browser history, etc.

The app is easy to use, which is very considerate for people without relevant tech knowledge.

Real-time call recording and data uploading.
Cons

Doesn't offer free trial, but provides free demo.
Notice
You can have a 30% off discount. Quickly to enjoy the best price for your need.
2. Call Recorder ACR
Rating: 4.7/5
Price: It provides a free version. If the ads annoy you then you can enjoy the paid version for $3.99/month with unlimited features.
Call Recorder ACR is one of the best call recording apps for Android. It comes up with thousands of positive user reviews and is very famous among its users. The ACR auto call recorder app is not only limited to recording calls but also has other exceptional features.
It has excellent capabilities such as auto-delete the old recordings after a certain scheduled time, cloud storage service integration, delayed recordings. Also, you can add a password to prevent unauthorized access.
Pros

List all calls from the same contact in one place.

You can listen, edit, transcribe and add notes to the calls.

Auto-delete old call recordings.

You can assign priority to the recordings to avoid accidental deletion of those recordings.

It allows you to select multiple calls simultaneously.
Cons

Sometimes, continuous ads may annoy you.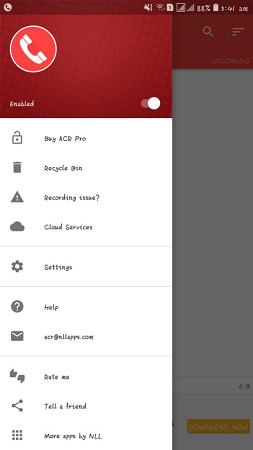 3. Call Recorder Automatic
Rating: 4.6/5
Price: The application is available for free on the play store. If you want an ad-free application with additional features, you can get it for $4.99/month.
The Call Recorder Automatic is also regarded as an excellent tool to record conversations on Android. Its classic user interface makes it different from other call recording apps. The app automatically starts working whenever you turn on the speaker during the call and that's the reason we have included the app in our post. For security reasons, the phone call recording app requires permission to record and keep a history of recorded calls.
Pros

The application keeps backup of all the data on an online server.

It allows you to share recordings on different devices and social media accounts.

The recordings are saved by the contact name and by dates.
Cons

It only works if the loudspeaker is turned on.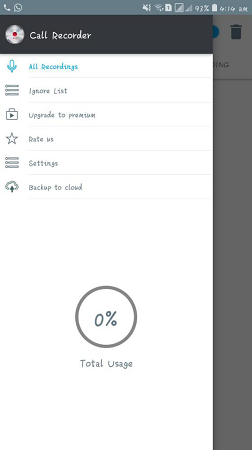 4. All Call Recorder Lite
Rating: 4.5/5
Price: You can get the app for free.
Our next app is the All Call Recorder Lite which holds amazingly notable features. The application is easy to use and comes with a simple UI. Moreover, you are allowed to share these recordings on different social media accounts. You can listen, edit, view contact details, and do some other basic things while using this auto-call recorder app.
Pros

It is almost undetectable and safe.

It allows you to synchronize with Dropbox to save your important recorded calls.

It enables you to turn on the notification option before starting recording, in case, if you have short-term memory.

You can choose multiple audio formats to record the calls.

Enable and disable the password-protection feature.
Cons

The app contains ads.

It does not support moving the files to an SD card.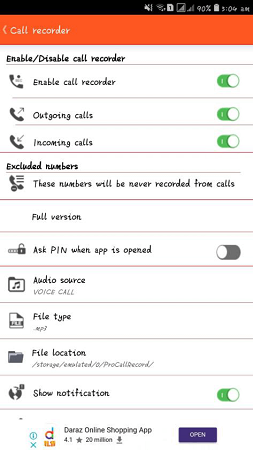 5. Cube Call Recorder
Rating: 4.5/5
Price: It is available for free. Also, you can get the premium version at $1.99/month.
Cube Call Recorder is another powerful, robust, and best call recorder for Android praised by thousands of users. Besides recording conventional phone calls, Cube Call Recorder allows you to record calls from WhatsApp, Skype, Facebook, etc.
It totally depends on you either you choose a manual call recording option where you allow the cube call recorder every time to record the call or choose the automatic call recording option which will automatically start recording once the call is started.
Pros

It has an amazing and intuitive graphical user interface.

It has a very understandable and easy-to-use layout.

It allows you to select favorite call recordings and add them to the starred sections.

You can even exclude contacts from automatic call recording.
Cons

VoIP call recording is not supported on all devices.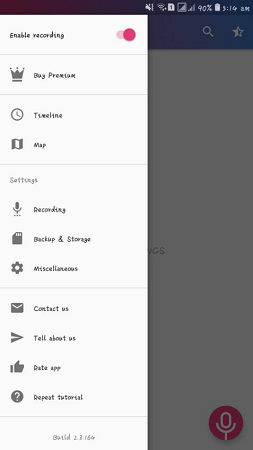 6. Note Call Recorder
Rating: 4.4/5
Price: You can get it for free. The paid version costs $4.49/month.
Note Call Recorder would also be a good choice if you are looking for a wonderful Android phone call recorder app. The application also provides a feature to upload the recorded calls on Google Drive or Dropbox in order to make them safe. Note call recorder first encrypts the voice calls and then uploads them on different accounts so that no one can listen to them without permission and that's quite good about this app.
Pros

The automatic call recording feature starts working once you pick the call.

Allows deleting multiple calls at once, also, categorizes the calls by the same usernames.

You can add contacts to the blacklist directly from the application.

A very easy-to-use interface.

Cloud storage services.
Cons

Loads of ads, especially at the start.

Sadly, VoIP calls (WhatsApp, Viber or Skype) were unavailable while I was using the app.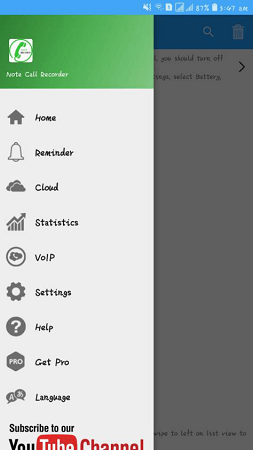 Conclusion
So, which is the best call recorder for Android? We have just rated the 6 call recorder apps that we believe to be workable and useful. If you want to ask our opinion, we should say KidsGuard Pro for Android stands out for its automatic and hidden call recording features. Have any other recommendations? Leave your suggestions in the comment section and we will test them for you as soon as we can.