Question: How to get WhatsApp Call History?
WhatsApp has become one of the best popular messaging tool all around the word. However, WhatsApp will bring some risks for people, especially for children. Now many parents worry about who their kids are talking with on WhatsApp all the time for fear of their online safety. Besides, couples may want to check each other's WhatsApp calls secretly, because of suspicion. Or employers lose sleep wondering if their employees are leaking company information.
So is it possible get WhatsApp call history of any number?
Whatever your purpose is, you should find out an available methods to get WhatsApp call history of others. Fortunately, there are several top available tricks on how to check others WhatsApp call history free as well as record WhatsApp live calls.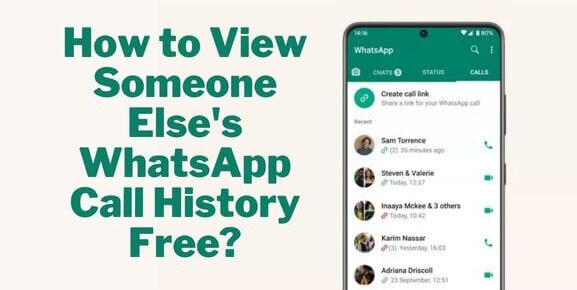 Can I Check Others WhatsApp Call History?
Yes, you can check others WhatsApp call history.. Though there is no official method to get WhatsApp call history of any number directly, you can achieve that via some third-party ways. Then you can know hoe to check others WhatsApp call history free without being knowing.
If you are an Android user, then you must have synced your WhatsApp with your Google Account. So, you may restore your data from Google Drive Account. Simply again install your WhatsApp and restore all data which is stored in the backup file.
But if you want to know how to view WhatsApp call history details remotely and secretly, you can make use of the third-party apps. One of the best apps is KidsGuard for WhatsApp. It is a specialized WhatsApp monitoring solution that can work in stealth mode and offer you a bucketload to choose from WhatsApp call history, chats, status, photos, videos, and more. Having said that, let's look at the details.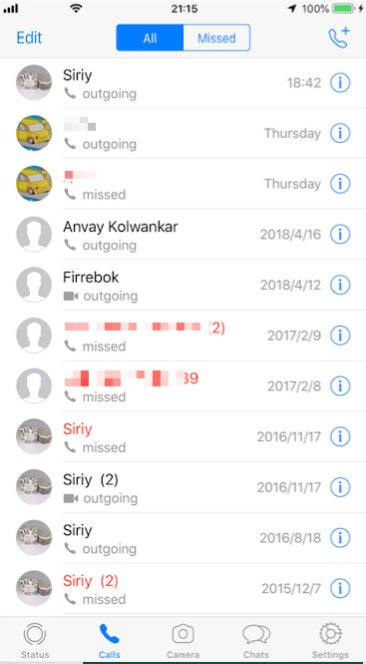 [Top Way] How to Check Others WhatsApp Call History Free?
"Can WhatsApp call be traced?" Yes!
We have gotten the answer on the above part. We also said that if you want to find a secret way to check others WhatsApp call history free, then you should use a spy app. That' to use KidsGuard for WhatsApp, the top 1 WhatsApp monitoring tool.
KidsGuard for WhatsApp is such a simple yet advanced and reliable tool, which allows you to check other WhatsApp call hisotry on both Android and iPhone devices. What's more, this is a totally hidden monitoring tool, so you can track someone's WhatsApp call history without being detected.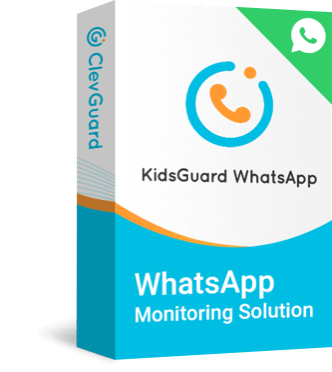 KidsGuard for WhatsApp-- Top Way to Check Others WhatsApp Call History Free
Tracke all WhatsApp call history including ingoing and outgoing of any WhatsApp account without being knowing.
Then you can know exactly who they are talking to, what they are talking about etc. Even know how to recover deleted WhatsApp call history on Android.
With this app at your fingertips, you can easily track WhatsApp call and find WhatsApp call history of others at home or office.
You can record WhatsApp calls as you like at anytime and anywhere to know the conversations.
It provides keywords tracking to match what you are curious about on someone's WhatsApp.
How to Check WhatsApp Call History of Others by KidsGuard for WhatsApp
Without any further, follow the steps below to know how to check others whatsapp call history free.
Step 1. Click the button below to choose a WhatsApp monitoring plan to activate all the features.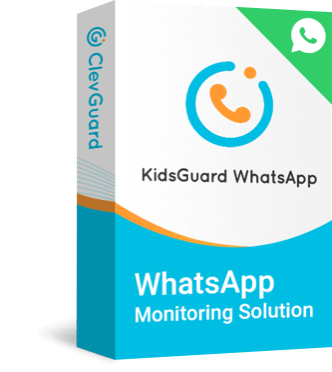 KidsGuard for WhatsApp
Best Way to Check Others WhatsApp Call History Right Now!
Step 2. You will enter the "My Products" page where you can find the full setup guide. Then download KidsGuard for WhatsApp app from www.installapk.net on the target Android device and finish the configuration according to the on-screen prompts.

Step 3. After the successful installation, the app will disappear from home screen. Finally, you can go back to your web dashboard and view all the collected WhatsApp data with a few clicks. Remember that it will take some time to make initial synchronization for the first time.
Click on WhatsApp Calls from the left-hand pane to get a list of all incoming, outgoing and missed video/voice call history. Further, you can also sort through the calls by date or search an exact caller name for easy viewing.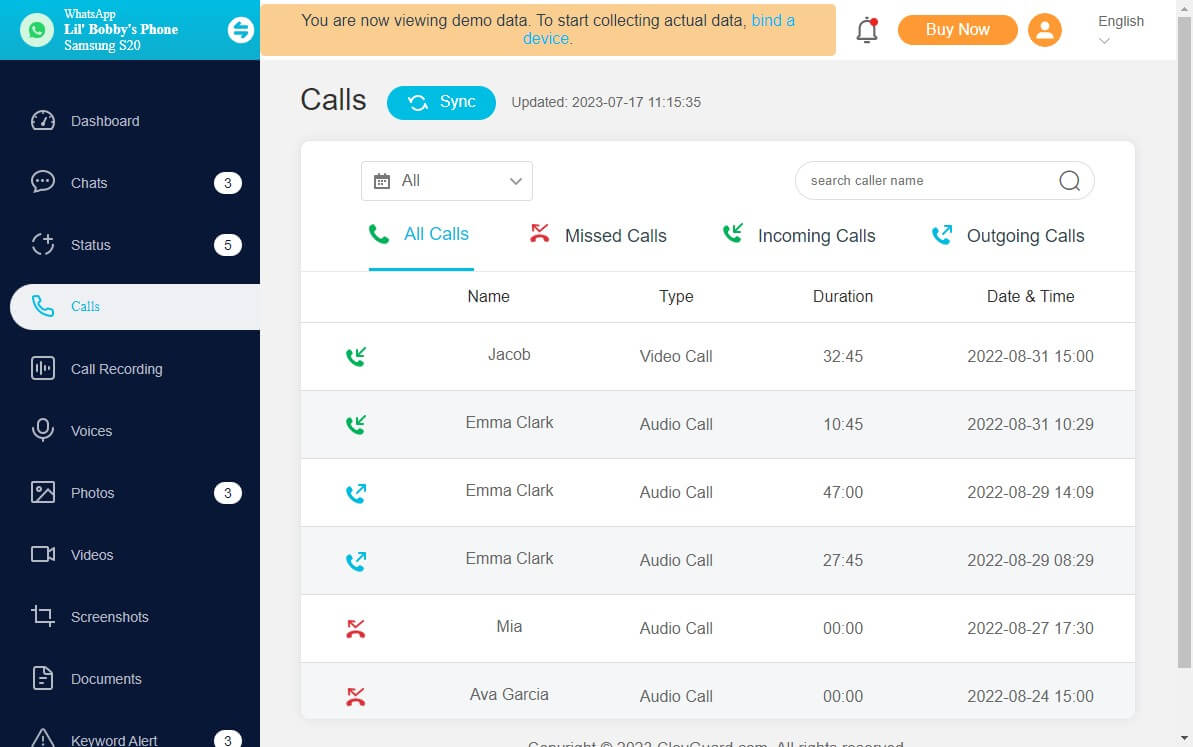 Click on Call Recording from the left-hand pane to record someone's WhatsApp calls or video conversation or download on your own device. You can get more details like contact name, duration, date and time, etc. The answer of how to get WhatsApp video call history is clear if you have a good idea about KidsGuard Pro.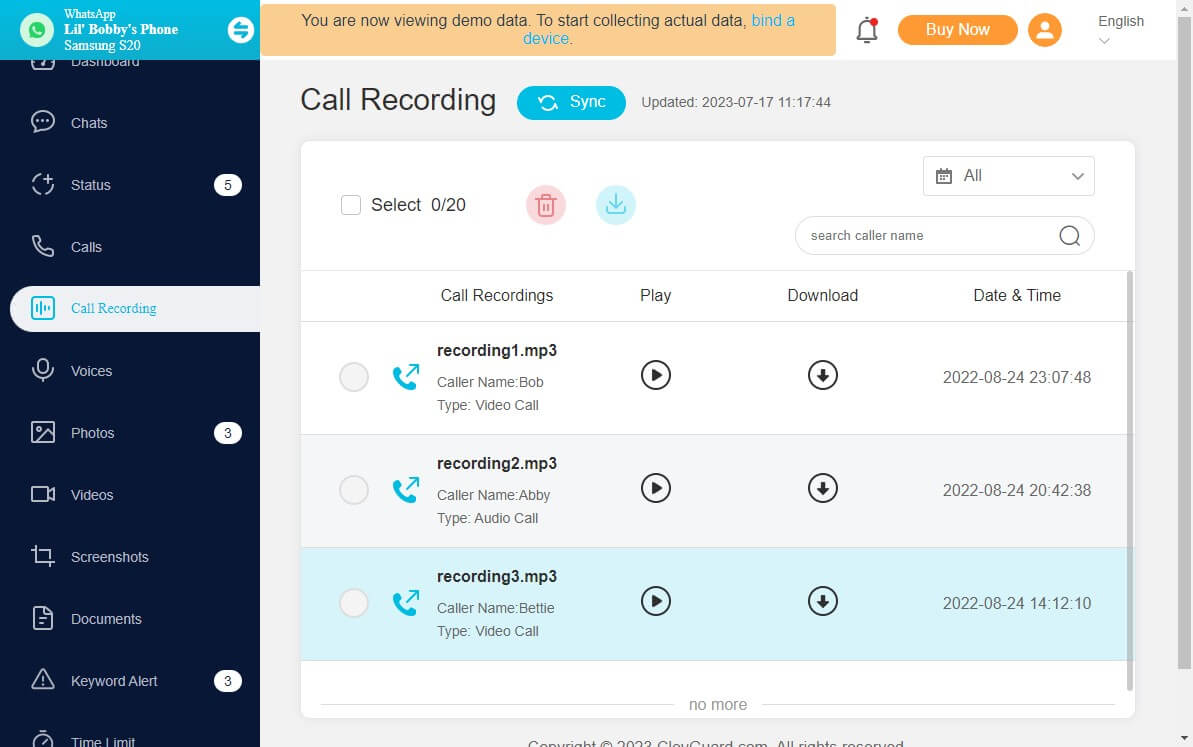 Now you have learned how to know if someone is on WhatsApp call with the best tool. KidsGuard for WhatsApp is compatible with almost all Android devices including those newly-released ones. What's more, there is no need to root the target device unlike other competitors.
What Else Can You Expect from KidsGuard for WhatsApp?
With its expert design, you can track more apart from checking someone's WhatsApp call history. To put it bluntly, no other application out there comes close. Let's have a look at:
You can track sent, received and even deleted WhatsApp messages.
You can check all types of WhatsApp status including private ones.
You can hear each WhatsApp voice message as well.
You can get WhatsApp call details easily.
You can view and download WhatsApp photos, videos, documents and gifs.
Support to take screenshot of WhatsApp live screen automatically.
This program works in incognito mode.
Compatible with most popular Android devices running up to Android 13.
How to Get WhatsApp Call History of Any Number on iOS Devices?
For WhatsApp call monitoring, KidsGuard Pro is an amazing app that can monitor all chat and WhatsApp call logs of your target user. It is a best-hidden Whatsapp status viewer. You will need 3-5 minutes of physical access to install this on someone's phone.
NOTE:
Except you, no one will know that the app is installed on the mobile, which continues its work secretly. With this app, you can also know how to get call history from WhatsApp. All video, audio, outgoing, incoming, and even missed calls are also traceable.
Guide to Listen to Someone's WhatsApp Calls on iPhone
If the person you want to monitor is using iOS device, you can choose KidsGuard Pro for iOS, and get call history from Whatsapp on iPhone. There are three simple steps to install the iPhone WhatsApp monitoring app on your target device.
Step 1. Choose a Suitable Plan
To get started, choose a suitable plan at first. To protect your child, you can enable many monitoring features.
Step 2. Install on Target Device
Now download the software on your phone and click on "Install". To confirm the setup, you must follow the guidelines after installing the KidsGuard Pro for iOS.

Step 3. Protect and Control
How to spy on WhatsApp video calls? Now log in with your credentials. Now you are ready to access targeted phone data from any connected devices remotely. Without the knowledge of the targeted device's owner, you can monitor all WhatsApp activities on the associated web control panel.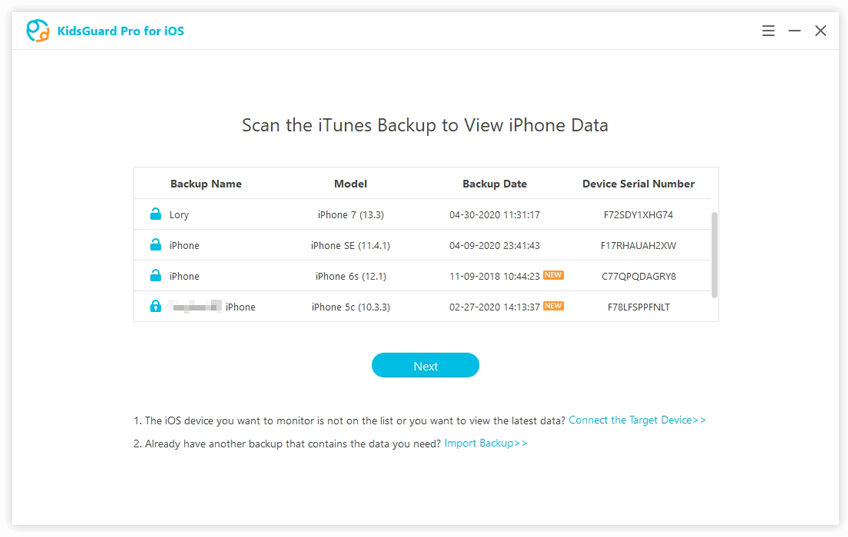 KidsGuard Pro for iOS: Great Way to Check Someone's Call History
KidsGuard Pro is an excellent app for keeping an eye on Viber, WeChat, WhatsApp, Line, QQ, and chat history, and you can also export all data and media files, etc.
You can easily read all the text messages of the target device. And you can even restore all deleted messages.
You can monitor all the call logs of the target phone. All outgoing, incoming, and even missed calls will be displayed with call duration, names, and time stamps.
You can view all media files, photos, videos, and audio stored in the target device.
You can also listen to other WhatsApp voice on your device.
You can find out the interest by looking at Safari history and bookmarks and finding out what the target user is visited.
Check iTunes Data or Check iCloud Data
iTunes Data
After downloading and installing KidsGuard Pro for iOS on the computer, click on "View iTunes Data" option and start scanning. It is of no concern to whoever will connect the target iOS device to the system, it will directly record and show you the latest data. Once fail to see the recent backup data, you can again connect the target device and scan it again.
iCloud Data
If you want to see the iCould data, you have to choose "View iCloud Data" option. Now follow the on-screen installation. It will quickly show you the "Apps and Data" option on your device. Once, this option appears, click on "Restore from iCloud Backup". After it enters the targeted iCloud Apple ID key and sees whatever you want. You will be able to see contacts, videos, photos, etc. of someone else's iPhone. The user can get access to all the files in the iCloud Drive of your targeted iOS device.
Other Ways You Can Check Others WhatsApp Call History Free
So, you have known the best tool for WhatsApp call history recovery. There also are other ways available that don't require the use of a professional program. Just like we discussed at the beginning, these ways are difficult to realize and have some limitations.
Way 1: Get from The Target Device Directly
You can directly open WhatsApp on the target device and go to the "Calls" tab. Here you will check all the voice or video calls made by the target. Now that you can get WhatsApp call history on the target phone easily.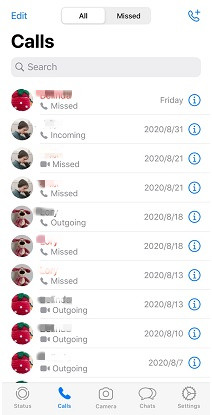 Limitations:
You cannot get into the target device every time and quickly browse all the details because it is easily detected by the owner of the phone. You can't view the deleted call history this way.
Way 2: Log into the Target's WhatsApp Account and Restore the Backup
This way is even more complicated and only works if the target has created a backup of their WhatsApp data. By taking a backup of the WhatsApp data, including call history, then you can restore them on the target device. So, the intent is pretty simple. You have to figure out a way to log into the target's account and restore the most recent backed-up data.
Open WhatsApp and log into with someone's WhatsApp account and password.
Verify the phone number with a 6-digit text code sent to the target device.
A prompt will open in the main screen window where you have to click the Restore button.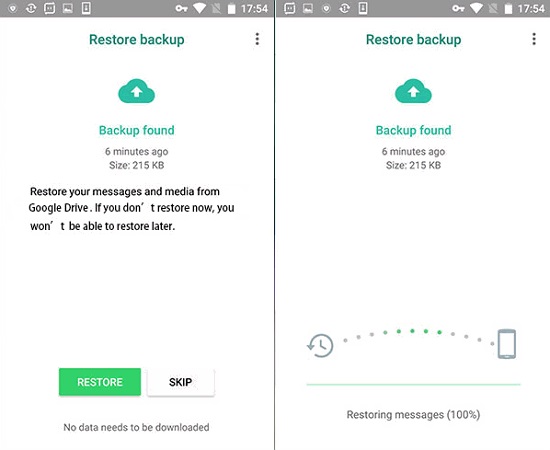 Limitations:
Firstly, the target should create a backup of WhatsApp calls before using this way. Then, you need to get the target's WhatsApp account and password. You have to get the verification text code sent to the target device as well. If you have the account and password to log in to the WhatsApp account, you will be found out by the target because of the notifications for logging in.
FAQs about WhatsApp Call History Monitoring
Q1. Does WhatsApp call show up on phone records?
No, WhatsApp calls will not show on phone records. This is not like cellular network phone calls, they can only show on WhatsApp. That is a way if you want to find an easy and simple way to remotely get someone's all WhatsApp cal history, then you need an app like KidsGuard for WhatsApp.
Q2. How to retrieve deleted WhatsApp call history on Android?
You can do WhatsApp call log history recovery by downloading and installing KidsGuard Pro on the target phone. After viewing its full guide on the official website you can know how to use it. Then you can easy to get and see all deleted WhatsApp messages.
Q3. Do WhatsApp calls show on the phone bill?
No, the WhatsApp calls in the phone bill itemized section can't be seen. You can see WhatsApp calls only by opening the WhatsApp and going to the calls section.
Comparison of the Above Ways to Check Others WhatsApp Call History
All the ways are introduced to us how to view someone else's WhatsApp call history, but obviously using a third-party app will be very convenient and we don't need to know WhatsApp account and password or be physically close to the device.
Merely an application is installed on the target mobile phone you can remotely view and without them knowing. In the long run, check with the third-party app can accord with people's choices. Below are the main differences between these methods.
| | With KidsGuard for WhatsApp | Without A 3rd Party Tool |
| --- | --- | --- |
| Possibility of Detection | No | Yes |
| Convenience | Easy to operate | Trouble in accessing the target device and account everytime |
| Remote Access | Yes | No |
| Real-time Tracking | Yes | No |
| Deleted Call History | Yes | No |
| WhatsApp Call Recording | Yes | No |
Summary
Can WhatsApp calls be traced? How do you know if someone is on a WhatsApp call? All the answers are yes and no doubt that KidsGuard for WhatsApp is the best choice on how to check others WhatsApp call history free. As for iOS users, we recommend KidsGuard Pro. Though you would expect to pay a fortune for it, it is very minimal compared to the features and information it provides.