A call log monitor allows people to check incoming and outgoing calls on the target device. If you are a parent, this is necessary to know who your child is communicating with and ensure there is no possible threat out there. If you suspects that your spouse is having an affair, monitoring on their phone calls may help you find the truth. In case you are uncertain about making the right decision, through this article, we would guide you along.
Before You Start: Learn What can Call Log Monitor Do?
Call log monitor can help you get complete information about each call and you can access every detail on your own device at anytime. Check out what they have prepared for you:
It records all incoming, outgoing and cancelled calls with corresponding phone numbers.

The duration, date and time stamps of each call.

It allows you to identify contact names.
There are a lot of choices out there and it can be confusing to choose which is the best. Therefore, we tested most of them according to functionality, feasibility, compatibility, and simplicity. We have also pointed out the good and the bad points for each of them. You can prefer to this guide and know within minutes.
Top 6 Call Log Monitor
Here is my pick for the top call log monitor apps for Android/iPhone, starting from the best.
1. KidsGuard Pro - Most Recommended
Our rating: 4.9/5.0
Compatibility: Android/iPhone
Price: $8.32/month for a yearly plan
Operation simplicity:
KidsGuard Pro is the best call log app for Android/iPhone currently on the market. This app is equipped with all the call logs monitoring features as we've listed before, and you are allowed to listen live to phone calls which is not offered by most apps out there. What makes KidsGuard Pro the best is in its powerful set of features like monitoring messages, browser history, location, social media apps, and more. It is a good choice for those who aren't tech savvy as the configuration is completed in 2 minutes.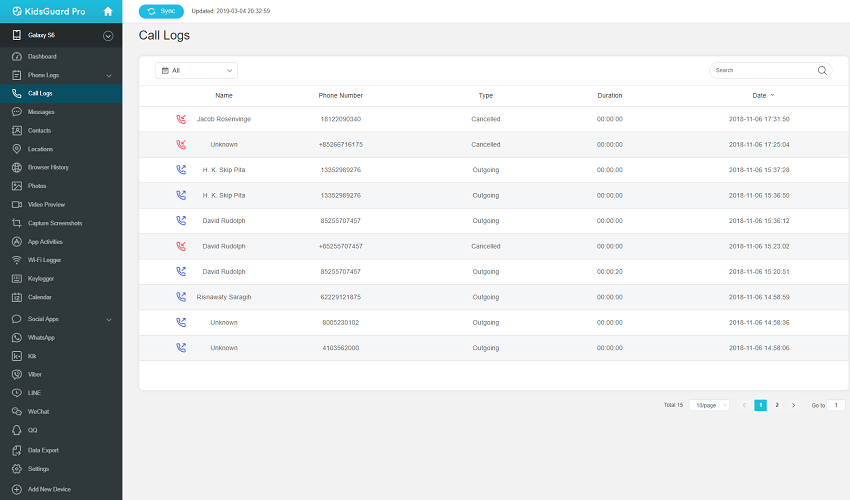 Features:
View all dialed, received and missed calls.

Listen to call recording online with high-quality or save it on your device.

Know when the calls are maded or received with date, timestamps and call duration.

Check the phone number and name of a caller and find out who your target speaks to.

Search for an exact number or contact and sort by date for your convenience.
Pros

Call data gets updated in real-time.

Invisible and hidden to the targe device.

No need to root or jailbreak.

Least money to enjoy 28+ advanced features.

24/7 customer support to solve your problem in time.

Easy setup done in 2 minutes.
Cons

No free trial.

Using a single license, users can track only a single device
2. XnSpy
Our rating: 4.7/5.0
Compatibility: Android/iOS
Price: $35.99/month
Operation simplicity:
Xnspy is a comprehensive Android/iPhone call log app that can help one can monitor every single call of the target without letting them perceive anything.You can remotely check updated call details via an attractive user interface. It is so reliable that you won't want to miss it.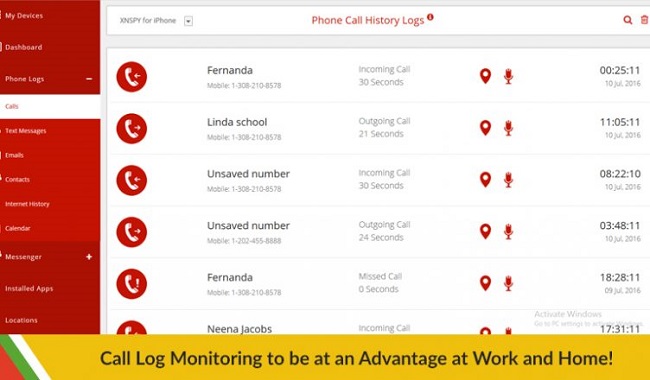 Features:
Provide a complete call history with details like caller's name and number.

View Calls' Geo Tags, time and date stamps.

Automatically get top 5 callers and call duration within the timeline selected by you.

Record calls with good quality and you can play online.
Pros

Outfitted with valuable features.

Comfortable and runs steadily without generating troubles.

Intuitive user interface and all done in a few clicks.
Cons

The installation is a bit complicated for a novice user.

Root or jailbreak is needed if you want to record a call.
3. mSpy
Our rating: 4.4/5.0
Compatibility: Android/iPhone
Price: $69.99/month for a premium package.
Operation simplicity:
Mspy is our pick for the third best call logs monitor online for complying and tracking a cell phone. It covers all types of phone regardless of what your target uses. It has a lot of incredible features in the full version that you would expect. But some advanced features are limited in iPhone calls log without performing a jailbreak.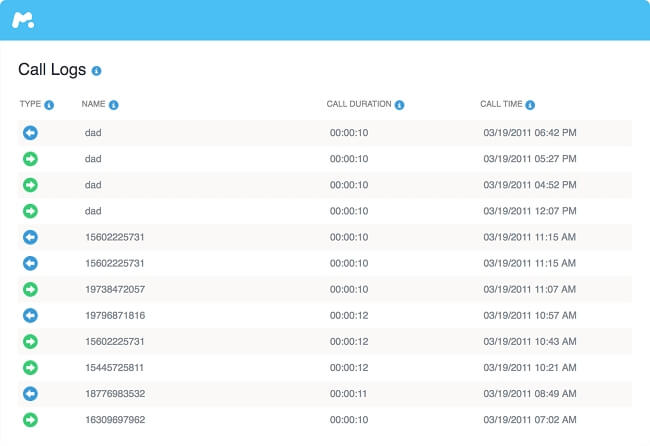 Features
Capture all incoming and outgoing calls.

Reach out the information about a caller from the address book.

Check timestamps, call duration and chronology.

Blocking calls is also included in the full version.
Pros

The app is undectable once installed.

Furnished with exceptional features.

Outstanding customer care support.
Cons

Price is relatively expensive.

Call recording is missing.
4. Highster Mobile
Our rating: 4.3/5.0
Compatibility: Android/iPhone
Price: $69.9 one-time purchase
Operation simplicity:
Highster Mobile is another top call log monitor online for smartphone. With it, you can easily check the call history of your target to see who they are in contact with, along with other useful details as well. Highster Mobile app offers some added features that are hardly offered by some of its competitors.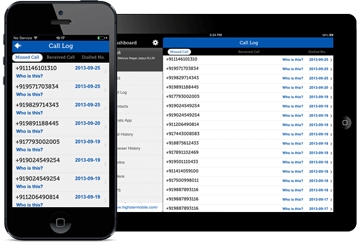 Features:
Track each incoming and outgoing call.

Log the calls with duration and time stamp.

Accessing easily to call history.

Provide a detailed number of each caller.
Pros

One-time payment lasts for lifetime.

Easy setup and installation with a few steps.

Available for Android and iOS.
Cons

Call blocking feature, and call recording feature are missing.

Need to root/jairbreak if you want to access premium features.
5. Spyzie
Our rating: 4.2/5.0
Compatibility: Android/iPhone
Price: Premium Edition costs $39.99 a month. Ultimate Edition costs $49.99 a month.
Operation simplicity:
Here comes another popular call log app Android/iPhone you can use to remotely spy on one's call details. Spyzie allows you to check the complete call logs of your target. It has some great features though it lacks some of the more advanced capabilities compared to other apps.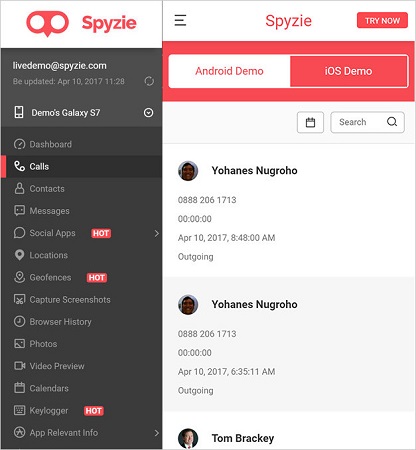 Features
It displays all types of calls (incoming, outgoing, missed or rejected).

Contact names, phone number, call duration, time and call type are displayed in a categorized manner.
Pros

An intuitive solution to monitor call logs within a few clicks.

Not required to root or jailbreak.

Provides a delicate interface which is comfortable to use.
Cons

Not a great worth for money since advanced features like call record and call intercept are not providing.

If the user deletes some data from his devise, you cannot retrieve it from its control panel.
6. MobiStealth
Our rating: 4.0/5.0
Compatibility: Android/iPhone
Price: $79.99/3 months for Android and $99.99/3 months for iPhone.
Operation simplicity:
MobiStealth also comes with a broad range of call log monitoring features. It is usually available in two variant packages commencing from basic to advanced monitoring features. Like most of the options we've covered so far, it gives you the ability to spy on someone's call logs without their phone.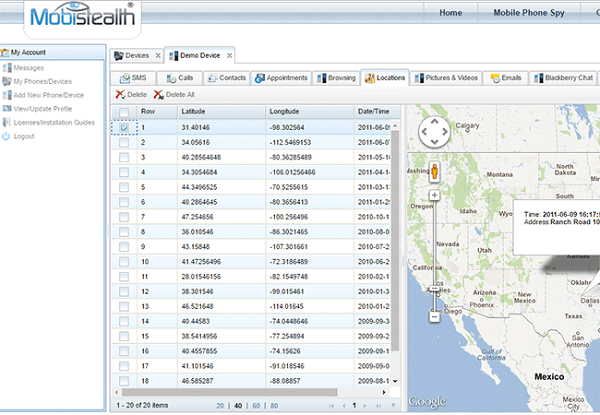 Store a listing of all phone calls, both incoming and outbound.

Records every phone call so you can hear what is being said.
Pros

Monitor calls in stealth mode.

Supports both desktop and smartphone monitoring.
Cons

Rooting/jailbreaking are required.

Refund policy is not working properly.

Lots of complaints on app download and installation.
Which One is the Best Call Log Monitor?
These top call log apps are my favorites. Many packages are compatible with most devices, but there are differences in the operating systems that limit capabilities and functionality. And we would recommend to anyone who is looking for best features, affordability, and reliability is KidsGuard Pro! We have made our recommendation by analyzing and correlating the features of KidsGuard Pro with other best call log monitoring apps. You can also have a try in its demo before making a choice.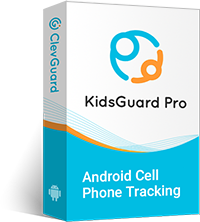 An Array of Amazing Features
Check all incoming, outgoing, canceled, deleted calls.

Listen in live call conversation.

Track real-time location and location history.

Spy on SMS messages and social media apps.

Record each keystroke made on the target phone.