Life is not all rainbows and unicorns. Sometimes, it gives us lemons too. In the world of Snapchat, it would be getting blocked by someone.
Even worst, not knowing if you have been blocked or not. Can you no longer find your friend on Snapchat? Or maybe it was your crush? Are you afraid that they have blocked you? How to unblock on Snapchat?
If only there is a way to know whether someone has blocked you on Snapchat or not. Well, don't worry! Read this article to find out how to know if someone block you on Snapchat.
How Do You Know Someone Block You On Snapchat?
It is quite difficult to know that if someone has blocked you on Snapchat. Sometimes, it becomes quite hard to know that how and when they blocked you. On the basis of this situation.
Here we are going to discuss a few wonderful steps to find out if someone has blocked on Snapchat. The methods are similar to how to know if someone blocked you on Whatsapp.
Method 1. Check Your Snapchat Chat History and?Contact list
First of all, go to the Snapchat app and log in to your account. Then, go to your friend list and pick the one who you want to chat to.
Go to the chat history if you have previously talked with someone. If previously no chat, then go to the contact list and tap on the "new chat" option.
Finally, check if they exist in the friend list or not. If anyway, you can't find their username, then it is likely that you are blocked on Snapchat by them. But, this is not confirmed, possible they just unfriend you. It is an initial point to check if someone has blocked you on the app or not.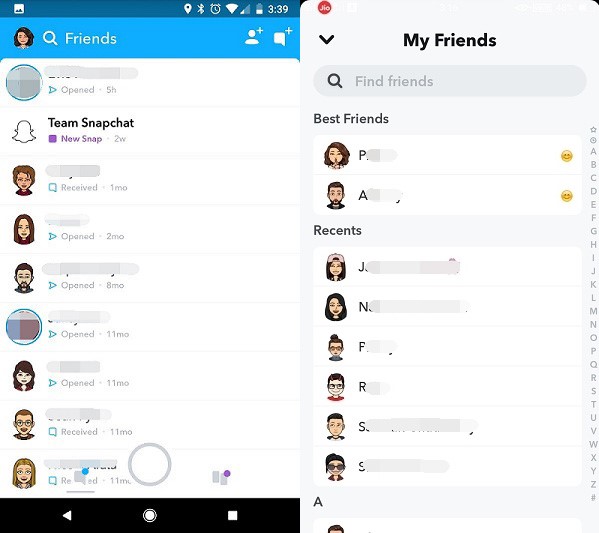 Method 2. Search Their Username or Full name
First, open your camera on Snapchat. And on top of that, the search sign will be visible where you can search the ID or username.
One thing to note is that if their ID or username does not appear, then they must have unfriended or blocked you.
Wait, there is another possible chance that they might have deleted their Snapchat account for some time. However, if you want to confirm that they have blocked you or not, see the 3rd and final step.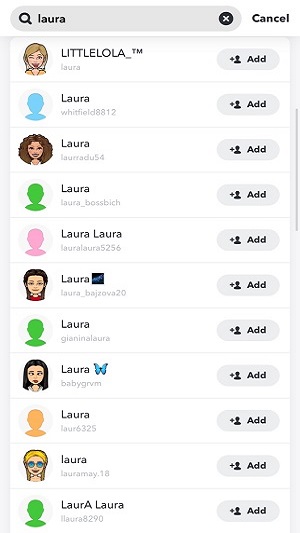 Method 3. Ask Your Friend or Create a New Account
To complete your search, keep your friend very closely because they have a lot of ideas and mind-blowing games. Just joking friends, if you can't find their name in the search history, you can ask your friend to repeat the same process.
Moreover, you can also a new Snapchat account with another phone number or email ID. But guys, we suggest creating a new one, because that's the easiest way to do it. There is a minimum chance that they have also blocked your friend on Snapchat. If you can't find their user ID, then it can be your bad luck.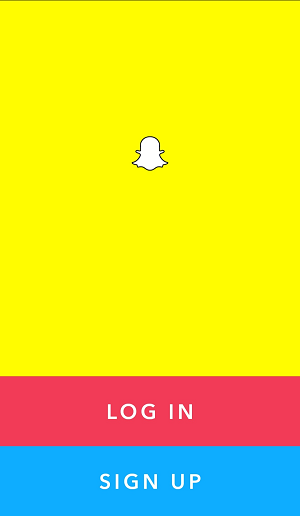 How to See Someone's Snapchat Activity Even If Blocked?
As parents, we want the best for our little angels and would do anything to protect them. But our good intentions are often misunderstood by the young ones, and they might retaliate by blocking the parents on social media apps like Snapchat.
It is devastating to find out that you have been blocked by your kids or any of your loved ones. However, Don't worry too much; Technology has got your back! With a Snapchat monitoring app, you can monitor someone's chat history even if they have blocked you.
KidsGuard Pro for Android is hands down, the best Snapchat monitoring app! It lets you look out for your loved ones. The good thing is that it is not limited to just Snapchat!
You can also monitor their SMS, calls, and other social media apps like WhatsApp, Facebook, etc. Amazing! Right? Well, it gets even better! The app is undetectable. This means you can keep an eye on your kid's phone without them ever finding out. It is exceptionally easy to set up too!
How to Set up KidsGuard Pro Snapchat Viewer?
Step 1. Click Monitor Now button below and skip to KidsGuard Pro's website, use a valid email address to sign up an account and then choose a plan that fits your needs.
Step 2. Go to My Products page and click on Setup Guide button, follow the insruction to download KidsGuard Pro for Androdi onto target phone. This step only needs to take 5 minutes.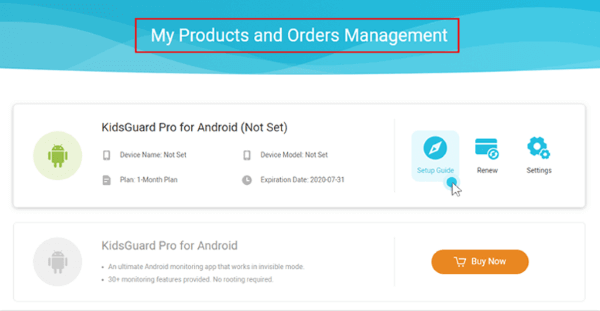 Step 3. After that, you just need to follow the app instructions to finish all settings to get ready for monitoring. Once the app has been set up, you can view all snapchat activities of your child or partner on the KidsGuard Pro online control panel even if they blocked you.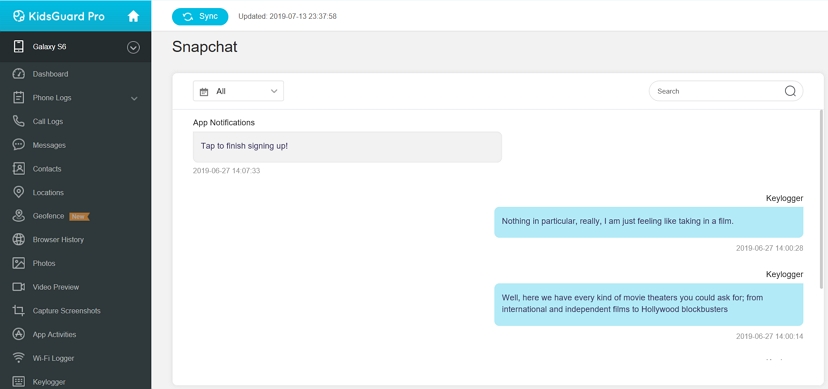 How KidsGuard Pro for Android Works to Monitor Someone's Snapchat?
The working of the KidsGuard Pro is rather simple. The app collects relevant information from the phone under surveillance and uploads it to the control panel of the app that you have access to. The control panel can log on to using a phone, laptop, or tablet.
Advantages of Using KidsGuard Pro For Android
Check the target person's snapchat activities even if you're blocked.

Monitor all the Snapchat accounts of the target user, because the target person may have more than one account.

Monitor Snapchat without being detected by the user.

Monitor someone who isn't your Snapchat friend.

View all the text messages sent and received through the target phone using Snapchat.

The app takes screenshots of the user's Snapchat screen without their knowledge and upload them to your account's dashboard for you to view.

Data Syncs in real-time using Wi-Fi or 4G network.
What Happens When You're Been Blocked On Snapchat?
It is hard to tell if someone blocked you on Snapchat. It would be great if you could get some kind of notification, but you don't. Instead, they just disappear from your Snapchat.
You are not able to view their snaps anymore. You can't even talk to them via the app! While it is challenging, yet it is not impossible to figure out! There are a number of ways to work out whether you have been blocked, or removed from their friend list.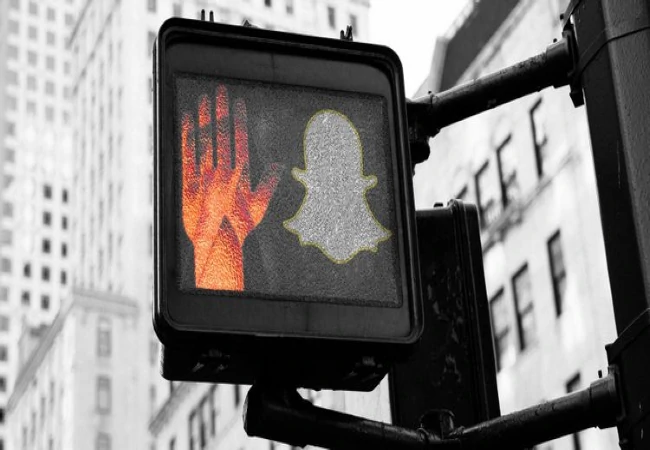 What is The Difference Between Remove And Block On Snapchat?
If someone removes you from Snapchat, you will not be able to see the stories. However, if someone blocks you nothing will be visible except settings. Possibly, you have been muted, which means you will remain friends on Snapchat but they will not see your story.
Through a chat function, you can exactly know if someone deletes or blocks you. If you see the person still in the conversation, means he/she did not block in Snapchat. Possibly, he/she has deleted you but you did not remove him/her. Though, it works only if you have recently spoken to them through the function.
Moreover, you can also send them a snap. Do as usual. Wait for a few minutes, if it says "pending", possibly you have been deleted. Or possibly, it can be an internet connection problem on both sides.?Another option is that to click on the contact's profile. If their Snapchat score is visible for you, means you are not deleted.
How To Unblock Someone On Snapchat?
Unblock a Friend
You can unblock a friend whenever you want, but remember, after unblocking someone, he/she will be able to send messages and snaps, and can also your Charms and Stories.
To unblock a friend
Click on your profile icon.
Go to the settings and scroll down and click on the "Blocked".
Click on the cross icon next to the name that you want to unblock.
Conclusion & FAQs
It can be extremely stressful when someone disappears from your Snapchat. It is even worse when you can't figure out whether they have deleted their account, unfriended you, or straight away blocked you. Following the simple steps mentioned above, you can tell if someone blocked you on snapchat.
Although it is not possible to get unblocked on Snapchat still you do have a way of monitoring the activities of the person, if you are close to them. KidGuard Pro Snapchat Viewer lets you keep track of your child's or loved one's activities online with a few simple steps. It is, without a doubt, the best Snapchat monitoring app available on the market today!
Q1. How do you tell if someone block you on snapchat?
If someone blocks you on Snapchat, you will not be able to see their name on your friend's list. If their name is visible for you, but you are not receiving messages and notifications from that user, then there is a chance that they have removed you from their friend list but not blocked.
Q2. What happens when you block someone on Snapchat?
When you block someone on Snapchat, they will not be able to see your story or talk with you. You will be no longer on each other's friend list and the username will not be searchable.
Q3. What if someone blocked me on Snapchat?
If someone blocks me on Snapchat, I will not be able to see his/her stories. Moreover, I will also not be able to see his/her name in the search results whenever I search for their username.
Q4. Does pending on Snapchat mean blocked?
No, it doesn't necessarily mean that the other person has blocked you. Generally, when you send a message to someone on Snapchat and see a pending arrow, it means that the other person did not accept your friend request or message yet.
Q5. Can I text someone who blocks me?
When you are blocked by someone on Snapchat, you will not be able to see their snaps and stories, also can't send them snaps or chats. You can send messages to them from another account.