Question:
"How to get my girlfriend's Snapchat password?
Several people want to get someone else's Snapchat password, which, however, does not mean their malicious mind but instead, a warm reason like parents worried about their children's safety and not sure that Snapchat is safe for kids.
Just like the other social networking sites, Snapchat is pretty serious about the privacy of the users logged on to it. Indeed, it is difficult to know others' Snapchat passwords and hack into their account, but it doesn't mean it's impossible.
In this post, 4 different ways on how to get someone's Snapchat password will be mentioned. Moreover, 1 best method has been introduced you to monitor Snapchat without a password.
Part 1. How to Hack Someone's Snapchat without Password
Instead of going through the entire hassle of trying to find someone's Snapchat password, you can simply use Snapchat monitoring app to check the activities on Snapchat of a target phone.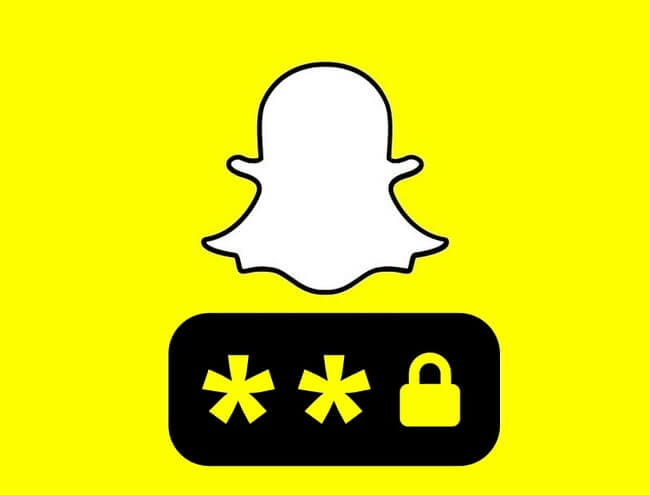 KidsGuard Pro for Android is exactly used for this purpose. The best thing is that you do not need to have the user's Snapchat login details for using KidsGuard Pro for Android. It is very effective in monitoring all the activities on the target cell phone including the social networking sites like Snapchat.
Feasibility:
Difficulty:
Success Rate:
Features You Get from KidsGuard Pro for Android
You can check the Snapchat chat history, have a look at the Snapchat screen activity, access Snapchat media files and more.

You do not need the username and password of the user in order to check their activity on Snapchat. Also, this function is not limited to only one Snapchat account, it can be used for monitoring Snapchat activities even when the user decides to switch their Snapchat account.

It syncs all the Snapchat data in real-time, which is equivalent to you directly viewing his/her Snapchat activity.

It stays completely hidden in the target device, so the target phone user would never get to know that their phone is being monitored.

A live demo is available for a free trial before your purchase this app. This is helpful to know how this app actually works.

You can get a list of 30+ monitoring features at the same time. These include but are not limited to monitoring Facebook / WhatsApp / Instagram, checking text messages and browser history, tracking locations, recording calls and phone screen, listening to phone surroudings, and more.
5-Minutes Steps to Monitor Snapchat Activities without Password
Step 1: Choose a Plan to get your KidsGuard Pro Account
Choose a plan based on your needs, then you can get a valid email ID of yours KidsGuard Pro for Android account. This account is the only credential for your logging and you will use it to view someone's Snapchat remotely.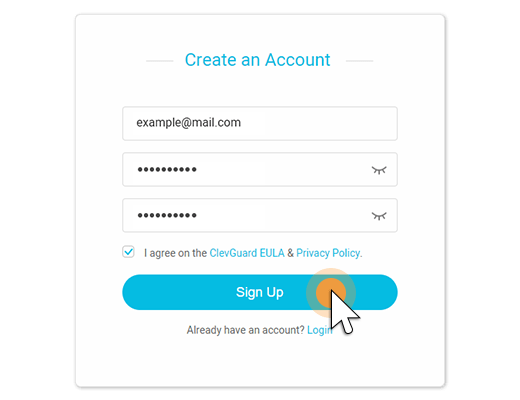 Step 2: Download and Install KidsGuard Pro for Android Correctly onto Target's Phone
Next, open www.clevguard.net and download the app on the target cell phone, and then install it by following the instruction.
You don't have the need to worry that this configuration will take much time and the operation will be complex. The app will automatically set up it well and only need you to tap according to the instructions.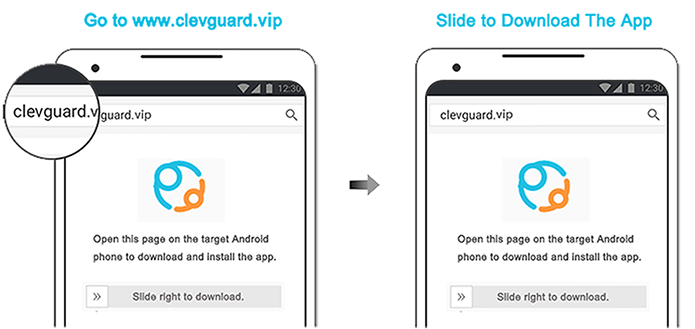 Step 3: Login with Your Account and Start Monitoring
After you set up the target device correctly, the app icon will disappear to stay hidden in the background. Now use your login details on any device's browser and access the online dashboard of KidsGuard Pro to check the Snapchat activities on the target cell phone.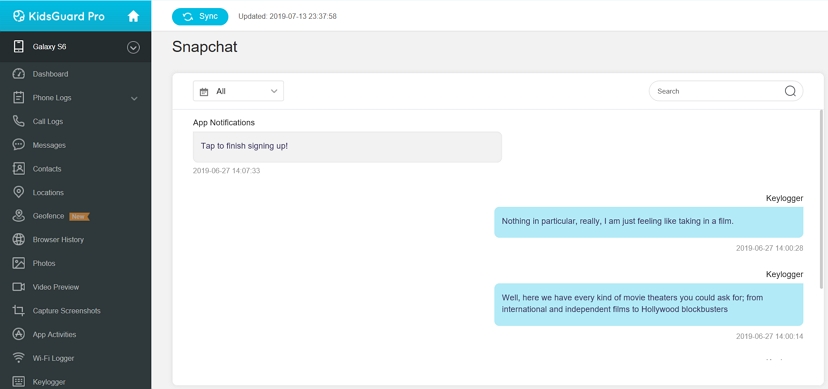 The installation and setup hardly take 5 minutes and the online guides make it easy for even a novice user. This is how convenient it is to monitor someone else's Snapchat account by using KidsGuard Pro. This app also works to spy on WhatsApp, Facebook, Instagram and more.
Part 2. Learn How to Get Someone's Snapchat Password
The above method is the way to hack Snapchat without password. But if you want to get the password right, you can try out the following ways to know how to find someone's Snapchat password.
Way 1: Use Keylogger Software to Get Password
Feasibility:
Difficulty:
Success Rate:
These days, there are several ways in which you can get the password of Snapchat easily. One of the most effective ways is by using an invisible keylogger for this. A keylogger, as a Snapchat password finder, would record the keystrokes of the user when they log in to their Snapchat.
You can easily install a keylogger on any device which you wish to use to get the Snapchat password of the user. All you have to do is follow the instructions in order to install it. Once the keylogger is installed, it would run in stealth mode and the user would not get to know about its presence.
However, the major challenge which lies here is that either you would need to get access to their device to install the keylogger or somehow manage to convince them to login to their Snapchat profile using your device which would have the keylogger program installed in it.
In addition, the success of this method is also declining because Snapchat has implemented user privacy protection measures on the login page, and it is likely that the entered password is not recorded.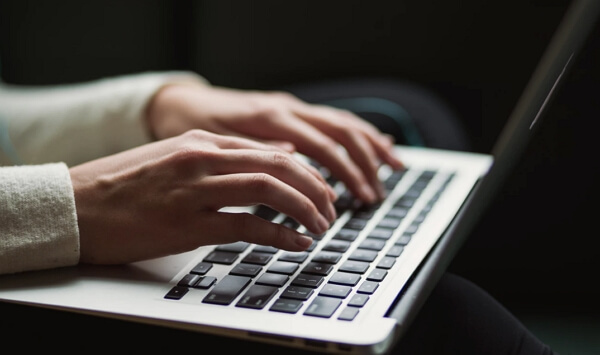 Way 2: Hire A Snapchat Account Hacker
Feasibility:
Difficulty:
Success Rate:
Another way you can try out to find out someone's Snapchat password is by hiring a professional hacker to do the job. There are many professional hackers who do this for a living. They would be aware of all the possible ways which can be used to hack into any profile easily.
The only problem that lies here is that it is very difficult to hire a good professional hacker. A good hacker would also come at a hefty price that you may not be able to afford. Also, even after spending a lot of time, effort, and money on the hacker, you still can't be 100% sure that they would be successful in hacking the Snapchat account. That is why we recommend you hack someone's Snapchat without a password instead of hiring a hacker.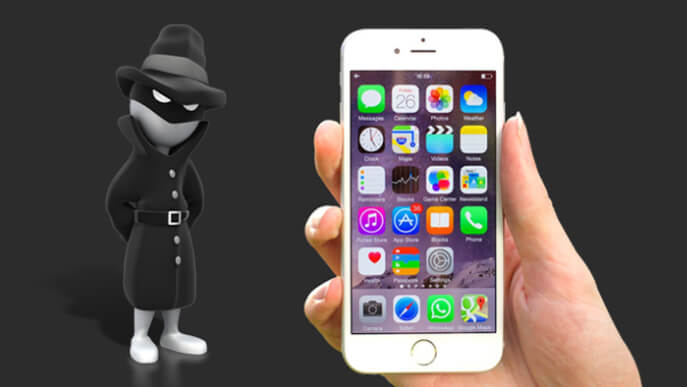 Way 3: Use Password Manager of The Browser to Get Snap Password
Feasibility:
Difficulty:
Success Rate:
An easy way on how to get someone's Snapchat password is through the password manager of his web browser. It is quite common for people to save their online accounts' passwords on their web browsers. This helps the users to save time and effort as the browser automatically fills the saved username and password upon their next login.
Now coming on how to get someone's Snap password from web browser, open the web browser from his phone. For example, if it is Google Chrome, go to "Settings > Autofil > tap on "Passwords". Initially, the passwords are hidden, and you have to tap on Eye icon to view them in text. However, there are clearly some limitations associated with this way.
First of all, Snapchat is an app, and the user will not be logging in to Snapchat through web browser. Therefore, you will not get Snapchat password directly. If you are lucky, you can get the email address and password of the users from the saved data.
You can then use Forget Password option to change and reset someone's Snapchat password through the link you get on his email address whose credentials you might get through web browser in case the user has saved them.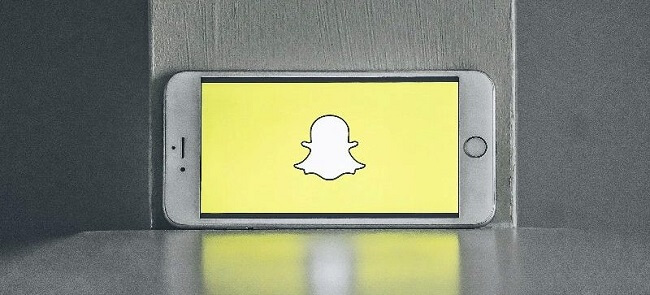 Part 3. Learn How to Guess a Snapchat Password
Feasibility:
Difficulty:
Success Rate:
It is a slight possibility that you may guess the password right after a few attempts while the success rate is very low. This method is suitable to monitor people you are familiar with.
Here are some helpful tips if you are wondering how to hack someone's Snapchat password by guessing.
A list of the most commonly used passwords is released at the end of every year. You can try out each of them one by one to check if you get the right one. Some common passwords are "iloveyou", "1234567", "123123", "sunshine", etc.

If in case you feel that there is a number in the password, most commonly it will be either a 1 or 2 and it would be at the start or the end of the password.

If you suspect that there may be a capital letter in the Snapchat password, it would generally be at the beginning and it will most definitely be followed by a vowel.

Check the password requirement of Snapchat like being 6 characters long, must include a number, etc, prior to starting guessing the password.

If you see a hint option, click on it and try guessing the Snapchat password using that.

While trying out password combinations, try including a significant name in it, like the user's partner's name, parent's name, sibling's name, pet's name, or childhood nickname.

You can even try out the password combinations by including a word that is relevant to their hobbies or personal interests.

Sometimes, even the user's birthdate is included in their password.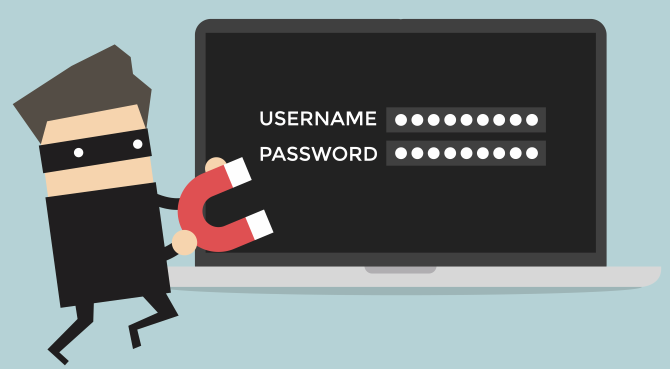 These are just some of the tips which can be useful when you are trying to hack into someone's Snapchat by guessing a user's password. The more intimate the relationship between the person being monitored and you, the greater the success rate of this method.
But it's worth mentioning that if you enter too many wrong passwords, the Snapchat account will be locked. Assuming you successfully guess the password and log in, the target's Snapchat account will be logged out immediately. This may expose your behavior.
Conclusion & FAQs
Although Snapchat is a very interesting social networking platform, there are certain drawbacks. If you suspect that your child is not eligible for the account and want to monitor their activities, you can rest your suspicion by using any of the above methods to know how to get someone's Snapchat password. However, most of the methods come with their own set of disadvantages.
In order to overcome them, the most recommended way in which you should be hacking into someone's Snapchat account is by using KidsGuard Pro for Android as it saves a lot of your time, money and effort. Most importantly, it doesn't ask for password to check someone's Snapchat activity.
Q1. How to Get Someone's Snapchat Password without Resetting?
Guess their Snapchat password

Use keylogger software to hack password

Hire a Snapchat account hacker
Q2. How to Hack Snapchat Password on Android?
Using a specialized Android keylogger can help! It allows the user to log all the key pressed on the target device. You will be able to figure the buttons they have pressed on their device, so when they enter their Snapchat password, you can easily get their Snapchat password and hack someone's Snapchat.
.
Q3. How to Get Snapchat Password without Email or Phone?
You can contact Snapchat support center to help recover Snapchat account or password. Just click on the Snapchat support form at the bottom of their 'Help' Page.
Q4. Is it illegal to hack someone's Snapchat account?
It depends. If you want to protect your children or family members from cyber threats, "sneaking" into their Snapchat is an effective way to keep an eye on them in real time in case of unknown issues.